11:45 p.m. on August 14, 2013 (EDT)
Cat8808

0 reviewer rep
6 forum posts
Panther Falls one of the lesser know gems of Highway 93, The Icefields Parkway, that cuts through the Rockies from Jasper to Banff. Travelling north from Banff, the highway begins a steep climb and Bridal Veil Falls is the main lookout point prior to reaching Parker Ridge.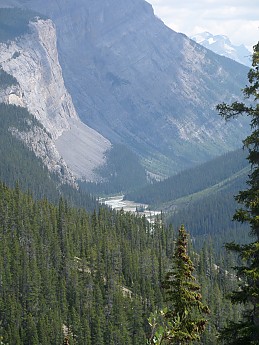 The trailhead for Panther Falls is at the second Bridal Veil lookout and is accessed at the lower end of the parking lot. The hike to Panther Falls is very unique as there are very few hikers on the trail with you, a bonus during the busy summer season. The trail is short, .6 km, and descends down a series of switchbacks along the rocky edged canyon.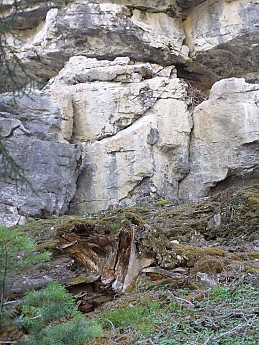 The trail is narrow, trees blocking much of your view of the canyon and moss covered boulders on your left. The trail opens out and Bridal Veil Falls comes into view. Keep going, as Panther Falls will not disappoint. The trail is now tracking along the open side of the canyon and is becoming quite narrow.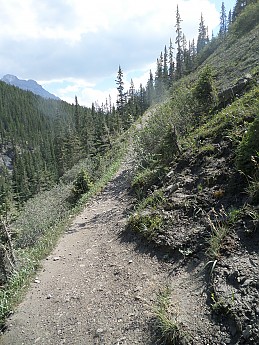 Watch your footing as the spray sneaking around the bend makes the trail slippery. You gingerly venture around the bend and there they are, be prepared to get damp from the spray. It was sunny when I was there so there were rainbows on the canyon walls and the spray was much appreciated.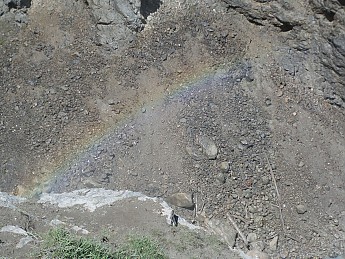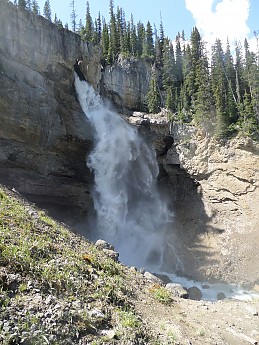 Take some time and appreciate what have been rather controversial falls as they were once listed as the 4th highest freefall waterfall in Canada at 600 ft. My interest in the falls is because Mary Schaffer is said to have named them when her expedition came across a panther there in 1907. Panther Falls have since been measured and found to be a free fall of 200 ft but they are impressive as the water plunges from the mouth of the cave set into the canyon wall and joins Nigel creek.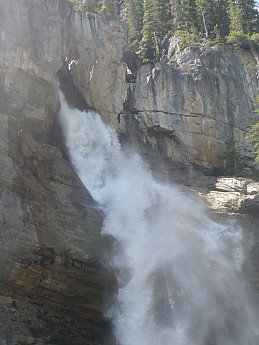 This is a lovely spot that rewards with a fantastic waterfall and a peaceful hike away from the crowds.