1:58 p.m. on August 20, 2013 (EDT)
LoneStranger

TOP 10 REVIEWER
REVIEW CORPS
6,670 reviewer rep
1,222 forum posts
This wasn't a deep back country trip, but there was plenty of adventure to be had. After years of abandoning my family when I headed up to Baxter to backpack I decided to take them up to see for themselves. Mrs Stranger and I used to camp all over out west before we swapped coasts.  She was raised as a camper and we're doing the same for our little one.
The Tot will be 3 in a few months and this was her third Summer of camping.  If you've ever wondered if your kids are old enough to start camping you are wasting time wondering when you could be camping.
No detailed trip report, just fun...
Trout Brook Farm Campground just inside the North Gate. Group sites for 50 total campers, half a dozen car camping spots plus 2 walk in tent sites and a walk in lean to site. While we were there no group sites were in use and only 2 car camping sites were occupied. We had the walk ins to ourselves the first night and all were occupied the second night.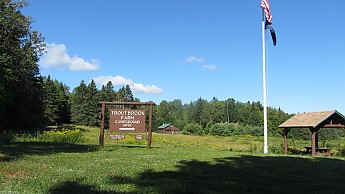 Clearly from that smile you can see The Tot has not read daddy's trip report about the Freezeout trail or maybe she has.
Tent Site 2 is just off the trail. Easy to get to but not exactly private. Luckily we didn't see many people at all on the trail.  The other two walk in sites are much farther off trail.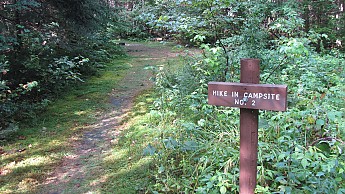 Daddy explaining the fine art of sitting and looking.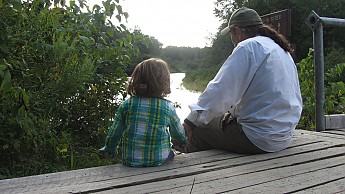 View from the footbridge over Trout Brook. Besides these well reflected clouds we saw geese, ducks, heron, canoe, kayak, swimmers and fly fisherman in these waters.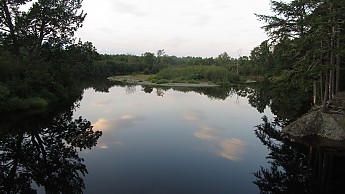 The Tot helping daddy do some testing for a future gear review.

Day 2 we did some more serious trail hiking. We packed a picnic and set off down the Five Ponds Trail for The Tot's first exposure to a real trail.  She loves to walk in the woods but this was a bit more advanced than our local hikes.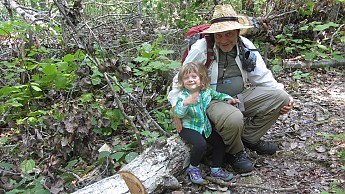 We went at her pace and I carried her over some muddy and running water spots. I'm pretty sure we didn't even go in a mile but she was having a ball finding flowers and mushrooms along the trail. We realized we weren't going to make it as far as any of our planned picnic spots so we turned back early.  The whole idea is to have fun so plans are totally flexible. Here we are celebrating back at the trailhead.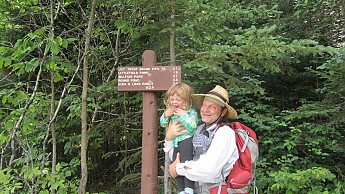 We drove down to South Branch campground to have our lunch and were overwhelmed by the crowds.  We'd seen almost no one but rangers for two days and this place was much more crowded.  We ate, checked out the views of the pond, the peaks around it and Pogy notch on the far end.  Plans were made for possible day hikes or even paddle camping, but definitely not staying at this campground as its 35 or so sites were a bit too popular for our tastes.
Then the rains came! Two big storms came through during the afternoon, each dumping about a quarter of an inch in short time.  We got lucky both times and rode them out in the car but it seems the new Kelty TR3 was up to the task as it was dry as could be after both storms despite not being fully closed up.  The Tot was too busy chasing rainbows to worry about gear testing though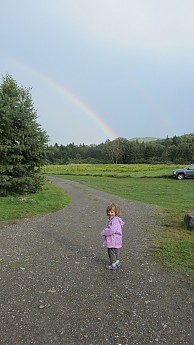 Steamy sunlight in the wet woods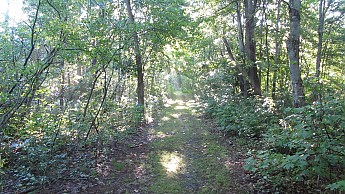 Since we were only a quarter mile down the trail I brought along some luxuries that don't make it on real backpacking trips.  There are some "perks" to taking the family camping it seems!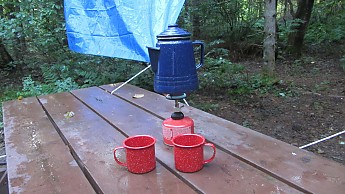 Before we head for home we really need a gratuitous Katahdin pic.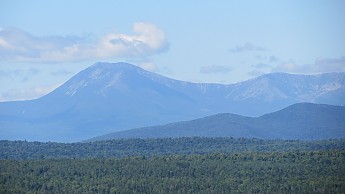 Ah that's better. Now The Tot can rest easy and dream of next Summer when we find out if daddy can lug a 50lb pack so she can go on a real backpacking trip.