1:24 p.m. on September 9, 2013 (EDT)
Peter1955

1,379 reviewer rep
1,339 forum posts
A few weeks ago, my 4 year old granddaughter went to British Columbia and when she returned, she brought me a moose. I figured that Mr Moose might be missing his mountains, so for the last couple of weekends, we've been going out and doing a few trails together. I hope you enjoy the pictures. 
Mr Moose went to Jasper National Park a couple of weeks ago. He went a lot of different places and took a lot of pictures.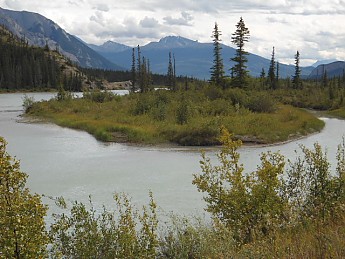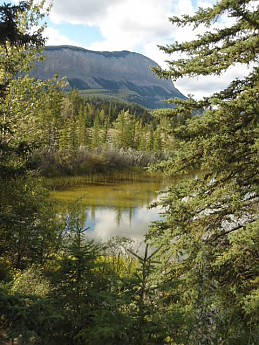 His first stop was at Medicine Lake. Sometime the water in the lake is very high, but now it's right down as low as it can go.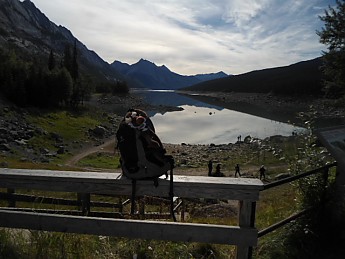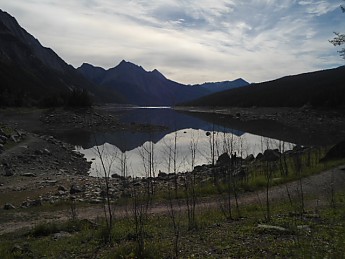 Mr Moose sees a fisherman wading out onto the lake. It must be very shallow here!
Then, Mr Moose stops at the Maligne River. It's cold, so he doesn't go wading, but it's very pretty. 
Mr Moose heads for Maligne Lake and takes a break on the shore...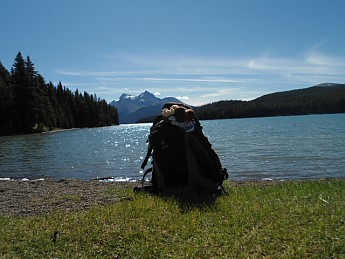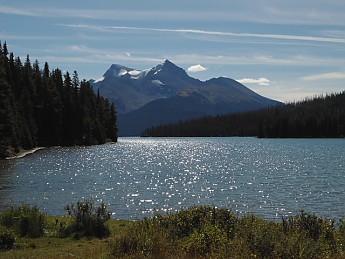 ...before doing the Mary Schaffer Loop.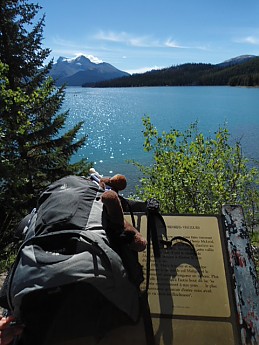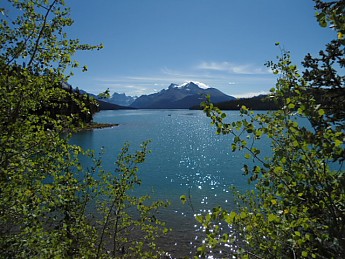 Mr Moose discovers a trail that's named after him!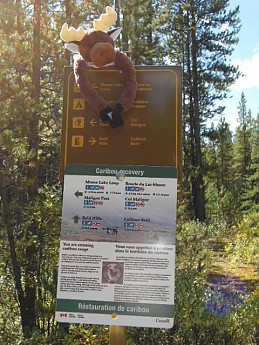 ...and hikes it!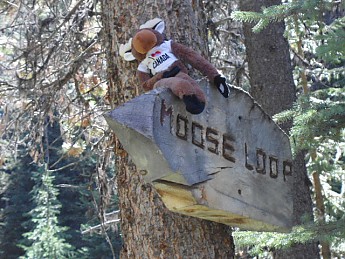 He climbs a tree for a better view...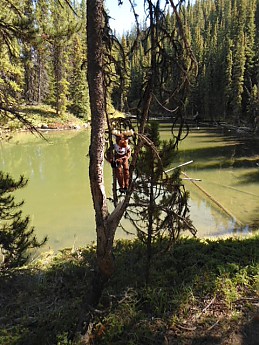 ...then decides to take a nap.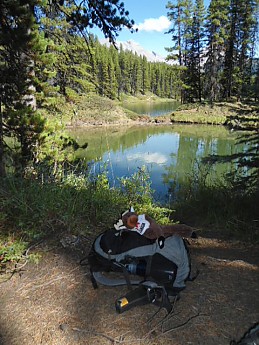 Moose tracks at Moose Lake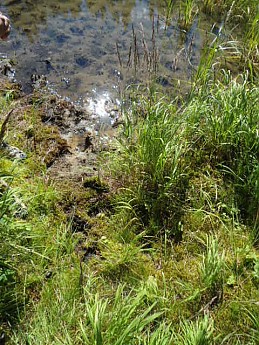 Mr Moose heads up the valley, but pauses to look up the Whirlpool River to the old fur-trading pass.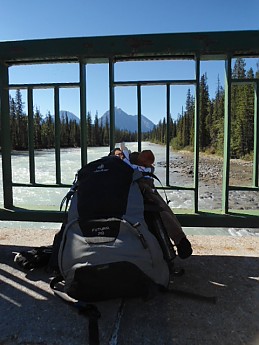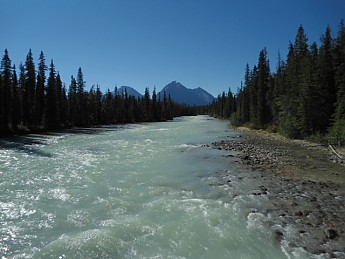 At Athabasca Falls, Mr Moose elbows his way through the tourists and gets a look at the waterfalls.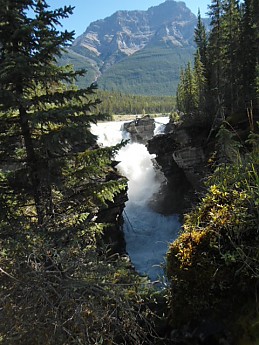 Hang on tight, Mr Moose! Don't fall in!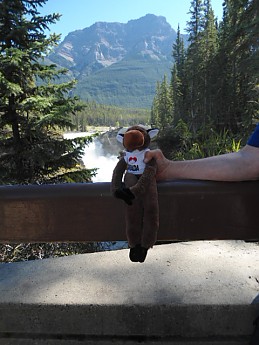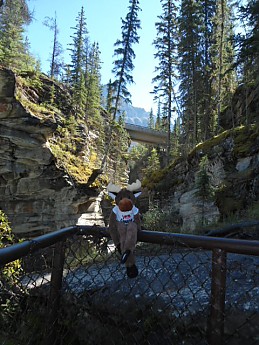 Then it's off down the Icefields Parkway. Mr Moose stops for lunch at Beauty Creek and sits on the little dock. He eats his sandwich and drinks his juice.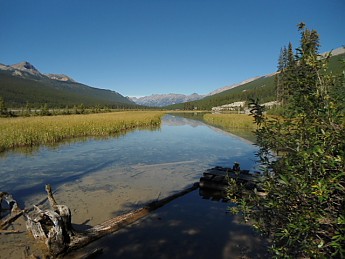 Mr Moose can look down the Athabasca valley, and he can even see up into the Icefields and get a glimpse of the Kitchener Glacier.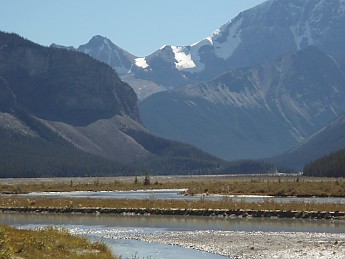 That evening, Mr Moose has supper in Jasper then goes up to Pyramid Lake. He gets bored hanging off the backpack...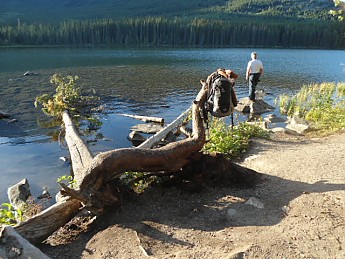 ...so he takes a little walk out on a log. Look close!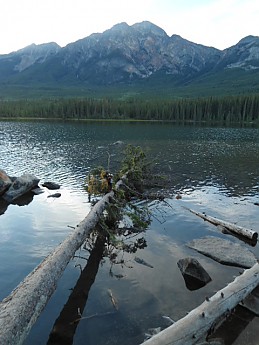 The next morning, Mr Moose has to head back to Edmonton. He stops at Talbot Lake on the way home. (Mr Moose likes climbing trees!)...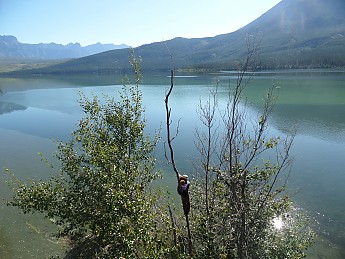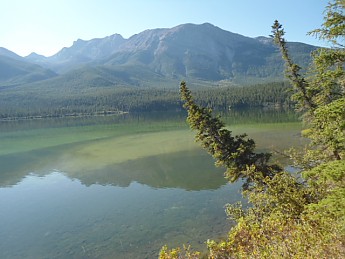 ...and at the Jasper Airfield. Mr Moose also likes airplanes.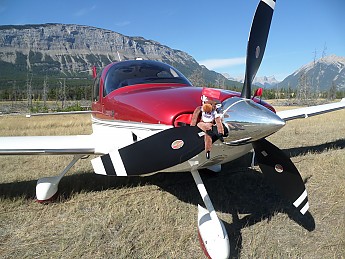 Mr Moose had a pretty good weekend in Jasper National Park. He saw lots of neat things and went for some pretty nice walks. Next weekend, Mr Moose wants to go to Waterton Park down in Southern Alberta.