3:28 p.m. on September 9, 2013 (EDT)
Peter1955

1,379 reviewer rep
1,339 forum posts
Last weekend, Mr Moose and I went to Waterton National Park. Saturday was drizzly, and like everyone else, we were scrambling for something to do. It cleared up in Sunday, so we managed to get a little hike in.
I hope you enjoy our adventures. 

Its a long drive to Waterton, and we were both pretty tired when we got there.
Met a bear cub on the way in doing his best to destroy a highway pylon.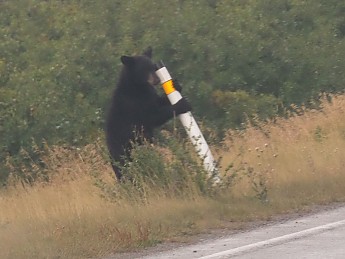 We checked into the Bear Mountain hotel...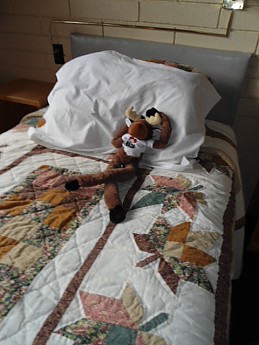 ... then went for a walk. Even at the townsite, there are a few cool things to see.
There's a waterfall...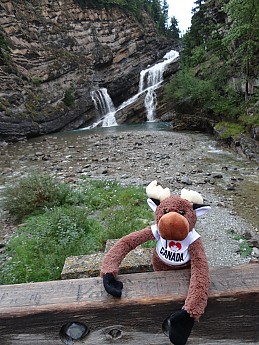 ..with American Dippers in it (very fun to watch!)

Waterton Lake, of course...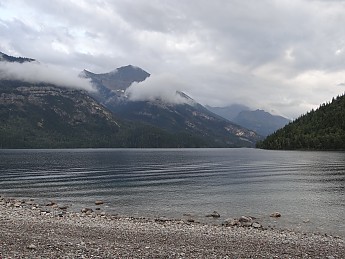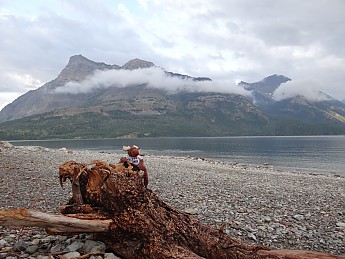 and the Prince of Wales Hotel.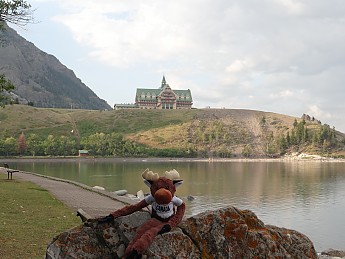 We went to Waterton's top-rated restaurant for supper, 'Weiners of Waterton', then off to bed.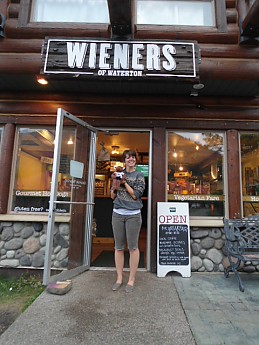 The next morning dawned foggy and wet, so after some thinking we decided to head up to Red Rock Canyon and Blackiston Falls. Both are short, and in case of heavier rain, we'd be able to get back to the car fairly quickly. 
Stopped on the way up for a few photos. Mr Moose with a bear...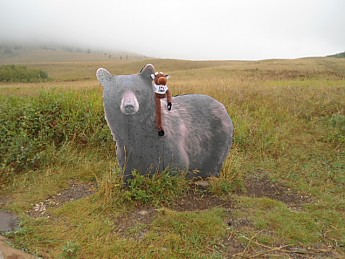 (and a sign by the life-size photo saying 'Never get this close to a bear!')
And some scenic shots. Very cool lighting through the mist. There were chokecherries, saskatoons and blueberries everywhere, so I snacked at every stop.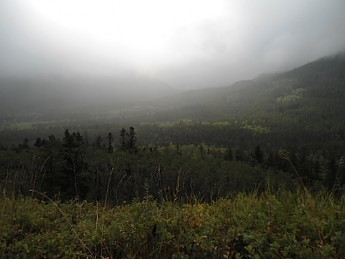 Next stop was Lost Horse Creek...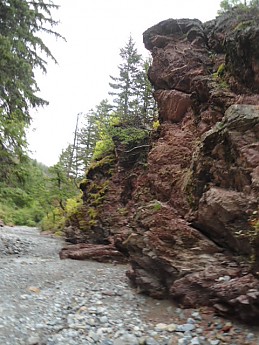 Mr Moose went climbing...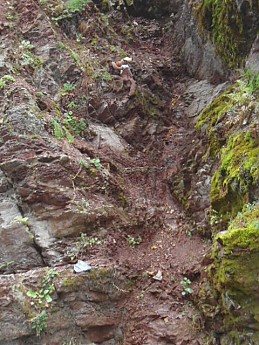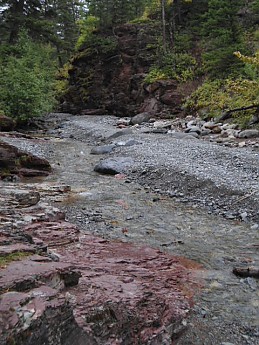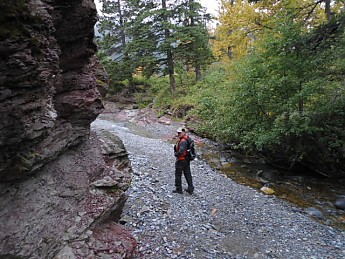 ...then Red Rock Canyon.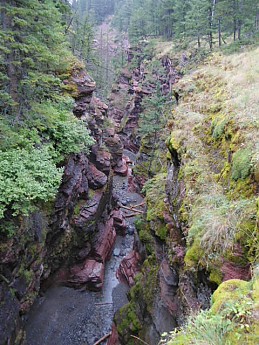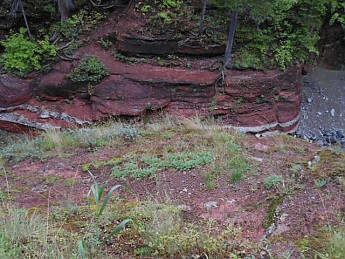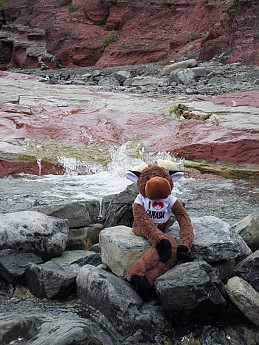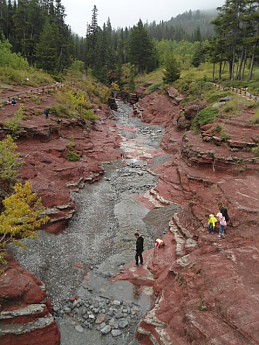 The trail to Blackiston Falls is an easy one. It climbs steadily through the forest, then opens out at the top of the falls.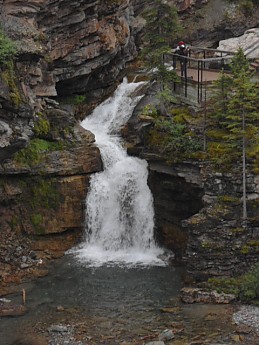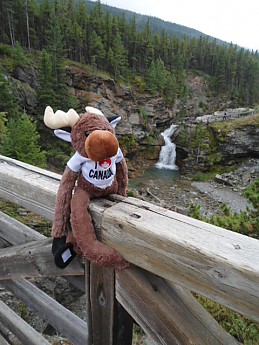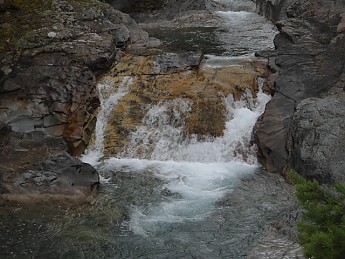 Back to town. While the weather had lifted slightly, it was still pretty much socked in at any elevation, so we took a boat ride down the lake into the US half. Interesting geology along the way and some decent scenery even with the clouds. One of my fellow IGA guides, a young guy just out of university, gave an interesting talk along the way. He did an excellent job.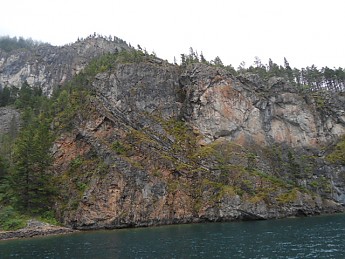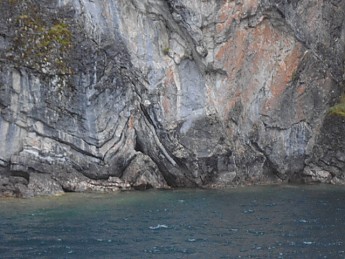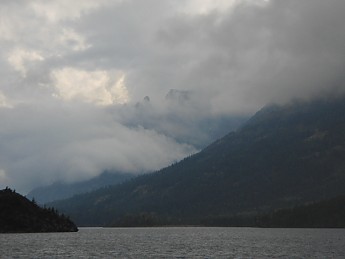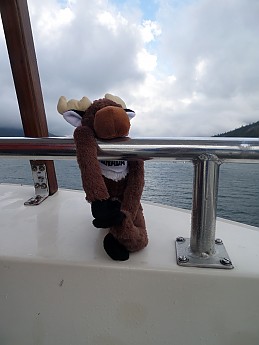 International boundary: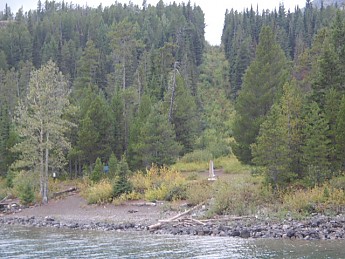 and the US end of the lake.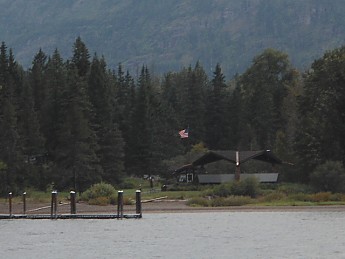 Grizzly scat: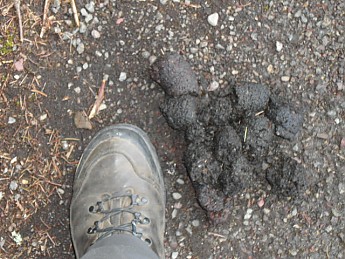 Have you ever noticed that customs guards have NO sense of humour? Mr Moose almost got himself arrested for trying to sneak into the US illegally! Well, not really, but they didn't think it was amusing to take a photo of a stuffed moose for your granddaughter and they hustled me back onto the boat.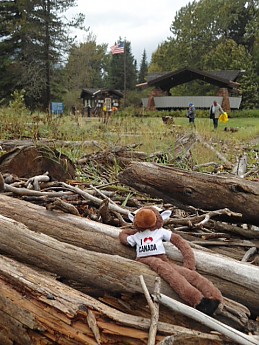 Back to town with a day that, while not wasted, certainly wasn't terribly challenging. 
The next morning, the clouds had lifted, and it was off to do Mt. Crandall. The first part of the trail (called 'The Bears Hump') is a straight-up 'staircase', 250 metres elevation in one kilometre, or a 1:4 ratio.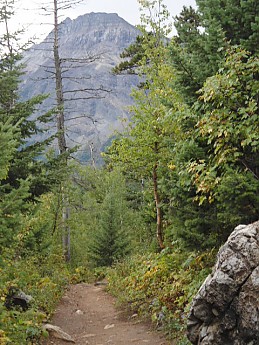 There's a bit of scenery on the way up...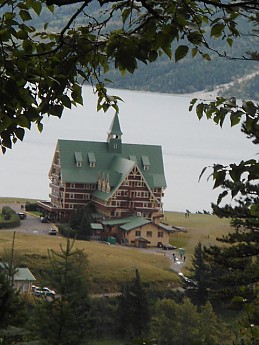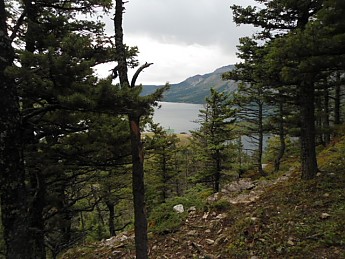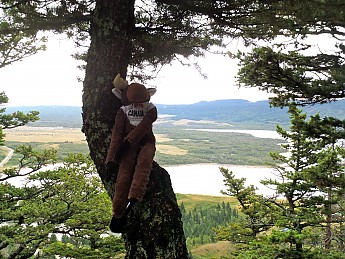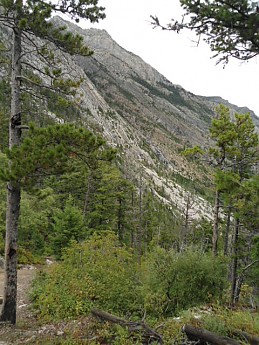 and a number of stairs...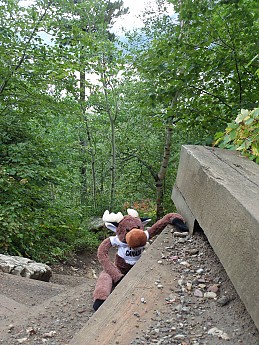 ..then the trail crests at an outlook directly above the town.
Mr Moose made a new friend, named BowWow.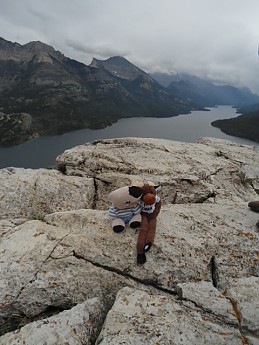 While bagging the summit of Mt. Crandell requires climbing gear, getting up the section just below it is limited only by your abilities as a scrambler. Just a few smooth and easy humps to scoot up give extra elevation quickly.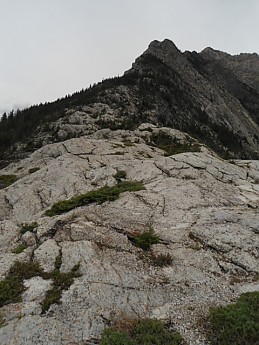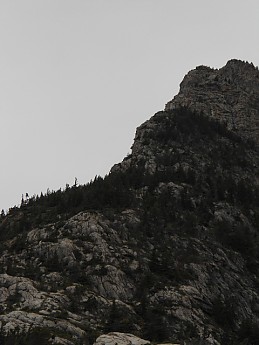 Nice views of Waterton Lake and of the surrounding mountains.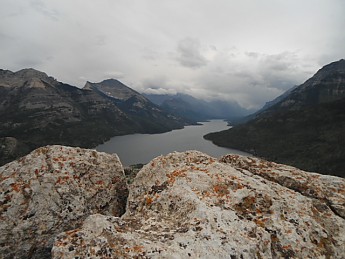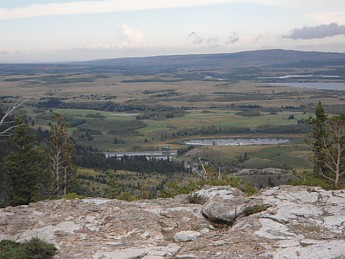 We headed back down after just a short while on top. It was a 7 hour drive back to Edmonton, and as usual the weekend hadn't been long enough!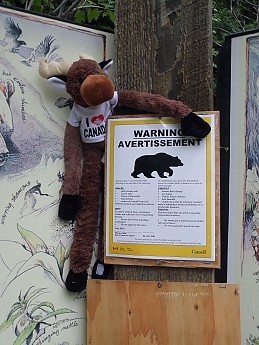 And two more cubs asleep in a tree on the way out.