4:48 a.m. on September 10, 2013 (EDT)
Joseph Renow (jrenow)

1,679 reviewer rep
712 forum posts
This past Labor Day (9-2-13) I went on a 3 night kayak trip of the Eleven Point River (located in the southern part of the Missouri Ozarks). The fauna there is remarkable (particularly birds)…and I wanted to avoid the crowds of day-trippers who would surely be visiting the river that weekend…so I waited till Labor Day to begin the trip. For the first two days I didn't see anyone in the more remote upper sections of the river…and only encountered three small groups (2-3 people) of overnighters in the more accessible lower sections on the last day.
The focus of the trip was to mostly relax and enjoy myself…and enjoy the sights that the river has to offer…so I chose to kayak from the Thomasville put-in to the take-out at Riverton. The entire trip was only 37 miles…which I planned to kayak in just a little over two full days (paddling for an hour or two on the first day and anything remaining on the last day). To keep things light + easy + flexible I used my hammock system which I find perfect for wooded rivers in the summer…but brought my luxury (heavy) cook-set which included a non-stick anodized GSI pot and pan combo + a Snowpeak canister + small 2-quart cooler. The basic idea was to camp early and easy...so that I could take the time to fry and simmer up delicious dinners and slow luxurious breakfasts.
I started my trip at the upper-most section…putting in at the Thomasville put-in.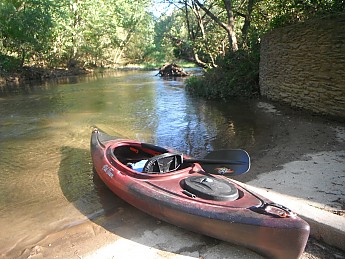 I set off really late in the day (about 5:00) and tried to get as far down river as I could that first day...but the river being low and at the same time having just been through a large flood a few weeks earlier...it was slower going than I had hoped.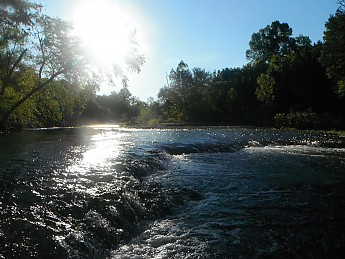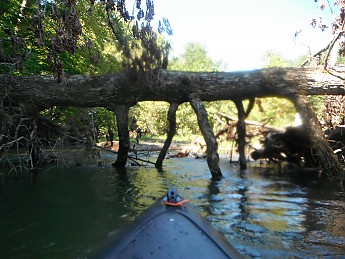 Paddling a little too long I found myself in a hurried state to find a campsite before dark on the first night…as a result I ended up using a less than ideal campsite…but one of the advantages of using a hammock is that where there are trees there is a bed!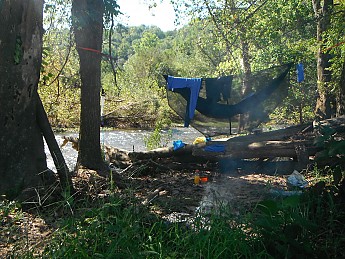 Despite not having a lot of choice...hammocks have a way of making just about anywhere along the river a great camp-site. Though the hammock was situated about 4 feet off the ground...the site had plenty of good seating...morning sun...and the sound of rippling water to fall alseep to.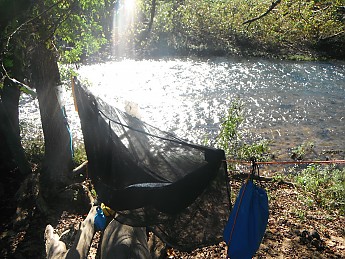 On this trip I had planned to I treat myself with a luxury menu...but my Snowpeak Lite stove failed to work for more than a minute or two at a time…luckily I was having frozen curry and cousous for dinner the first night si I had a hot dinner by simply lighting and (re)lighting the stove till the couscous was soft enough. For coffee the next morning I boiled water in an old 16 oz glass soda bottle (I try to take with me any glass I find).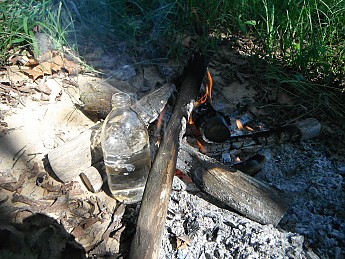 I got back on the river fairly early the next morning...the river was clear and the sun hot...so it made for a great day of paddling.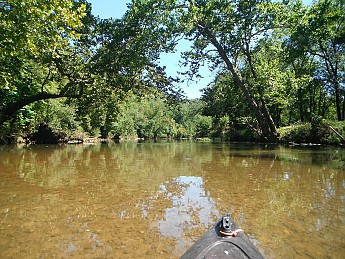 There are many bluffs all along the Eleven Point...and several springs feed it just right off the river.
The second night I pitched camp a little early...choosing a nice spot just a few feet from the river...across from which was I nice bluff that positively enhanced my view and mood.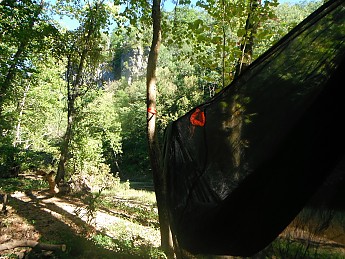 Dinner that night was a beef and burrito filler (dried salsa + beans + ground beef + rice + sharp cheddar cheese). Instead of tortillas I used corn-chips which softened just a bit in the mixture and added a nice corn-tortilla flavor to the whole pot. Unfortunately...the dinner was meant to be rehydrated slowly over a low flame...but due to my failing Snowpeak and my desire to keep my pot free of soot I was compelled to try and rehydrate my dinner using boiling water. It mostly worked...but there were a few pieces of stiff rice.
I was surprised at just how cold it got both nights on the river (someone told me mid-fifties off the river). After spending two nights in a hammock with just a fleece "sleeping-bag" to keep warm (I find fleece doesn't compress as much underneath me in a hammock as down and synthetic fills do) I pitched the hammock low with a tarp pitched above it on the third night for some extra warmth.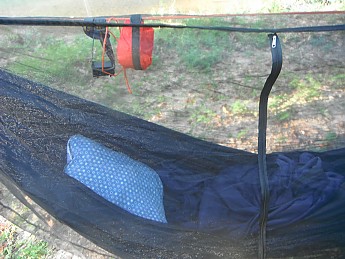 Due to the cold nights I eagerly awaited the sun in the morning...building a fire with the first rays warm enough to get me out of the hammock…and putting water on for coffee as soon as possible.
Speaking of trash...I found a piece of inflatable raft on the second day...and elected to use it as a ground sheet in front of my hammock...but I wish I had used it as a mat in the hammock instead...I could have inflated and used it as bottom-side insulation!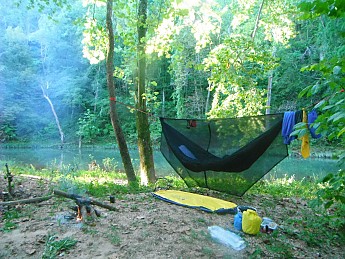 Starting a little below Greer Spring the third day I paddled all the way down to the take-out at Riverton (17-18 miles). The lower sections of the river are faster that the upper sections...but gain in speed is off-set by the fact that there are so may things to see in the lower sections.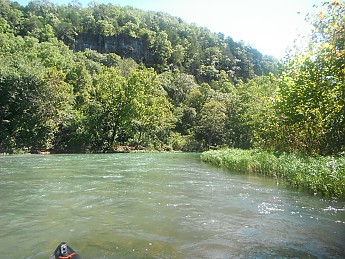 There are the remains of the old Turner and Boze mills.
There are several springs and bridges
Lots of wildlife...eagles and hawks...waterfowl and otters.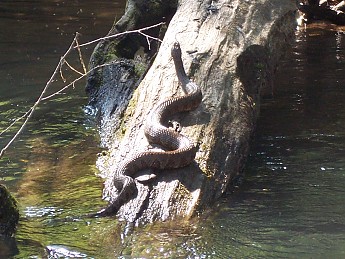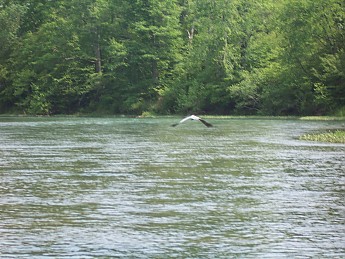 BEARS!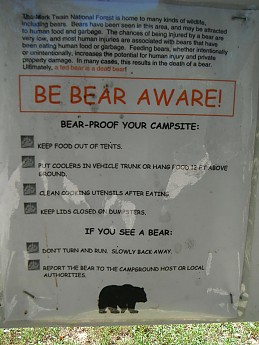 Just kidding...there were no bear sightings. It was late when I finally got off the river...to make things worse...my camera that I had been nursing all summer died before I made camp.
So with a lack of pictures you'll simply need to imagine a lovely hammock hung low under a tarp just across the highway at the Hufstedler's Canoe Rental...dinner was a tasty bacon carbonara pesto on linguine...which maybe I can show in another forum on food. Anyways...it was a super tasty dinner...though the lack of a proper stove made me wish I had used angel hair pasta.
I got up early the next morning from a wonderful night of sleep...the addition of a tarp improving me level of comfort significantly...perhaps next time I might be more inclined to get out of my bag and do a middle of the night tarp pitch in the cold damp air?