8:42 a.m. on September 18, 2013 (EDT)
Peter1955

1,387 reviewer rep
1,339 forum posts
This topic has been raised before, but only in bits and pieces. A few visits to our local historic park have inspired me to put it all together. I wasn't sure where to put it on Trailspace, so if a moderator would like to move it to 'off-topic' or somewhere else more suitable, please feel free to do so. 
Fort Edmonton Park includes a reconstruction of the original fur-trading fort from 1848, and streets with stores, farmsteads and houses from each of the eras of 1884, 1905 and 1920. There are also interpreters at strategic locations who can explain in detail what life was like in each era.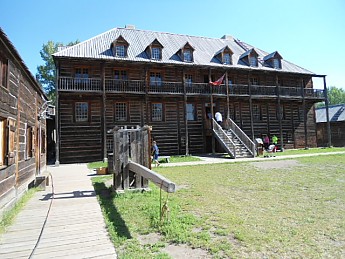 The Factor's house, five people plus servants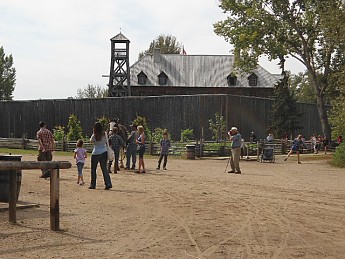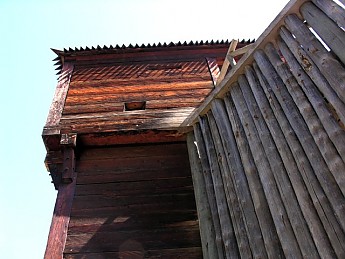 Fort exterior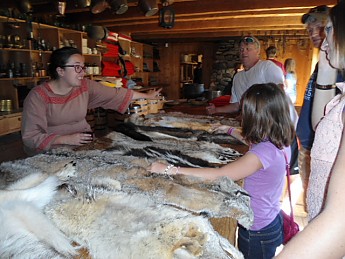 Trading Room
A visit there begins at the fort, which includes a fur-trading post where you can try to guess which furs are which, or get information on what goods would be traded and for what price. The Fort lived on trade with the natives – Cree and Blackfoot – and there is a reproduction of a Cree encampment outside the fort gates.
Cree Camp
In terms of equipment and lifestyle, this is to me one of the more interesting sites. The men who hauled the furs out by boat to Hudson's Bay lived, on the average, to about 25 years old. They were required to row a York boat all day, dragging it through rapids or across portages when necessary, and to haul two 90 lb bales of fur on every portage. A leading cause of death was strangulated herniation from the heavy work.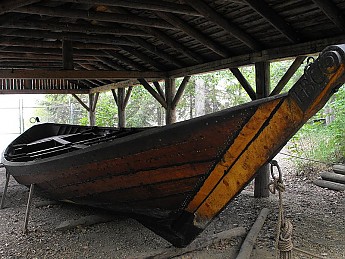 York Boat
Crewing a York boat was an arduous task, and those who chose that life faced "unending toil broken only by the terror of storms," according to explorer Sir John Franklin. The Hudson's Bay Company bosses could expect a much longer lifespan, doubling that of the workers to 50 years or more.
The gear they used was primitive by our standards – fur bales were simply bundles slung from tump lines and a 'pack' might consist only of a bag or basket with a shoulder strap. Native pack boards, made of skins stretched over willow frames, helped with heavier loads, but were considered too cumbersome for use in the boats. Snowshoes used by the fur traders were wood with rawhide lacing, copied from the designs of tribes like the Iroquois and Cree. Wool coats were made from trade blankets, and the traders had furs to sleep under and bison robes for winter.
A lot of the equipment was the same as what the natives had, simply because of the available materials, but sometimes with upgrades that used more 'modern' technology. The use of metal for nails, cloth for clothing, and steel knives and copper cooking pots made a huge difference in the lives of both the natives and the traders. Nonetheless, equipment was heavy, bulky and wore out quickly. Even the York boats, 14 metres long and famous for their toughness, only lasted a couple of seasons.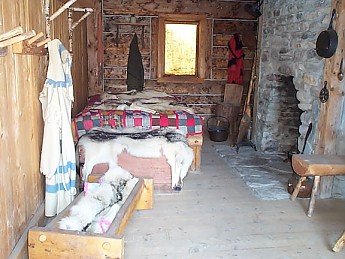 Married mens' quarters, one family per room
It is interesting to me that Cree women went out of their way to attract a man from the Fort. By comparison with life in a wet teepee on a frozen prairie, even a tiny room in the Fort was a major improvement! Any romantic notions about the life of the noble savage fall by the wayside when compared to the benefits of a steady, year round food supply and a fireplace for winter.
In the words of Hobbes, life outside the forts on the prairies was, "...poor, nasty, brutish and short.", while inside, the food ration included 8 lbs of meat per person per day! The men who worked the fur brigades, knowing the risks of their lifestyle, would often cut deals with a buddy. To prevent their families from being tossed out, in case of their death each would promise to take care of the other's wife and children.
By 1848, more modern equipment was available, and we start to see more gear designed and imported from factories abroad. The bison was fast disappearing and the natives and Métis were being squeezed onto reservations. The bison coat was still the gold standard for warmth in winter. It was still in use by the Mounties and others who might expect to be outside for long periods of time, but because of it's weight and bulk, it was losing popularity with more casual users.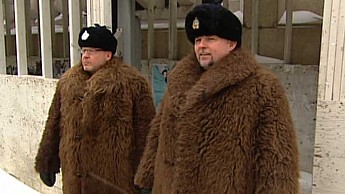 Winnipeg Police during historic reenactment
Temporary shelter on the trail meant canvas tents, again heavy and bulky, and subject to leaks if anything touched the sides. However, anyone going any distance was usually in a boat, a wagon or on horseback, so weight was less important.
The biggest changes in equipment at Fort Edmonton took place around 1885, when Canadian manufacturers began producing outdoor gear meant for use by the British Army. This led to innovations like waterproofed canvas, sleeping bags rather than bedrolls, lighter packsacks, and camp stoves. There is also a Gatling gun on display, one of the most important innovations in military artillery, but it was the British infantry who needed the kind of gear that modern backpackers look for.
The Klondike Gold Rush began in 1896, and for the next few years, the area was flush with "Stampeders". They were headed to the Yukon by a route that involved both overland travel through dense bush and by water up major rivers, so any equipment had to be light and portable. The use of what we now consider 'hiking gear' started to come into its own. The Primus stove, for example, was invented in 1891, and meant that travelers were no longer reliant on building a wood fire. In 1898, noted geologist Joseph Tyrrell wrote to Canadian manufacturer James Woods to "testify to the excellence of the Eiderdown sleeping bag obtained from you," which he declared was "the most comfortable bed that I have ever had in the field.".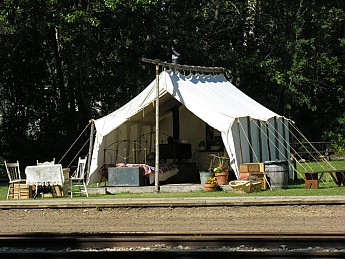 Tent by the railway tracks
When the railway reached Edmonton in 1905, it triggered a local land boom. Thousands of settlers arrived in town, but it was impossible to build houses for them all in the time available. In consequence, a tent city sprang up in the city's river valley and many people were forced to spend a winter or two huddled in canvas tents, insulated with nothing more than hay bales stacked up along the outside walls. Unlike the natives or fur traders of earlier days, they could keep their tents heated with a cast iron or sheet metal wood stove, so while accommodations were primitive, they were at least more survivable. The average life span was still only 40 to 50 years, but that included a disproportionate number of women who died in childbirth, and accidental deaths in rural areas far from medical help.
From then on, Fort Edmonton Park moves into the 1920s, and of course the invention of the automobile changed everything. Unlike older cities, the entire city was laid out with the car in mind and assumes that every family will have access to one, so it occupies a lot of land and has wide, straight streets.
There have been a lot of other innovations in hiking gear since that time, such as the early Trapper Nelson pack board, which combined traditional native designs with modern elements. There were down jackets invented by Eddie Bauer, internal frame packs for better stability, and the aluminum frame and cramponed Sherpa snowshoes, but the overriding principle seems to be that equipment has steadily become lighter, stronger and better designed. As just one example, the 30 lb bison coat has been replaced by the warmer, and much lighter, down parka, and the old six foot long wooden snowshoes have been replaced by the comfortable (and indestructible!) epoxy resin ones designed by Everest climber Bill Forrest. By comparison, the older gear was heavy, bulky and often make-do – cobbled together from whatever was available at the time, rather than designed by experts for a specific job.
I've often been amused by the European tourists who come to the Rockies with a romantic view of what life in the old days was all about. The Stoney Nakoda band makes a lot of money taking them out to teepees in the foothills, feeding them bison steaks and telling them the legends of their people, then putting them to bed under buffalo robes while they drive back to their cozy bungalows for the night. Like North Americans raised on Zane Grey, many Europeans have a mythology that primitive life on the prairies was somehow an heroic adventure, and a purer and more spiritual life than we can find nowadays. Unfortunately the facts, as harsh as they are, present a much different view.
As a contributor to Trailspace, I enjoy being a part of a community that promotes the development of new equipment, and part of an historic process that goes back for many centuries. Equipment we review follows the same processes, and is continually becoming lighter, stronger and more effective. A bear skin becomes a down quilt which becomes a down sleeping bag which becomes a down suit for a mountain ascent, and even the simple walking stick turns into a more energy-efficient pair of hiking poles. The result is that the equipment we use for hiking and backpacking gets steadily better, and the growth is exponential.
New equipment is also more and more specific to a particular task, and while most equipment is reasonably flexible, we also see gear meant for climbing but not hiking, car-camping but not an ultralight summit push. Is that a good thing? I don't know, but most of the improvements developed for use in one area also have some applications in others. I look forward to the newest developments, and to the improved performance and comfort that results. And that's what Trailspace is all about.