3:19 p.m. on October 4, 2013 (EDT)
giftogab

592 reviewer rep
1,522 forum posts
I have a couple gal friends from Seattle who come down each year and I try to figure out an ADVENTURE they can go on that presents them with great scenery that differs greatly from their Great Pacific North West. This year, we headed up to Zion from Las Vegas on a day trip. IT was my hope we could do the entire bottom up 10 mile that does not require a permit. However, due to time considerations and we really only made it a 6 miler. But the scenery is great, none the less.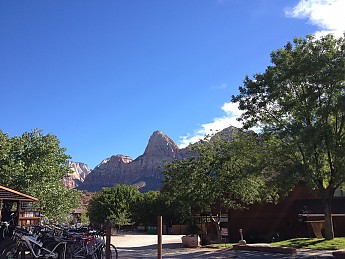 Standing in the lot of the gear supply store, this is our first view of what was to come. It challenged my patience to get there and start, but getting footwear was essential to make the day its best for my hiking companions.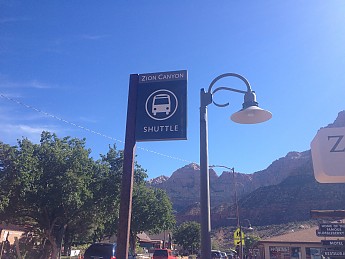 All over the town of Cliffdale there are shuttle stops to board the free shuttle to the park. If you haven't gotten inside the prk by about 10:30, you will likely be out of parking spots. This is a great alternative and my car was safe in the very busy little town.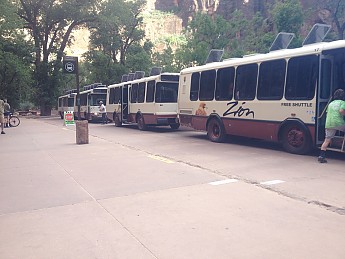 When you get into the park, whether by town shuttle, by car to the car park or on foot, you then get on a park shuttle to take you to the trail-head.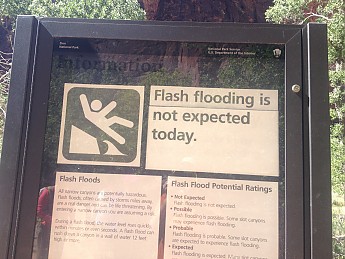 Upon arrival at the Sinanawava stop on the Park Shuttle, it was good to see that the Narrows was not expecting any flash floods. That is critical when planning to take this hike. The Narrows often gets closed when storms are near because you have no place to hide when the water comes gushing down the Virgin River and you are standing in it! The park can close this also just due to high flow.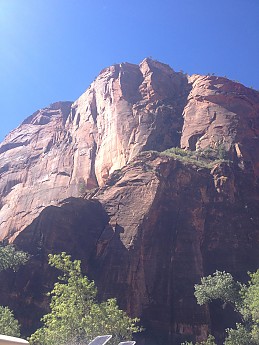 No words. Just. None.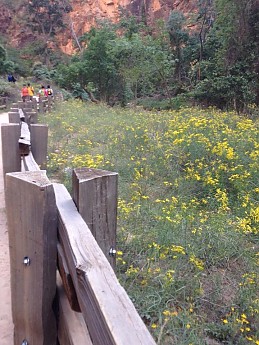 The first mile of the hike is actually a sidewalk of concrete. IT is designed for the non-hikers to get out a ways and see some of the wonderful scenery and then go back, grab the shuttle and head to the next spot and see some more. I saw many seniors who may not have otherwise have seen this wonderful part of the park without the walk.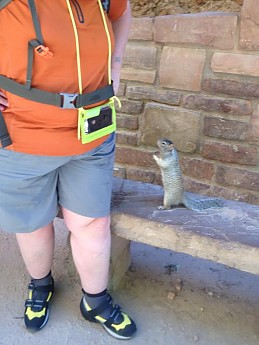 The animals are way toooooo friendly and some people let there kids get too close, in my opinion. One little girl toddler clubbed a squirrel with a stick! Then she lie down on the walk and had her face in his......can't tell you what I pictured happening next, and I walked away and hoped the squirrel behaved while she was there.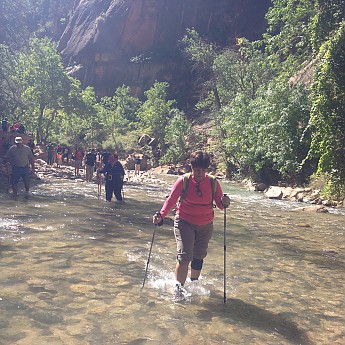 Then you head off up the river. Yes, right up the river.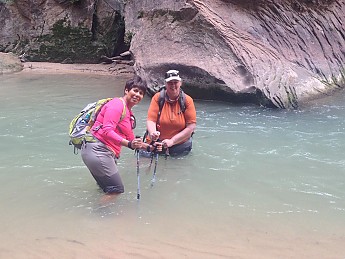 Me and Maggie at about the point we had to turn around. Some of the best scenery was to come, but we were just out of time. It would have been nice if I had remembered that Utah is an hour ahead of Nevada!!!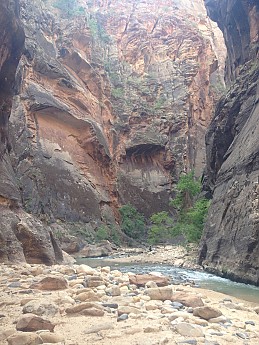 A-MAZE-ING!!!!!!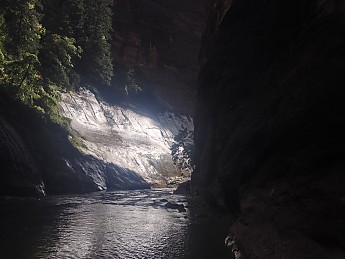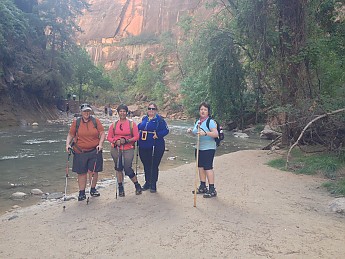 About to start the one mile walk back to the shuttle.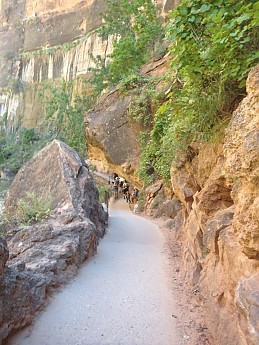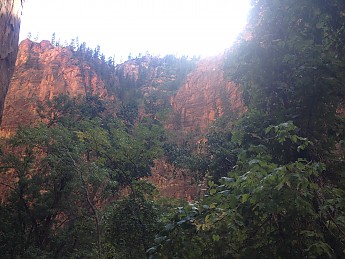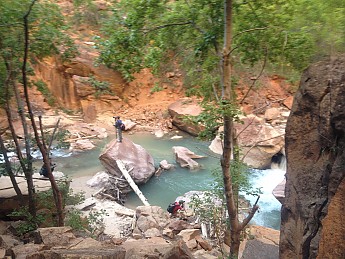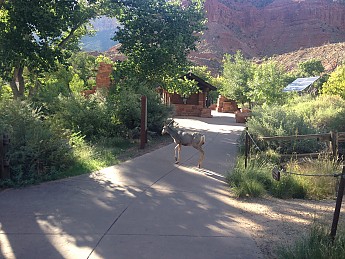 As we walked to the gate where we would then catch the shuttle back to town, a family of deer traipsed across the path, undaunted by the humans.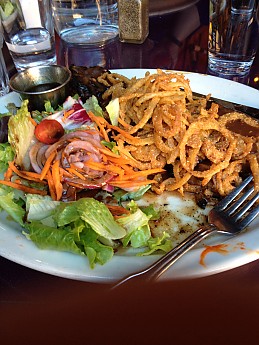 A great steak and salad awaited us at The Bit and Spur in town after we returned my friends rental gear. I was really very pleased with the gains I have made in fitness these last couple of months. I cannot wait to go back and do the whole 10 and eventually the 16 mile top down overnighter!

This hike may not appeal to people who prefer no crowds as it is a HIGHWAY of traffic. May have been due to the free admission day the day before, but none the less, it is rated one of the top 100 things to do in America and I think every European does this, judging by the voices I was hearing when we were moving along the river.
Below are some more odds and ends I could not resist putting in: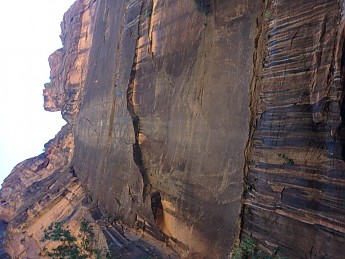 This was an attempt to show teh sheer wall. In some places, 7000 feet above the river!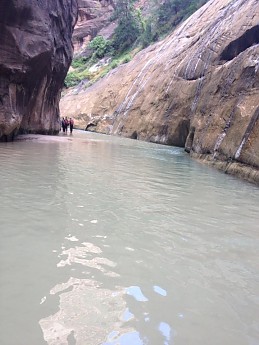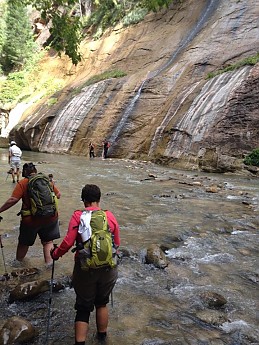 This was my first time to Zion and will not be my last. There are so many great hikes and bike trails too! It is only about 3 hours from Vegas and day trips are not a problem. Will report with the upper part of the canyon once I do that trip too!