6:18 p.m. on October 21, 2013 (EDT)
FromSagetoSnow

TOP 25 REVIEWER
REVIEW CORPS
6,158 reviewer rep
1,625 forum posts
The idea of Dry Falls is kinda cool if you are into geology and stuff but I'm not going into that this time.  Suffice to say the falls have no water at this time.
Basically I got a last minute call from a friend who desperately needed a male chaperone for 4-H youth over the weekend.  Since two of my clones were already attending and Frau SagetoSnow was also chaperoning I caved and decided to forgo opening day of pheasant season this year. 
As chaperone my duties include guiding the moral development of the young gentlemen in my care by instructing them in the manly arts of hanging rubber spiders from fishing line in trees, fighting with sticks and passing gas as loudly and often as possible without injuring one's self.  Its hard work, but a noble calling.  "Oh, you volunteer your time to help out youth organizations? How wonderful!"  Yes, yes I know. 
While the boys were under the care of the camp staff the other chaperones, all moms, hung out and talked about things that moms like.  I got scarce and took in the local bouldering and hiking.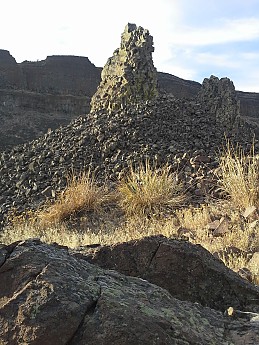 I'd call it world-class bouldering but I'd be lying by a long shot.  Most of the stuff here is loose choss held together by lichens such as the picture above.  In between yanking mailbox sized rocks down on myself I managed to grovel to the tops of several small formations from lots of pokey sit-starts.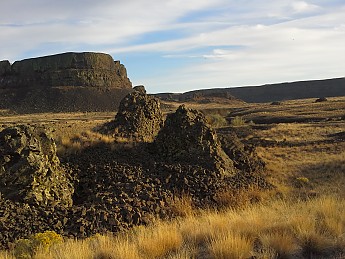 Perfect October weather.  Only in EASTERN Washington.  Decisions, decisions; stay in the lodge and talk about goal setting and making paper mache or go out screw around in the rocks and sage?  Hmmm, let me see...  Notice the distinct lack of paper mache in the pictures.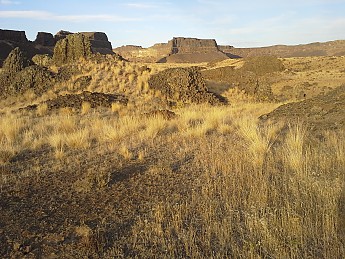 Evidently this area was made by the Missoula floods, which I only missed by a few thousand years.  I've heard the narrative a few thousand times living here so I don't miss much by leaving camp to go play.  If it were my camp, they'd never set foot inside a building but I'm not emperor yet.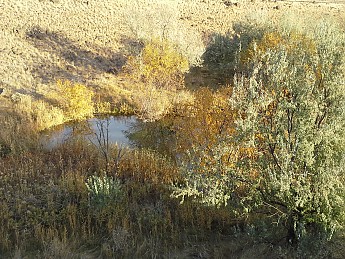 Springs attract wildlife from long distances, just not at the moment I took this picture.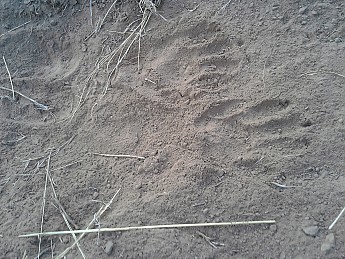 Raccoon I think.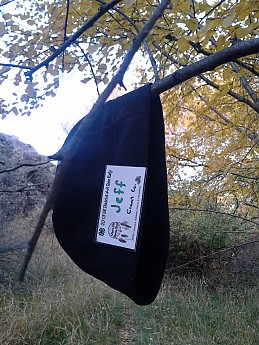 It was necessary to remove the cap and chaperone name-tag during climbs.  I need all the help I can get.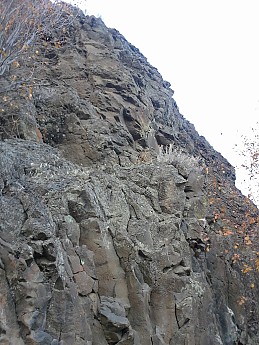 Since I was alone, gearless and a poor climber I stuck to easier stuff this day. Of the ten essentials I had, um, car keys, and a tube of mocha energy goo.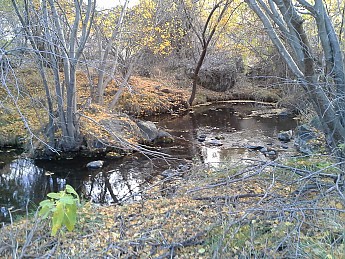 A creek is out of place in a land that sees seven inches of rain annually.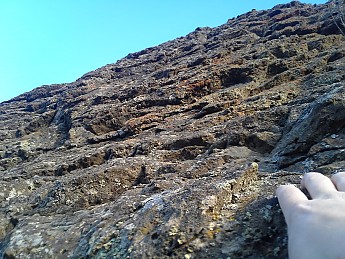 This short rock was kinda spicy for me.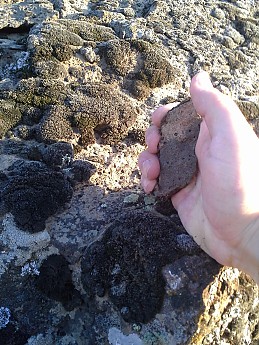 Moss and "portable" holds didn't help.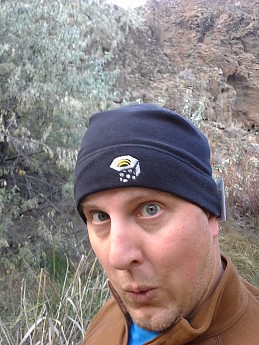 After a close call with another portable jug it was obviously time to rethink climbing alone in fading daylight.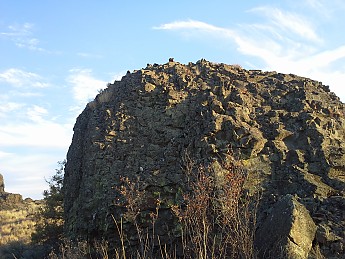 One more little boulder.  The crack on the left side of the rock.  Maybe 5.5, I don't even know boulder grades.  The spider infested crack HAD to up the grade a lot though.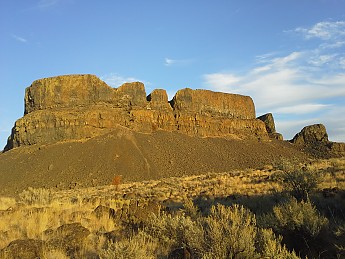 One last look at the unclimbed choss of Dry Falls State Park as the sun sets.  "Perhaps another time."
I heard the boys being released from whatever activity they were in.  Time to resume the role of responsible adult.  The lesson for this night; Setting up an L-shaped ambush to frighten other campers (girls of course, they scream loudest).  Its challenging work but knowing that I have had such an impact on the lives of young people makes the sacrifice worthwhile. ;)
Jeff