6:40 p.m. on October 21, 2013 (EDT)
Patman

2,155 reviewer rep
2,130 forum posts
All seasons are good for backpacking but my favorite season in East Tennessee is autumn.
There is a certain point at which the summers irritations (heat, mosquitoes, gnats, flies and such) go away and you begin to detect the sweetish scent of gently decaying leaves (uh, not stinky Rhodo) and the natural colors catch your eye.
My goal every year is to maximize all fall weekends and must temper my reaction to those who may float suggestions of weekend plans sans backpacking.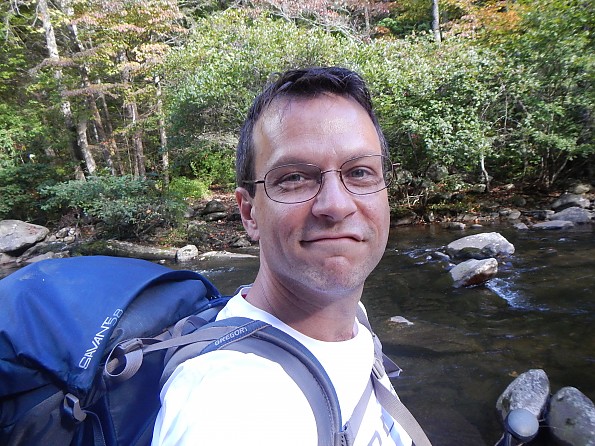 So I was off to the non-shutdown Citico wilderness of TN. I got some excellent directions to take a new driving route from Trailspace member kevinumberger. Thanks Kevin!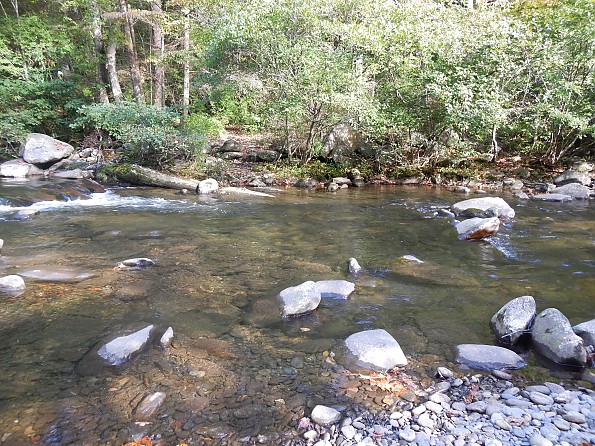 This was the quick but wet start to trail 105 as accessed from Wardens Field. I had only done a bit of this trail in the past (strange since it's a main attraction trail in the area)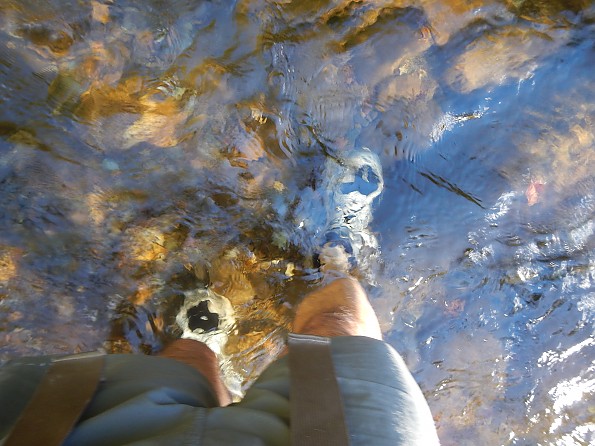 I wasn't sure how many crossing there were so I wore some old running shoes but packed a dry pair of hikers in a grocery bag at the top of my pack.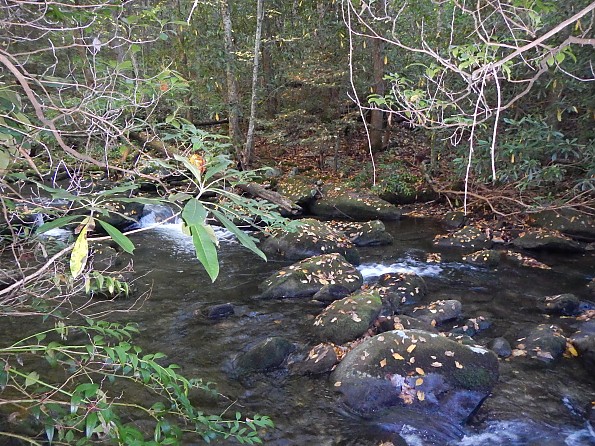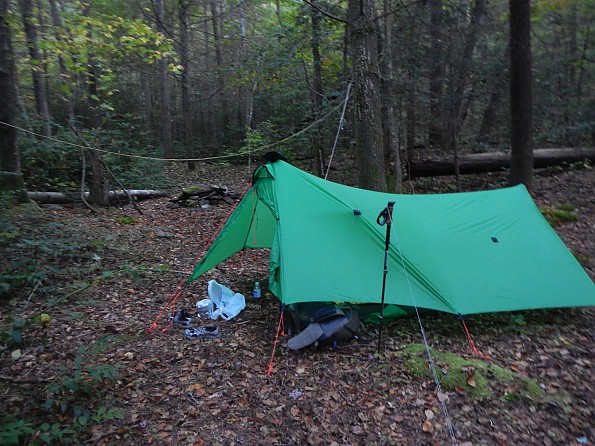 A ways past the intersection with Grassy Branch the trail seemed to dead-end into a campsite and I thought it crossed the river again so I crossed and followed a "sort-of" trail maybe a 1/4 mile into a really old campsite near the river. I could tell it wasn't the right path but it was getting dark so I went ahead and camped there.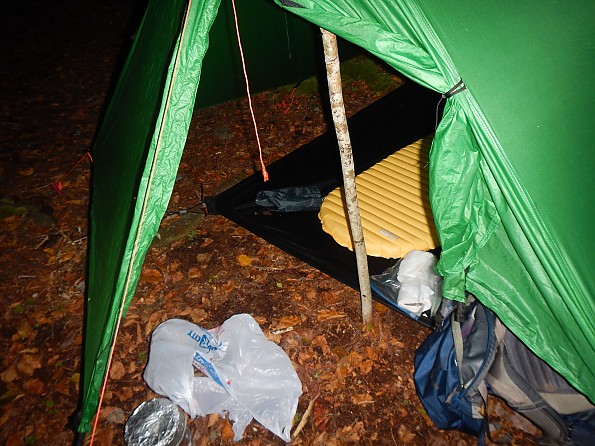 This pic has a good color contrast even though taken after dark with a flash.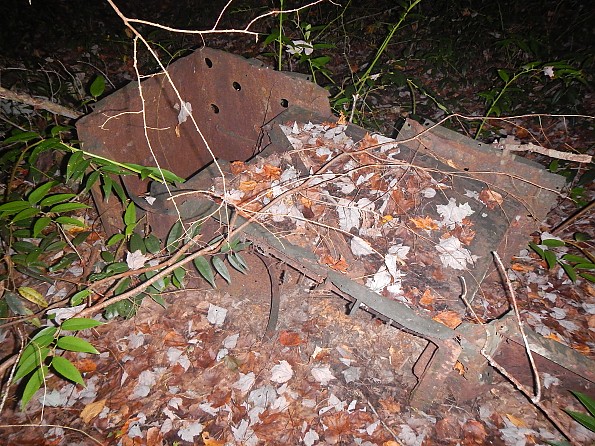 This old relic was in the camp area.
The next morning I looked at the map and verified that I was on the wrong side of the river so I backtracked to what had looked to be a dead end the night before and sure enough found a narrow footpath leading up the draw.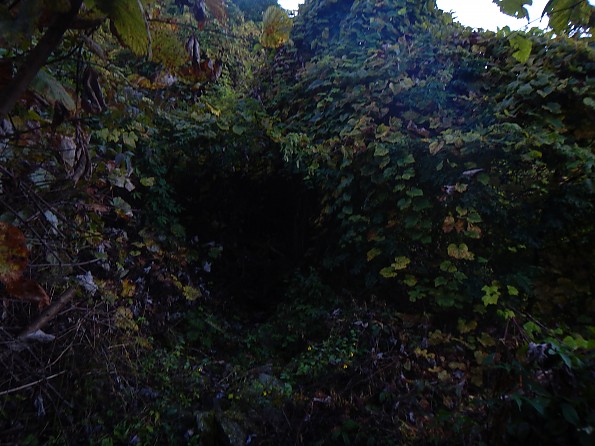 This trail tunnel is brought to you by the hand pruning of one Tipi Walter. I know from his blog that he just cut this passage out of the overgrowth on his last trip. Thank you sir.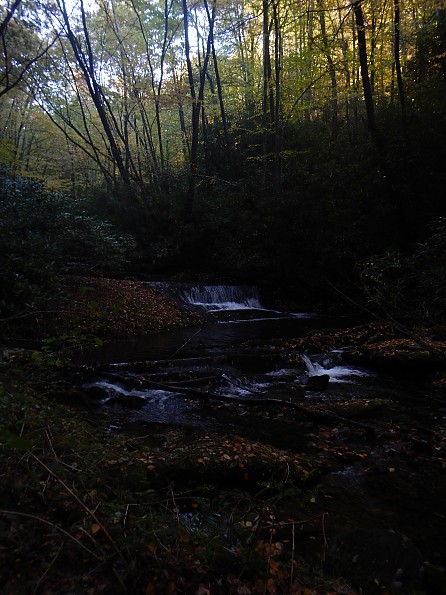 I was enthralled by the rich beauty of the South Fork. I could not believe I had skipped this area for so long. I've hiked around this valley from every angle but never really into it.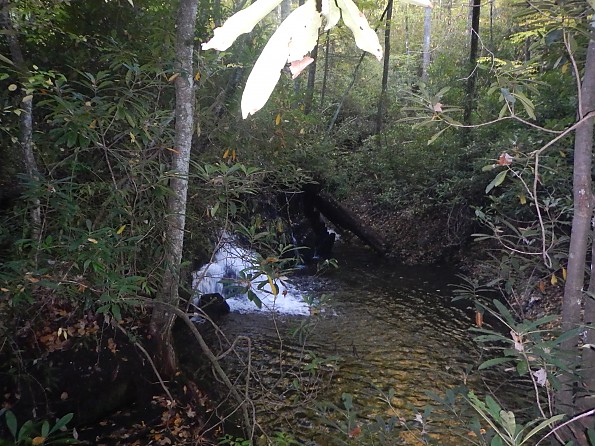 The area known as Jeffery Hell on the map is outstanding.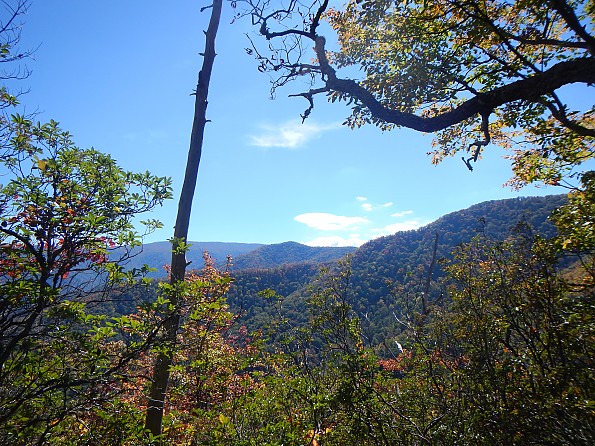 A brief peek through the trees was all there was on this route. I was supposed to meet up with Bob Butterfield near Crowder's but later found out I just missed him.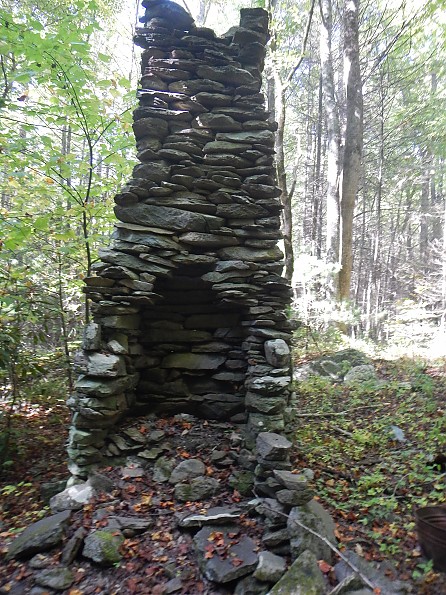 The last shot is a chimney on the Rocky Flats trail which I was unable to follow a little ways past this spot. Having a bunch-o-miles on the day I added some more by road hiking back to Wardens Field. Whew! (more than a 20 mile day)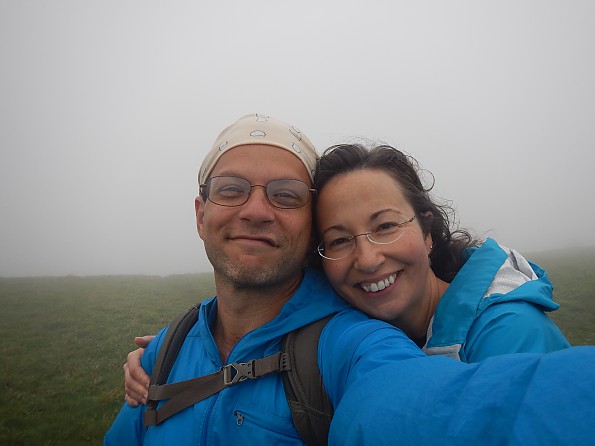 And the next day brought me out with Susan to Max Patch, NC.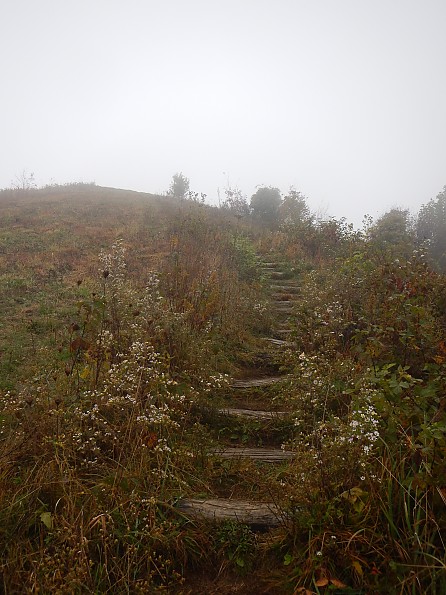 A shame to be there in a cloud bank but it was still cool in a way.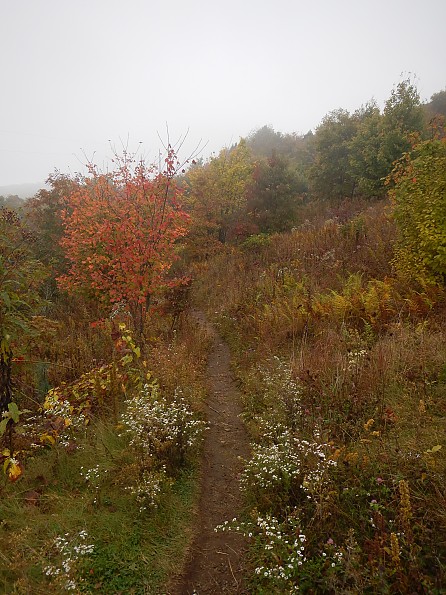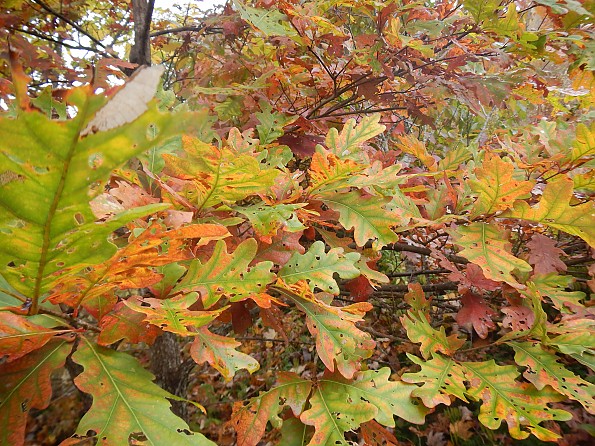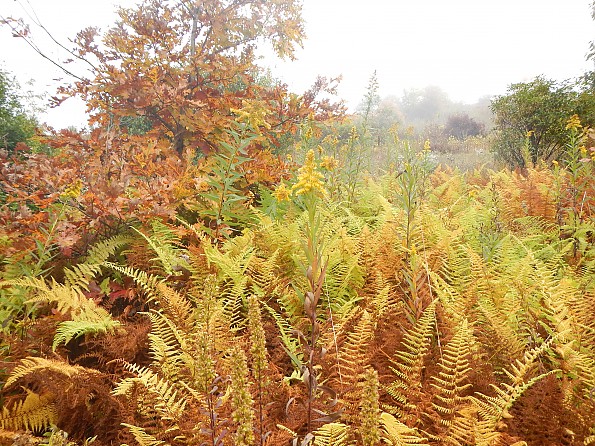 There was lots of color hiding in the clouds.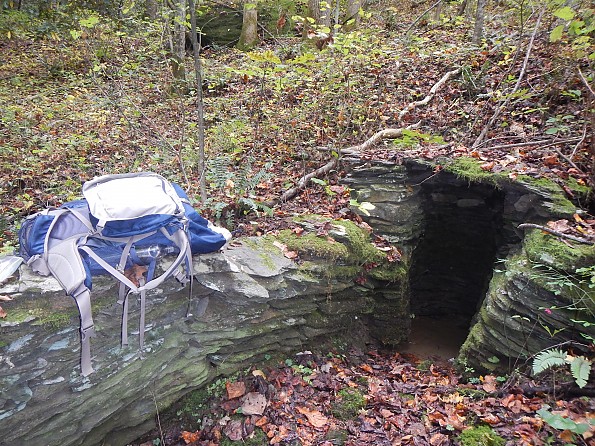 And the final stop of the day was a hike to the Smokies boundary (still shutdown) where we stopped at this cool old spring house.
Now the blog moves to the following weekend for a social trip with many friends....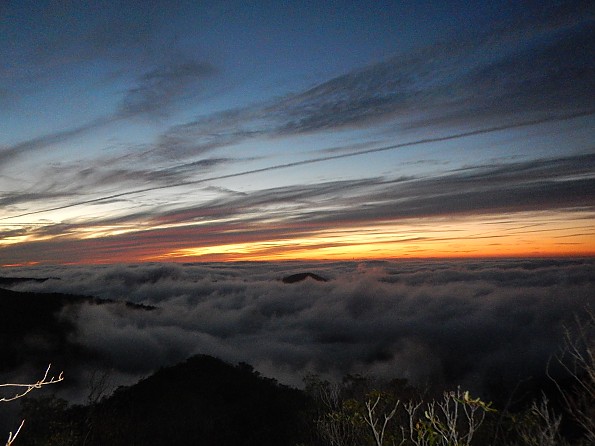 Started from Big Fat Gap in Slick Rock wilderness; this shot was catching the sunset from the Hangover Lead South trail as I ascended the mountain after work last Friday.
That night was wonderful as the moon was bright enough to hike with no headlamp out to the overlook.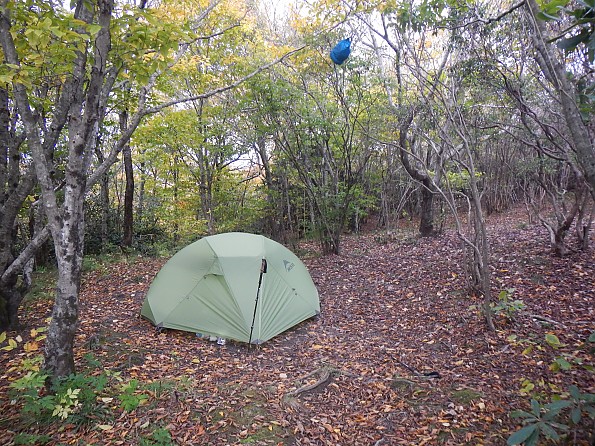 The next morning I snapped a photo of my base camp for the weekend. A double wall tent was used instead of the preferred tarp due to anticipated wind.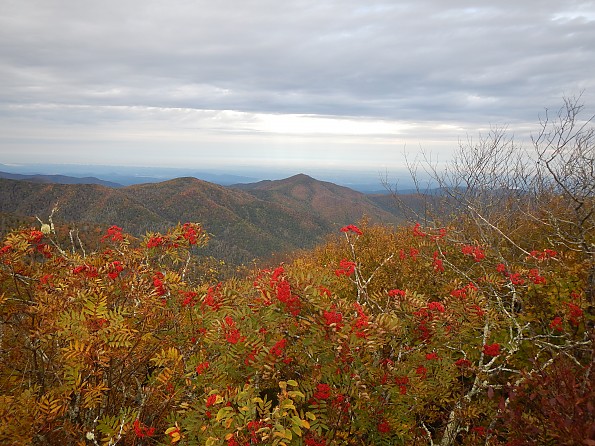 Bear food (Ash berries) framing a nice view.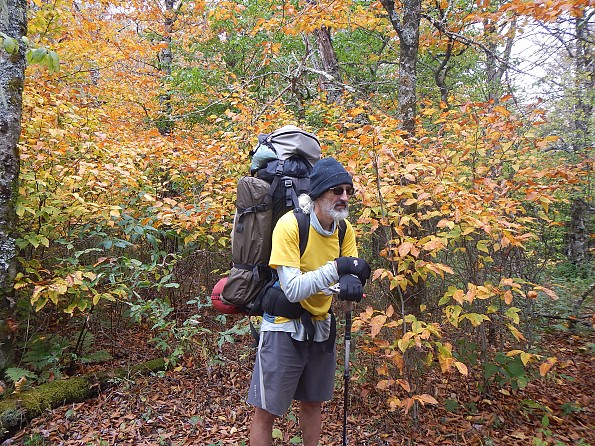 After day hiking out to Bobs Bald, this weird guy with a giant backpack followed me back to the Hangover.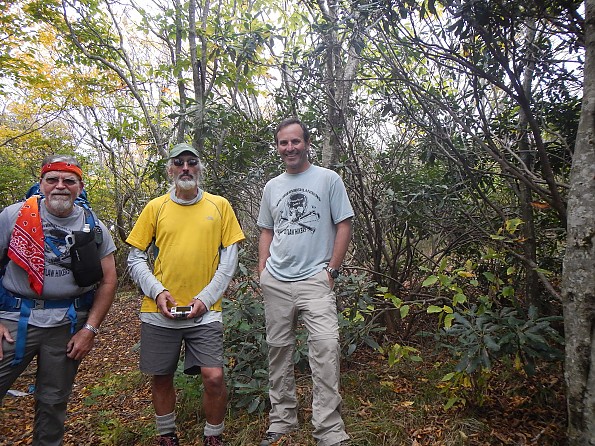 Mike, Tipi, John
And not long after arriving back at the Hangover we were joined by John Quillen and Jerky Mike of the Southern Highlanders.
 John is famous in these parts as an intrepid mountaineer and most public opponent of the Smokies Backpacking fee. Check out this link to an article about Johns rescue of his friend back in June which occurred while climbing Broad Peak in Pakistan.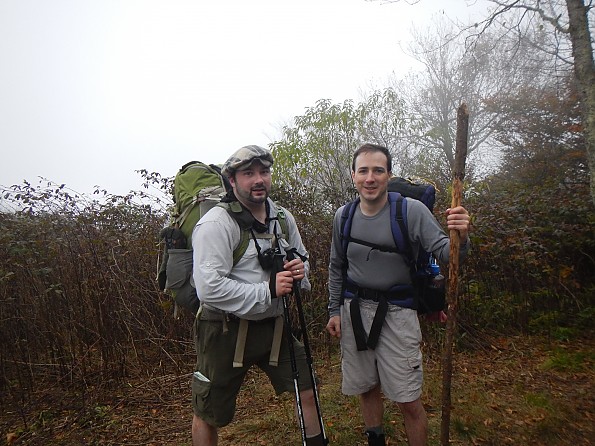 Later in the day, the winds blew in Trailspace moderator Gonzan and brother Josh who had just hiked up the nutbuster and across the ridge to us.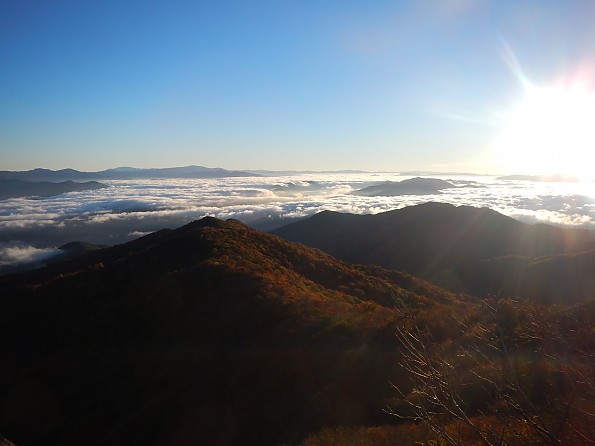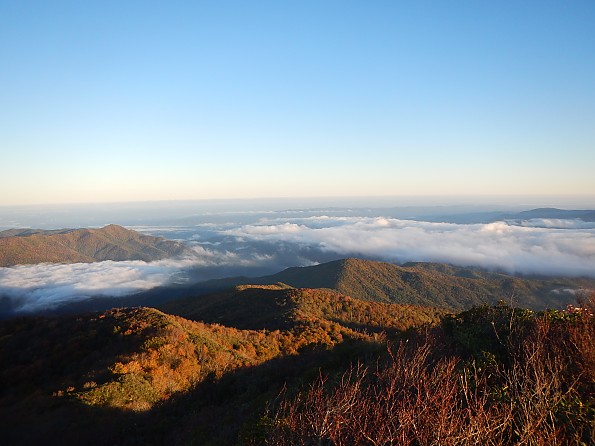 The next morning brought blue skies and clouds below us.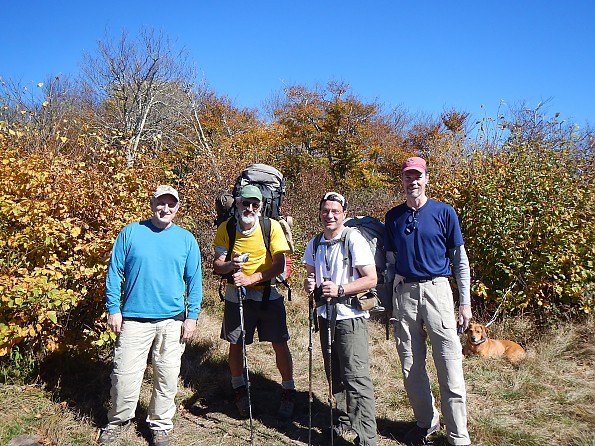 (Bob, Tipi, Me, Jerome)
And the weekend was topped off for me by getting to visit with trail friends Bob and Jerome who arrived as I was leaving and then hiking out with Gonzan, Josh and Tipi.
Ah, good times.....
Hope you enjoyed the blog, and as always Happy Trails!