5:59 p.m. on November 8, 2013 (EST)
GaryPalmer

244 reviewer rep
5,239 forum posts
I went biking and hiking today to a place called Miner's Gulch a long twisting sandstone canyon with high walls. I only could go about 1.5 miles or so before I came to a huge drop off of about 100 feet with no way to hike around and down it. I turned around and came back the same way up the drainage. I had taken my camera but had forgotten to take my photo card as I had it out to load pictures from my last hike. Didn't find out it was missing till I got to Miner's Gulch. Bummer! Was a great day hike and would have had lots of great pictures along the way in and out. Saw deer,elk and coyote tracks but no animals themselves besides Ravens. Found some basalt rock and a piece of petrified wood and some agate in the stream bed which was dry expect for some little pools below old water fall areas. Had ice on them in the shade going down, Was about 60 today so may had melted a bit by the time I came back up.
Had breakfast this morning at work on the way to the hike and lunch on the way home there too. Rode about 20 miles round trip and hiked maybe 3 miles up and down the canyon in total.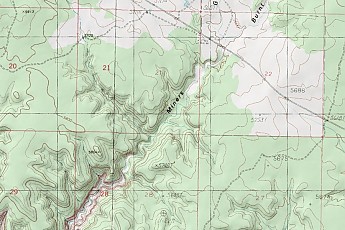 I started on the road dissecting the upper right corner of the map and went SW to just above right of the number 28 in the lower left corner. Thats where the high dry fall cliff was. Tho it looked like lots of water gouges out the canyon during monsoon and snow melt seasons. It was an easy hike along the sandstone and dry mud/sand wash.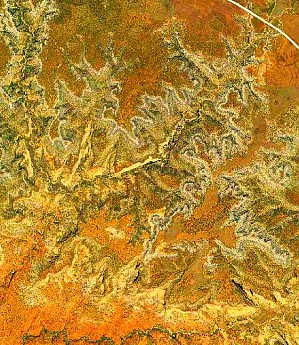 Aerial view of Miners Gulch. The orange areas are the canyon rims. The White along the edges of the rim is the White Cliffs, a section of the Grand Staircase Nat Monument. The white line top right corner is highway 9 between US 89 and Zion NP.