3:42 p.m. on April 11, 2014 (EDT)
herdingcats

923 reviewer rep
66 forum posts
Here's the Trail Map from the trip.  Pictures below.
In the sweet spirit of self-inflicted suffering, I took my oldest son on an adventure through the West Tiger mountains yesterday for a delightful celebration of Mother Nature.

First, we kicked it off with a sunrise trailhead launch: 6:30 am. En route to the park I could feel him thanking me for that little treat. What better way for a young man to enjoy Spring Break as it eased into it's last days?

Along the way we enjoyed 13 miles of torturously boring trails as we launch headlong into the redundancy of forest views coupled with more forest views. We bathed in lifeless moss, canker, decay and periodic toxic putrefaction while celebrating our journey bagging 4 "peaks" of the famed and utterly deflating Issaquah Alps. Not only were we rewarded with yet more forest views when reaching each peak, but we found ourselves surrounded and cooked by the inspiring magnificence and RF radiation of cell towers and microwave antennae. In the uncommon case that we did encounter a view, the territorial awe and nausea found in Urban sprawl met our lowest expectations. We even ran into a bench or a picnic table from time to time. Wow, I know.

The peaks are so well thought of they bare the inspiring names "West Tiger 1" (2,923'), "West Tiger 2" (2,757'), "West Tiger 3" (2,522') and "Poo Poo Point" (1,820'). I can hardly hold in my excitement. Ah, memories.

Now for the "pièce de résistance" … and oh, this is the good stuff.

Not only did we enjoy endless monotony paired with dull views and meaningless goals, we capped it all with 4,146 aggregate feet of altitude gain in one day. Oh, that's pure torture and we have no one to blame but ourselves (perhaps my son could blame me). If only I had brought along a favorite book of meaningless and poorly written poems; I could have delighted in the makings of an Emily Dickinson depression.

Now please join my son and I in celebrating our latest flagellation: the throes of Thursday.

(snark and sarcasm aside, we had a great time ... especially for an early season training hike)
Sunrise view en route to the first peak: West Tiger 3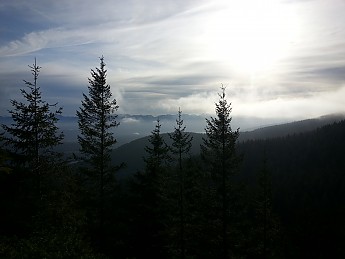 Can you feel the immutable excitement from my son found only with peak mounted radio gear?  This is the top of our second peak for the day: West Tiger 2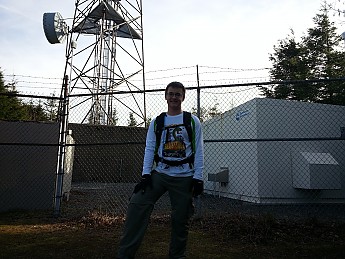 Paraglider rising aloft in ideal conditions at Poo Poo Point; our third peak of the trip.  This really was a pretty cool stop, and the paraglider launch made it that much better.  In a funny twist, my son approached the guy before he launched and told him, "This is really cool what you're doing.  I'll never forget you.  I'll name you Fred."  And then he walked away while the paraglider fella just couldn't find the words to respond.  It took me a while to stop laughing.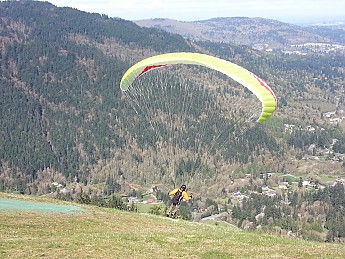 View from West Tiger 1, the final peak of the trip. Mt Rainier in the background on the left.