3:08 p.m. on May 16, 2014 (EDT)
TJ1984

1,879 reviewer rep
475 forum posts
So after some recent changes in my life, I have decided to take more advantage of some of the UK wilderness as I am only here for one more year, and tackle some of the summits and ranges I have been meaning to get to, but couldnt without going overnight (unless I bought a car). So I went ahead and bought all the gear I need for some solo camping and decided to give it a go in the UK. I decided to include some pics of the gear I took, as it was also a nice chance to try out a whole bunch of great stuff at once!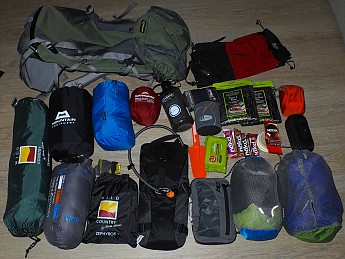 Some exciting additions are the Lightwave wildtrek 60 backpack, the Wild Country Zephyros 1 tent and footprint (normally dont need those but the terrain here is quite poor). I was also quite excited to try the Lifeventure downlight 660 bag (a 50-60dF bag), which I supplemented with a thermolite liner to boost its rating. The final exciting addition was the GSI halulite minimalist cooking system, which I have paired up with a firemaple Ti stove for a really nice compact lightweight setup. All of it fits neatly and with room to spare in the Lightwave pack. I really like its clean uncluttered design.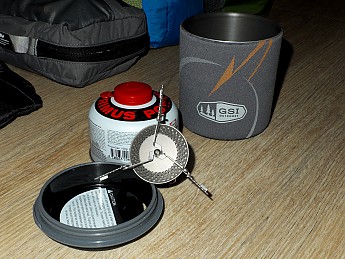 One of the peaks I have always wanted to tackle was the "Black Mountain" on the western flank of the Brecon Beacons national park in Wales (The Black mountain actually refers to all the hills in the area, and the particular one I aimed for is Fan Brycheiniog  at 2631 feet, but most people just call it the Black Mountain). I hike frequently in the more accessible central portion of the park, and have always admired the massive ridge (Black Mountain, big ridge way back in the distance) that I saw in the distance, as well as some of the peaks in between.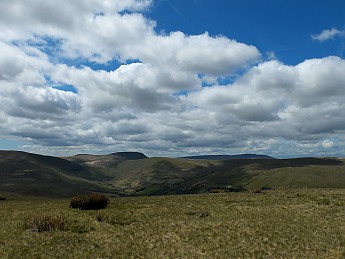 I started at noon so I would make my anticipated wild-camp location by around 8:30. As wild-camping is technically not legal in Wales, its best to set up when its getting dark. It was an exhausting 14 miles of multiple summits and a slow slog through peat bogs, mud, and complete lack of any actual trail for about 70% of the way! I managed to summit every peak you see along the way, it was great fun! It was however much more exhausting than anticipated. The good news was that the weather was great.
Making steady progress, but the giant ridge still looms what seems like an impossible distance away!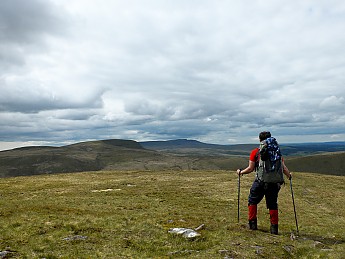 The rest of the way was just as exhausting. At one point I had to cut through a farm and negotiate a barbed wire fence.... cut a close one but all is well! The weather was unfortunately not cooperating so it was too grey for good photos. I managed to make it to my camp spot that I picked out on the map, nestled between two higher hills right at the foot of the ridge. The difficult part was finding a patch of ground that wasnt water logged! After a bit of searching and dealing with exhaustion, I found a spot that would do and set up camp. The little Zephyros 1 tent was a breeze to set up and remained perfectly stable throughout the night ( I replaced the stock pegs with Mountain Hardwear X stakes, which were great for gripping the soft muddy/grassy ground). I got to enjoy some colour in the sky before cooking up some chilly and settling in for the night.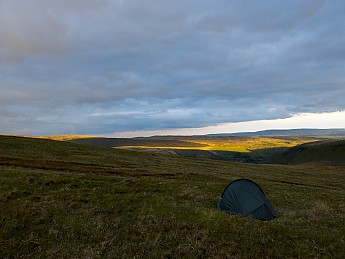 The forecast was for about 46 dF which was 4 degrees below the lower comfort limit for my bag, but I was curious to see how far I can take it with the addition of a thermolite liner as well as merino long johns and top. I have a nice 3-season down bag, but I am a warm sleeper and prefer to avoid sweating, and the lifeventure downlight 660 only weighs 660g and packs down very small, so I was interest to see what its limits were for future outings. It performed OK. While sleeping on my back I was perfectly comfortable, but when on my sides and the bag stretched a bit across my bag, it would lose loft and make me cool. Though I was quite exhausted and my body temperature was fluctuating quite a bit during the night so I cant say for sure, but I am satisfied with the bags performance.

In order to make my summit bid the next day and avoid the brunt of the forecasted incredibly hot weather (hot for the UK at least), I got an early 4 am start, and was packed and hiking along by sunrise. The hills had an almost surreal look to them and it was quite the enjoyable experience.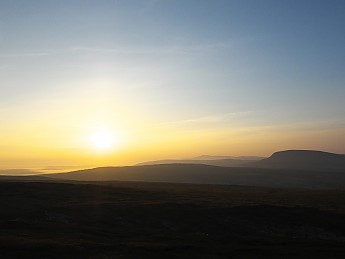 Once the sun came out though, it got HOT, very hot, and I got burnt to a crisp. I should have been more prepared but having been in this country for 2 years, I rarely recall needing sunscreen so I was caught without it and now I am paying the price! Regardless.... achy feet and tired joints, I still pulled myself to the summit!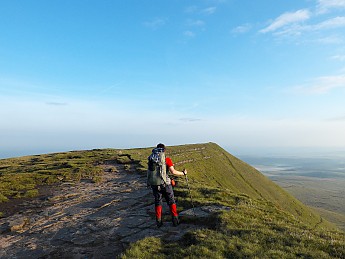 After a good 30 minutes hiking around the top and getting a good panorama, it was time to head back. A long 10 miles without any water, thankfully it was mostly downhill. I had brought 4 liters, and normally that is more than enough, but because of the heat, and the energy lost by hiking on wild peat bogs and mud instead of actual trails, I ran out sooner than anticipated. Thankfully, I was greeted by beautiful things on my way back to civilization which was enough to distract me until I got to a pub and had a big breakfast and about 3 bottles of soda.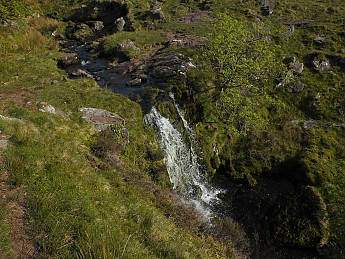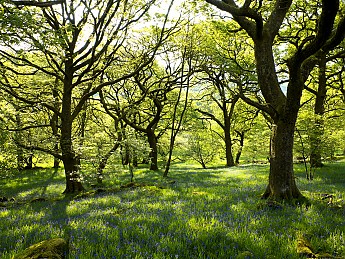 Now I am at home, nursing blisters from the combo of soggy boots and warm weather, and the bright red burns on my arms and neck. Still no regrets. It was a fantastic outing and I am happy the new gear has performed well. There are a few more remote peaks that I will now surely tackle!