12:26 p.m. on June 24, 2014 (EDT)
FromSagetoSnow

TOP 25 REVIEWER
REVIEW CORPS
6,102 reviewer rep
1,625 forum posts
Mount Hood is pretty distinct in the PNW skyline.  I have craved it for a while and when my partner for Rainier later this Summer was available I emailed the boss and loaded up.
I arrived at Timberline Sunday night and registered at the climbers cave where a skier gave me some beta and encouragement saying, "I don't want to hear about you on the news tomorrow ok?" With this endorsement I made camp in the Excursion in the parking lot, which makes a pretty stellar basecamp.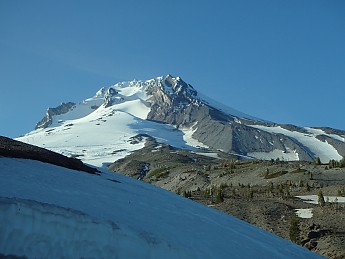 After three-ish hours of sleep it was 11:30 pm and time to wake up, brew some strong coffee, eat some pop-tarts and gear up.  Jason rolled in at a little before midnight as planned and we hit the trail. 
I hadn't really met Jason yet, just spoke by phone and online so I was relieved find that this recent college grad was exactly what he claimed.  I am sure he was glad to find out that this old man (38) was what I said I was too. 
In the moon-less darkness a nice rock slide about 100 yards away (heard, but not seen in the dark) reminded us of the urgency of summiting before the sun warmed things up too much. 
At Hell's Kitchen, snacking, putting on jackets and loving the sulfur smell from the many vents nearby.  I left the trekking poles here.  Once the sky brightened enough to see by we headed up, not stopping to take pictures.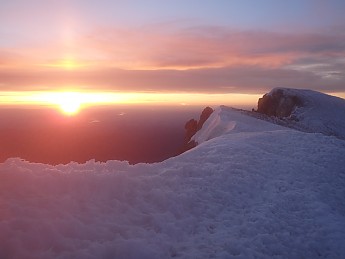 Topping out of the Mazama chute as the sun rose over the Columbia River; a very moving experience.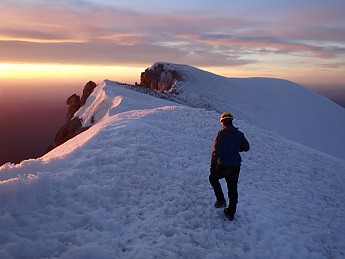 Jason and the summit.
We chatted with another climber then walked over to the true summit, the first of the day to do so.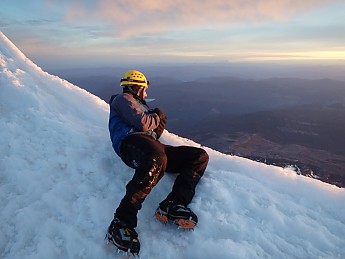 Peeking over a big drop on the north side.  I can't wait to see his DSLR pics.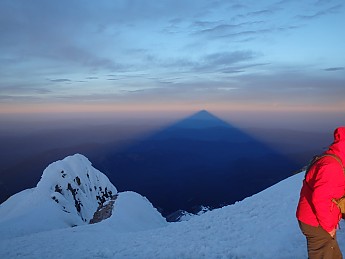 Mt. Hood Shadow pic.  I think everyone takes one like this.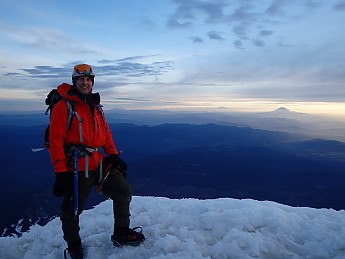 With my pockets bursting with extra gloves, uneaten energy goo and granloa bars.  Mount Adams, Rainier and St Helens in the background. Wind all of maybe 5mph at the most!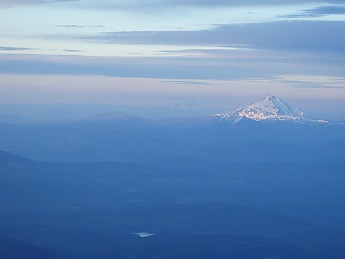 Looking South at Mount Jefferson and the three Sisters.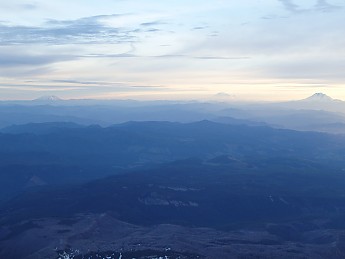 Looking North, from left to right: Mount Saint Helens, Mount Rainier and Adams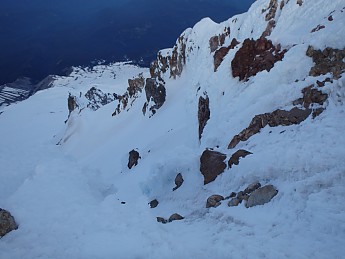 Looking down the chute I came up in.  I brought a 2nd ice tool but didn't really need it.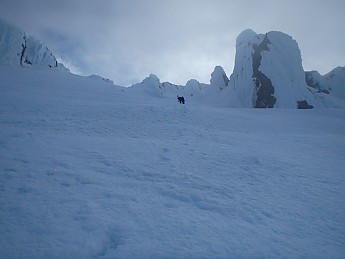 Looking back up at the other teams entering the chutes.  Nice ice steps most of the way except in the chute.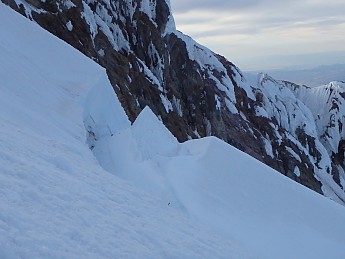 The famous bergschrund. From the Blackhawk incident.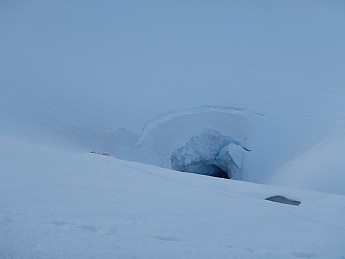 I think this fumarole is the one that ate a guy this Spring (he survived).  Reminds me of that sand monster from Return of the Jedi.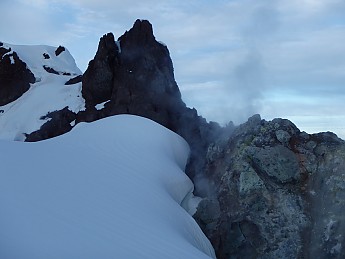 Sulfur vent.  Stiiinky.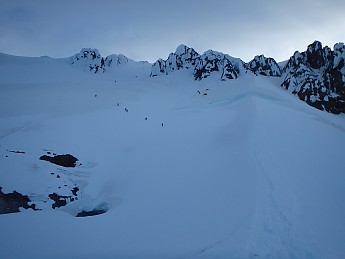 Looking back at the summit.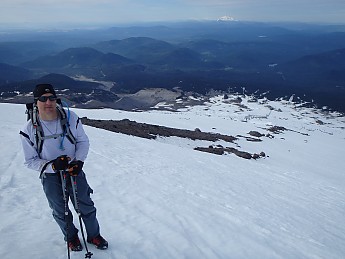 On the way down to the ski area, about 7am. Back to the truck at 8am. Skis would have been nice, next time. 
No we didn't rope up, for several reasons.  One team of two was roped up but it really wasn't necessary or safe IMO to be roped up. 
A pretty amazing trip with everything coming together better than I could have hoped for.  If I weren't so old fashioned I'd admit that there might have been a tear or two watching the sun rise from the summit.