9:14 a.m. on July 12, 2014 (EDT)
TJ1984

1,894 reviewer rep
475 forum posts
This is the report for final day of my 3-day trip to Snowdonia National Park in Wales, UK. For details about where I was staying, see my reports for day 1 and day 2.
I initially intended to save day 3 for another scrambling/climbing adventure up Tryfan (3012 feet, minimum grade 1 scramble to the top). However, it was raining all morning, and going solo would not have been safe.
I still had my scrambling gear ready, identical to day 2 in case the weather cleared up.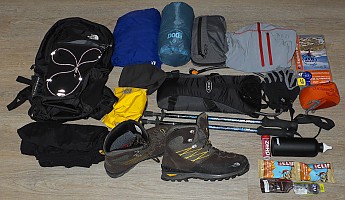 Important bits include the TNF Angstrom 20 backpack, TNF Verberra lightpacker GTX boots which are excellent for scrambling, OR Neoplume primaloft jacket, Fujifilm X20 camera, Fizan ultralite poles, Black Diamond Crag gloves, TNF Venture rain shell, Rab Boreas pullover for when it gets a little cooler, Sprayway overtrousers just in case, some drybags, MEC windstopper hat, and source 3L bladder. My fuel for the day was 2 cliff bars and two gels. The black SIG bottle is for an electrolyte drink. The OR kit bag contains necessary safety essentials, and I carried a Victorinox climber SAK in my pocket.
As I approached the valley where I can start ascending the Glyderau range, there were blue skies in the distance so I was somewhat hopeful.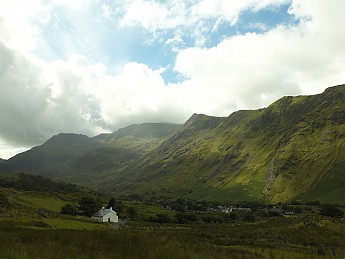 ....but it started raining just about 10 minutes after, and kept going on and off for the next hour...

I decided to bail on the scrambling and set on a new route. I pulled out my map and after checking around, I decided on hiking up Y Garn (3107 feet) in the Glyderau range. I walked up to a high level valley, which much to my displeasure was all boggy, and it was exhausting to walk through. There was also no path.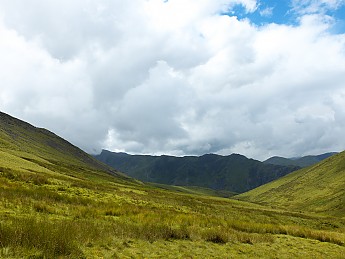 After wandering around in that for 30 minutes, I just decided to walk up the side of the valley to higher ground. It was a little slippery and there was no path, but I used my poles for balance and my boots had great aggressive grip.
Eventually the route to the top of Y Garn was in view.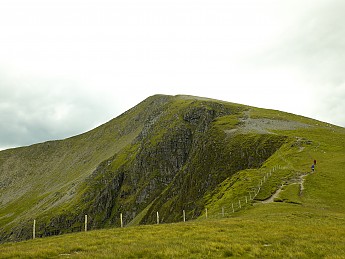 In the distance you can see the shark-fin shaped Tryfan. A bit of a tease that I couldnt do it that day, but I will definitely come back one day to tackle it.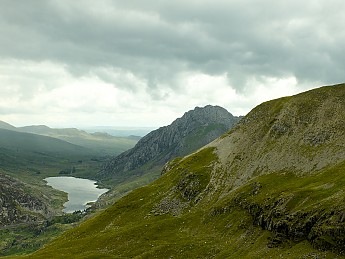 The summit of Y Garn is full of interesting protruding rocks.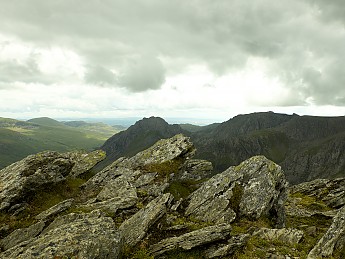 Taking a break, it was quite cold and windy up there!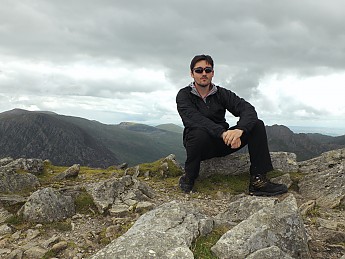 A look back down to Tryfan and some of the other Glydreau peaks.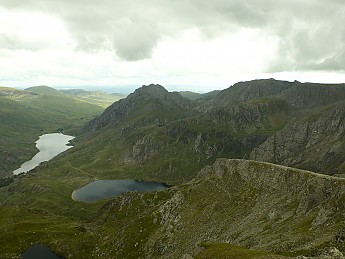 It was mostly scree on the way down, but it was manageable. I started making my way down to another valley which was boggy again. Eventually I found a very rocky path that bordered on scrambling at some points. It was very scenic and a lot more engaging than I expected which was a nice surprise.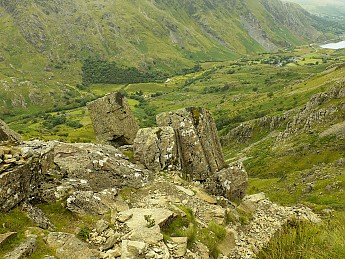 I walked a few miles back to Llanberis and called it a day.

In some ways, day 3 was a disappointment due to the weather, but its always best to be safe and just come back another day. I still cant complain, I did do a nice hike, and got to summit another 3000 footer, so it cant be too bad. I cant wait to go back another day and tackle the climb up Tryfan.