11:54 a.m. on July 18, 2014 (EDT)
FromSagetoSnow

TOP 25 REVIEWER
REVIEW CORPS
6,158 reviewer rep
1,625 forum posts
When I take all five kids into the mountains this is one of my favorite places.  I like the river, the flat 2 mile trail and the low levels of bugs.  This is the third or fourth summer in a row we have gone here.  It never fails to be fun.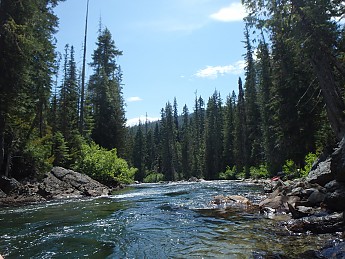 Coming from a lake makes this river actually bearable as a swimming place.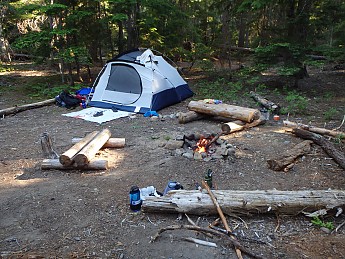 Not exactly high alpine but a fun kid trip.  I took a risk and left the rain fly at home, hoping that the forecast would be accurate.  The gamble paid off.  Some horse packer brought an axe and made some cool benches.  I guess those guys are good for something.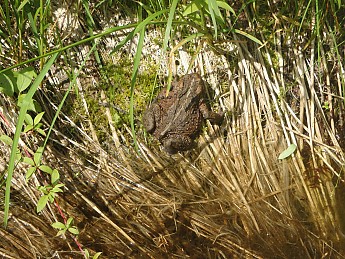 This monster was easily the biggest frog I have ever seen.  Discovered by clone #5.  I know other areas get bigger frogs but this one was a monster for this area.  As she sits she's probably 5-6" nose to tail.  #1 wanted to eat it.  I feed them well, I promise.
After a long time of doing everything for the kids when we camp now they are all experienced enough to set up their own camp, cook their own food and pack their own gear, the older ones helping the younger.  I sat back and relaxed all afternoon as the clones all trooped off on a side hike together, confident in the knowledge that they no longer need me for much besides the trip to the TH.  At one point I felt left out but then I realized that this independence was the goal I had been training them for all these years.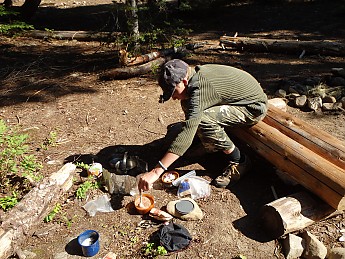 I only had to cook for myself.  The kids did the rest.  In a few more years I'll let them start carrying my gear :)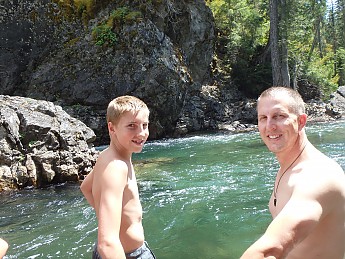 The river felt great, the air temp was 95 degrees or so at mid-day.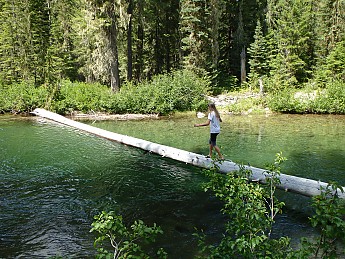 A well-placed log kept us entertained for a few hours.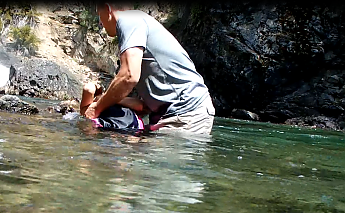 #4 asked to be baptized in the same place her older sister was last Summer.  This made the trip extra special.  In a few years, if I do my part, #5 might want to be as well and that will round out the troop.  This was, for me, the highlight of the trip.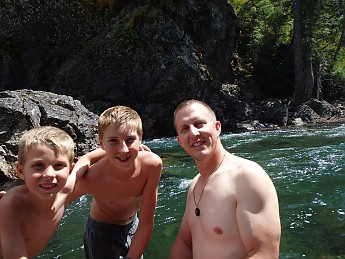 the men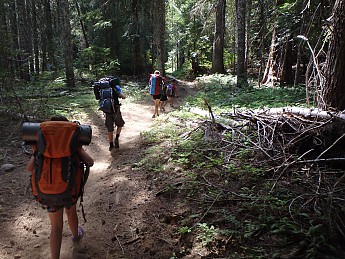 The hike out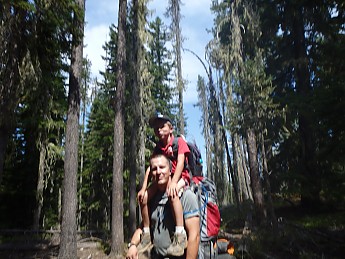 "who run Bartertown?"  If I keep this up, when he is 20, I'll have really strong shoulders!
If you haven't taken your kids (or someone else's) hiking yet this summer you really need to get out.