9:29 p.m. on August 3, 2014 (EDT)
lambertiana

0 reviewer rep
430 forum posts
This year's trip started as a plan to repeat my 2012 trip to Picket Creek (Sarah's Lake) and Kaweah Basin, with my niece who originally planned to do that trip with me then and then backed out because she got married a month prior to the trip.  This year she confirmed that she would be able to make it, so I planned accordingly.  Well, three months ago she backed out (for a good reason, baby on the way) so I had to evaluate my options.  The only other person (outside the other family members who were going to accompany my niece) who was planning to come was the friend who did that trip with me in 2012.  He had never been in most of the areas around Mineral King and had previously expressed a desire to go there, so I changed plans and laid out a route that included a fair amount of what Patrick and I did last year, plus some more off trail to the section of Big Arroyo that we didn't complete last year and to visit some more off-trail lakes at the top of Soda Creek.
We started on Saturday July 26 at Mineral King, going over Timber Gap.  A few views along the way, ascending from Mineral King: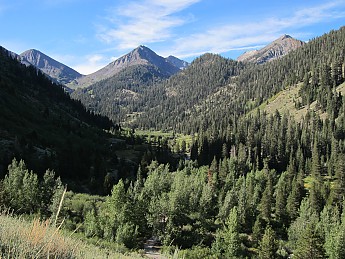 Near the top of Timber Gap, we had to make a hard decision.  My friend, who had thought that he had recovered from a respiratory infection, was having serious difficulty.  At the pace he was going, there was no way that he could make the trip, and I was very concerned that we would drop down the other side of Timber Gap and then find that he could not continue and would have to be evacuated.  He agreed with me (professionally, he is a risk manager for an oil company) so we had to weigh our options.  Finally, it was decided that he would go back to Mineral King and hang out there relaxing for the week while I continued.  For my part, I had to drop any off-trail plans and change my route to do only trail walking.  So, on I went, trying to figure out how I would break the news to my wife that I went solo.
Cresting Timber Gap, some nice views opened looking north as I descended to Cliff Creek: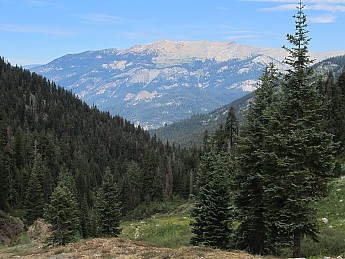 Cliff Creek is a pleasant stream, even in this severe drought year: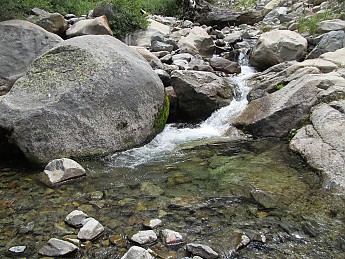 From there I continued up Cliff Creek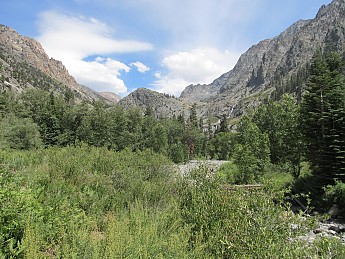 Patrick should remember this cascade:
I went to camp at Pinto Lake, same as last year.  Pics from that spot":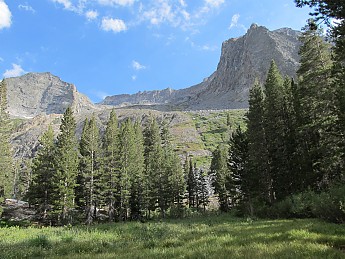 The next morning was the slog up to Black Rock Pass (11,600').   As I ascended I could finally see Spring Lake:
Getting higher: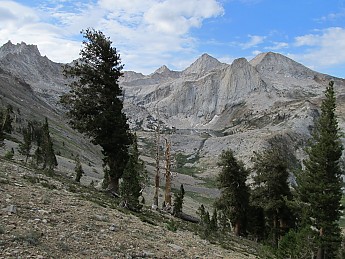 And finally, at the top, you can see Spring, Cyclamen, and Columbine Lakes: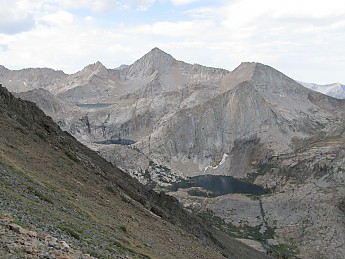 Looking east from the pass toward the Kaweahs: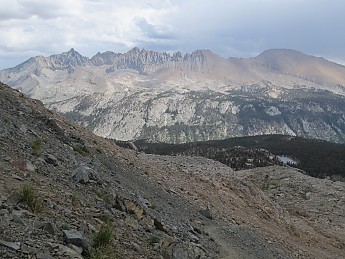 Then, in an eerie repeat of last year, during the descent I got hit by a hailstorm.  At Little Five Lakes I waited for a while for things to clear, but only got mediocre lighting for pictures: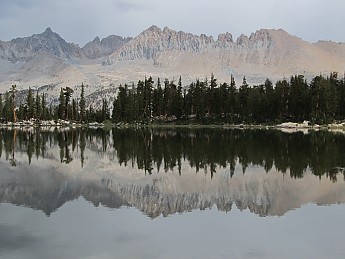 From there I descended to the trail junction in Big Arroyo.  Along the way: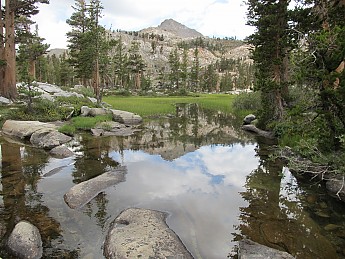 Looking down Big Arroyo, where Patrick and I went last year: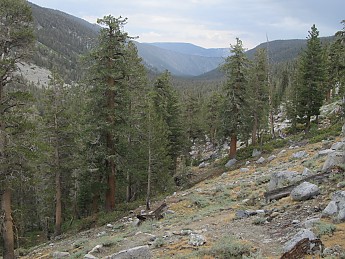 Big Arroyo Creek, where I camped that night: