1:32 a.m. on August 29, 2009 (EDT)
Gary C.

22 reviewer rep
210 forum posts
Since many of you are from the eastern part of the states I thought that you might enjoy seeing some more of what the Sierra's has to offer. These are reports copied from trip reports I posted on a local forum that I am more active on. They are trips with other members from the forum and that is why there are so many references to people and things that I realize you have no idea what I'm talking about. I just hope that you enjoy reading them and looking at the pictures.
Gary C.
I had an awesome time up at the lakes with Mark, Mike, and Ken. We left my house Wed morning and headed for Lone Pine to P/U the permit to camp at the lakes. After getting the permit and a stop for lunch we tried to call BJ on his cell but could only leave a message. I figured that we would see him up at the lakes on Thursday but unfortunatley we never did. One of these days BJ we will get to meet face to face and hopefully share some water too.
First we drove to the trailhead and looked around before going to Horseshoe Meadows CG to see who all was there from the addict site. It didn't take long for Mike to spot Bennies truck and we soon found Bennie kicked back with his camera shooting some pics. He was the only one there because the rest were out and about fishing. We set up our camp and headed for the creek. It didn't take long to get my first Golden of the trip.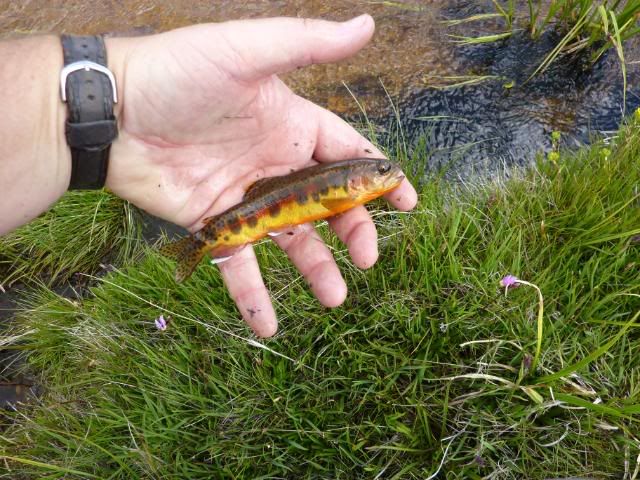 The Goldens were simply beautiful. I expected them to be small but they were even smaller than expected in this particular creek. Here is a few more just cause the colors were so great.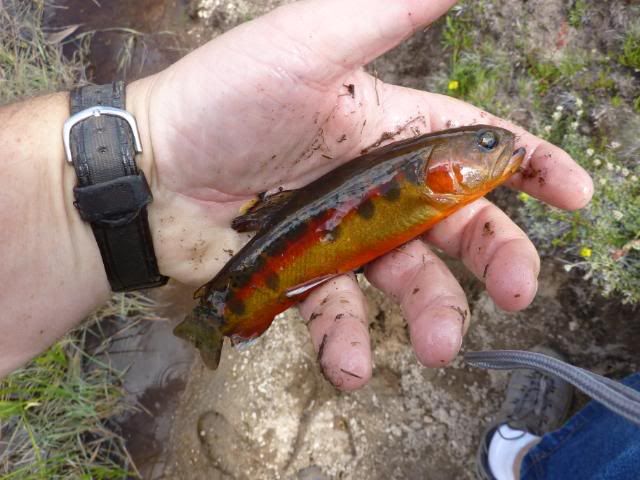 After fishing the creek for a while we all found our back to the camp and started visiting with the others that had returned. A couple of the guys I had met before but mostly it was a first time meeting for me. We spent the rest of the evening laughing and telling stories around the campfire. I great bunch of guys and a wonderful way to end the day.
The next morning the four of us got up early and broke camp. I was surprised to realize that by the time we were ready to go to the trailhead everyone else had also broke camp and headed out. I know that there were more people headed up for the weekend but I don't know who made it or didn't. In any case we drove to the TH and started up the mountain for the lakes. After a good ways up the trail Mike went ahead and left us old out of shape guys to plod our way up the dreaded steps. That last mile seemed to take us forever to top out from. We found Mike and a campsite close to the outlet of lake #3.
A shot from our campsite.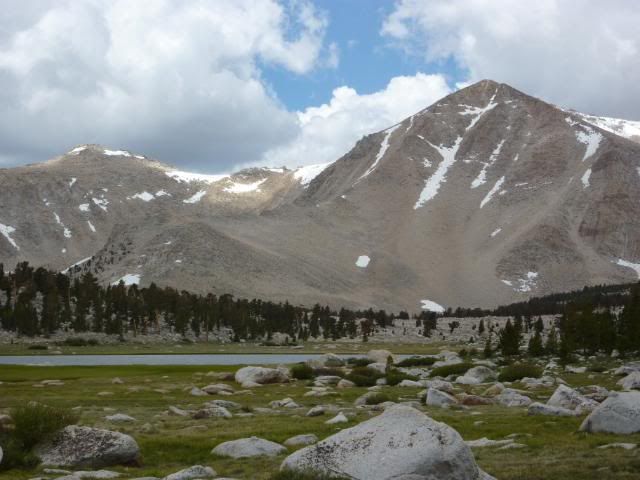 Mark had a very bad headache(11,000+ altitude) so we dropped our gear and he tried to get some water and asprin down while the rest of us scrambled for our fishing gear. The Goldens were just as pretty at the lakes only much bigger. My first Golden from lake 3.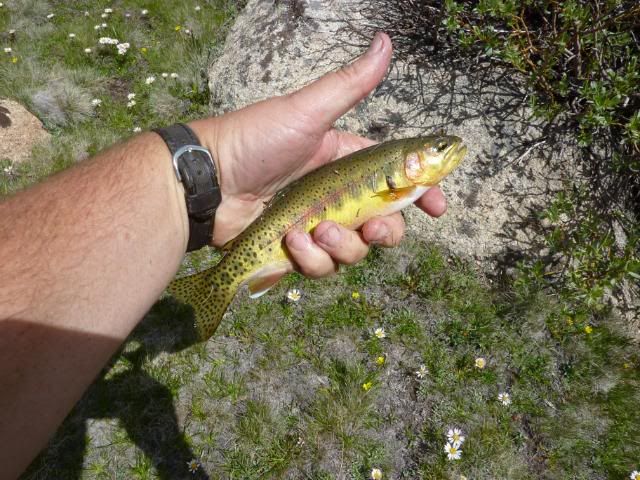 While we were fishing the lake along came Bob, Mark, Jon, Dave, and Ryan, who were camped at the other end of the lake. They visited for a while before heading on to fish the outlet of lake 3 and below. I was really glad to see them since we had missed them down below at HS meadows. A great bunch of guys and I always enjoy there company, even if it's only for a little while. This is a picture of them that Mark took at the TH Saturday before we headed for home.
L-R Mark, Bob, Ryan, and Dave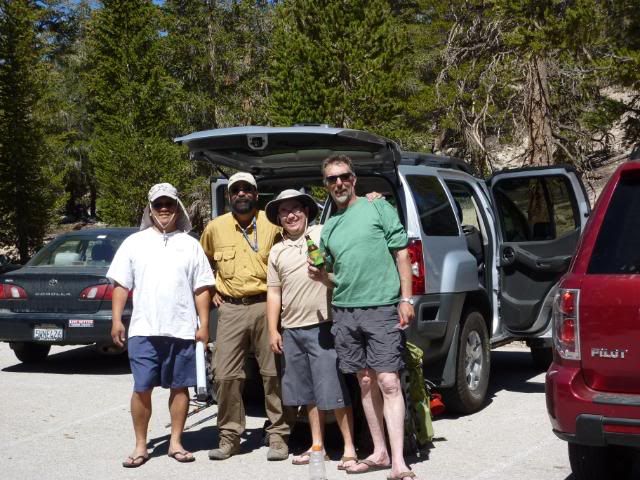 Friday the four of us hiked up to lakes 4 and 5 to fish. The goldens were bigger there but not as easy to catch. It was windy all afternoon and it made fishing difficult but we managed a few nice Goldens before heading back to camp for dinner and bed. Here a picture of Mark with a fish on.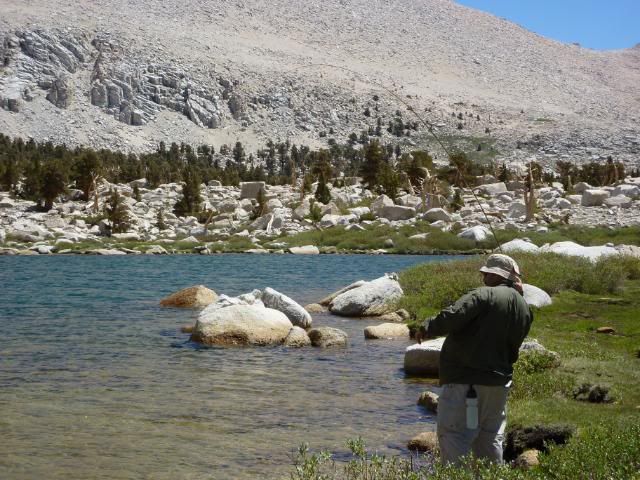 Saturday morning we made good time hiking back to the trailhead then back to Lone Pine for pizza and headed home. Here are some more random pictures from the trip.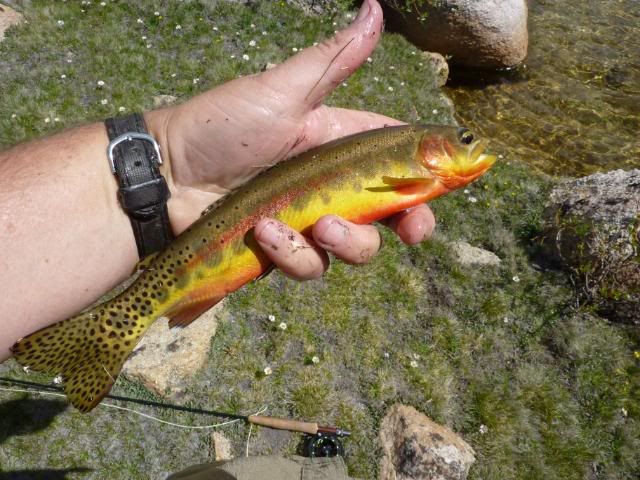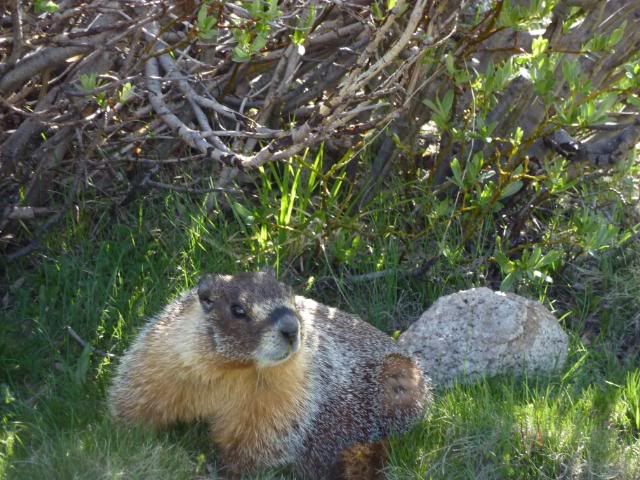 Ken and Mark in camp.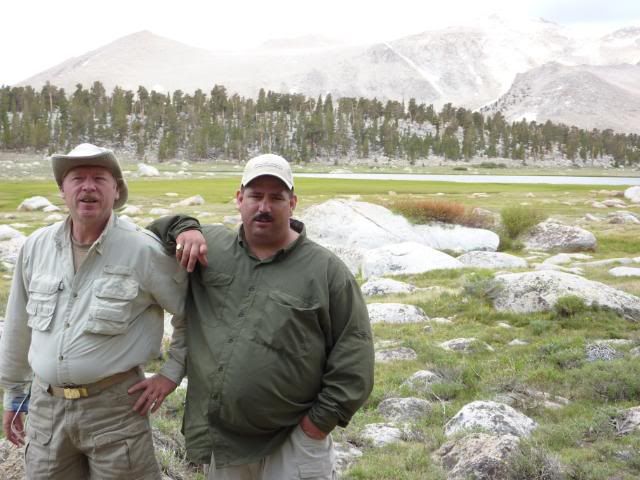 Looking down on lake 3 from the trail to lakes 4 & 5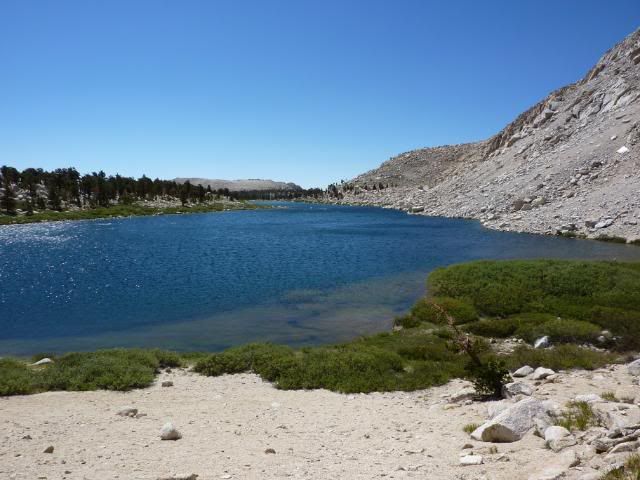 lake 4

looking across lake 5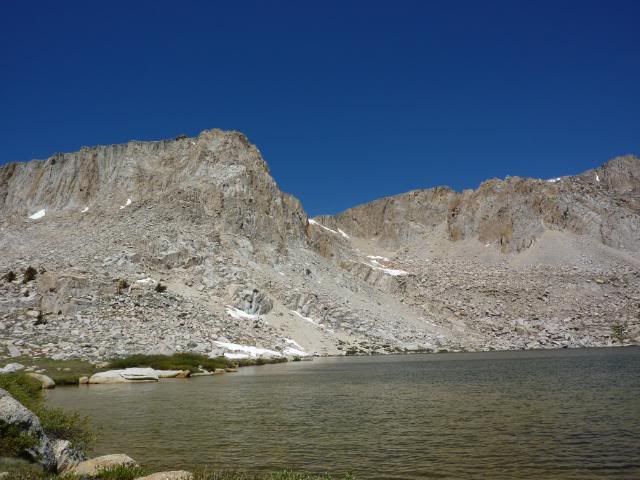 One of my bigger Goldens that refused to hold still for the camera.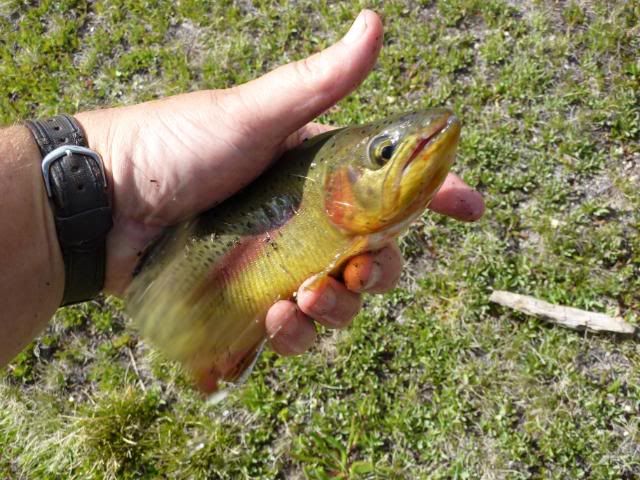 Mark and I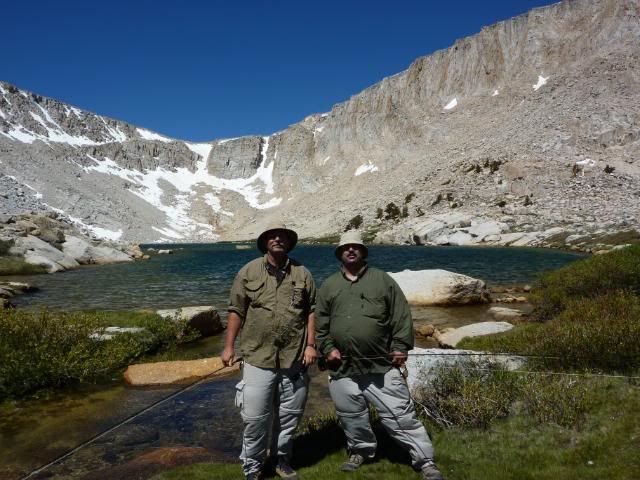 Overall this turned out to be another great weekend spent with good people. I had a blast and want to thank everyone that went for making it so much fun. I've always wanted to fish Cottonwood Lakes and it was well worth the effort to get there. I'm already thinking about some other places that the GST crew can get together for.
Gary C.