1:40 a.m. on August 29, 2009 (EDT)
Gary C.

22 reviewer rep
210 forum posts
Same as before, this is another TR copied from a fishing forum I post to. It was written for people familiar with the area and the other hikers that I went with. I hope you enjoy it.
Gary C.
July has been a very good month for me :D
First, I spent 4 days backpacking and chasing Goldens with some of you here. Next I went trekking around Yosemite for a week. I finished up the month by making a 3 day hike to the Hilton Lakes. Yep, a very good month indeed :rockon:
Last Tuesday my buddy Vince asked Marshal and myself about doing another BP over the weekend but we had no idea where to go. We decided to just drive up to Bishop on Thursday night and stay at the Elms then see what was available for a walk-up permit Saturday morning. We were at the permit office when it opened and were able to get a Hilton Trail permit. We liked the idea of camping at Hilton Lake #2 because at an elevation of 9,852ft we could still have a camp fire.
We drove to the TH which is next to Rock Creek Lake and started for the Hilton lakes. The hike to Hilton Lake #2 is a moderate one. It is 4.5mls with a 722ft gain and 723ft loss but there were some very steep sections. As soon as we got to lake 2 and picked a great camp site (there were many) it started to rain. We covered our packs with large garbage bags and waited out the thunderstorm under the trees before we could put up our tents. The storm lasted less than 30min but during that time it also hailed enough to turn the ground white before everything cleared off. We quickly set up camp and went to fish.
This is looking across the canyon on our hike up the mountain. Rock Creek Lake is below in te center valley.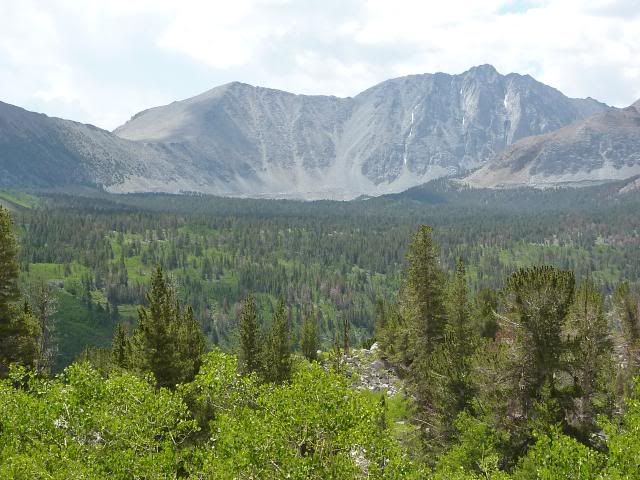 Vince and Marshl waiting out the rain.

Hilton Lake #2 is beautiful with lots of eager fish to be caught. We fished for about 2hrs and everyone caught 3 species, Brookies, Bows, and Browns. And for high altitude lakes there were some decent size to many of them. They were averaging 10-12in and I think my biggest for Friday was a Bow 14in. No fish pictures for the first day, my camera had gotten a little wet during the thunderstorm so I had left it in the tent to dry out some. We kept enough Brookies to wrap in foil and heat over the fire for dinner. Man, did they taste good after a long day hiking and fishing.
Hilton Lake #2

There is supposed to be Goldens in the upper lakes so we started out early Saturday morning headed for Lake 5. Hoping to catch some Goldens and try to complete a grand slam for the day. The trail to the lakes above was a real beast and I'm glad we had decided to camp where we had. The climb to Lake 3 is steep with a lot of steps and switchbacks. We caught several nice Bows in the 12-14in range at #3 and then started the climb to lake #5 where I had read that Goldens could be found.
Lake #3

One of my Rainbows from #3.

A Brookie from #3

Marshal with a nice Bow at #3

The trail to Lake 5 was short but steep and not maintained but I was really looking forward to the Goldens. Marshal was the only one to catch anything out of Lake 5 and that was just a few little Brookies. Vince and I zeroed out there.
Lake #5 in the backround on our way up to #6.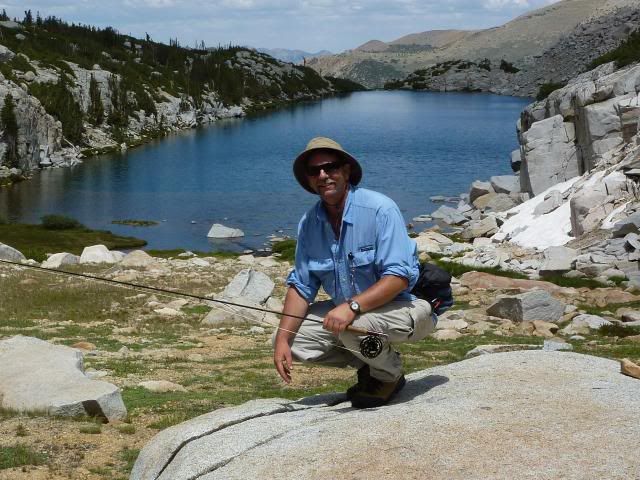 We hiked up over the next rise to Lake #6 and we all caught a few more little Brookies. While marshal and I stayed at #6 Vince climbed up the canyon to Lake #7 and again found nothing but Brookies.
Lake #6

When we got back to camp we cooked a late lunch and decided to hike to Davis Lake and fish it for a while. Davis Lake is a lot bigger than all the others but sits lower with a lot of marsh area so I'm sure the skeeters get awful there. We were lucky and only had moderate mosquito problems the whole trip. Again we caught all 3 species of trout at Davis, or I should say that Vince and marshal did. I only caught a couple of small Brookies and one nice 14" Brown. While we were at Davis Vince caught the big fish of the trip. A very respectable Brown that really made his day as you can see by his smile.
Davis Lake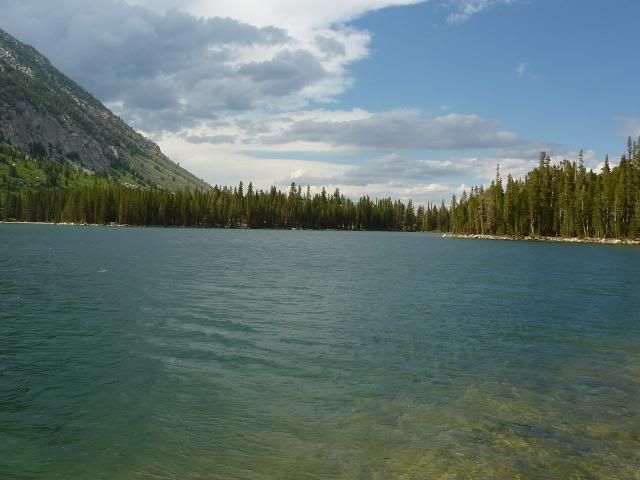 Vince ad his big Brown.

Sunday morning we broke camp early and hiked back out. Because of the elevation gain and loss there is not a lot of difference going in or coming out. We did make a lot better time on the way out though. With all the hiking I've done this summer I'm getting to where there is no recovery time when I get home. I'm still pretty short breathed at altitude though, guess I need to work on the cardio. Hilton Lakes is a great place to BP to and the fishing was some of the best I've had in the backcountry. I don't think that I will be able to go but Vince is already planning to take his family back at the end of the month.
Saw this Pine on the hike out andthought it was just too beautiful not to take a pic.

It turned out to be an excellent trip considering the lack of planning on our part. Great friends and fishing add up to great times.
Gary C.
Myself, Vince and Marshal enjoying the campfire and each others company. Life is sweet :D