8:51 p.m. on February 2, 2010 (EST)
bccroney

28 reviewer rep
63 forum posts
White Mountains, New Hampshire
January 12, 13, and 14th, 2010
Trails: Valley Way, Gulfside, Westside, Crawford
Summits: Clay, Washington, Monroe, Franklin, Eisenhower
Day 1: We got an early start on Valley Way Trail at 2 am. The trail was well packed with probably a 2 foot base, and our first decision was upon us. To bring snowshoes, or not to bring snowshoes? The woman working at the Pinkham Notch visitor's center said that we would only need them for that opening portion, heading up to treeline. After 5 minutes, I convinced my buddy that we should take them.
After what seemed like a million stops to adjust gear and what-not we hit Madison Hut in under 5 hours. We were greeted with a sub-zero dawn and 40-50 mph winds. Visibility changed from good to awful by the minute. Everything looked like a cairn or icy sign. We lost the trail soon after the hut and tried for the next hour or two to figure out where exactly we needed to be going. By this point, our goggles had been rendered useless and we took turns leading, while the other defrosted his eyelashes. We eventually realized that even if we picked up the trail, we would be heading away from treeline and we were both growing weary and cold. We decided to double back down Valley Way a short distance (10 min) and set up camp 15 yards off the trail where a stream probably runs in the summer.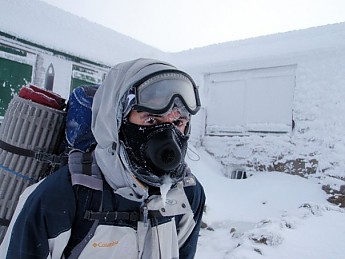 To kind of put this day in perspective, my buddy, Shane and I had been planning this trip for about 7 months. Being sunny day hikers, we had to invest a great deal in winter gear, not to mention the hours of reading and other backcountry trips to prepare. We felt like we had been defeated at this point. We figured out where we had to go, but we were so far behind. We had hoped to get to where we ended up camping on day 2.
Overnight temps were about -10 F.
Day 2: Fortunately, Day 2 was better. Some warmer, single digit air came in, and after noon the winds died down. We had to skip the Adams' peaks and Jefferson because we were so far behind. We cramponed up to Thunderstorm Junction and threw on our snowshoes for the hike down the leeward side. We then went on to keep our snowshoes on the rest of the trip, save for Monroe and Franklin in which we just sported our boots. We had a little trouble initially on Jefferson because of deep powder, but it hardened up as we gained altitude.
We then headed for a camp site at treeline near Sphinx Col, but then found a wonderful place that was well sheltered, just under 5000 feet. So, we camped.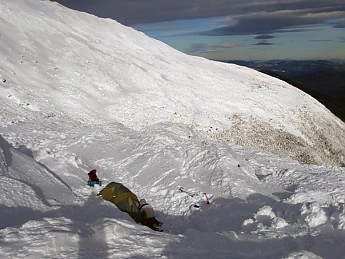 Day 3: I was the first out of the tent and I could not believe it. 8 degrees (F), balmy! The bad news was that we were on the 3rd and final day, and we were not even half way yet. The temperatures continued to rise and visibility was epic. We hit Mt. Washington, and there was less than 5 mph of wind and over 15 degrees! We pushed on and hit the remaining peaks except for Pierce. Coming off of Eisenhower, we lost the trail below treeline. We bushwhacked through human swallowing powder. A group of locals eventually caught up with us and gave some advice on the direction to go, but graciously refused to actually break trail. We did all of the hard work, then the group of retirees gave us a hard time when we declined to summit Pierce. "It's only .1 mile." It was a tough pill to swallow as a pretty fit 23 year old, but it had been a long day. We hit the AMC Highlands lodge before dark, but more importantly before dinner.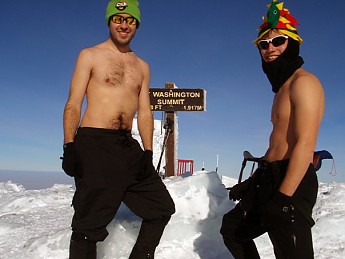 There are more/better pictures here:
ttp://www.facebook.com/album.php?aid=2373547&id=8217567&l=1bb74ecbae