4:26 p.m. on April 10, 2010 (EDT)
BigRed

TOP 10 REVIEWER
REVIEW CORPS
2,829 reviewer rep
921 forum posts
For the first part of annual Easter week tour this year we decided to go into the Tafjord mountains between Romsdalen and Geirangerfjord. I first visited this area on my first trip to Norway 26 years ago, and we did a 10-day hike here in 2003 during our first full summer in Norway. "We" is me, my wife Nancy, daughters Molly (19) and Zoe (15), Molly's Norwegian friend Julie and, of course, our faithful dog Sebastian a.k.a Ralph. I'll put a few pics at the bottom of this post, but the full gallery is here:
http://gallery.me.com/rstrimbe#100181
On day one I hauled a pulk (sled) to haul a load of luxury food over the 19 km ski into Pyttbua, a self-service hut at about 1100 m, a little ways above tree line. We stayed there for three nights, with the general goals of eating away some of our food weight and making it to the 1900+ m tops of some of the surrounding mountains if the weather permitted. The snow has been unstable ever since a long period of cold weather in midwinter, so we had to stay off and out from under slopes of 30˚ or more, but many peaks in this area are accessible without taking any chances.
On the second day, we went partway up one top, Høgtunga, but turned back a little ways after we got up into the clouds. But the next day was gorgeous, so Molly and I cut loose in the morning and ascended Høgtunga in about 1.5 hours and came back to the hut for lunch. We had a few inches of fresh snow to cut turns in -- not very steep, but still a nice run down. In the afternoon we all headed for the highest peak in the region Puttegga -- at 1999 m it's just shy of the exclusive 2000 m club, but if you stand on your head on the top you can still get your feet over 2000 m. Molly, Julie and I made it to the top in midafternoon, after clouds began building in. With a breeze up it was pretty cold up there so we didn't take many pictures.
On day four we crossed over to Veltdalsytta in high winds. The route is marked with kvister (tree branches stuck in the snow) so it's possible to get from hut to hut even in poor conditions. Veltdalshytta had been expanded since we were last there, with a comfy sitting section with sofas. But in winter at both huts, water has to be hauled by sled in 20 l containers, and there are no showers so you take splash baths in washrooms. Not too bad. We shared the huts with any where from just 6 or 8 to upwards of 20 other people. Sebastian and I slept out in a special dog hut at Pyttbua, and he had to stay outside at Veltdalshytta.
Day 5 started out pretty nice, so when we headed back to Pyttbua Molly and I planned to drop our packs and make a side trip up Karitind, the most charismatic peak in the area and one we had summited on foot together in 2003. But the clouds piled in fast and the light went so flat that we couldn't gage the steepness of the slopes we were climbing, so we turned around when we made the ridge at about 1500 m.
One more night at Pyttbua, then we headed out to the road on a nice morning and drove down Romsdalen to Åndalsnes and then Isfjorden, where we rented little cabin at our favorite campground -- it has a kitchen and common room with a TV so you can get weather forecasts, and 10 kroner, 6-minute showers which is a steal in Norway. We stayed there for three nights as a base camp for more toppturs, revisiting Smørbotntind, attempting Kirketaket, a local classic that I have done four times but it turned us around due to wind, hard snow, and steepness, and finally Skarven in perfect spring corn snow conditions. Clear weather all three days, fabulous views of the Romsdal Alps all around, including the very Alpine looking Vengetind, which I was mighty pleased to get to the top of last May.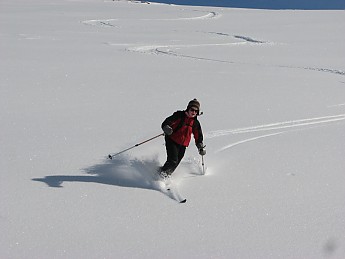 Molly on Høgtunga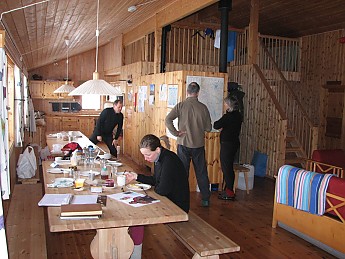 Inside Veltdalshytta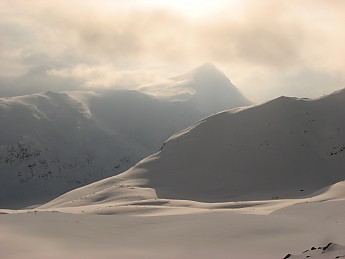 Evening light on Puttegga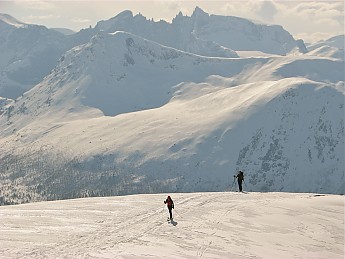 Ascending Kirketaket, Trolltindane behind