3:26 p.m. on May 8, 2010 (EDT)
BigRed

TOP 10 REVIEWER
REVIEW CORPS
2,828 reviewer rep
928 forum posts
It's been relentlessly chilly with endless snow showers for the last few weeks here in Trondheim.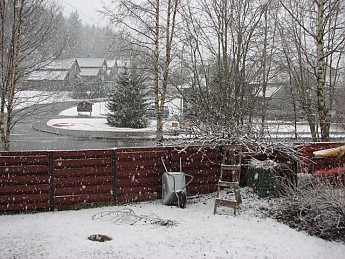 Here in town it melts about as fast as it comes down, but up in them thar hills there's been some accumulatin' going on. My daughter and I took advantage of two weather windows to make weekday trips on two classic peaks, both of which she has turned back on in the past due to bad weather or conditions.
The first was Neådalssnota, here seen in a shot from my first visit back in 2003.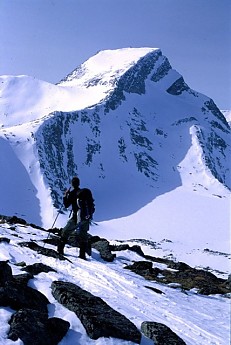 It's got the big, wide-open upper snowfield, which is often pretty windblown, but it drops off into a protected bowl which is often powdery, with a second smaller bowl below. It makes for along day trip, a 10 or 11 km slog to the base of the mountain and back. We used our heavy gear to maximize fun on the descent. Tt really was a grind getting there and back, but we got payback in the form of 20 or 30 cm of wind settled powder on the descent, and the upper snowfield was as soft and deep as I've ever seen it.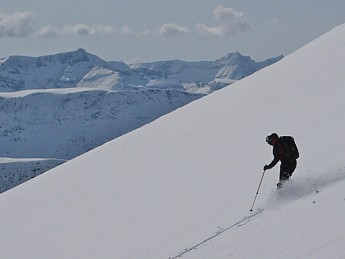 Then yesterday (May 7) we went for Dronningkrona (the queen's crown), an 1800 meter peak that is nearer the coast and so looks down on the fjords. We drove over the night before, left at 8 PM and arrived at about 11, with still plenty of light to put the tent up. There was still snow on the valley floor at 200m but the lower slopes were half melted out so we had to carry our skis on and off up to about 600m.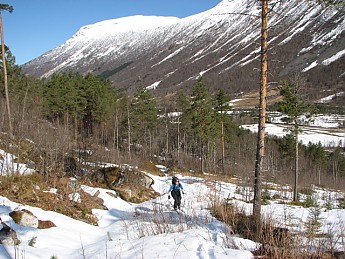 The route involves traversing steep slopes on a broad flank of the mountain to gain a saddle, then 1.5 km along a rolling ridge to get to the top.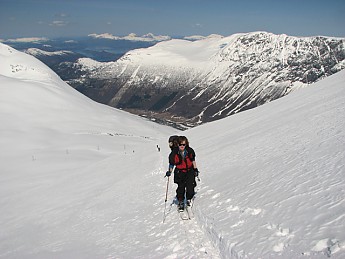 There was big group of very fit xc racers from Trondheim some of whom passed us on the way up, and we all sat together for lunch at the summit. Full sun and not much wind, so there was no need to pull out down jackets (for a change).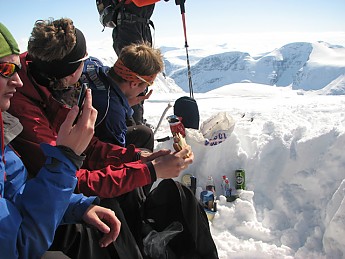 Dronningrona is one of the biggest peaks around with great views in all directions.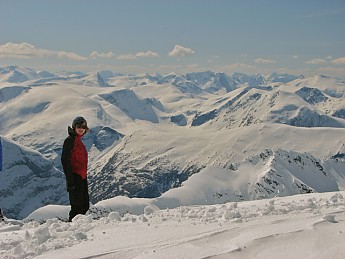 On the way down we were once again rewarded with powder, this time a little lighter and deeper thanks to a couple of weeks of those coastal "fjord effect" snow showers.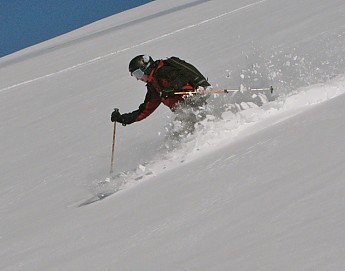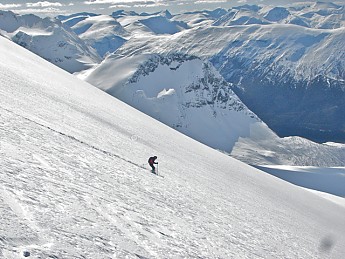 We had over 1000 m of open slopes before the trees closed in around us, and we finished off walking down the last 200 meters.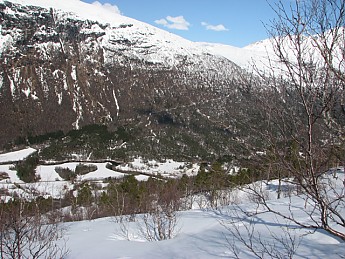 I have put up and album here on Trailspace with all these and a few more photos.It's no surprise to be skiing in Norway in May, or in some areas June and July, but the powder was a most welcome variation. Next week I'll be taking some days off with my buddy Christophe to look for more fun!