2:08 p.m. on June 7, 2010 (EDT)
FromSagetoSnow

TOP 25 REVIEWER
REVIEW CORPS
6,158 reviewer rep
1,625 forum posts
My nine and eleven year olds came with me as we climbed this popular trail on about the only day of nice weather (June 5th, 2010) this area has seen for a while. We are training for some higher summits this Summer so we brought everything, minus sleeping bags and a tent. We used this day to practice using ice axes and crampons though they weren't strictly necessary. We met some very cool mountain instructors who gave us some awesome advice bought with years of experience. Using this advice we also sat in on a mountaineering school in progress who let us use their sliding chute to practice self arrest, which was a ball. Thanks guys, and GO COUGS! We all managed to get the hang of self-arresting in four positions. Joining us on the well-worn snow path were several dogs and folks wearing nothing but shorts, sneakers and sometimes a shirt. Being a smaller summit (5,629ft) I guess thats okay, I like being ready. Several of the numerous other climbers asked us if we were staying the night since we had decent sized backpacks.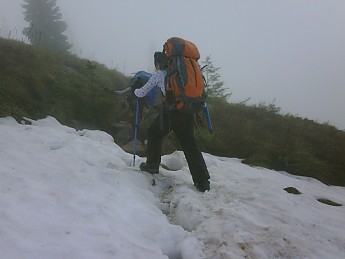 Snowfields started around 3k ft. Seems like things are thawing about two months late. The early fog was a blessing because the kids couldn't see how far away the summit was.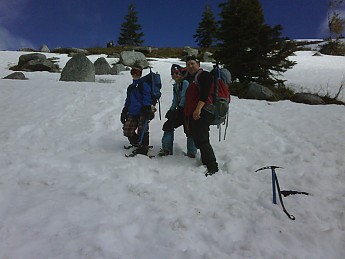 The three of us on the first snowfields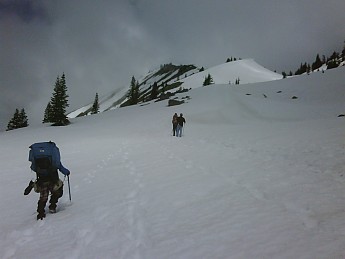 Up we go towards the summit, Ethan in the blue pack.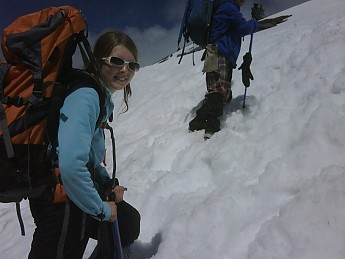 Rebecca, tired but determined. Last 1/2 mile to summit was the steepest.
Hooray, the summit! Perfect weather!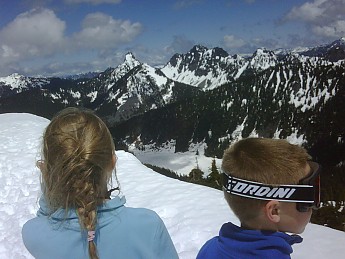 Kaleetan Peak in the distance. Someday...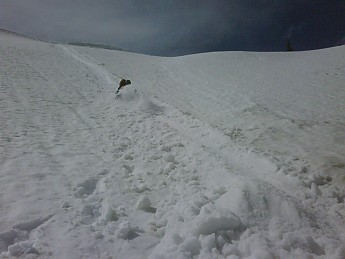 "If I had known glissading was so fun, I would have hiked up faster!" Rebecca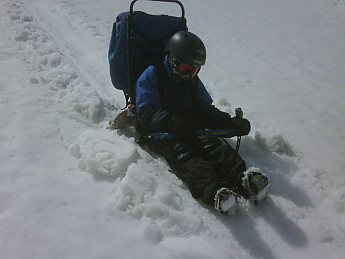 That's a 1st glissade smile!
Many thanks to all the nice people we met on the trail who complimented and encouraged the kids, that meant a lot to them. They were the youngest kids we saw on the mtn that day.