12:01 p.m. on June 12, 2010 (EDT)
GaryPalmer

244 reviewer rep
5,239 forum posts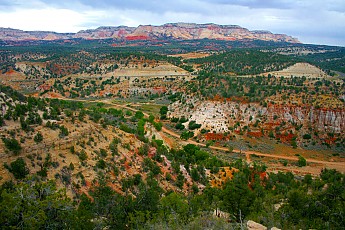 Near the begiining of the route looking back east to the White Cliffs of the western Grand Staircase Nat'l Monument. The East Fork of the Virgin is down along the orange sandy road winding thru the canyon below. US 89 can be seen cutting thru the sandstone hills in the middle of the picture. I hiked up to the top of the ridge where I took this shot.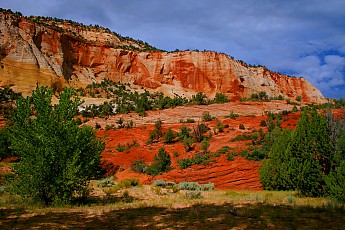 Near the beginning of what is called the Barracks where the canyon starts getting very narrow and the trail and road disappear.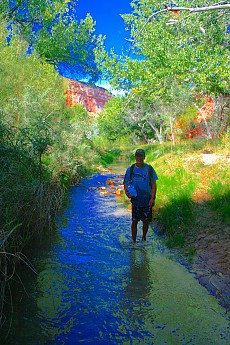 My friend Paul wades thru the shallower upper part of the Barracks. The brush and trees along the banks make it easier to wade the river from now on.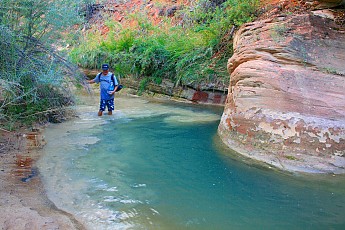 Quicksand gets to be a contant problem along the river where cliffs push the water over thru muddy banks. Here I was sucked down into the knee deep sticky mud and had to swim my way out causing the swirls of grey mud in my wake.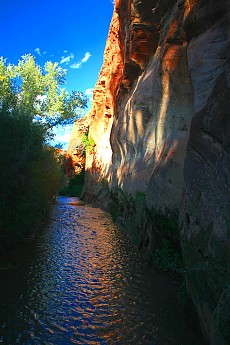 We leavethe bright open slickrock and enter the main Barracks. Now the canyon walls tower above us. It was late September/early October s it was a bit chilly, especially in the shade.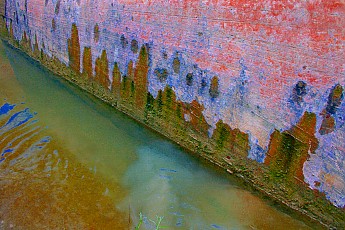 Seep springs flow out of the sandstone walls along the rivers edge.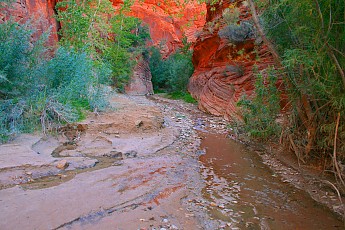 Poverty Wash joins the Parunuweap from the north. One of many side canyons that are fun to explore!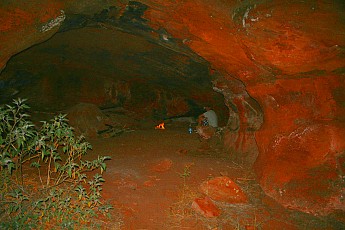 Looking into the large seep spring cave along middle Poverty Wash.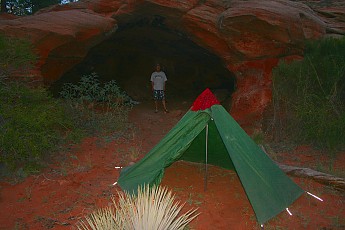 Our camp outside the seep cave.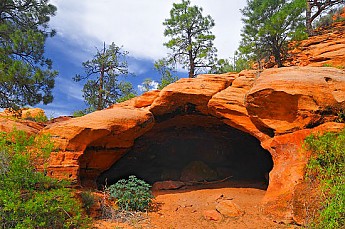 The seep cave the next morning.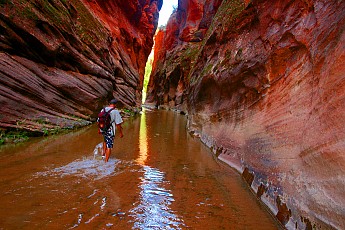 Back in the Parunuweap the next day we wade thru another section of the main canyon as towering walls rise above us.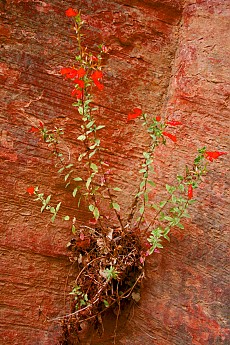 A wildflower grows out of a seep spring crack along the rivers edge.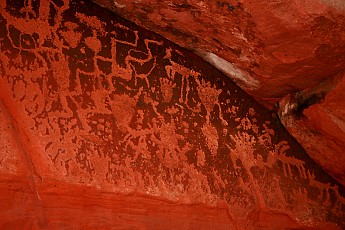 Up another side canyon, Indian Petrigyphs cover a overhang wall. A stork, big feet, an arrowhead, big horn sheep and many other things drawn up to 4000 years ago.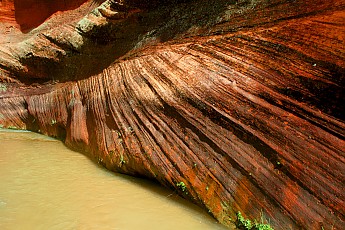 Ancient sanddunes show their layers along the rivers edge. Sanddunes that once were higher than 3000 feet covered this area 100s of thousands or millions of year ago.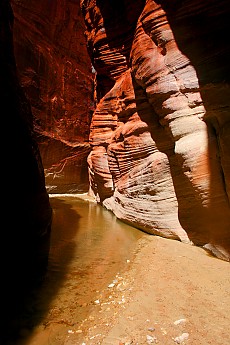 These acient sanddunes now form the canyon walls above us and the river.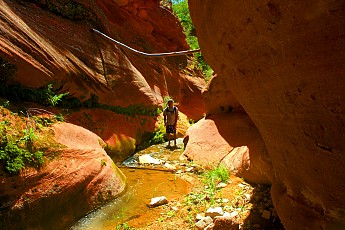 A small tree caught above our heads shows the recent water hieght along another side canyon.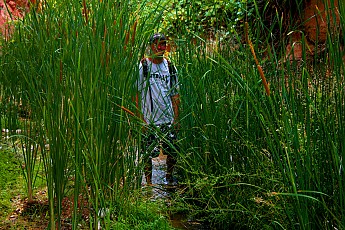 Cattails taller than Paul along a side canyon.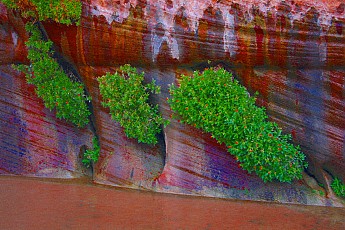 More plants grow from the seeps like a hanging garden.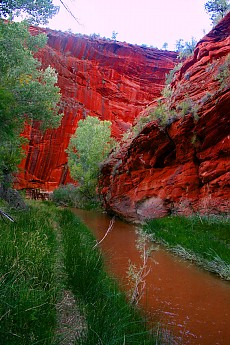 The canyon widens a bit allowing a trail along the river thru the Horsetail and Cottonwoods.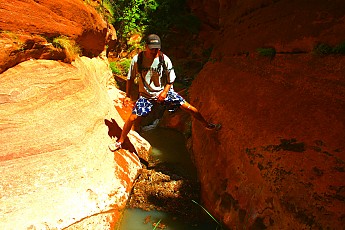 Chimneying over a narrows in a side canyon.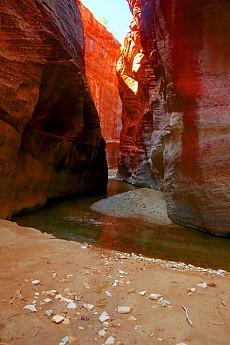 A winding narrows leads us up to the route we take leaving the Parunuweap River.
We exited the canyon to the south and walked back out to highay 89 and back to Mt Carmel Utah