11:35 a.m. on June 28, 2010 (EDT)
FromSagetoSnow

TOP 25 REVIEWER
REVIEW CORPS
6,158 reviewer rep
1,625 forum posts
The Cascades are still very snowy, about a month behind normal in snowmelt so pack your favorite snow gear above 3k feet.
Noel the dog, Adam the guy from the office and I departed for a day hike intended to reach Melakwa Lakes on June 26th.
Amazingly the trailhead only had three cars at 7am. I thought that Seattle must have fallen into Puget Sound or had a new Starbucks open because usually this place is busy on the weekends. I noticed that there were a few clouds to the West so maybe that was the reason. I wasn't complaining.
Noel, the wonder dog, was along for her first mountain trip since we picked her out of a box of puppies last December at the entrance to Safeway.
Noel was sporting a vintage doggie pack that graced the withers of my last two dogs, dating back to 1990. I stuffed the packs with a fluffy jacket to get her used to the extra width. Only once did I have to un-wedge her from in between two narrow rocks.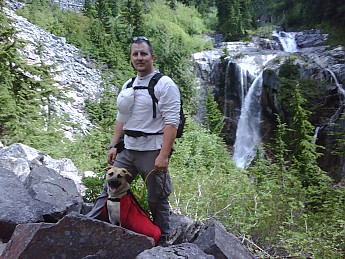 One problem occured. As long as we were walking up to other hikers, Noel was all love and licks. When others walked up to us as we were sitting, she bacame defensive. She nipped at one man's treking pole (SORRY!). I kept her on a short leash. Never had this quirk in a dog. Anyone with any ideas on how to fix it let me know.
This trail, if you can handle hiking with lots of other people, offers some fantastic waterfalls along Denny Creek and a five-ish mile hike to Melakwa Lake when its passable. After mile 1.5 the traffic thins to okay levels. Kids and others who aren't able to walk a lot can get some great views with limited effort on this trail.
The hike up to Hemlock Pass was fine until we got to continuous snowfields at about 3K feet. Several overnighters who had slept at Melakwa told us the lake was frozen and the snow was best walked with gaiters/skis/snowshoes.
So instead we stopped at the pass and ate a long lunch there and discussed the sins of littering, not yielding to uphill hikers and wearing cotton as we wrung out and sun-dried Adam's socks.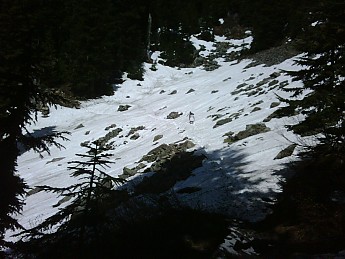 The highlight of the day was the glissade down several snowfields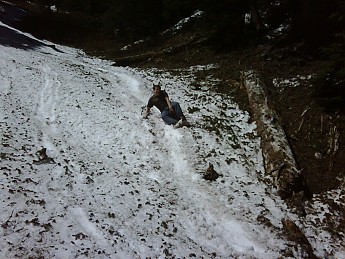 Adam missed that tree stump and became a glisade lover after only one run.
We stopped at the "waterslide" on the way back and let Noel swim a little. The usual crowds were there but it was still pretty nice. At the trailhead the cars were packed in all the way to the freeway as usual. My fears about Seattle were unfounded.