3:48 p.m. on July 14, 2010 (EDT)
bccroney

28 reviewer rep
63 forum posts
I attended the Gearjunkie.com Treasure Hunt last Sunday (7-11-10) for my first adventure race type of event. I appropriately chose the Beginner/Intermediate class. The race was a blast and seems like it could be addicting.
There were 15 checkpoints of which I managed to hit 13 in the allotted time of 2 hours. They were of varying point values and the 2 I missed were the 2 lowest values. One point was located on a river bank which was most easily accessed via the river. Unfortunately, my teammate was wearing leather boats which just trapped water, acting as weights for the rest of the race. Needless to say, it slowed us down a bit in the second half of the event.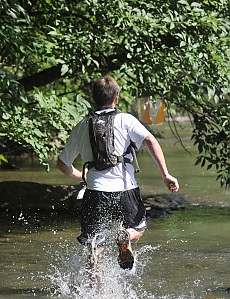 With this being said we finished very well with 275 of 290 points. The beginner and advanced were combined into a single ranking (advanced could obtain somewhere to the tune of 420 points for completing the course).
I believe our heat contained north of 100 people and we were about 16 overall. I came away with an awesome Eno Doublenest Hammock and my partner grabbed a 320 weight merino Ortovox full zip fleece.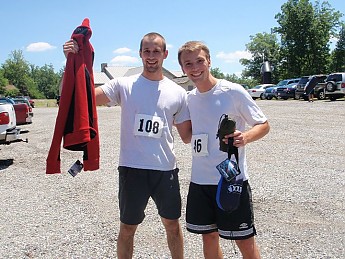 It was really a blast and I encourage others to try similar events. Some people ran the whole time, while others just walked the course and took in the scenery. Thanks for the heads up Alicia, this was a ton of fun. My partner's wife asked me if I had fun, to which I replied "Its everything you want to do while backpacking, but know you shouldn't." Referring to jumping off of ledges, running through water and running through sharp brush.
The pic of me in the river was taken by a local photographer.