4:49 a.m. on July 30, 2010 (EDT)
BigRed

TOP 10 REVIEWER
REVIEW CORPS
2,829 reviewer rep
922 forum posts
We've been using a lot of our vacation time on home improvements this year, but after sanding and urethaning our floors we (me and my wife, Nancy, daughter Zoe and dog Sebastian a.k.a. Ralph) took a week off to drive down to Sunnmøre, a rugged maze of fjords, valleys, and mountains on the west coast. We drove down via an inland route that took us through Lom, where my older daughter Molly was staying with a friend that works at the legendary bakery there. Zoe and I did an easy via ferrata on Lomsegga, a peak that stands up above the town.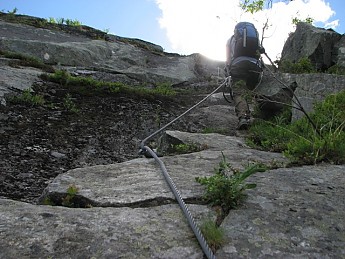 We had a nice drive over the Sognefjell road into Sunnmøre, but then ran into some wet weather. Stayed a night at Standalhytta, a big drive-in unserviced hut run by the Ålesund ski club. There were only two other people in the hut -- even after 8 years here I'm still kind of amazed that you can drive or walk in to a comfortable hut and have it more or less to yourself for, in local terms at least, not a whole lot of money.
The first priority of the trip was Slogen (1564 m), a peak I have done on skis but wanted to do in summer. You can do it as a 1500 m up and down day hike starting in the valley just up from the fjord, but we decided to hike in to Patchellhytta for a 900 m head start, still hoping that the weather would break. The hut is getting a major addition that looks to at least double its size. It gets heavily used (relatively speaking) especially on spring weekends because it gives access to superb backcountry skiing on Slogen and other nearby peaks. There were maybe 20 other people there the first night we were there, fewer the second night, not enough to make it feel crowded although N & Z ended up in the loft and I slept in the new basement with Sebastian because ÅST doesn't have dog rooms. Often hut improvement work is done with dugnad (volunteer labor) but this time they had a construction crew living for the summer in the little emergency hut and had helicoptered in tons of supplies, including those needed for a concrete block foundation.
We waited out a heavy overcast, just a few hundred meters above the hut, for the whole morning and early afternoon, then saw a break or two and decided to head up the mountain. We were in cloud a good ways up the ridge, but the clouds started to break up as we approached the final scramble to the summit. This was a big deal for my wife, she has a touch of acrophobia and tends to build these things up in her mind -- at one point Z and I had to do a little coaxing to keep her going, but the scrambling is really no big deal, lots of kids up there, and she did it.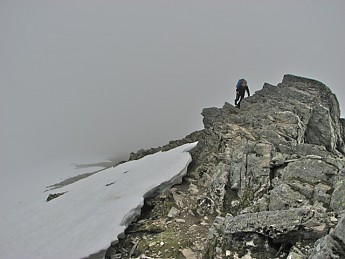 Her I am on top in my Trailspace hat (photo by Zoe).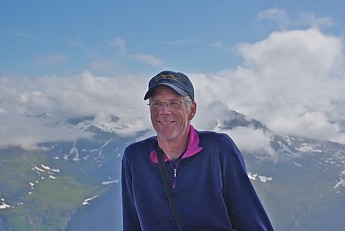 With clouds still coming and going a bit we got peek-a-boo views almost straight down to Norangsfjord and of the peaks and valleys all around.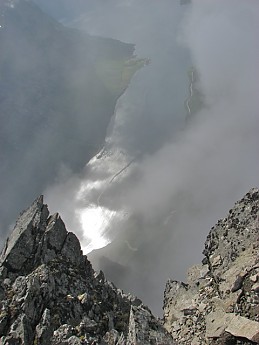 The clouds also lent a lot of drama to the descent.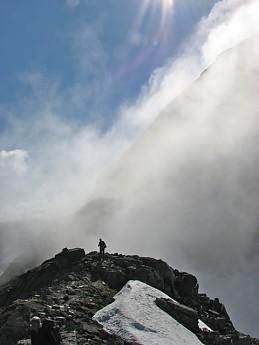 We were captivated by circular rainbows around the viewer's shadow (this is Zoe's picture, that's me lower right).
Here's Slogen at about 4:30 AM the next morning, when I went out to pee.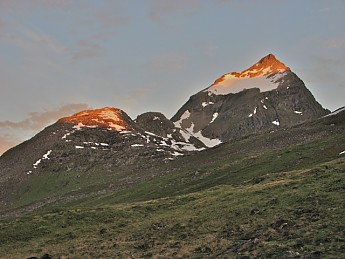 And here's Patchellhytta, with the blue containers used to fly in building supplies parked outside (the whole left end is brand new), under Slogen as we started the hike out.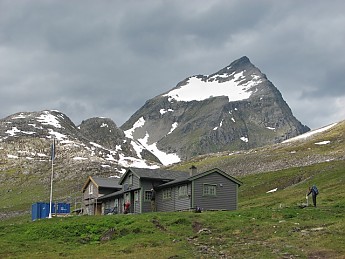 We took the coast route back to Trondheim -- involves three or four ferry crossings of fjords, always a good way to break up the drive. The urethane on our floors was set up nice and hard when we got home...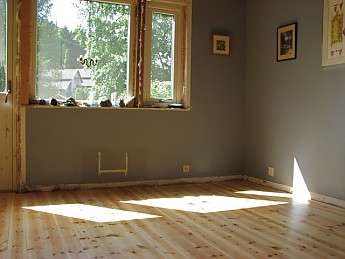 You can see these photos (a little bigger) and more in my gallery for the trip:
http://gallery.me.com/rstrimbe#100212
Later I'll post a report on a shorter trip to our local mountain area, Trollheimen. I gotta get back to work...