9:18 a.m. on July 31, 2010 (EDT)
BigRed

TOP 10 REVIEWER
REVIEW CORPS
2,829 reviewer rep
921 forum posts
My older daughter Molly is now working at Trollheimshytta in the heart of Trollheimen, a mountain region just a bit south of Trondheim where we live. We hiked in for a two-nighter at the hut, to bring her some supplies but also hioping for good weather to hike up Snota (1668 m). As it turned out, it was rainy during the 16 km hike in and during our rest day, but we got good weather and made a side trip up Snota on our way out.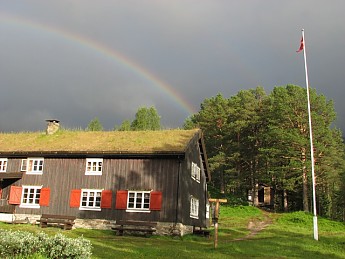 The mountains in central Trollheimen are more rounded with somewhat lower relief than those closer to the coast, but there are still cirques, remnant glaciers and steep faces enough to give them their own charm.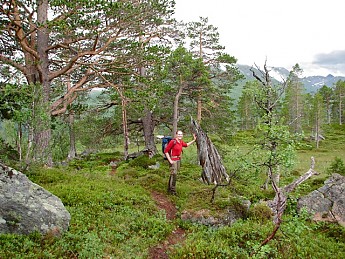 Trollheimsytta is in a broad valley called Folldalen, surrounded by pine woodland and big and beautiful sedge bogs. On our "rest day" we hiked several km up the valley towards a self-service hut called Vassendsetra, across and alongside a huge open bog and past Lagmannseter, and old summer farm. It's a beutiful stretch of valley. (Otto, you might think about doing the Trollheimen 'firkant' and include Vassendsetra as a fourth hut. If you have the legs and weather you can make a side trip up Neådalssnota and/or go over Gjevilasskammen between Vassendsetra and Gjevilvasshhytta.) We finally turned around when we were faced with a waist-deep stream crossing due to all the rain. With all the boggy ground the hiking around here is mostly pretty wet no matter how you do it.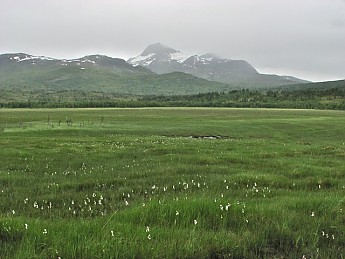 (That's Snota in the background)
We stoked a fire in the little accessory hut that Molly is living in and spent the rest of the afternoon reading and playing games. The rainy weather began to break in the evening (rainbow picture above), giving us a hope for good weather the next day. Dinner was baked trout with the usual boiled potatoes, better than average at a TT hut.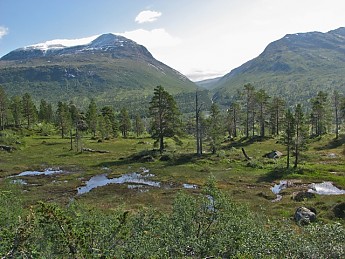 Some of that rain came down as snow at higher elevation -- still some fresh snow on the shady north slope of Trollhetta in the photo above, also a good example of the mix of bog and pine woodland in upper Folldalen.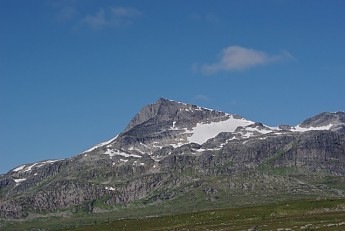 Snota is unusual in that there is a marked summer route right to the top -- on most Norwegian summits, you're on you're own even if there is some kind of summit register. The big white patch is a remnant glacier, and the route crosses the snowfield at the right end of it to gain what looks like a ridge but is really the broad, bouldery north slope of the mountain.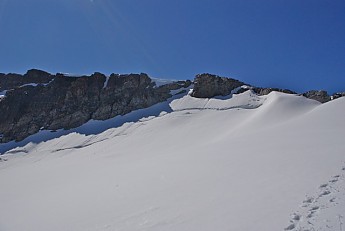 Whenever Sebastian comes to the first snow patch of the day, he has to roll in it, then he'll chase snowballs for as long as anyone is willing to throw them.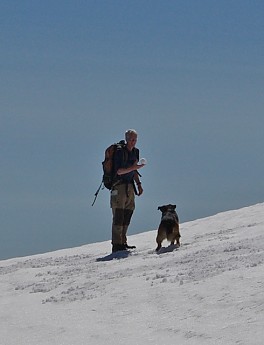 And at the top of the mountain, he always peers right over the edge -- we say he's contemplating suicide.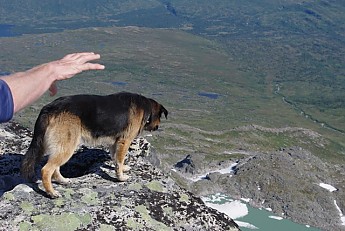 Here's a view down towards Folldalen -- Trolheimshytta is down there somewhere, and you can see the big bog we crossed the previous day.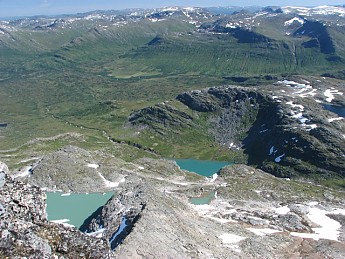 A rare photo of my wife and I relaxing by the summit cairn (photo by Zoe, I'm usually the guy behind the lens).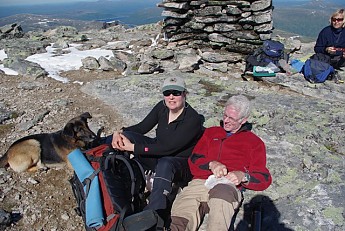 Looking down on the upper part of the glacier/snowfields, the little lake under Litjsnota is still mostly iced in.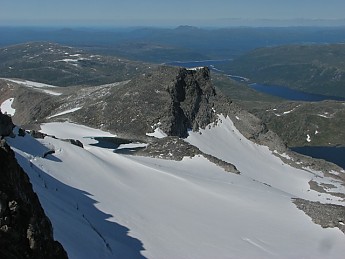 We took our time and were pretty late getting home, but it was a beautiful day. I'll be going back in to do a speed hike/run around the Trollheimen Triangle with Molly, hoping to beat last year's time of 12:18. Since I won't have the dog, I'll use a kayak to get to about 5 km from the hut, saving a lot of muddy hiking above Gråsjøen.
Full gallery at http://gallery.me.com/rstrimbe#100219. Enjoy!