12:21 p.m. on August 5, 2010 (EDT)
Gary C.

22 reviewer rep
210 forum posts
Friday night 6 of us piled into my Sequoia and with Marshals trailer loaded with our packs we drove to a hotel and stayed the night in Mammoth. Saturday morning we drove to the Mammoth Inn and parked, grabbed our gear and waited on the bus to take us to Tuolumne Meadows. We got to Tuolumne and picked up the permit and started up the Lylle Fork trail. We turned on the GPS to record our distance every day and I showed distances greater than what I had read to expect but whats new about that. According to the GPS we hiked 9mls the first day. We made camp near the back of Lylle Canyon so we could could start up the mountain towards Donohue Pass and the Lylle Glacier with a fresh morning start.
Lylle Canyon is beautiful and here is just a taste of what we saw along the trail.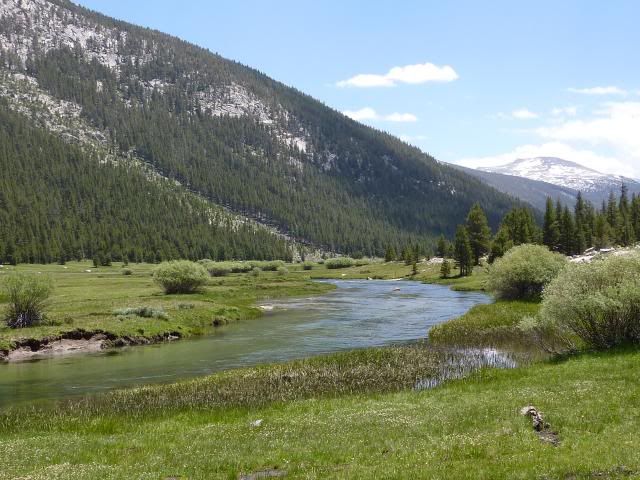 Debbbie and Tania at a stream crossing.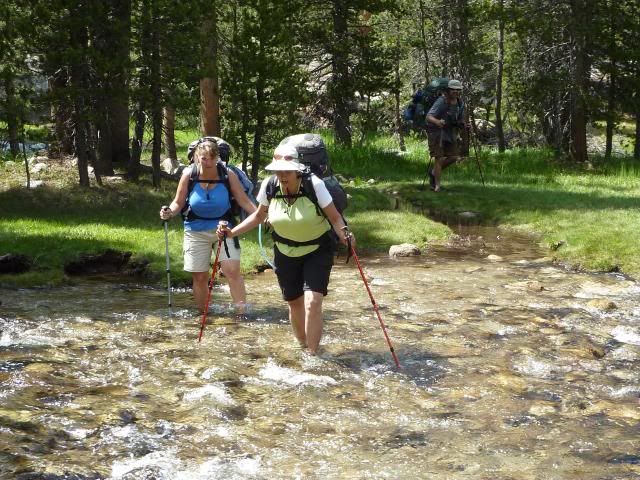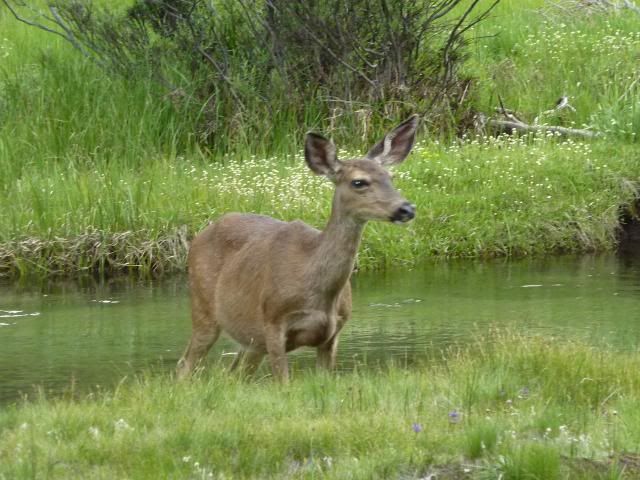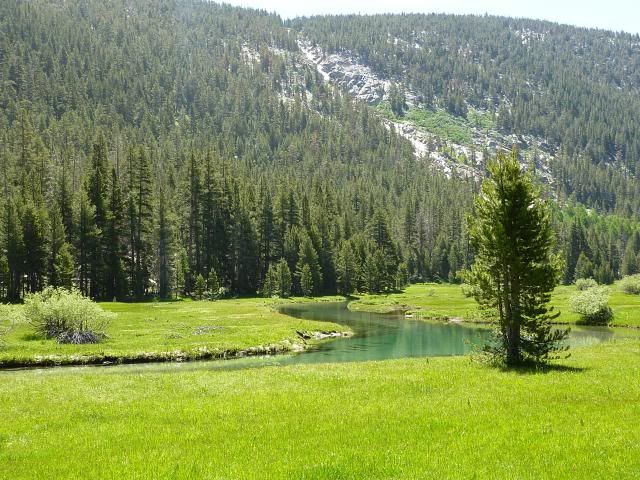 Sunday after breaking camp we hike the last part of the canyon floor and started up towards the Lylle Galcier.
The green meadow behind me in the center of the pic is close to where our first nights camp was.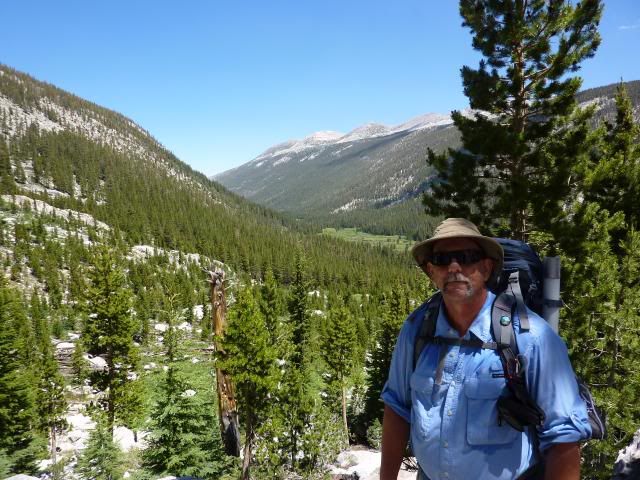 Getting closer to the glacier.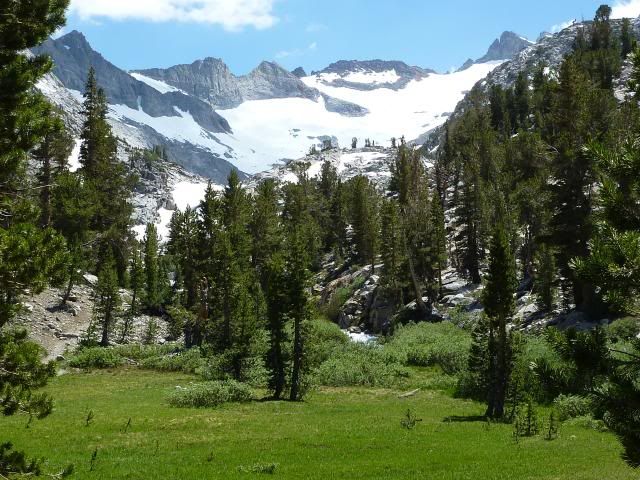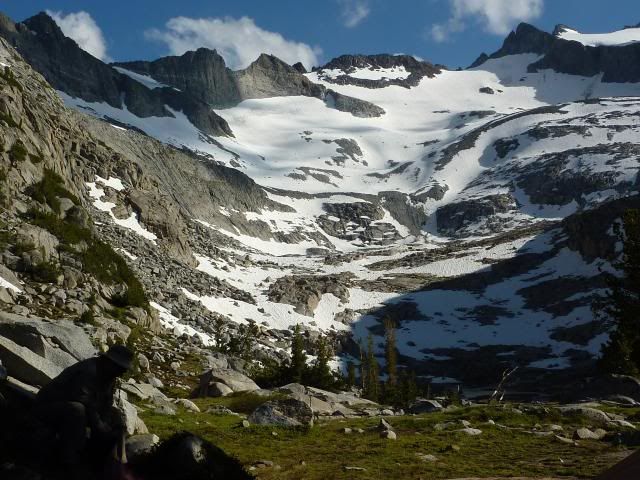 This picture was taken from near our camp about half way up the mountain to Donohue Pass. We had to do a water crossing at the little meadow with all the water in it the mosquitos were almost overwelming there. We had mosquitos most everyplace we went but that place was the worse. Everyone had treated there cloths for mosquitos before leaving home and with the help of 100% DEET we faired pretty well.

That is Marshal and Vince hiking up to the glacier.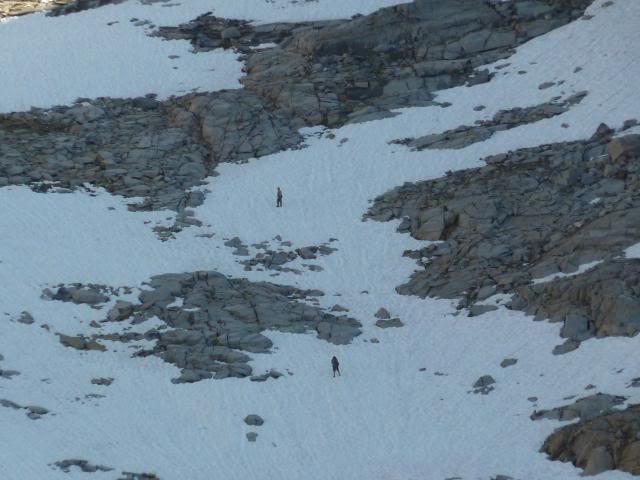 Monday morning we started for the top of Donohue Pass. I had worried about this part of our hike because of a lot of snow on the trail reports. As it turned out most of the snow had melted and it was a simple matter to go around most of the scarrier places. From the same area these pics were taken was our only near serious accident. Debbie fell and when I got to her she was calling for help and saying that she couldn't move. It was pretty scarry for me for a minute until I realized that she had just fallen on her trekking poles and with the wrist straps on she was completely helpless.
Deb before her fall.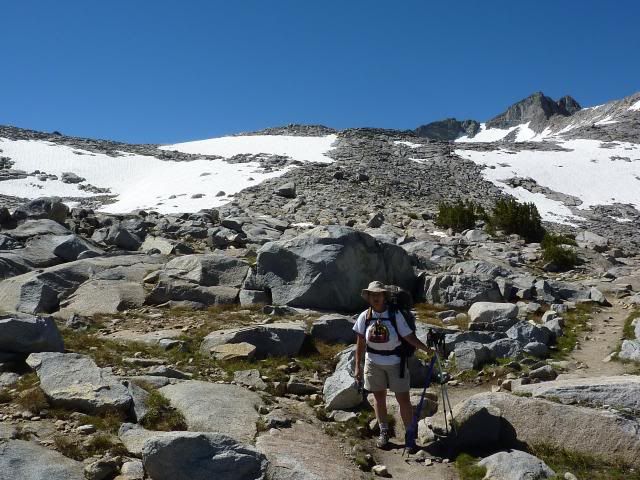 Mark and Marshal near the pass, elevation 11,000+ ft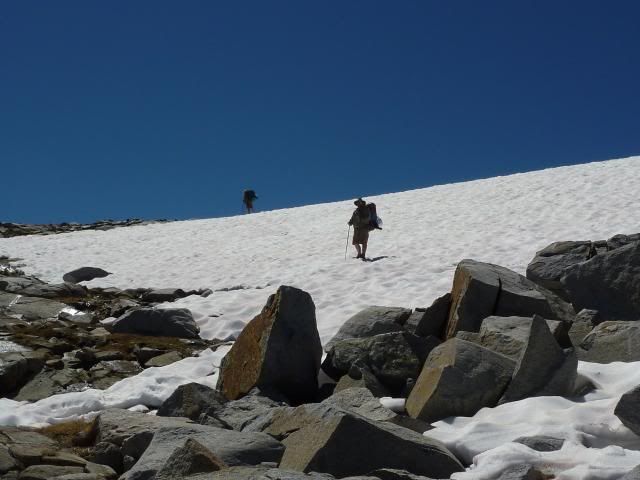 From the top of Donohue Pass

Vince

Mark

Debbie Marshal, Tania, and Mark after descending the other side of Donohue Pass.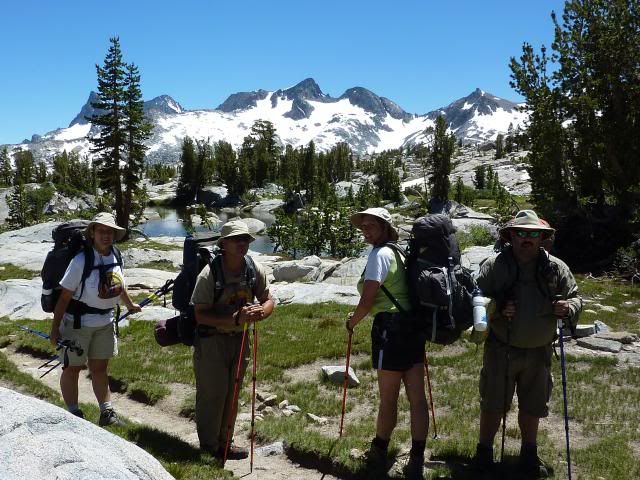 From there we continued on the JMT headed for Marie Lakes but after some trail finding problems and being exausted we decided to camp in a little valley below the lakes. I finnally got some fishing in and caught quite a few small brookies from the stream and a small pond.

Our camp in the small valley on Monday the third night out.

Tuesday we headed for 1,000 Island Lake. Pics are from the trail to 1,000 ISL.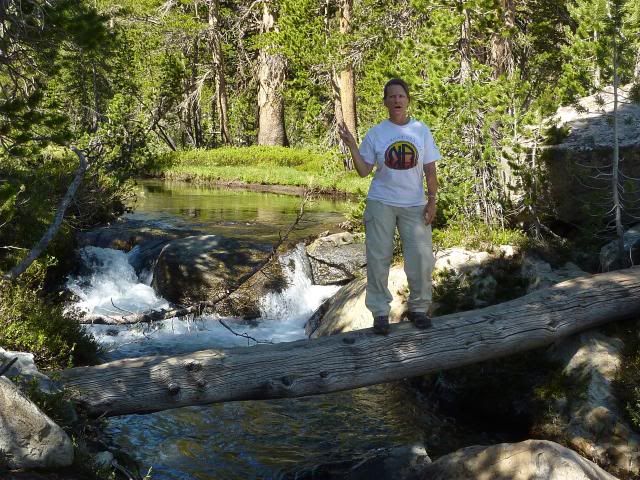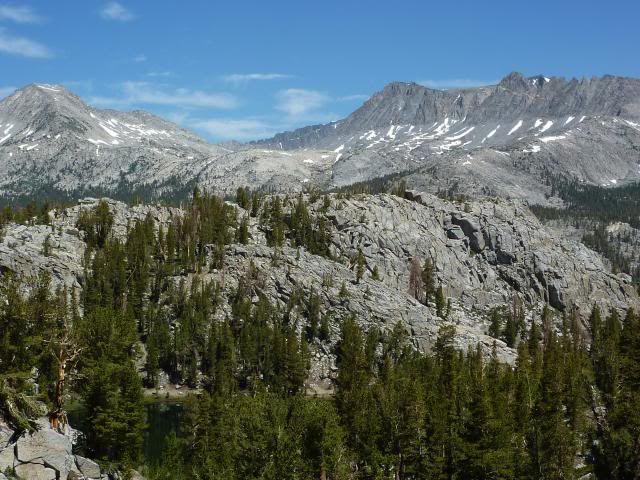 We knew that the mosquitos would be bad at the lake so as we approached the lake from above we cut cross country to a very nice place that turned out to be a very wise choice considering how bad the skeetrz were at the lake. We spent 2 nights there resting up and enjoying ourselves. The fishing at 1000 Isl lake was bad for us but I did manage a very nice bow that I will try to get a picture of from Mark to post. As it turned out our camp site was only about 300 yards from a lightning strike fire. We didn't know about it until a fire crew came up the first morning to work it. They came up all three mornings we were there and the only time there was smoke was when they were up there stirring it up.
I fell in love with the veiw of Banner Peak and it seems most of the pictures from that area have it in the backround.
Deb and Tania at our camp

Vince and Tania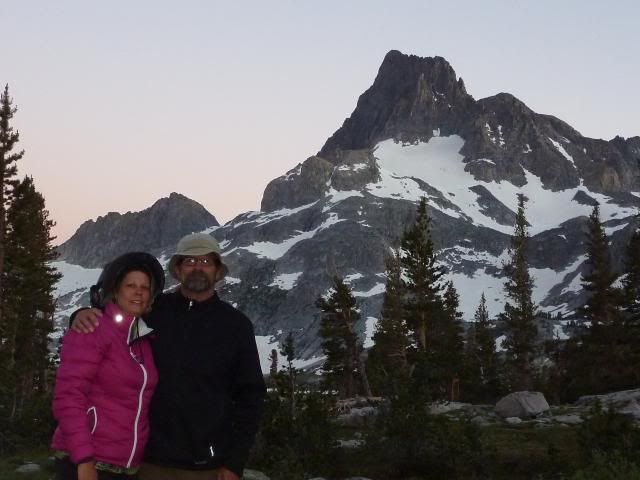 1000 Isl Lake
Vince, notice all the mosquitos?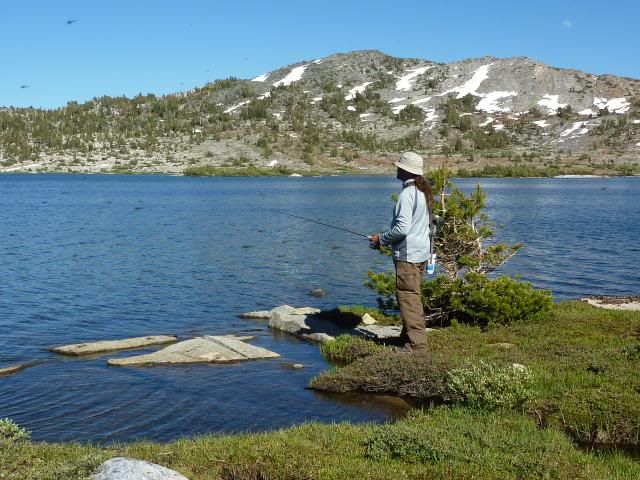 Me

The crew Mark, Me, Debbie, Vince, Tania, Marshal.

Thursday morning we got up early and started for Ediza Lake. Ediza was high on our priority list because I had read the John Muir considered it the most beautiful place in all the Sierra. Don't get me wrong, we all agreed it was a very beautiful valley but we didn't see anything to warrant such high praise.
Along the JMT headed for Ediza.
Ruby Lake

Garnet Lake

Shadow Lake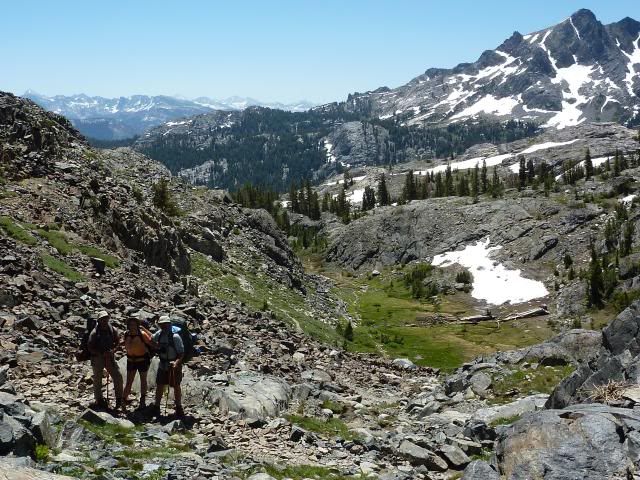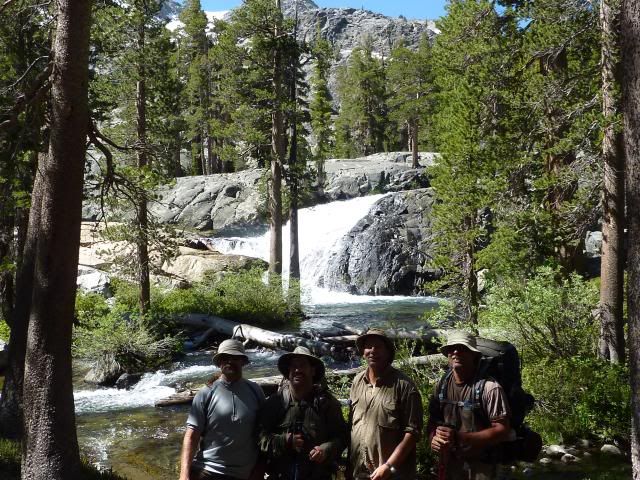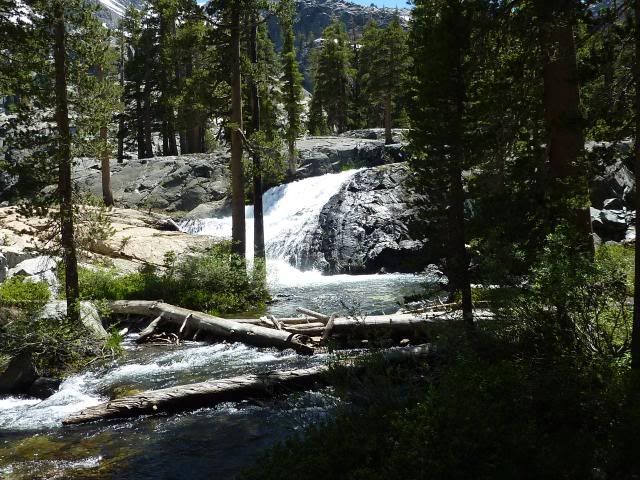 Finally we reached Ediza Lake

Made camp and started fishing. I did OK on the little brookies and Vince caught a very nice bow right off the bat. I got several more brookies in the morning but only one small rainbow.
Me fishing Ediza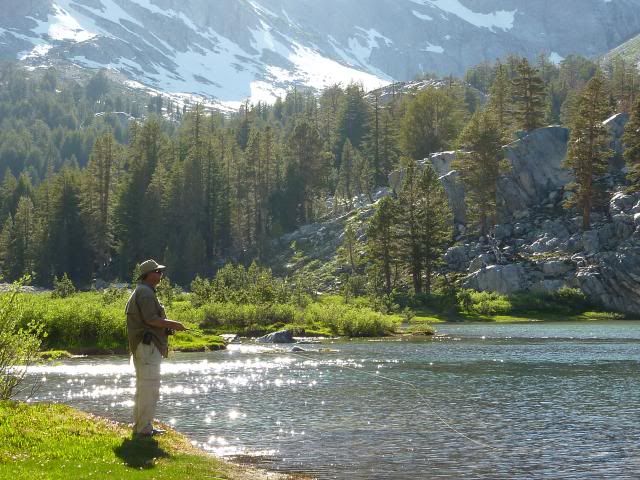 Marshal with a bow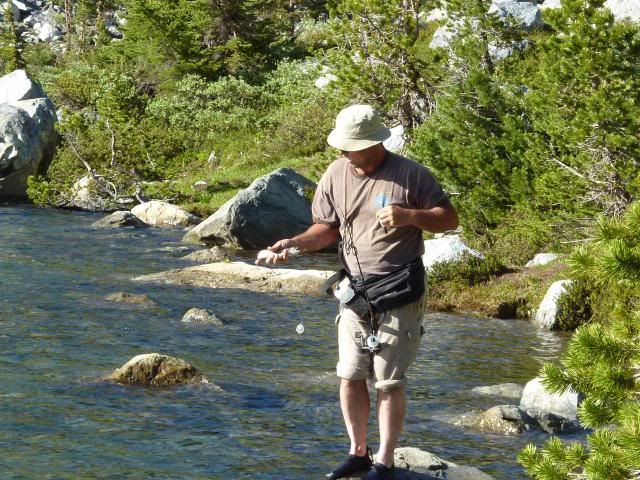 A couple of my brookies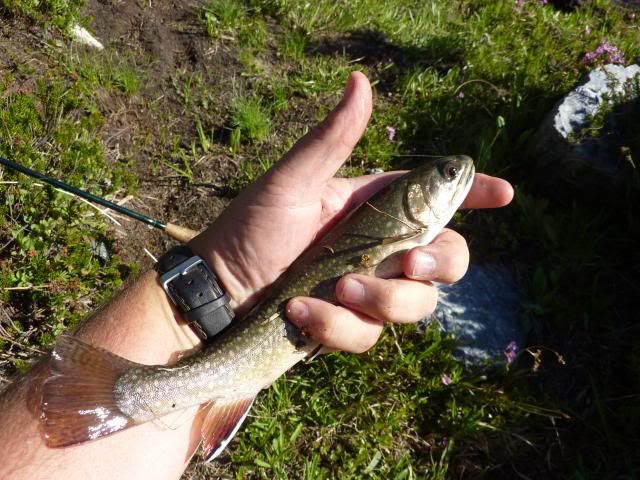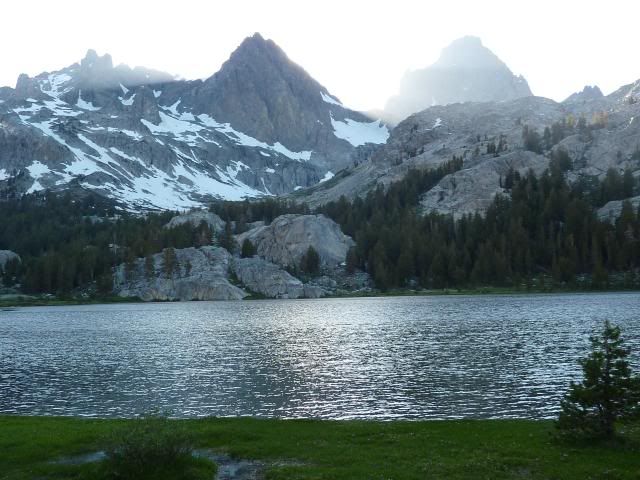 Mark fishing Ediza

Friday morning we broke camp early again and started for Agnews Meadow. From there we caught the bus to Reds Meadow and the backpackers camp for the night. At Reds Meadow we were able to get Cheeseburgers and a hot shower, I don't know which was better. We got up Saturday morning and did the 5ml Rainbow Falls to Devils Postpile as a dayhike.

Mark and I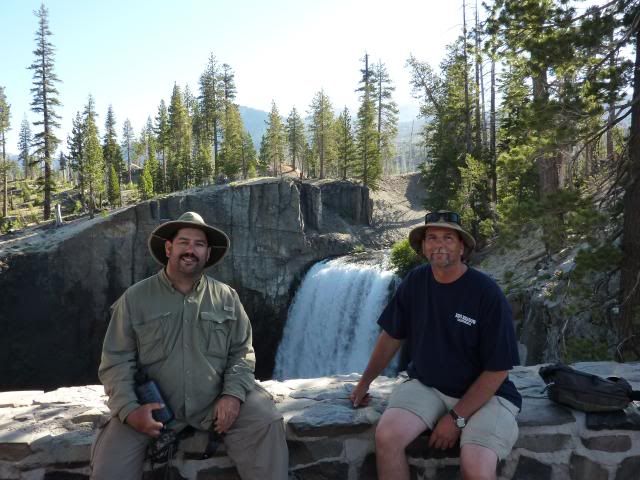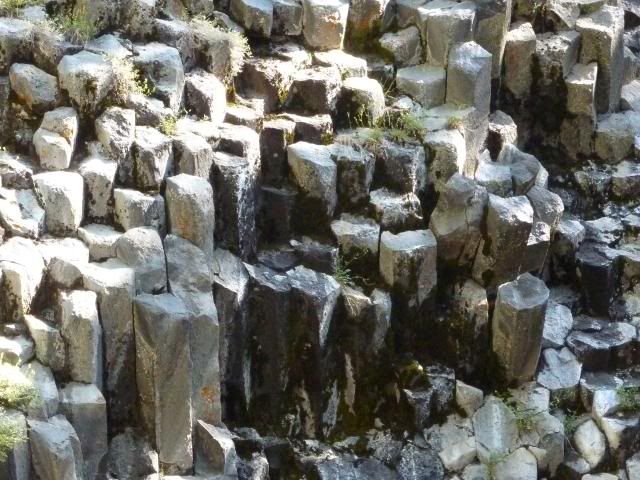 It was a great trek, no rain, mild temps, and wonderful hiking partners. What more could I have asked for. The miles were a little longer(45mls) and harder(8,367ft total ascent)than we had planned but aren't they always. Mark got a huge blister the first day that plauged him the whole way. Everyone took a turn at getting a little tired and cranky but we all got over it. Thats the beauty of this group. We are all friends and understand and care about each other, we always have a great time together.
Now it's time to start planning next years big trek ???