1:22 p.m. on August 15, 2010 (EDT)
BigRed

TOP 10 REVIEWER
REVIEW CORPS
2,829 reviewer rep
921 forum posts
Well since we haven't had a fresh trip report for a few days and we recently had a little discussion about hiking with kids, I thought I'd dig up some old photos and reminisce.
In summer 2001 our girls we six and ten, veterans of quite a few day hikes and a few overnighters in a couple of the AMC huts. To keep the days within reach of our six year old we decided to do a hybrid hut/camping trip across the top of the Pemi. My wife used to work for the AMC education dept and arranged for us to be Hut Naturalists where we take people out for an after dinner nature walk and get in for half price.
We started out on the Zealand Notch road for the short walk into Zealand Falls hut.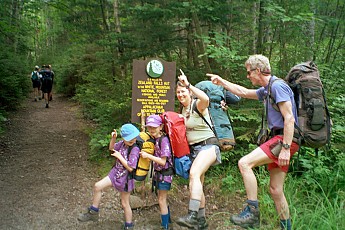 Here's Nancy and Zoe heading up the trail.

We got to the hut and proceeded to check in only to discover that our reservation was for the previous night. My wife had made all the reservations and had somehow time-shifted them in her head by one day. Unlike Norwegian huts, the AMC huts work on reservation only and they had no place for us. Fortunately it was still early afternoon so we decided to double up the first two days and proceed to Guyot campsite. That took us over Zealand Mountain, a treed-in summit without much of a view.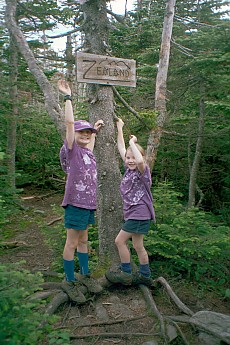 We also went over Guyot mountain which I think is one of the more remote summits in the Whites and somehow situated so it is especially windswept, rounded off rather than sharp and with some alpine vegetation and a close-cropped carpet of black spruce krummholz over much of the top.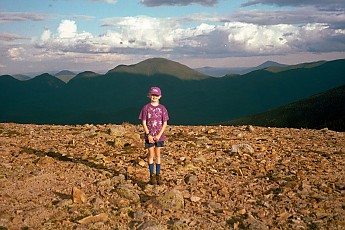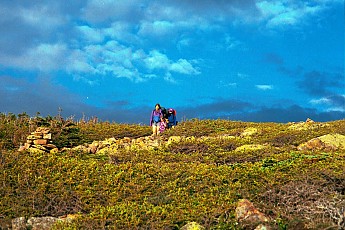 The kids were real troopers about the long day. We made it to the campsite a little before dark, took a tent platform, and pitched our tarp over it.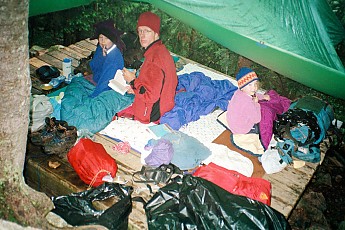 The weather was a bit unsettled the next day as we headed up over South Twin. Not too bad at the summit...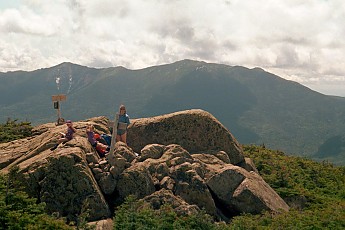 ...but as we headed down the steep trail to Galhead Hut a thunderstorm rolled in. Molly and I ran ahead to the hut, where I dropped my pack and headed back up just as it started to rain. I carried a scared Zoe down on my shoulders in the downpour with thunder and lightning all around. After the storm we took a little hike up nearby Galehead mountain and looked back down at the hut.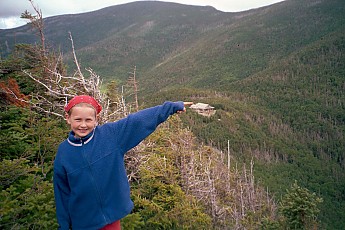 The hut croo was very welcoming and the kids thought they were about the coolest people in the world.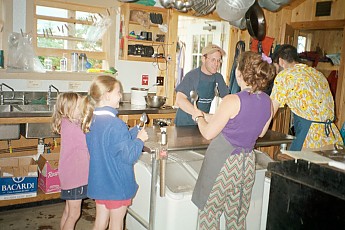 It was Nancy's birthday so they whipped up a cake for her.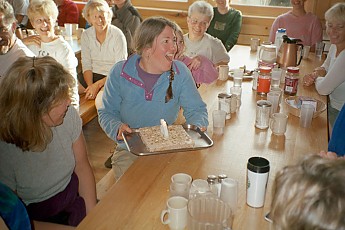 The girls got to participate in the silly morning skit that the croo uses to remind people to fold blankets.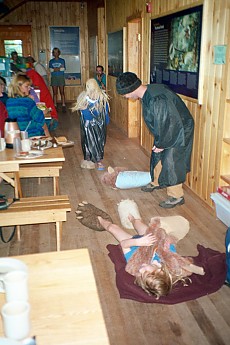 Here's the hut entrance as we were leaving the next morning to go up over Garfield.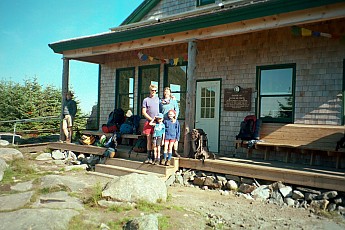 We had an early supper by the old fire tower foundation on Garfield before heading down to make camp at Garfield campsite.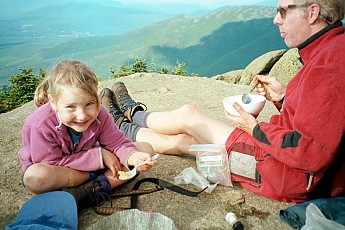 The next day took us up Lafayette, the high point of our trip.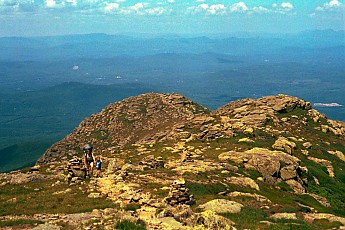 I had put up the signs on top and along the ridge about 13 years previous when I worked on a WMNF trail crew.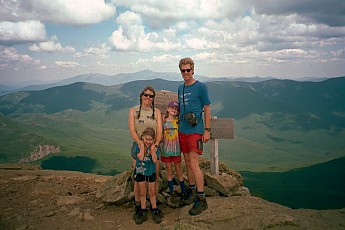 We stayed our last night out at Greenleaf Hut, just below treeline.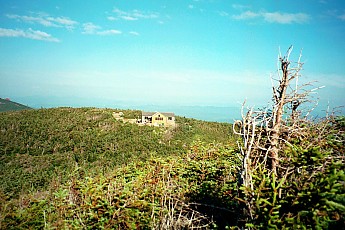 On our last day Molly and I went back up over Lafayette, along the Franconia Ridge to Little Haystack, then down the Falling Waters Trail, while Nancy and Zoe went straight down the Bridal Path.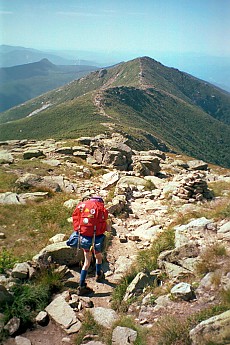 At that time my father owned a bed and breakfast in Easton, just south of Franconia, so we called him up for a ride.
There you have it! Despite the initial SNAFU with the hut reservations, things went pretty smoothly. We probably could have got the kids to do full hut-to-hut days but we all enjoyed taking it easy and it was nice to camp out. Maybe we don't do enough of that these days...