1:43 p.m. on September 13, 2010 (EDT)
Bill S

4,404 reviewer rep
6,007 forum posts
Barbara and I joined friends for our annual get-together with two days of climbing at Gianelli Edges, a climbing area in the Sonora Pass area, and a fun evening get-together at Royal Robbins cabin.
The first image is of me belaying Richard, one of my assistant instructors on a nice 5.8. Good to get out for some of our own climbing, as a change of pace from training new instructors or young scouts.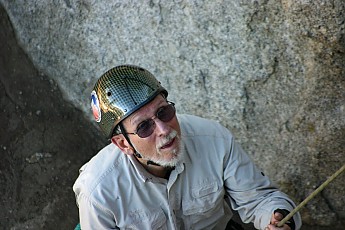 OGBO climbing The Prow, which is rated at 5.8 in the guidebook, though the author, Brad, has decided to list as 5.9+ in the next edition (there is general agreement that it is 5.9+++. [probably a 10a]).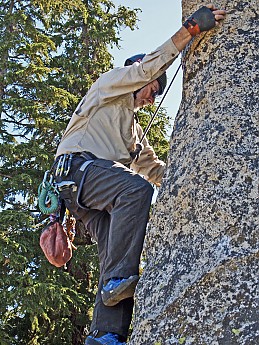 Barb decided to hike out to Chewing Gum Lake to shoot some photos. There was no one else at the lake and only a few people on the trail.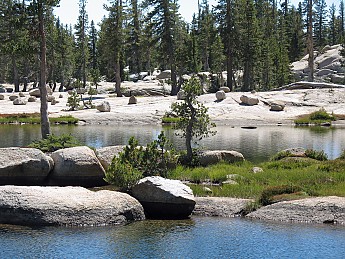 She also photographed this view. If you look carefully, you can see smoke from a fire set by a lightning strike a couple weeks ago (lower center, just above the clearer area). Because the vegetation is sparse and the area remote, these fires are allowed to naturally burn themselves out (some of the trees in the area require occasional fires to promote the release of the seeds from the cones, and the ash to germinate).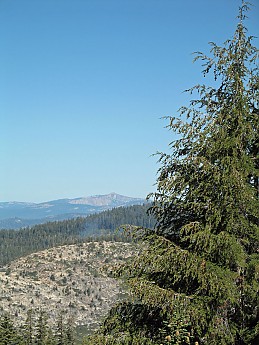 Tom Burch (left - current chair of the Sierra Nevada Section of the American Alpine Club) and Royal Robbins. Royal was responsible for the first ascents of such routes as the Northwest Face of Half Dome, North American Wall on El Capitan, and many other climbs in Yosemite and elsewhere. The first volume of his autobiography was published late last year (Royal Robbins - To Be Brave - My Life, Volume One, Pink Moment Press, 2009 - the link is to Amazon, where you can buy it if you don't have an REI nearby). I highly recommend this book (and not just because he is a long-time good friend). It reveals a lot about how Royal became one of the world's leading and most famous climbers. He talks in detail about the influences in his life (one of the most important was Boy Scouts, a group he still works with).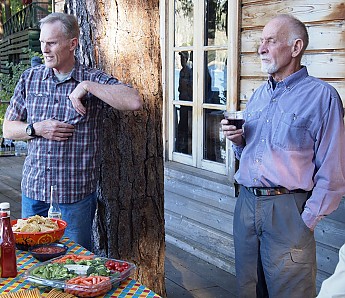 A great weekend, spent in in the woods and hills with good friends, and like-minded woodsy folks, and a bunch of dirtbag climbers. After the party, many of us retired to the campground and several hours of companionship around the campfire. Then a sound night's sleep, and back up to the rock Sunday morning.
Oh, yeah, I might mention that Tom (in the photo above with Royal) saw a bear on the hike from the trailhead to the climbing area. The bear (a black bear, about 200-300 pounds) fled into the woods, as most bears in the Sierra do.