4:46 p.m. on September 19, 2010 (EDT)
BigRed

TOP 10 REVIEWER
REVIEW CORPS
2,829 reviewer rep
927 forum posts
Last weekend we rendezvoused with some fellow Vermonters, recently transplanted to Norway, in a little cabin we have rented a few times over the years in Mysuseter, at the edge of Rondane National Park in eastern Norway. Although I hopes of getting to a summit, the weather on Saturday didn't cooperate and on Sunday the weather was stilly iffy and we were time-limited, so we took an easy day hike into Rondvassbu. Despite the modest achievement, I though I'd post a few photos as Rondane is quite different from other parts of Norway and is especially beautiful in the early autumn.
The weather was nice enough when we arrived on Friday evening. Rondane is a range of mountains capping a broad plateau or dome. Our rental cabin is up a hill above Mysuseter, just above tree line.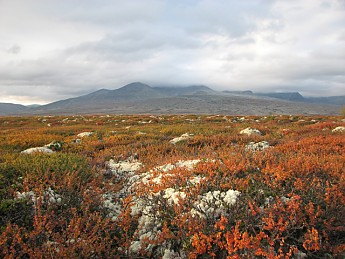 Rondane is almost as far from the ocean as you can get in Norway, and consequently much drier than the coastal mountains, so much of the alpine zone is dominated by reindeer lichen, giving it a pale gray-green or even white color in full light, but it also picks up nicely on colors at sunrise and sunset.

We drove to a parking area at the national park boundary just 2 km form the hut. The road is gated, but continues as an easy 5 km stroll into Rondvassbu. There is also a trail on the other side of the river, but our friends had a two-year-old in a backpack so we took the easy way.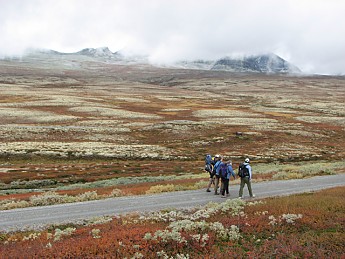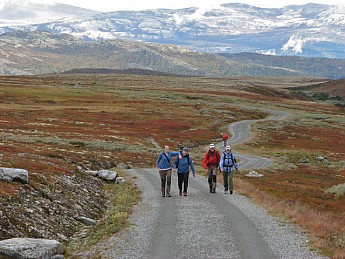 The dwarf birches turn brown, the blueberries go red, and the lesscommon bearberry goes a kind of blood red. The willows along the river are still green. The rocky upper slopes of the sountains are a more somber gray.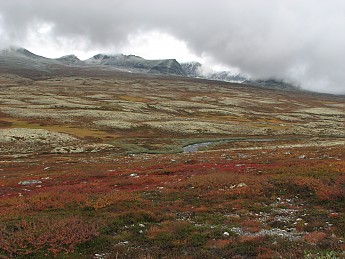 Rondvassbu is at the southern end of Rondvanet, a lonn narrow lake that separates two of the three groups of mountains in Rondane. It's full-service tourist hut (meals, showers, etc.), but we just stopped in for coffee.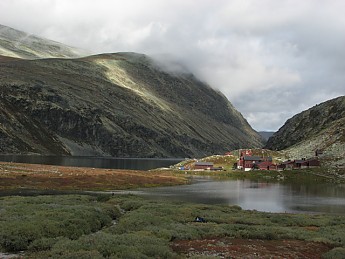 Here's a panorama looking back at Rondvassbu. There are ten 2000 meter peaks in Rondane, of which I've done four, so I still have plenty of unfinished business here. The biggest, Rondeslottet, is under the clouds on the right.


Walking back out, we're looking at the hills to the south above the Gudbrands valley.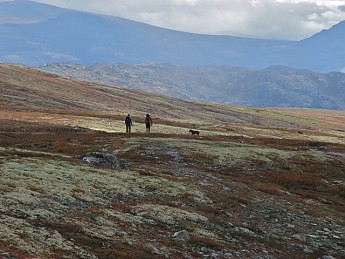 On the drive home we took the "back road" along the Ula river and stopped for the five minute hike up to Kvitskriupresetene, odd columns produced by capstones in clay-rich glacial till.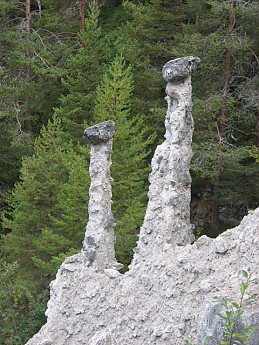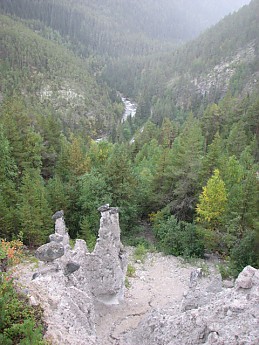 And on the drive home we were treated to an especially intense rainbow over Dovrefjell.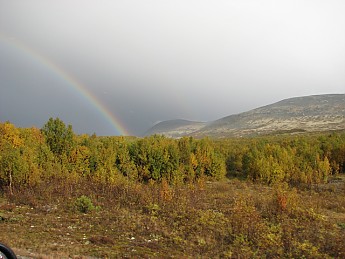 Finally, here is an all-time favorite shot from an october trip a few years ago. I may put together an album of all my favorite photos from this area as we've spent a lot of time here since our first visit in March 1999, before we moved to Norway, when we stayed at a friend's cabin.