11:26 a.m. on October 6, 2010 (EDT)
GaryPalmer

244 reviewer rep
5,239 forum posts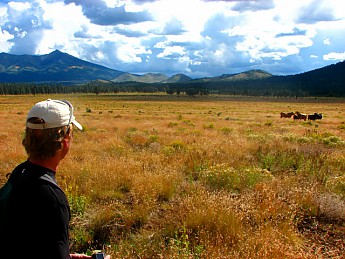 My roommate Eric at Indian Flats Meadow with Mt Humphreys and some wild steers.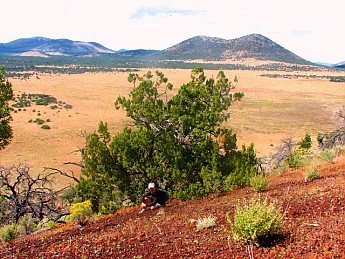 Eric on the edge of a small 300 foot cinder cone above Indian Flats with more cones in the distance.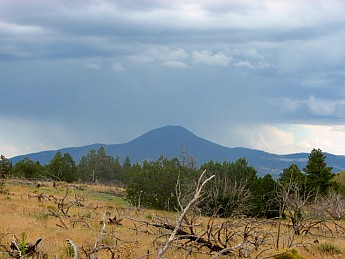 O' Leary Peak under a rainstorm.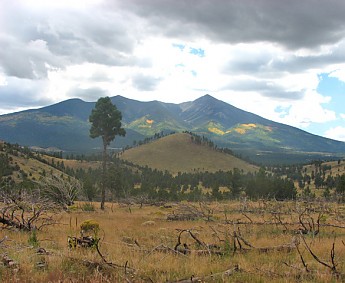 The north side of the San Francisco Peaks, Mt Humphreys (12,633') on the right with golden Aspens in full Fall color.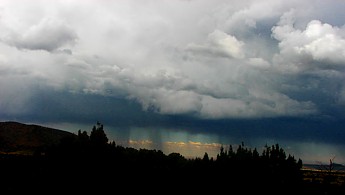 Thunderstorm to the east over the Coconino National Forest.
On Sunday my roommate and I drove his van up onto the higher 8000+ volcanic field area covered with dozens of cinder cones dating back as far as 70,000 years. The north side of the San Francisco Peaks were showing the Autumn color change in the Aspens and Sycamore's.
We parked his van just off hwy 180 about 20 miles north of Flagstaff and took off on a forestry road heading east to Indian Flats. The road is part of a multitude of old logging areas from the late 1800's to the 1940's. We followed one main route to the Flats then took another back up and around some of the cones and returned to the van 5 hours and 20 miles later.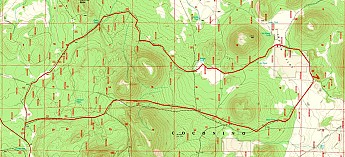 Our route around and thru the cinder cones. Indian Flats and the 300 foot cone we climbed are on the right. Our starting point off 180 is on the left.
A GoogleEarth view of one of the youngest most recent volcanos call SP "Shit Pot" Mountain in lower center with its 4 mile long lava flow stretching to the north. SP last erupted 71,000 years ago. Its nearly 1000 feet tall with a 500 foot deep crater in its middle. Named Shit Pot by early ranchers who thought the twisted lava around its cone resembled piles of human waste. Shortened to SP on the topo maps. This area is about 6 miles west of hwy 89 and 25 miles north of Flagstaff. It is our next weekend goal.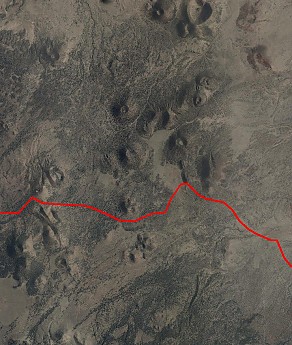 Our route went from right to left in this aerial view and turned north in the light brown area right of center at the red line high point. The cinder cones can be seen scattered around the area.
Go to Youtube and search for the three titles below for some short video clips from Sundays ride.
O'Leary peak and the San Franisco Peaks from the north side.AVI
Eric Toole and the Volcanic Field area.AVI
Old Caves Crater.AVI
Sunset Crater not shown above is the youngest volcano to erupt in the area. It made its debut about 1200 AD and is a National Monument just NE of Flagstaff.