10:24 p.m. on November 18, 2010 (EST)
GaryPalmer

244 reviewer rep
5,239 forum posts
The first hike I did in Tucson was with three friends after we camped in the Catalina State Park on the west side of the Catalina Mountains in an area called the Pusch Ridge Wilderness.

The sun starts to rise over the Pusch Ridge Wilderness mountains east of Catalina State Park Campground.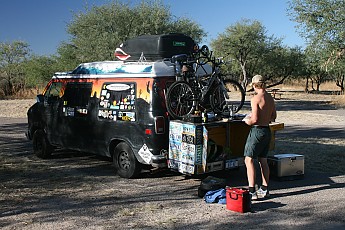 My roommate from Flagstaff Eric starts breakfast on the back of his friend Mike's campervan. He has a lisence plate from all 50 states, only two are on backwards the states of Hawaii and Alaska that he has not been to yet.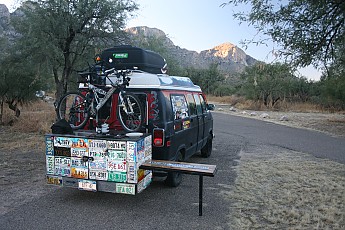 While driving in Jerome Arizona, my friend Eric was stopped by the police for having 47 expired plates. The only legal one is the New York one on the bottom middle. He was made to take all the expired plates off as the cop watched over about 30 minutes. They put them back on in Flagstaff. Mike the owner has lived in Tucson for a month and has not been pulled over since for them.
Back to the hike...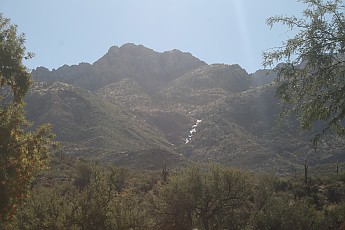 Buster Springs shines in the early morning light with a 5700 foot un-named peak above.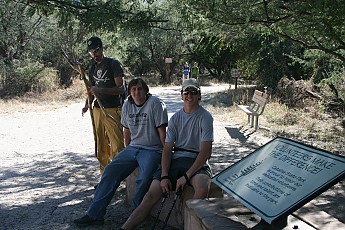 My friends Mike, Jon and Eric at the trailhead to Romero Pools.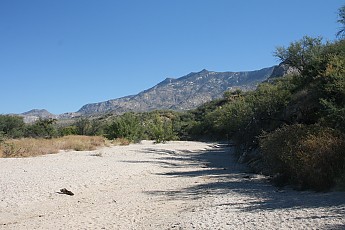 Crossing Canada Del Rio wash with Samaniego Peak above.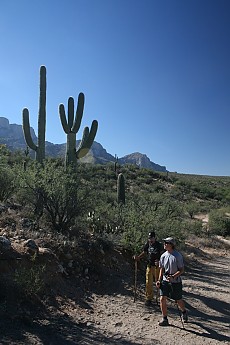 After the wash, the first Saguaro's appear with Pusch Peak behind.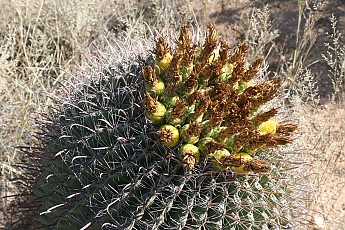 A Fishhook Barrel cactus with its Pineapple-like fruits.

The Pusch Ridge Mountains rise 6700 to 8000 feet.


A Century Plant Agave stands along the Romero Pools Trail. Once thought in the 1800s to grow for 100 years before blooming, it is now known they grow an average of 20 years, sprout the tall stalk and flower, then die.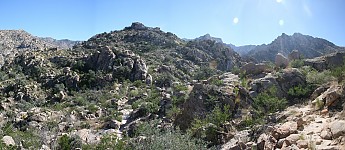 Granite and Shist boulders cover the Pusch Wilderness top to bottom.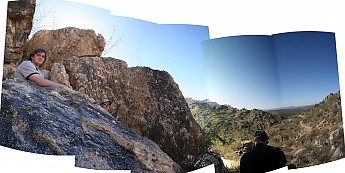 Jon Laughter, Eric Toole and Mike Mamy at our midday rest stop.


Looking to the northwest from the Pusch Ridge Wilderness.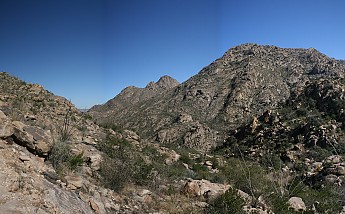 Samaniego Peak from halfway to Romero Pools.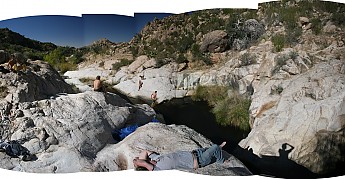 The second Romero Pools, the first ones a mile back were crowded.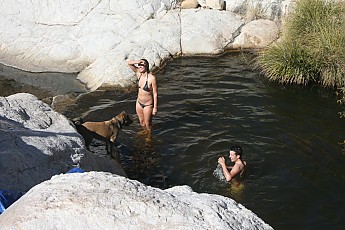 Bathing beauty at Romero Pools.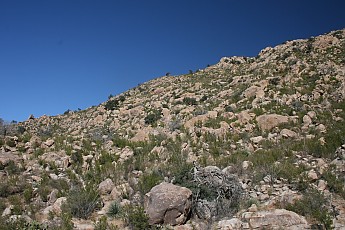 Wilderness of rocks, above Romero Pools.
The hike in was 5 miles of very rugged climg. The trail climbed 1000 feet in the first 1/2 mile. It was about 89 at midday on November 7th, that day.