12:53 p.m. on December 15, 2010 (EST)
BigRed

TOP 10 REVIEWER
REVIEW CORPS
2,828 reviewer rep
928 forum posts
My recent Crystal Garden report made me think back to a little trip we took back in September 2003, after we had been in Norway for a year or so. I read in the local newspaper about a place in nearby Trollheimen called Blåsalen (the blue chamber), a natural tunnel melted through an old ice deposit by a stream connecting two mountain lakes. After asking around my department to find someone who could point it out on a map, we made plans for an overnighter, this time tenting out instead of staying in a hut, mainly so we could be sure it was within reach of our eight year old. It was a two to three hour hike up from the road along Gjevilvatnet, turning off the trail for the last few km to head for our campsite and Blåsalen.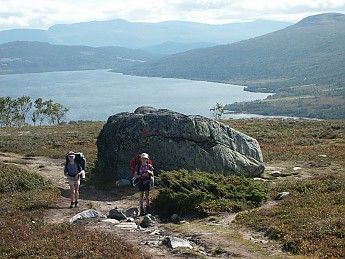 We camped at the head of a lake a short climb below the main objective.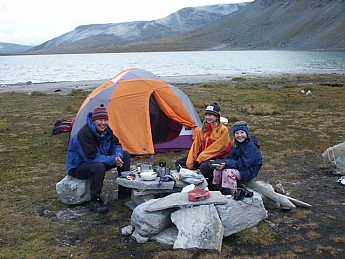 (That's a MH Trango 4 -- we have kind of underused it over the years but we figured we could wind up in strong winds both in the mtns and along the coast, and so sprang for it to replace our 4 person Eureka Alpine Meadow, which took a beating in gusty winds during a canoe trip in Algonquin. There have been a few times when we were pretty glad to have it, despite the cost and weight).
My older daughter and I headed up to check out Blåsalen in the evening, then we all went up the next day. Here's how it looked as we approached it.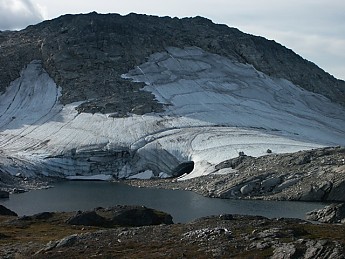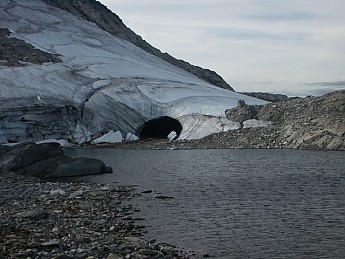 So you can see that it was just a tunnel through what might look like a snow drift but is actually is from snow that accumulated over many years at some time in the past.
The entrance had a "shower curtain" of melt water.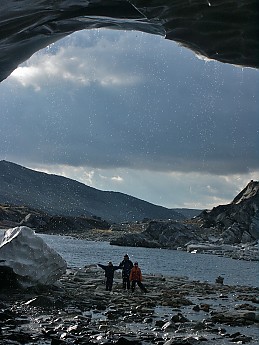 And as we went deeper in we could see the entrance framed by the melt-sculpted ice of the walls and ceiling.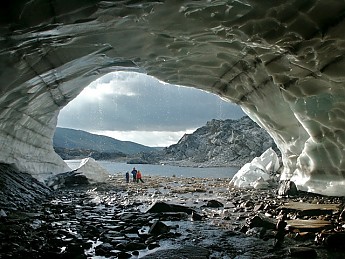 There had been a collapse along one wall, reminding us not to linger too long.
Deeper still and we were in a kind of blue gloom, with light leaking in through thin spots and melt holes in the ceiling.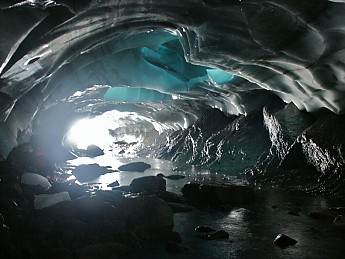 Along one wall we found a natural nave where some sort of icy icon would be right at home.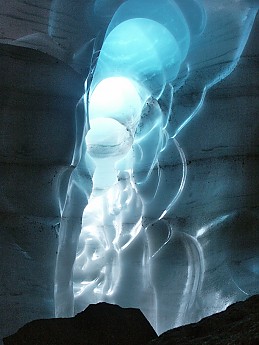 The upper entrance was guarded by a precarious fin of ice, definitely not a good place to stop.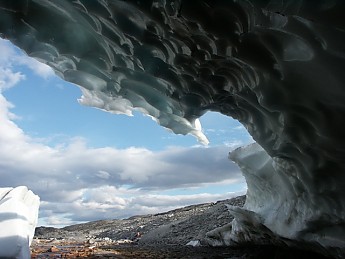 Afterwards we started up towards Blåhø (1671 m, highest in central Trollheimen), but the weather started to turn so we headed down.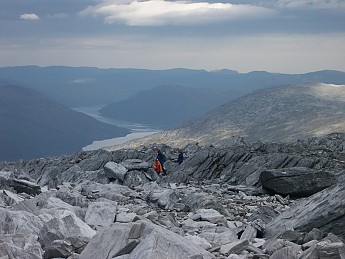 Despite the dark clouds, we managed to break camp and head down without getting wet.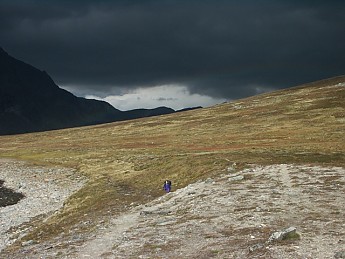 All of this is past tense not only because it happened in 2003, but because Blåsalen collapsed a couple of years later. Gone forever.
I think this makes a "cool" (intended) comparison to the Crystal Garden because, despite the common theme of ice, in one case the ice is ephemeral, delicate, fragile, and sharp, and in the second case it may be hundreds or thousands of years old, and it is massive but sculpted into smooth forms. Quite a contrast!