1:09 a.m. on February 13, 2011 (EST)
denis daly

271 reviewer rep
1,878 forum posts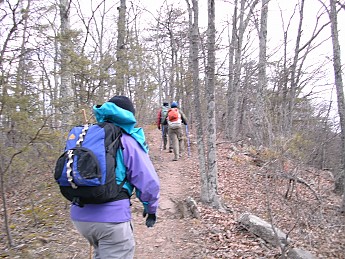 We met at the corner of Rt416 and Rt 311 at the Orange market on Saturday 2/12/2011 at 9:30 am. I was in the first group hiking..We had to break it into two groups because we were expecting around 20 people.I pulled into the parking lot and two men were dressed as hikers were standing and talking.Had to be my group.I pulled the car over and asked.It was Jman and Ol Mole..Jman is in Roanoak and Ol Mole from Richmond..I parked and made my way back to them and a third showed up.JohnnyBGood he was from Richmond as well.We waited for about 15 mins more to see of more would show..Hikerhead the host of the Event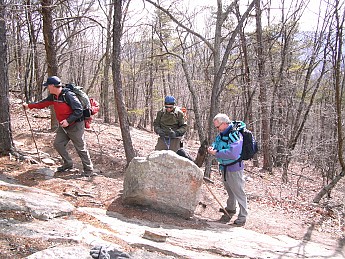 and ringleader showed up..We wrote contacts numbers on  a pad just for emergency purpose's.And Hikerhead took it with him.He was leading the 11:00 AM GROUP.JonnyBGood and I grabbed our gear and tossed it in Jmans Blazer and Ol Mole took his.We parked at the trailhead parkinglot across the street from the trailhead.The tempature was 38 and we had a strong 20 mile wind.We loaded up and headed out..That was the beginning of the trailhead.We were heading to Johns springs shelter named after a thru hiker.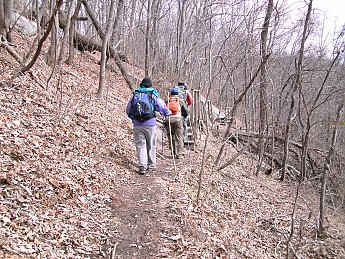 Jman leading the trail with JohnnyBgood and Ol Mole right behind.The trail leads at an angle on this section and slopes.the AT Crews built these to help the hikers cross over springs and rocks.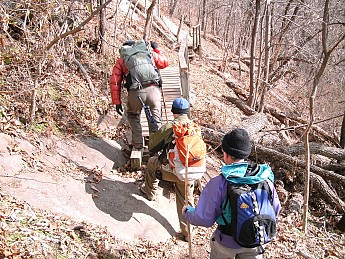 We had to pass over four of these bridges to get Johns Spring shelter.We hiked up then it roller coasters in this section.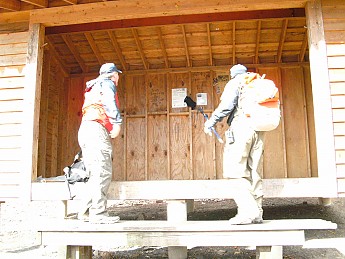 We made it to the John Springer Shelter and signed the Logg.The shelter was built by his father as a memorial to him in 2004.Thats Jman and JohnnyBGood looking at the News article and plague..We moved down the trail towards our next check in.The Catawba Shelter which was about 1 1/2 miles away.When we got there we tok a quick break talking about sports and just grapping some snacks.Our Second group started to show up.They were making good time and we all wanted to be at the top together.Sprout a 96 thru hiker showed up first.By the name you would think short.I am 5'9 and she is 6.0ft Go figure. We all met up and introduced ourselve's from the forum. I really didn't know what to expect when I said I would go.From the conversations we were haveing on the trail everyone was haveing a good time.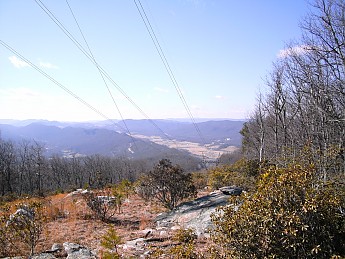 This is after we all met at Catawba and were heading to macfee knob.This Valley is by the Power lines.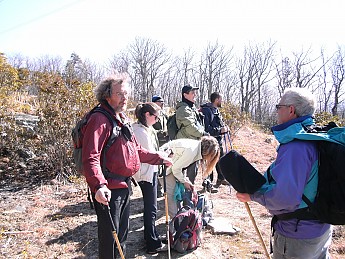 I got a group shot with Ol Mole.CookerHiker,Sunshine,CrazyHair .HikerHead in the Black cap.Jersey Dave and JonnyBgood.We were all admireing the view.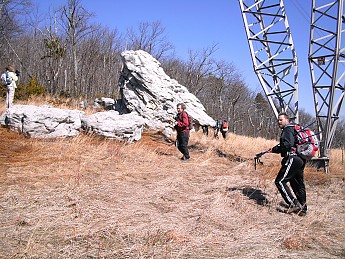 This is white rock just 200 ft before the Macfee knob.You hike around the front of it and pick the trail up.Sunshine and crazyhair decided to Boulder for 10 mins on it...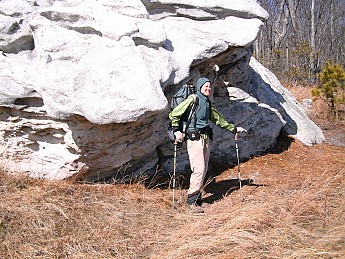 This is Sprout.One of the strongest hikers I had to try and catch..Sprout and I both had 30 pound packs for training.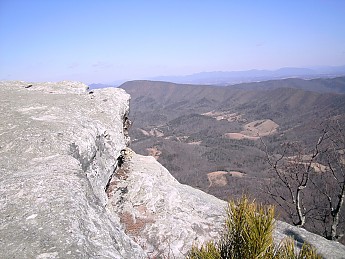 This is Macafee's  knob the beginning when to come from white rock.The Area is called Roanoak Valley because of the views and the are truly valleys.The Range infront of you is Where the trail continues.


From this spot look at the power towers and what looks like clearing.thats where the trail takes you to tinkker cliffs.Thats a 17 mile hike from this spot...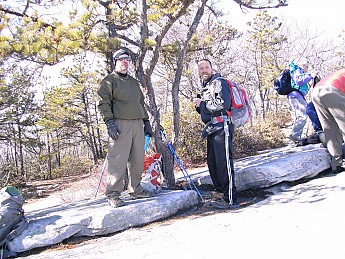 taking a rest break when we all arrived.JohnnyBGOOD and Jersey dave.To the right is Kerosene..We hiked around to the accual knob which is 2o ft from here..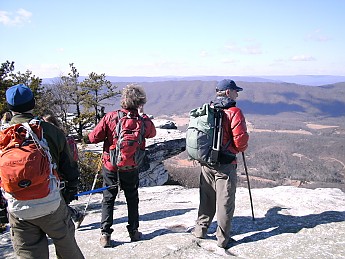 JohnnyBGood,cookerHiker and kerosene to the left you can see the knob which is about 200 ft wide.it was about 35 degree;s and wind was at 22 here.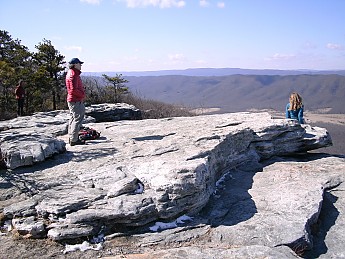 This is the knob show the whole Roanoak Valley.The ridge in the distance is the Jefferson national forest..kerosene and Crazy hair admireing the view.We stayed for awhile and had group photo's taken By Jman and Sunshine..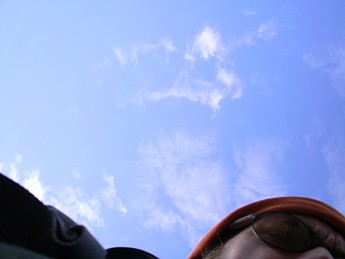 I was trying to put something in my pack and the camera went off on me.But you can see it was a spectacular day..We made our way down the Knob by bushwaching through Pig farm campsite thats on the lower end of the trail heading on a loop towards Dr Johnson,s homesite.He was the original owner of all this property and his foundation is still there.They say he had steel guirders brought there he was going to build a new home on the Knob in a pengullium style.Then the Forset Service approached him to acquire the land so the knob would still be a landmark and he sold to them.We made our way to the Service road because we had to make up time..We were meeting 10 more hikers for a dinner get together who couldn't make the hike. While bushwacking we stopped at the Wild Air old Cabin site.There was a site of a hotel at one time and the foundation and chimney which is about 20 ft tall is still standing. We were all spaced out pretty well on our hike down.We nade it all together in to the parking lot and went to meet the rest.We Had Pizzia and Salad.Jersey Dave, CookerHiker and Kerosene were all from out of state and came just to hike with us..I have to say this hike was more than I expected and then some..I had the best time and made some good hiking friends..