6:47 p.m. on February 16, 2011 (EST)
BigRed

TOP 10 REVIEWER
REVIEW CORPS
2,987 reviewer rep
946 forum posts
Many of you may recall that I am now in California on a six-month sabbatical leave from my job/home in Norway. I've been here about a month now.
We've had a few small adventures, not least the 10-day drive form Boston to LA with "kwik-stops" at Mammoth Cave, White Rock Mountain in the Ozarks, Canyon de Chelly, and the Grand Canyon (and a few other spots). Last weekend we finally got out of town for a two-night camping and day hiking trip in Anza-Borrego Desert State Park in southeastern CA, near the Salton Sea. It's in the Colorado Desert, a western extension of the Sonoran desert, and so has quite different vegetation from the Mojave and Great Basin deserts. The area is known for big shows of desert wildflowers after the winter rains. Although it was a bit early to see the show in full glory, we got word that there were still a lot of species in bloom so we decided to go down and check it out.
We drove down on Friday morning and came into the area from the west, so we got a grand view of the whole desert basin, including the distant Salton Sea, before descending into it.
After setting up camp we headed up Borrego Palm Canyon. We started walking among desert shrubs and cacti. As the valley narrowed around us we followed a dry wash. At elevations of 10 or 15 feet above the bottom of the wash we saw stacks of palm logs that had obviously been carried down by flooding.

It turns out that there were major flash floods in 2004 and 2005, described as 10 to 15 foot walls of water, that blew through the palm stand upstream and carried away as much as 80% of the trees. Here's what's left: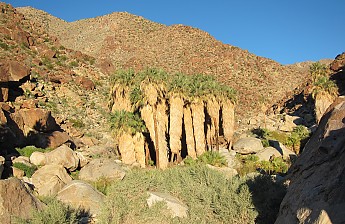 20 or 30 California fan palms in a tight cluster right in the middle of the wash, where water seeps out of the ground and then runs downstream for a half mile or so before disappearing into the ground. Inside the stand it's relatively cool and shady, and there's lots of young 'uns coming up amongst and around the elders. I thought it was pretty amazing. It was in shade by the time we got there so I took a run up there the next morning when I took the picture above.
On Saturday morning we hiked up into Hellhole Canyon, starting again on a broad alluvial fan that funneled us into a narrower valley along a dry wash that eventually turned wet and brought us to more scattered palm trees, but ultimately to Maidenhair Falls, named for the ferns growing on the wet walls.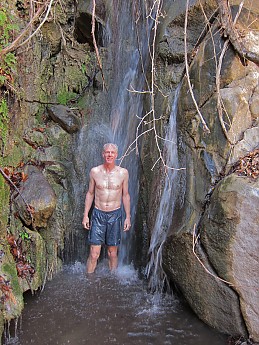 On Saturday afternoon and Sunday morning we hiked into two "grayrock" slot canyons, cut into the soft sandstone and conglomerate under the Borrego Badlands. These were a first for me, but I hope to visit some of the redrock slot canyons in AZ and UT during our stay (though I'd prefer to come out with all my limbs intact).
We finished up by driving down to the Salton Sea, 127 feet below sea level and home to hundreds of thousands of birds despite pollution problems from all the agriculture in the Imperial Valley.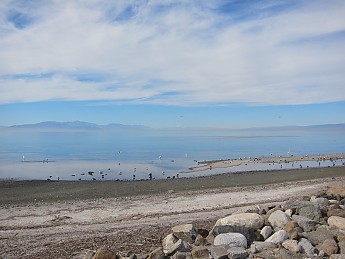 You can see these photos and lots more, including some desert wildflowers, at higher resolution in this gallery.
This weekend we're headed for Death Valley to check out the Mojave Desert...