6:44 p.m. on April 8, 2011 (EDT)
Patman

2,155 reviewer rep
2,119 forum posts
I was inspired to record this report after reading the many awesome reports here on Trailspace (especially in awe of Tipi Walter and his long trippin' free ranging ways).
The trip started as many of mine do with geographic opportunity. I live and work in Knoxville, TN; in this case my job required me to be in Cherokee NC by midday Monday 4-4-2011. So I tried to pick routes that would allow me to get to the hotel and cleaned up by that time.
I don't get many vacation days so I try to be efficient; I took a half day on Friday 4-1 so I could get to the trailhead and be started before dark. Of course it often seems that everyone and everything conspires against me when executing a backpacking plan. Of course an executives laptop crashed first thing Friday morning and wrecked the "get of town" plan I had created (I'm in IT and had to repair it). I felt like I was coming down with a cold, and my lower back was tweaked a bit from lifting weights with poor form in previous weeks. Despite all this I pressed on hoping that if I just got to the mountains all would be well....
After a later than planned start, a last minute decision to buy a camera (which involved shopping at a Pigeon Forge Wal-Mart on a Friday in tourist season...blah) I finally arrived at the Beech Gap trailhead on Straight Fork Road (inaptly named as it were) in Cherokee, NC.
This was also the first trip with my new Mystery Ranch Trance pack.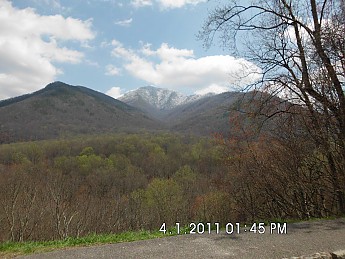 Hmmm, looks like snow up there. Meteorologists just don't know….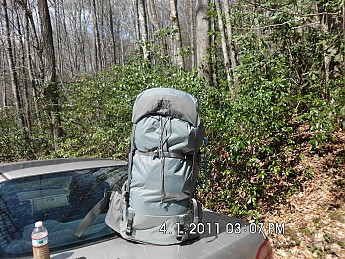 The other side (for posterity).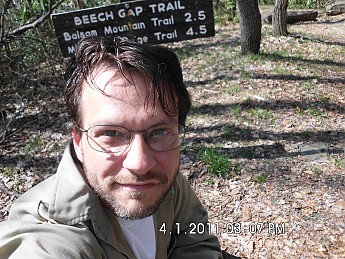 Haven't figured out the camera timer yet….yeah I know IT guys should have special intuition for these things, but I'm anxious to get started; it's 3:07 PM and I ain't hiking yet. I'm starting at 3150 ft in elevation according to the topo.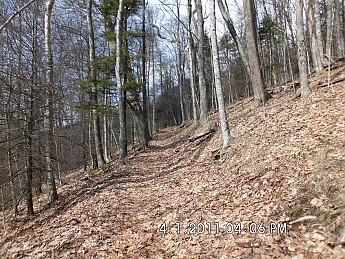 A nice pull up to Beech Gap; roughly 2000 ft climb over 2.5 miles. It's pretty warm and I strip down to wicking layer to hopefully reduce the sweating. (it didn't really work, I'm just a sweaty dude). I'm thinking about my tweaked back, fiddling with my new pack and still a bit anxious about being sick. Way too self aware all-in-all.
Here is the large flat at the Gap. Pretty neat area, history book says it was cleared for grazing sheep back in the late 1800s. I unfortunately get a refresher of a lesson I thought I already had absorbed: I only stopped here for less than 10 minutes but the temperature was drastically lower here at 5000 ft than when I started and a mighty wind starting blowing. I became chilled faster than I could put my layers back on. My fingers became numb so incredibly quick it was kinda crazy ( I was worried I had actually gotten a little frost bite). Gotta be more careful….sometimes I'm just a doofus.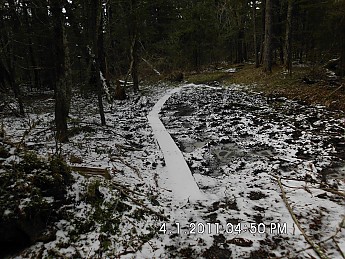 Nice planks for the muddy areas. There are several spots like this on the way to Laurel Gap. I wonder who lugged these big planks up here. Probably the CCC boys. The snow covered ones were fine to walk on. The wet ones rejected my boots; too slick. I should have taken a few photos of the random but beautiful views popping up to my right but I was still pretty chilled and started hiking faster to warm back up.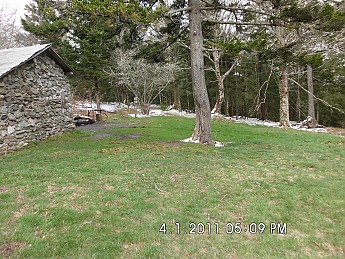 This view greets me as I arrive at the Laurel Gap shelter. The grassy open area lifts my spirits a bit and thankfully completes the job of redirecting my attention away from my unhelpful circular thought patterns. My mood always improves exponentially in the mountains!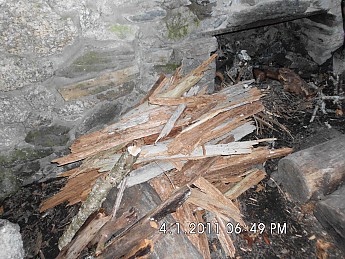 While exploring the immediate area off-trail, I happen upon a surprisingly dry old cedar trunk and harvest a nice load of good-smelling firewood. I probably shouldn't burn such oily wood in the fireplace but it's pretty cold and the wood is dry and smells so good!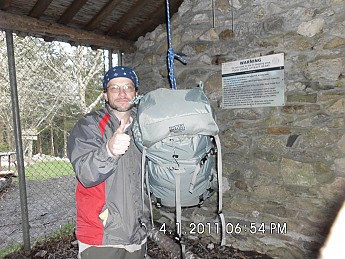 Last pic of day 1… The batteries that came with the camera died after just a few photos and I was debating whether or not to use my extra flashlight batteries for this silly camera. See I finally figured out the timer…
The rest of the evening was spent relaxing in front of the fire, reading history of the areas to come, and occasionally trying to star gaze…..
Until sometime after 10:00 PM at which point I thought a tsunami was upon me. The wind blew fiercely and made crazy loud sounds with the bear cables outside. The roof of the shelter shook and banged. Wow what a storm!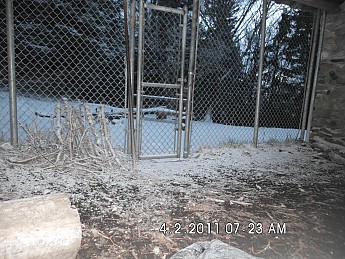 Morning of day 2 and I awoke to this. Both water bottles were frozen pretty well solid and the tube to the Camelback was completely solid. And obviously I decided to go ahead use the extra batteries for the camera. J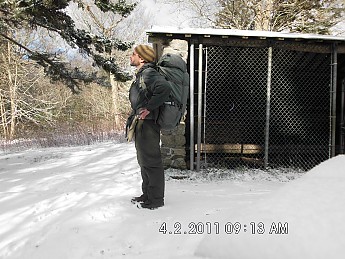 Loaded up and ready to move on. No more nice green grass / still pretty cold and windy. But for some reason the snow is exciting this morning.
When I reach the next trail junction, I alter the plan. I had originally planned to head up Balsam Mountain to the AT at Tri-Corner and then across the AT to camp at Pecks Corner for the night. Instead, I decide to head down to the Cataloochee valley in search of little more sunshine.
I'm glad I did because the next thing I saw as I headed down the Mt Sterling Ridge trail was a huge Bobcat! I had never seen one in the GSMP before (few see them anyway since they hunt nocturnally). He disappeared before I could bring my camera to bear. But I did get some nice photos of his tracks. This rare spotting really lifted my spirits even further… How cool to see a big cat in the wild!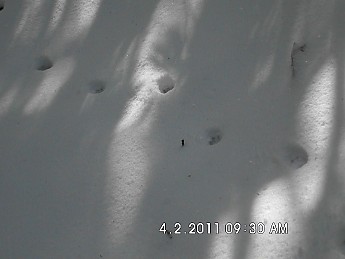 Not going to follow him but no skills needed if I wanted to.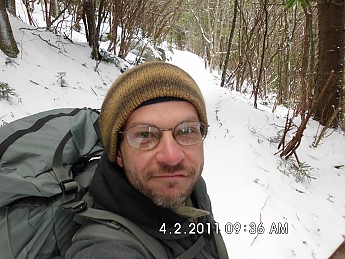 Headin' on down and across the ridge on Mt Sterling Ridge trail and then down Pretty Hollow Gap Trail. This will lose the 2000 feet I gained the day before. I didn't get a pic but a few minutes after this I saw a big owl. Man, those things look weird in person.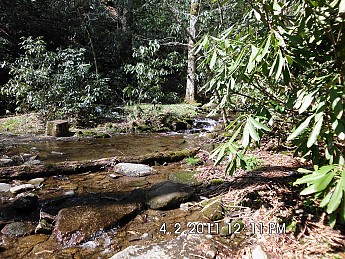 So a thousand feet down and about 6 miles later, it looks like spring again! This is a tributary of Pretty Hollow creek. History book says a man froze to death here in 1915. (gruesome footnote I guess)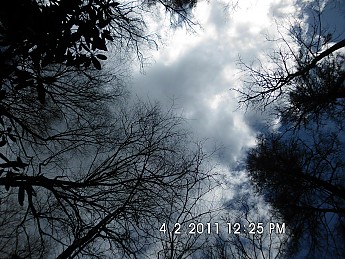 Skies are slowly clearing up…blue is coming.Nice.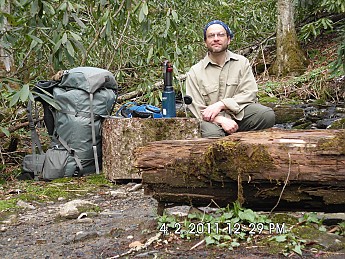 Shed a few layers at the waterin' hole.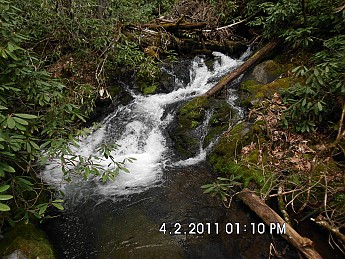 You know, if you stopped to take a photo of every pretty spot in the Smokies, you just wouldn't get very far. There are places like this all over these mountains.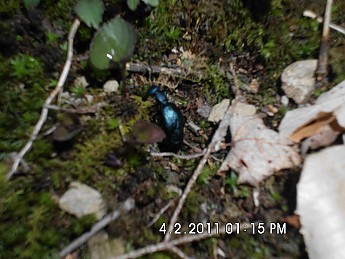 This funky blue beetle seemed much shinier in person.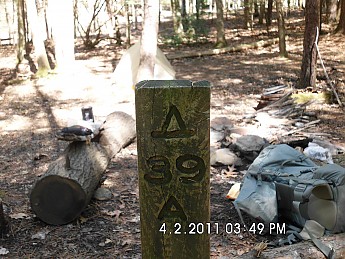 Camping at 39A in case you can't tell.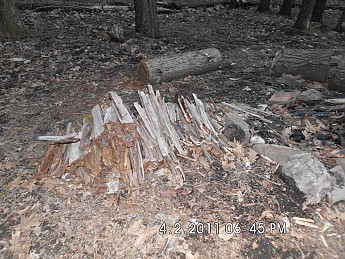 Again, a little off trail exploration yielded a nice cache of dry cedar to burn. No guilt about gumming up a chimney this time.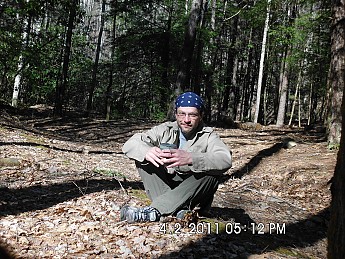 Ah, a nice cup of freshly brewed Starbucks (Jetboil coffee press), enjoyed by the river after a pleasantly cold creek bath. It feels oh so good to wash the sweat off then lounge in the sunshine.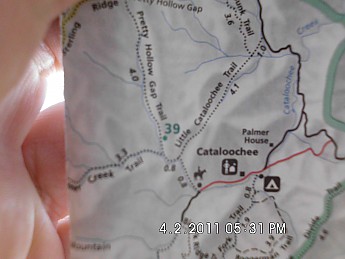 Here I am on the map (#39). I think I'll head up Palmer Creek tomorrow and loop back towards tribal lands.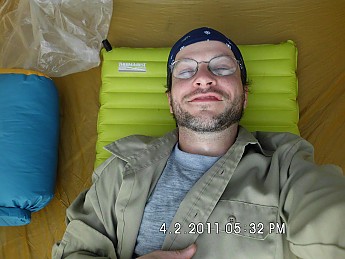 Happy hiker on the Neo-Air (but how do you get a shot with your eyes closed when you take your own picture?) Oh well. I feel a bit weird taking all these photos of myself.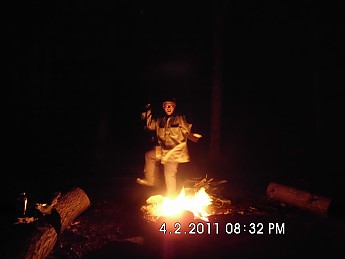 Here I'm trying to recreate a scene from a famous Kevin Costner movie. Except my version is called "Dancing with Chiggers".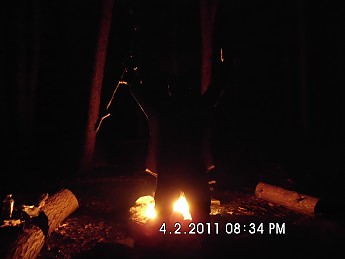 Yeah, it looks weird now but was it fun to dance around the fire at the time. J
The star gazing was awesome this night! I tried to snap a few pics of the brilliant night sky but it just didn't work. Man, I love being in the woods alone at night. It never ceases to be a feel-good thrill.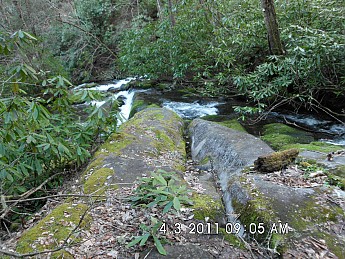 Heading up Palmer Creek on Day 3. Gotta love a good mossy rock.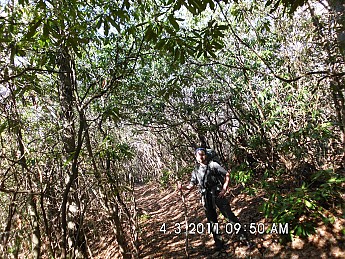 Once I gain back some elevation, it's back to the familiar "long green tunnel". Yes.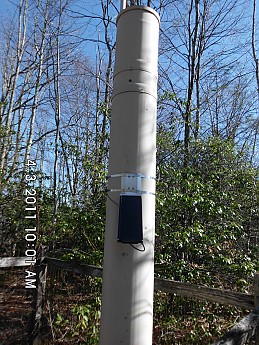 How did this strange solar-powered antenna device get up on the mountain?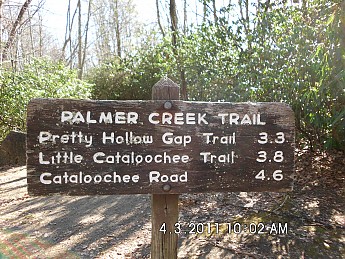 Oh, I was near the end of the Palmer Creek trail, that's how that antenna got there. This is where Straight Fork road meets the trail.
So after a short gravel road hike I come to the intersection with the beginning of the Balsam Mountain trail at Pin Oak Gap and its decision time. I've got to be at work by noon on day 4 so I can't wander too far from my car parked further down Straight Fork road. Do I head back up Balsam Mountain and "illegally" camp somewhere on the mountain or maybe hike the road to my car and drive somewhere else? The electric blue skies have me itching to go to an even higher elevation so I decide to road hike back to the car and regroup.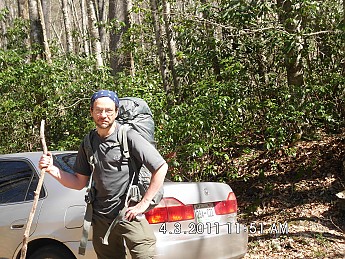 Wow what a long road hike…..it didn't look that far on the map. But I'm guessing it was a solid seven miles of steady down hill on gravel. That puts me about 11 miles on the day and I'm only half way through. Good Stuff. This pack is awesome so far, BTW.
I drive the not-so Straight Fork Road back out through the Reservation and wind my way up to Newfound Gap. I've decided to head out the AT via Clingmans Dome Road to some reasonable stopping point as to take in the views on a clear day. I know it will be overrun with tourists but they usually dissipate after a few miles of trail.

Yes! Views are great as expected today on the oh-so-busy AT. This is from about 6300 feet.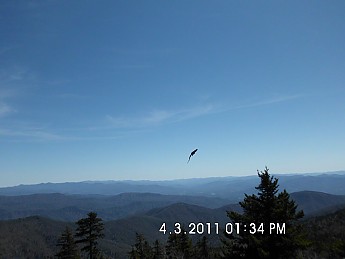 Can't tell it here but that's a big hawk drifting on the currents.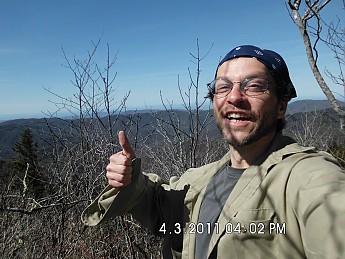 It's hot and windy but a very fun place to be! I'm about a half mile from Silers Bald here I think.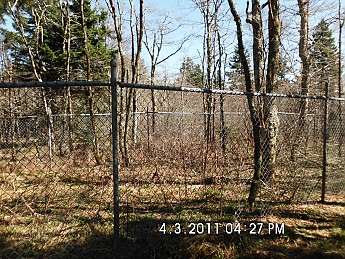 Exploring off trail I find this chain link fence and think "what the heck?"
I didn't make it to the Bald (too pooped today), so I decide to head back and stay at the sure-to-be-crowded Double Spring Gap shelter. And crowded it was. 12 bunks, 13 people. Three are thru hikers. I don't like crowded shelters but don't wanna get busted by a ridge runner stealth camping so I hang out in the woods most of the rest day away from people.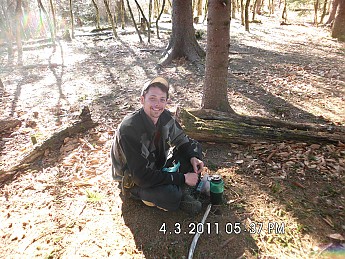 Also hanging out in the woods I find this very cool thru hiker named "Night Train" (aka Charlie), so dubbed due to his night hiking ways. Super nice guy. He did the traditional start in Georgia but has already hurt his knee. I really hope he can make it to Maine. We're about .25 miles west of Double Spring Gap on a hill top here.
I got tired of taking pictures after this. I spent the twilight hours of day 3 near the shelter, only talking to a few folks. I partook of a swig of whiskey with some pre-med students from Michigan. I was given a lesson on stars and constellations by a very nice retired engineer from Ohio.  Thankfully there were no big snorers in the shelter that night. I woke up at 5:00 AM and hiked out in the dark myself to be sure and get back down to Cherokee in time.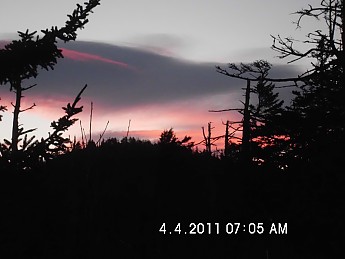 Looking good but I gotta keep hiking.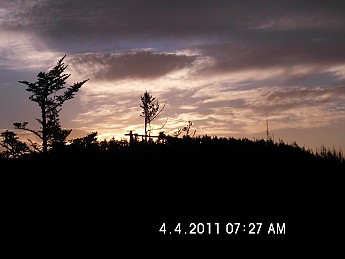 Recognize the observation tower? This is a tough climb right out of bed. That'll wake you up.
So ends a great trip.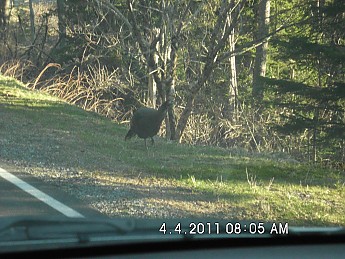 Turkeys at 6000 feet? Who knew…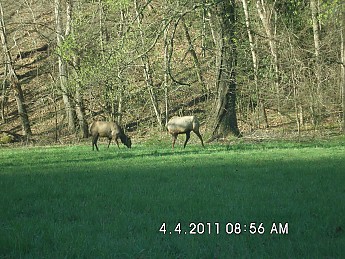 And Elk in the valley near Cherokee…..
After one day at work I was ready to go back to the woods! Someday.....