8:34 p.m. on May 16, 2011 (EDT)
Patman

2,155 reviewer rep
2,130 forum posts
As a weekend warrior, I try to get the most out of all available time for hiking in the backcountry. So Friday 4-29-2011, I rushed from the office at 4:59:99 PM, headed to the house to grab the pre-packed Mystery Ranch Trance, changed clothes, drove through Starbucks (because a hiker should be properly caffeinated at all times) and made my way to the Cades Cove Picnic area to begin the hike. I had prior obligations Sunday and so needed to do a bit of night hiking to experience the sunrise from Spence field. I've done this hike many times 'cause it's so good.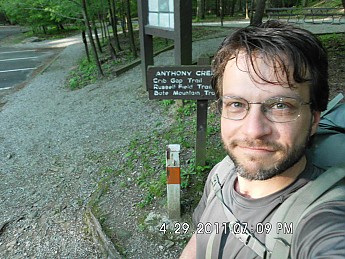 At the trailhead to AnthonyCreek…yikes 7:09PM is a pretty late start. The trail begins at 2000 ft in elevation.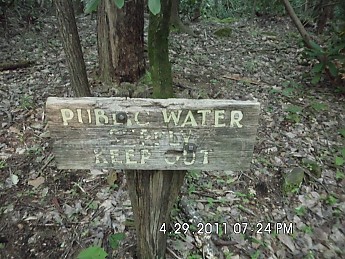 There was no time to taint the public water supply, so I moved on. J (I read there were three barrels here at some time, but I didn't see them.)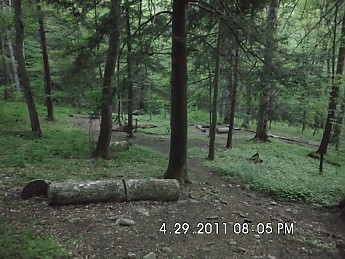 Passed by Campsite # 9 about 3 miles in and 1300 ft up. I was tempted to stop here but I was really digging the cardio rush by going fast uphill so I kept at it. (13-14 minute miles with a 30 lbs pack is fast for me).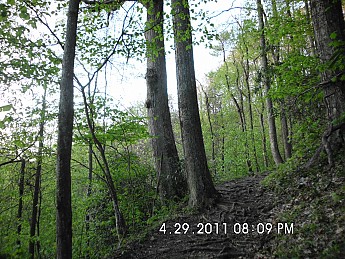 Climbing, climbing, …….yep….. still climbing.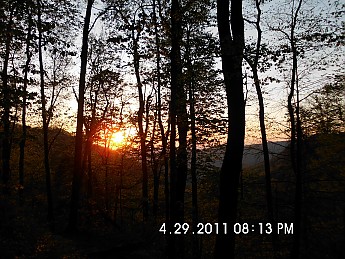 OK, I did stop for a breather and take in a bit of the setting sun. I remember thinking my body heat was going down with it if I didn't keep moving.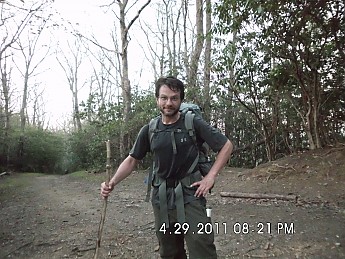 I finally made the junction with Bote Mountain. The dreaded part is about to begin; the last 1.7 miles of Bote up to the AT in a "cattle trench" of a trail. (Literally so according to the history book).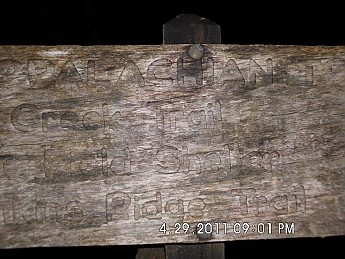 I had slowed my pace from earlier due to the darkness but made the AT by 9PM. Good enough. As it turned out, the "cattle trench" reduced the chance of stumbling off the trail in the dark. I've always found it best to maximize the failing daylight before switching to flashlight.
I didn't take any shelter pictures at Spence because a lot of folks were already sleeping. (It was an hour after "hiker midnight" after all). The shelter was bursting full and there were tents and hammocks all over. I quickly hung my food back on a cable (with three others) and used the excuse of a full shelter to pitch my Big Agnes tent on up the trail near the field under a nice Rhodo stand. That's the only time you can do so "legally" in the Smokies. I did have a reservation for the shelter, but would never kick someone out of a bunk. Besides I much prefer tent camping.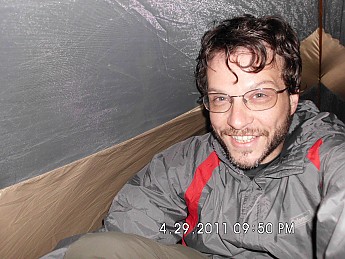 Me in the Big Agnes Fly Creek II.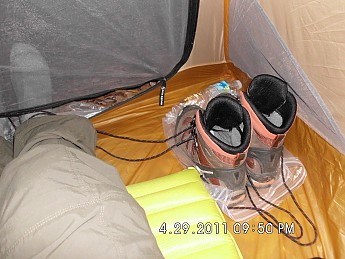 Looks kinda fastidious setting my boots on a bag, but I like using gear, not cleaning it. For the gear heads out there, those are Salomon GTX 4D Quest, and I'm reclining on a Thermarest Neo-Air. Oh and the bag is a Hefty One Zip. Lighten up Francis, that's a joke.
I star gazed for a good while up on the field but the dropping temperatures eventually stating numbing my face so I called it a night. About five miles and 3000 ft in elevation gain after work made for a good rest.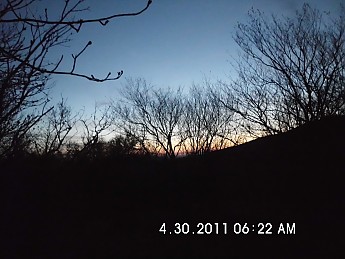 Sunrise on Day 2, from the South Field near the shelter trail junction and AT.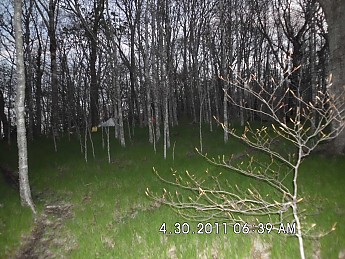 This is looking back towards the shelter from the privy area. The tall green grass is pretty neat looking.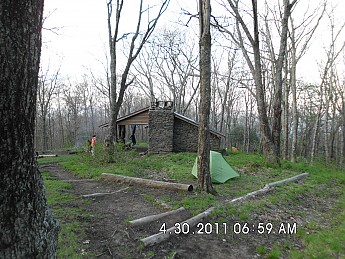 This is approaching the shelter as I would have seen it the night before. Most of the thru-hikers are up and out of here by now.
As an aside, I met a fellow that hiked the PCT last year, had already hiked the Florida trail this year and was doing the AT immediately following that. He ran a small business that allowed him to work four months of the year, and hike the rest. I know that "comparison is the root of unhappiness", but I couldn't help but feel a little jealousy. Ah, one day…..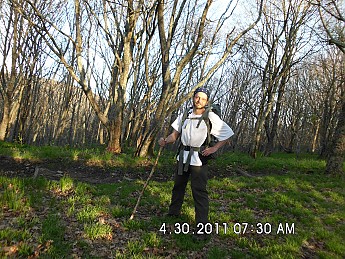 Packed-up and the trek began anew…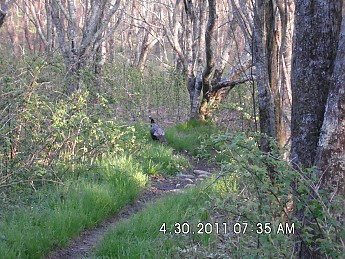 As I headed south on the AT towards Russell Field, this turkey hopped out in front and decided to pace me. See the time stamp is 7:35?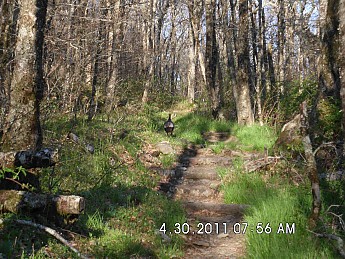 So this is more than a mile down the trail and this guy is still pacing me! He actually stayed on the trail just within my sight. I've had this happen before and understood it to be the turkey leading a potential threat away from their young….but over a mile? I think this is just a hiking turkey; I wonder if he's sectioning?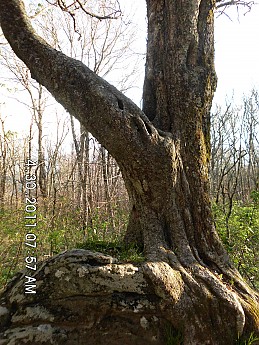 Just a tree and rock merged so that they caught my fancy….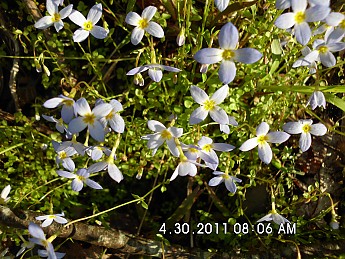 Ah, the Houstonia Caerula or Bluets as they call them around here ( I just looked up the scientific name on the internet…I'm no botanist or even a gardner and my friend Kay looked up the flower in her book at work). A foreshadowing as it were…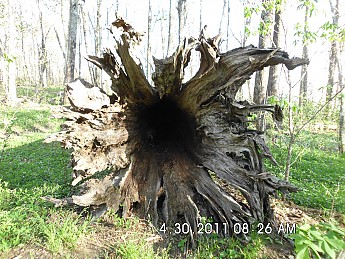 This caught my eye as I passed…one could use imagination to see all sorts of stuff in that fallen giant.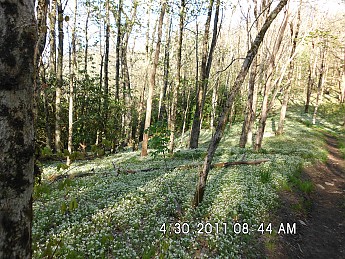 Bluets to the left of me….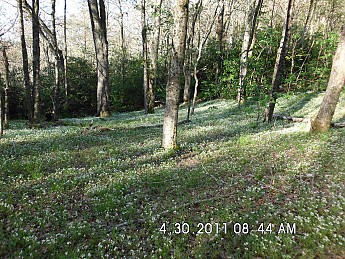 Bluets to the right….don't …don't….I can help it I've gotta say it….here I am stuck in the middle with you.
These pictures really don't capture how stunning these large wavy color patches of flowers were in person. The contrast is sharper in my minds eye than seems looking at the photos on a PC monitor.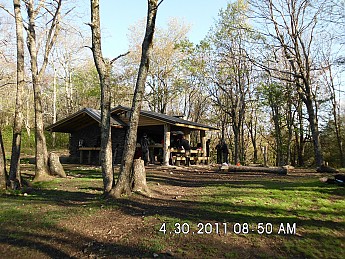 Here is the Russell Field Shelter. This isn't close enough to really see but the two guys to the right are Ridge Runners which are Park Service law enforcement and they are wearing side arms. They hike with packs like everyone else and patrol certain segments of Park Trails. I've seen them before but never with a side arm.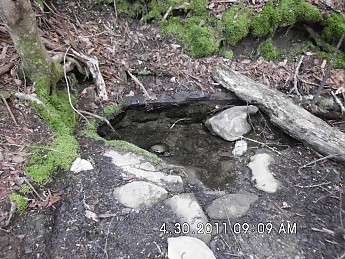 Here is the spring at Russell Field, not reliable, but good to the last drop!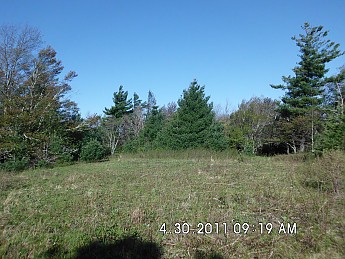 And here is part of Russell Field. No real views from here but it's still a nice place to hang out for a while.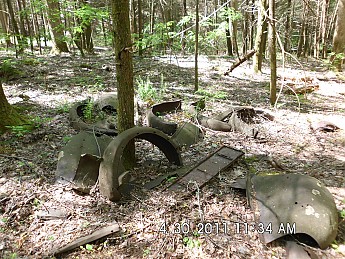 After exploring Russell Field for a little while I had to decide whether to head on over to Gregory ridge (which would make a really big mileage day) or head back out. Thoughts of tasks and responsibilities filled my head and combined with the weight of adding another 15 miles to the day swayed me. I hiked back down Russell Field trail toAnthonyCreek(completing a loop) but took an unmarked side trail just to see where it went and found these old car parts. I guess it's historical to leave this stuff out here.
The unmarked trail put me out on a horse trail, and the guides weren't glad to see me. Those "tourist" horses aren't used to seeing people on their special trail and spook easy.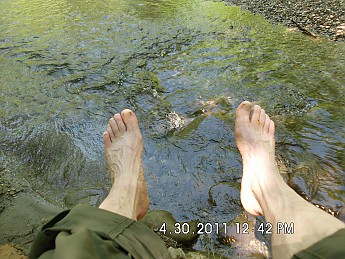 And the trip ends with a foot soak in the cool mountain stream….
I'll be back very soon…in fact part two is waiting on more free time to post tomorrow night.