6:15 p.m. on May 18, 2011 (EDT)
Patman

2,155 reviewer rep
2,123 forum posts
So this time I had no weekend obligations and was able to use Friday night after work through Sunday night for maximum backcountry fun! The weather report called for storms and rain the entire time; so I thought I would take the opportunity to "experiment" with rain gear.
(So instead of using the traditional rain pants and jacket, I decided to use a large umbrella as both a trekking pole and "rain jacket" paired with knee-high gaiters to keep water out of the boots. (Although, I did pack my Coleman rain jacket for warmth.)
It was the usual "rush to the trailhead" after a trying day at the office; I arrived at the Cosby Campground on the east side of the Smokies.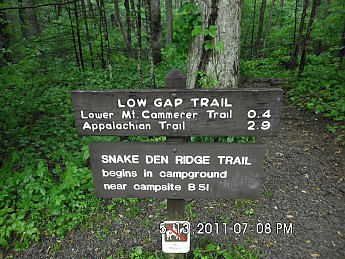 I'm taking Low Gap up to the AT. It's a steep climb starting at 2300 ft in elevation and gaining 2000 feet over the fist 3 miles. And then another 500 gain going South on the AT to Cosby Knob.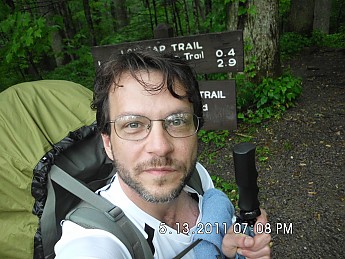 I drove through heavy rains to get here but it lightened up as I started. 7:08 PM: Another late start which resulted in some night hiking.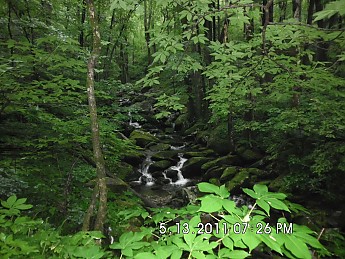 Cosby Creek on the way up.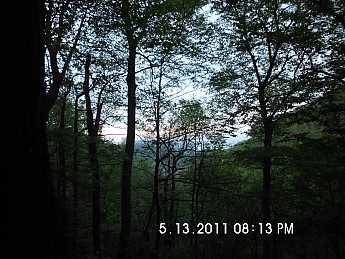 I was surprised to see any Sun-setting color on this rainy weekend. I started in shorts with the gaiters on but it wasn't raining much and the gaiters were really hot so I took them off. I thought Goretex was supposed to be breathable?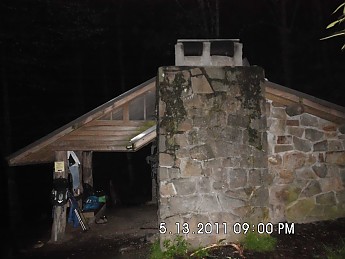 I arrived at Cosby Knob shelter. I arrived to a shelter full of sleeping people; I'm sure they were tired and wet hikers. For some reason I felt like Will Smith in "I am Legend" where he chases his dog into the building only to stumble on the room of sleeping killer mutants and quietly tries to back out without waking any of them. Well….perhaps that's a dramatic analogy, but I did feel I was walking on egg shells as I hung up my stuff, blew up the Neo-Air and slid in to an empty bunk beside some strangers.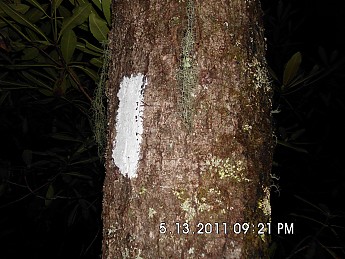 White Blazes at night. Couldn't sleep so early, so I got up and explored the trial north and south a bit in the damp evening.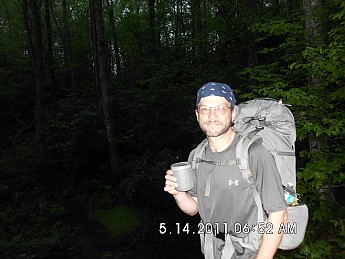 Day 2 and it wasn't raining yet…This was an interesting shelter experience. I awoke, made breakfast, packed up, and everyone was still sleeping. There were about 7 other people here but we were never conscious at the same time.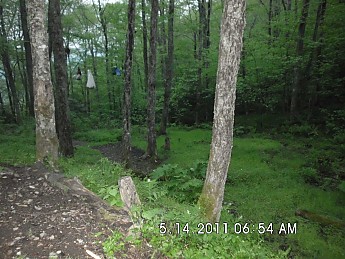 The meadow below the Cosby Knob Shelter.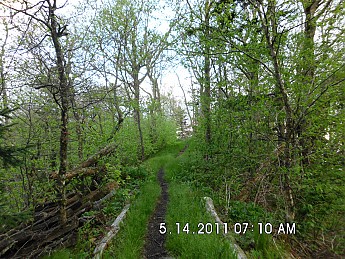 I headed South on the AT, the days destination being Pecks Corner.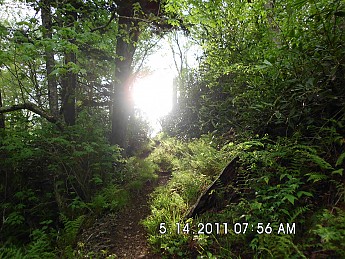 I stopped to turn around and snap this North facing pic as the sun crested the mountain top.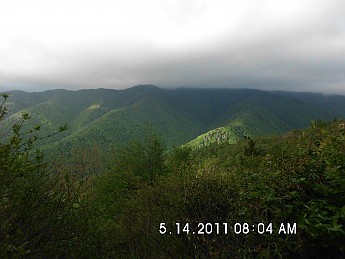 Alternating sun and clouds; the weather can turn quickly in the mountains.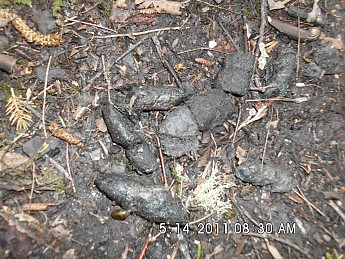 What kind of poop is this? I have no idea, too longish for deer, too little and berry- free for bear. Any takers?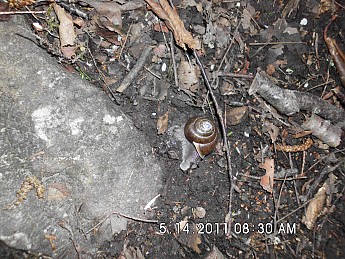 His name sake has a pace.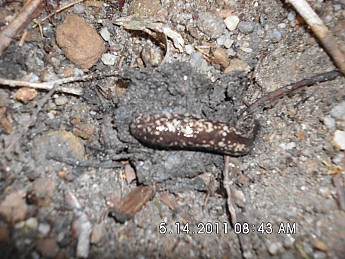 I call this "Slug on poo". Yeah, it could be art to someone. Why not?
Wow, it's a real slug fest up in here.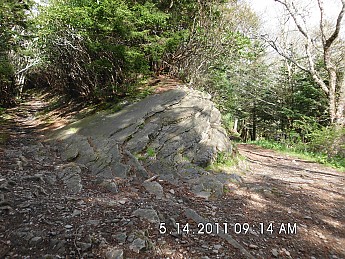 Here is the junction of Snake Den Ridge Trail and the AT.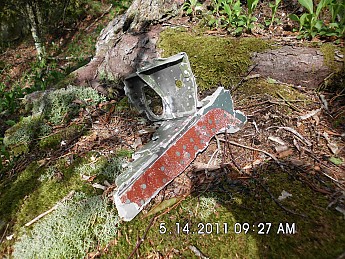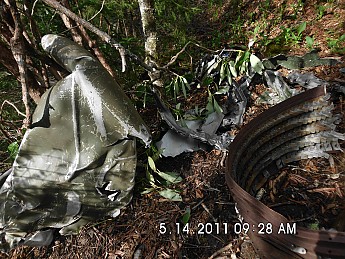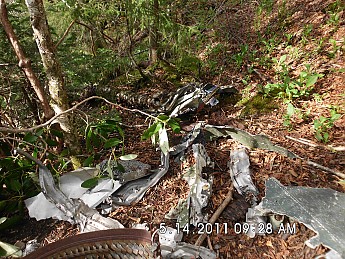 These are pieces of the Air Force F4 plane that crashed here in 1984 due to mistaken elevation. There were no survivors.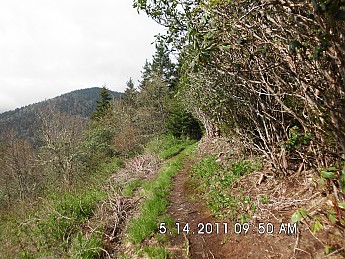 I believe thats called Old Black in the background.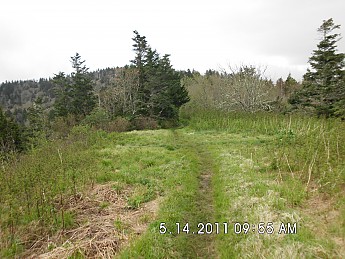 Deer Creek Gap. This is one of my favorite spots in the Park mostly due to its remoteness. There are some really cool areas to be explored off trial around here, but I'll keep those details to myself. The clearing is due to a 1924 wildfire.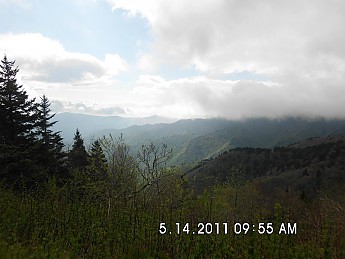 South view towards NC from Deer Creek Gap.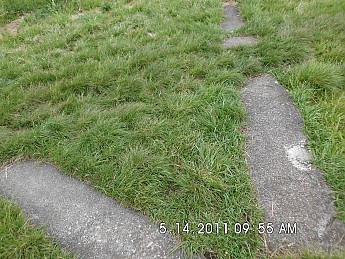 The history book says that this a helicopter landing pad. It's so very odd to see concrete way up here. I've always assumed that a lumber company would have built the pad but I don't know.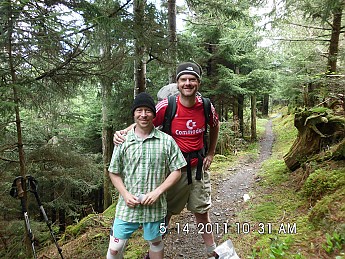 Crossing Mount Guyot (second highest peak in the Smokies, fourth highest in the eastern US and known as the coldest mountain in the Smokies with an avg temp of 42.6) I ran in to these fellow backpackers from Alabama: Ben and JB. They were sectioning through the Smokies and we talked for a bit. I learned that a bear had visited Tri-Corner Knob the night before. There were six people there and they scared it off. I also learned that a bear had grabbed a Platypus water bag and ran off with it at Double Spring Gap earlier in the week. Hey guys, if you're reading this, I enjoyed the chat! Happy trails!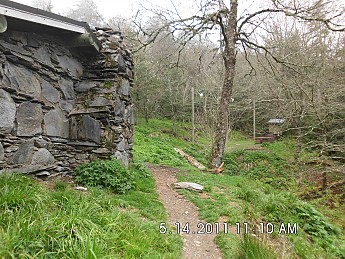 Approach to Tri-Corner Knob Shelter, where I've spent some very cold nights in the past.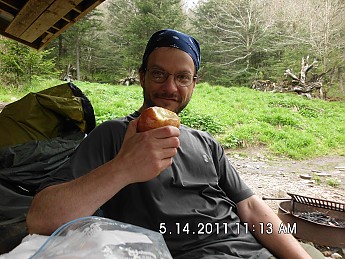 Time for 1st lunch.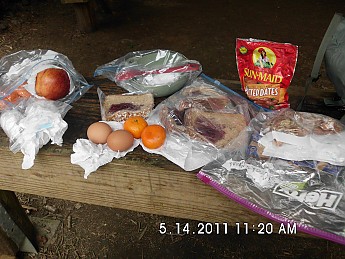 Well I spread all my grub out so I might as well snap a pic. I don't like to cook when I hike so it's all ready- to- eat stuff for the most part.
The spring at Tri-Corner is running low today. This is the best tasting spring in the park in my opinion.
I can't get your body out of my mind.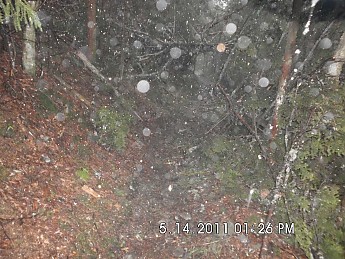 So I was talking to some thru-hikers when the storm hit. We're on Mt Sequoyah at about 6000ft. The rain came suddenly and fiercely. I quickly whipped out my umbrella and deployed it in mere seconds. :) Uh-oh, my gaiters were in the bottom of my pack for some reason. I've clearly uncovered a major design flaw in the gaiters; you have to wear them before they work.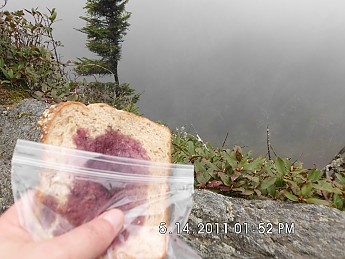 I hiked in the storm for another half hour and it finally cleared up enough to stop for 2nd lunch (SunButter and Blackberry Jelly on Whole Wheat- wierd? Hey it's my party). The fog has descended and there is nothing to see here now.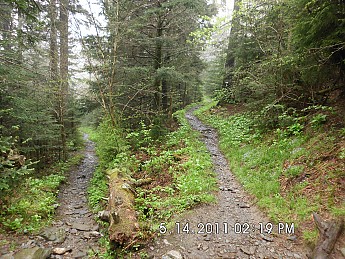 The junction of Hughes Ridge Trail and the AT.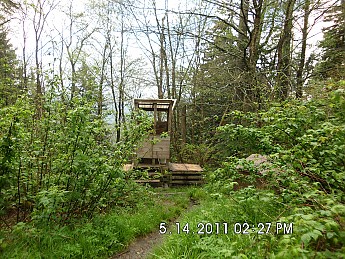 The privy for Pecks Corner is right by the trail. Nasty and public. Cat-holes are private and cleaner in my opinion.
I arrived at Pecks and discovered that my old acquaintance Lucky was there. He's an ATC Ridge Runner / Trail Worker (as opposed to the National Park Ridges Runners which are more like law enforcement). Last year Lucky once pulled something like a 28 mile day, partly to retrieve a piece of equipment that I had left in a shelter 8 miles away. He's a hiking machine.
I hung out at Pecks, shot the breeze with Lucky, and put up a clothes line; not that I was very wet today but to dry my sweat soaked clothes from the night before.
I was only about 14 miles on the day at that point and had some energy left so I decided to hike down Hughes Ridge and check out the section of trail I had never seen before.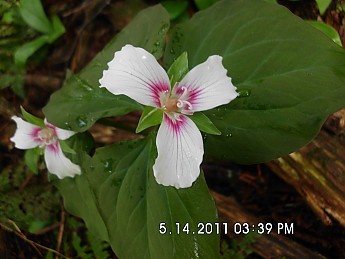 I found this nice trillium specimen while exploring off trail on Hughes Ridge.
I then hiked back up to the shelter and helped Lucky clear some briars with a sling scythe for a while. Soon after that the weather cleared a bit and I decided to head back up the AT to hopefully get a few glimpses while the weather lifted.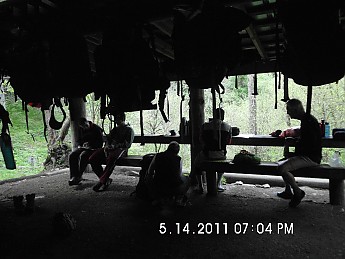 I arrived back at the Shelter and found that it had filled up with 'sectioners and a few thru hikers.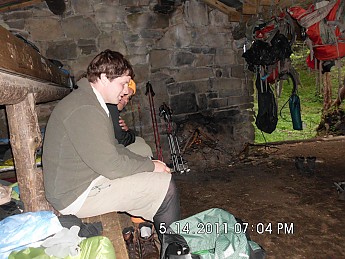 Here is Lucky the Ridge Runner.
I had brought a small fire-starter log and the crew was thankful to have a bit of a fire that night although we couldn't find much dry wood. Some of those folks were wearing non-waterproof trail running shoes and the shoes were soaked. Yuk. I had conversations with many good folks that night. If any of you are reading this, I'm sorry I didn't catch all your names….
This turned out to be about an 18.5 mile day for me; I slept very well.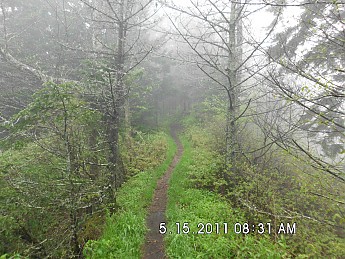 Well, it rained all night and was still raining on the morning of Day 3. It was quite disappointing to hike one of the most beautiful sections of trail in the park and not be able to see any views. But I would still rather be in the mountains on a rainy day than in the office on a sunny one.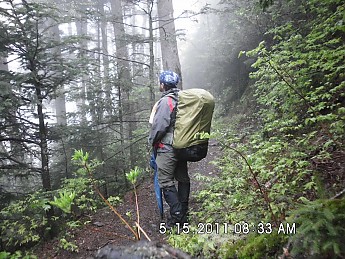 I did wear the gaiters today. They worked very well when on.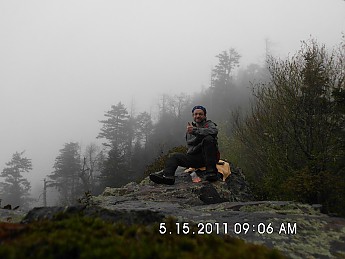 FoggyMountainbreak spot. This called is called Bradley's view.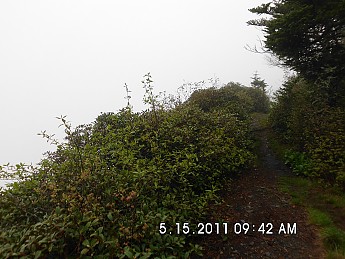 I'm sure this is a spectacular view when it can be seen.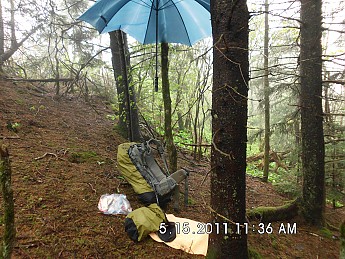 I used the umbrella as a quick shelter for 1st lunch on Day 3. This is about .75 miles north of Charlie's Bunion off-trail from the AT.
Soon the weather broke for only a little while but it was a wonderful while.
It was neat that the moment the fog lifted from around me, I happened to be standing right next to this spur trail (I couldn't see it before). It was there, I was there, so I went up.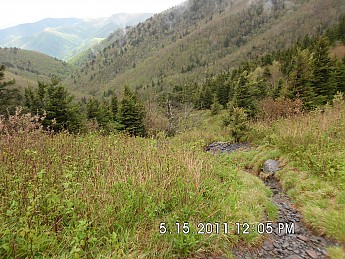 Half way up the trail I turned and saw this. Sweet.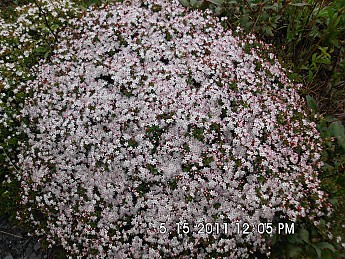 This is Sand Myrtle. I found out from a fellow I met a little later (Jerome).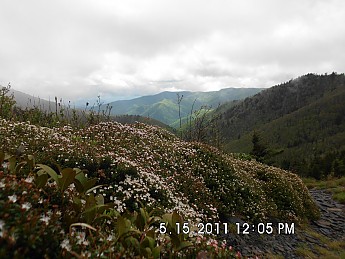 What an awesome view from up here!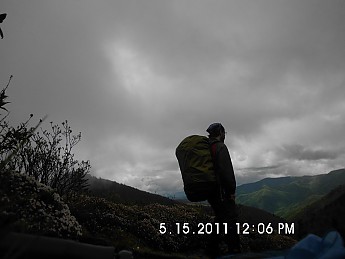 The clouds are still threatening but I'm thankful for the respite however brief.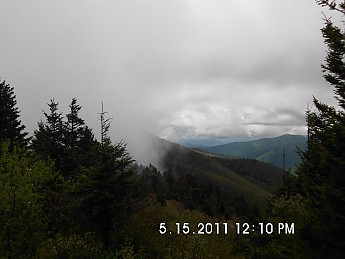 Oh well, here comes the fog again.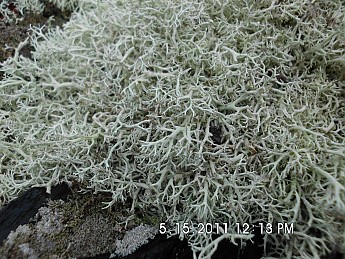 I lichen this very much.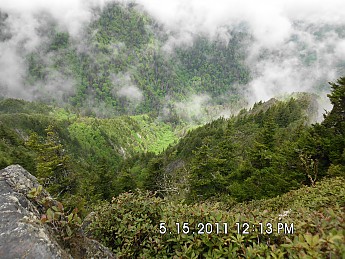 Peering over the top edge of the spur.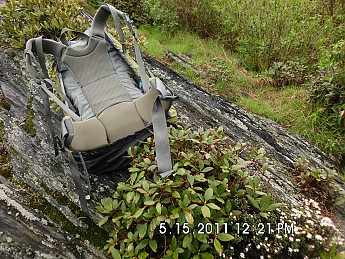 I took a break. The pack took a break too.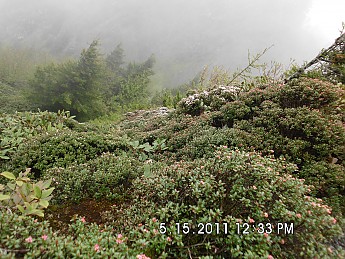 Looking over the edge from the North side spur approach to Charlie's Bunion.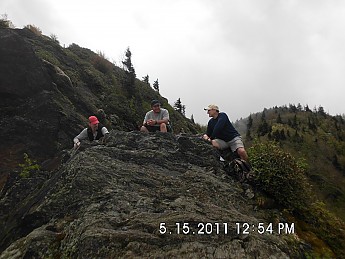 At Charlies Bunion here. I was out on the ledge and turned around to snap this pic of Jerome, Alfonzo, and Bob. Jerome and Bob are experienced backpackers out on a day hike while visiting fromHuntsville, AL. Alfonzo is thru-hiking the AT. Alfonzo had a fascinating story but I didn't ask if I could share it here so I won't. I will tell on Bob: he delivered a bit of trail-magic by giving Alfonzo one of his trekking poles when he learned that Alfonzo had broken one and couldn't afford to replace it. Good stuff guys…way to go Bob!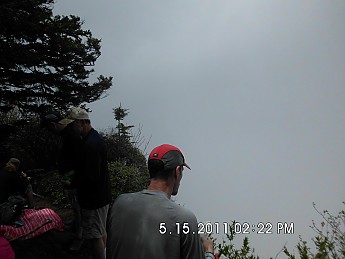 I followed Jerome and Bob out to the Jumpoff where there were some day-hikers picnicking. We were all waiting on the fog to lift for a glimpse of the grand views from there but it never happened. Such is life in the mountains.
I had scheduled a pickup at 5:00PM at Newfound Gap and had plenty of time to kill so I hung out with Bob and Jerome and the three of us talked and hiked out to Newfound Gap together.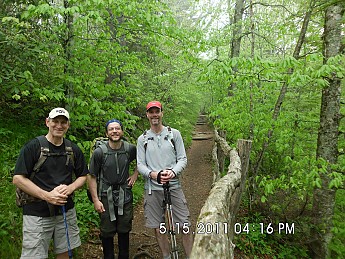 Here is Bob, me, and Jerome at the end of the journey near Newfound Gap where they had a vehicle. It was only 4:16 so I went back up the trail a ways to kill some more time before my ride showed up. I didn't want to stand around in the rainy parking lot; there was no protection from the wind there anyway.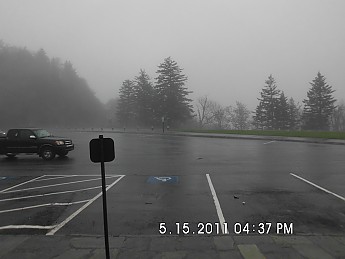 The temperature dropped a bit and the rain and fog increased as I waited for the big red shuttle van to pick me up. It's always a strange feeling to shuttle back to your car after a long multi-day hike; I spent one night and two days hiking about 35 miles or so but I was back to the car in one hour.
Despite the weather this was a great trip. I got some good exercise, met some great folks, and all around enjoyed myself immensely!
As far as the rain gear experiment:
The umbrella as a trekking pole is a bad idea; mine was too short for proper elbow angle. But even if it was long enough the thin nylon material was torn in many places from snagging on brush and such. However, it was quite effective at keeping my upper body dry even in a heavy downpour. The other positive was that as a glasses-wearer, I was able to see more clearly. I think I will add a smaller umbrella to the summer kit and continue its use for upper body protection in warm weather.
The gaiters worked very well but were hot. Again, I think they are a good tool for off-trail stuff and snow but a person would be better served with traditional rain pants which might breathe better in warmer weather.
All-in all this was about as maximized a weekend as I could have hoped for!
Hey Jerome and Bob, I hope to see you in the Roan highlands in a couple of weeks.