8:49 a.m. on June 2, 2011 (EDT)
Patman

2,155 reviewer rep
2,119 forum posts
I had been advised three times this year to go see the Roan Highlands by other hikers I've met on the trail. So Memorial Day weekend turned out to be the one with which to pull out of mySmokyMountainrut. J
Besides the standard logistical preparation, I decided to pull the trigger on a guitar to take hiking. I've played guitar since my early teens (off and on professionally over the years….. although never as a primary income). I've been hiking so much lately that I was afraid of losing my practice habits. My selection criterion was really about finding the best sound quality for lowest weight. My main acoustic weighs only weighs 7 pounds but is too bulky to pack (amongst other reasons not to bring it). I looked at the specialized Martin Backpacker but it plays poorly and sounds worse in my opinion. So I wound up going with a half size student guitar called the Amigo: its lightweight (2.5 lbs) small and relatively cheap.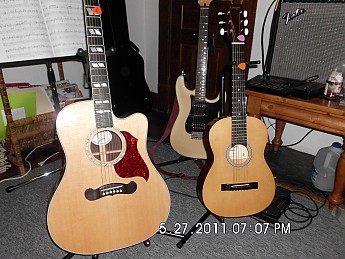 Here it is compared with a full size guitar.
I had to get up about 4:15 AM to drive up to the Harbor Mountain B&B near Roan Mountain, TN (which is also a hiker hostel of sorts), to meet my shuttle driver. I dropped my car there and was shuttled to Iron Mountain Gap and the Appalachian Trail for an early start.
My shuttle driver was a very nice lady named Mrs. Jarrett. She and her husband are subsistence farmers; she makes extra money shuttling hikers. Her family immigrated to this region from Ireland in the mid 1700's. She owns a third generation apple farm and was a wealth of information about the area, having lived in Roan Mountain all of her life. After sharing my hiking plans she casually (but somewhat ominously) asked me if I had brought sunscreen. At the time I just laughed and shook my head no (I've just now seen the Trailspace front page with the "don't fry" article….. )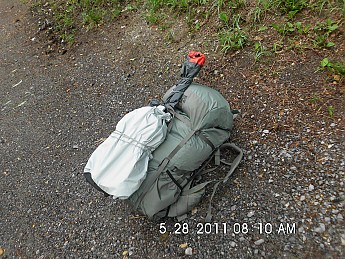 Threw the little guitar in a dry bag, covered the neck with an old sleeping bag stuff sack and tried my first strapping configuration with this setup.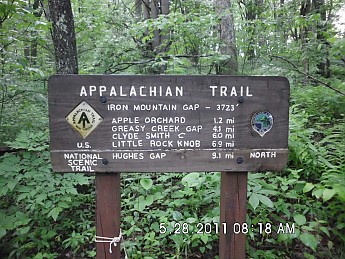 Here we go from Iron Mountain gap. I met my first slack-packer here. He was a nice fellow who was raising money for a cause by thru-hiking the AT. His wife was dropping him off and then picking him up at road crossings. To each his own I say…..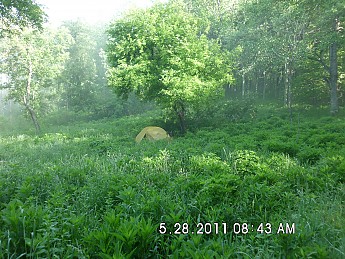 Passed someone camping in the wet bush; I liked the way that MSR tent looked nestled in there.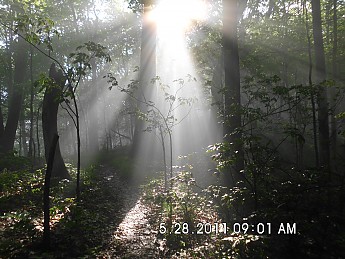 Ah, the "rapturous light" through the trees in the morning.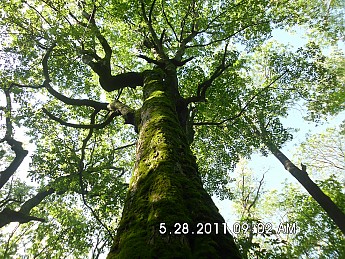 A mighty moss covered Tulip Poplar.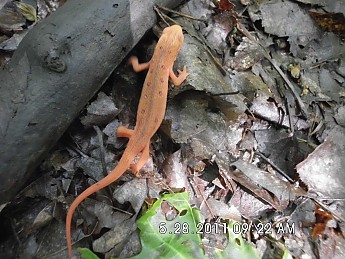 On the way acrossIronMountainI saw seven of these fast, red lizards.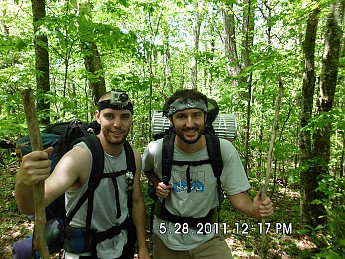 I met these nice folks on the way North towards Hughes Gap (where the big climbing begins in earnest). This is Ian and Charles; they were local hikers who were also kind and helpful with information about the trail to come.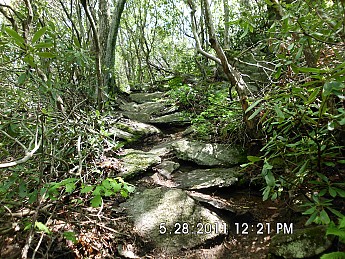 Climbing "The Roan". When sharing my itinerary for this trip with several different folks they independently took the time to warn me that the climb from Hughes Gap to the top of Roan Knob was not to be taken lightly. I've done 2000 + elevation gains pretty routinely for the last several years, so I was really curious how bad "The Roan" could be. More on that later.. J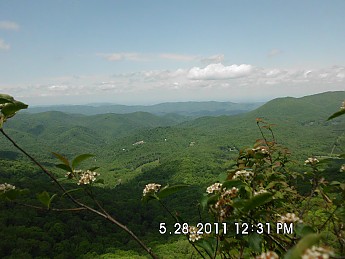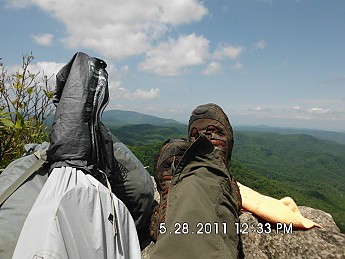 I arrived at the "little rock knob", and it was a fine lunch spot. While preparing for lunch, some southbound hikers arrived. (Very friendly folks on a scout-related trip.) When I asked to snap a picture they immediately wanted to make it an interesting one: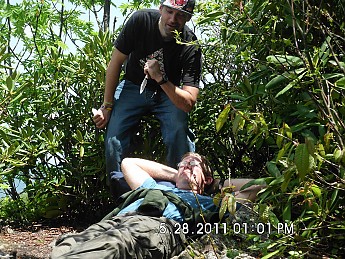 Nice job guys! That's the spirit!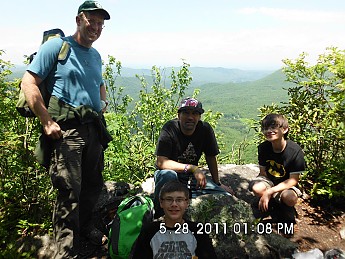 Here we have the full crew of Chris, Trent, Dillon and Ethan.
After that, I passed a great many people that were south bound on the way down. One was a group a twelve. It was Memorial Day weekend after all.
My original intention was to stay at the Roan High Knob shelter but the numbers of fellow hikers made me reconsider and opt to stay at Ash Gap. After all the warnings about the big climb ahead of me I had intentionally let my water dwindle for the climb up so that finally swayed me.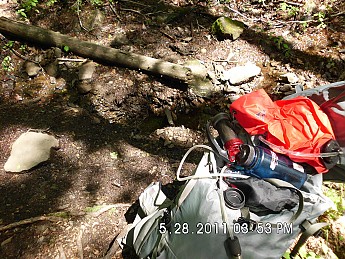 The water here was poor, but by laying down a plastic bag I was able to catch enough to filter.
Besides the poor water source, Ash Gap was a beautiful spot to camp.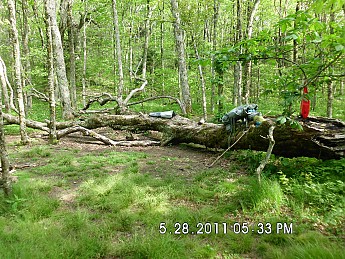 A big tree had fallen and became hiker furniture.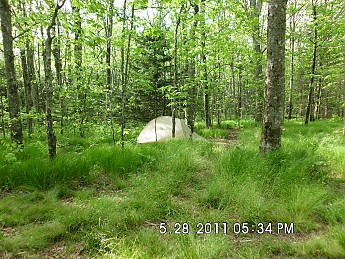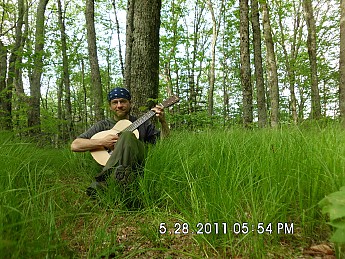 Camp was set, the tent up, time to relax and play a while…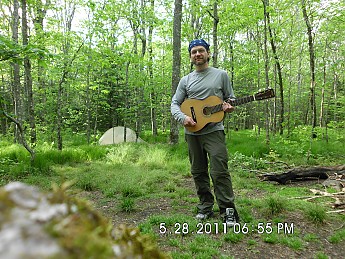 Well, I lugged the little guitar this far so I played quite a while more…
It was a beautiful evening at Ash Gap, but the early start, 11 miles with about 2300 feet of gain made me too sleepy to stay up for stars like I normally try to do.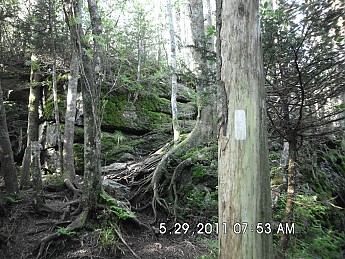 The morning of day 2 and it was time to finish climbing towards the High Knob. Deciduous surroundings turned to conifers pretty quickly up here.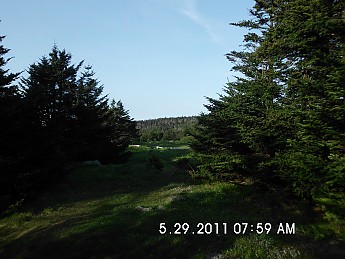 This was the view as I broke out of the woods to the Cloudland's Hotel site.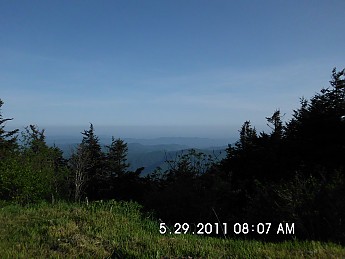 I wondered if the old Hotel guests enjoyed the view as much if they didn't have to work for it. (There is a road to this site although it was closed on this day).
I left the AT here for a .75 mile side trip to the Rhododendron Gardens but there was nothing in bloom. I was two weeks too early.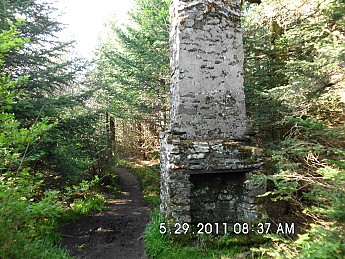 These types of things always seem so odd to walk-up on…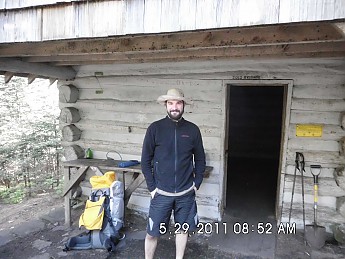 I decided to stop in and see if I was right about the Roan High Shelter being crowded. (Editorial note: this is the highest elevation shelter on the entire AT at 6285 ft and used to be a fire-wardens cabin)
As it turned out I was completely wrong. This fellow was the only person that stayed there the night before.  His trail name is Crazy Man and he came from Germany just to hike the AT. He has until September 19thto finish before his visa expires. He was worried he may not make because he had to take 6 zero days from a knee injury early on. I was impressed: I've never traveled internationally just to hike. Very cool. Oh and the Crazy Man name was because he couldn't seem to keep his pack weight much below 60 lbs. I didn't expect to run into a crazy German today. :0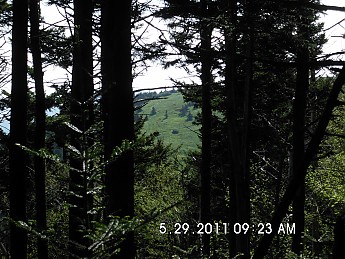 This was a tease through the trees of the coming attraction as I descended to Carvers Gap.
And the trail became a wide gravel path to start the climb of the first bald (Roan).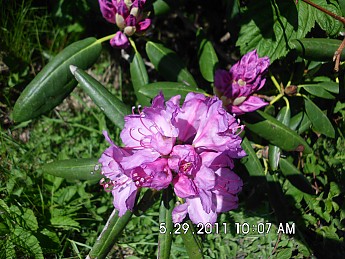 Well this Rhodo decided to go ahead and bloom. I bet that garden I passed earlier is spectacular when full-on.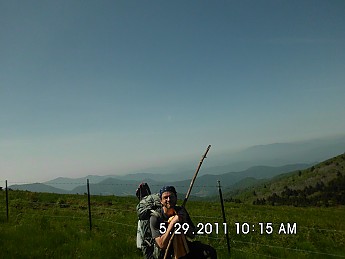 Wow, this was getting really good!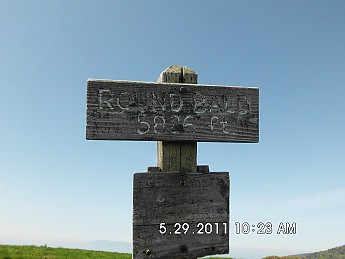 I love the signs that exclaim the name boldly against the horizon. There was a lot of that on this hike….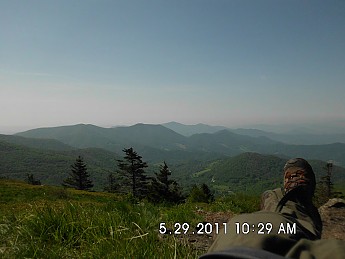 What a superb place to take a break!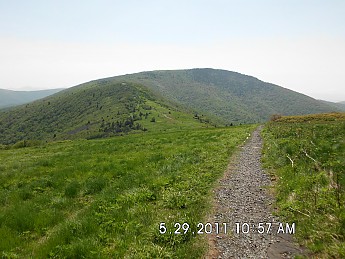 I was not used to being able to see so far ahead…according to the book that should be Jane bald stretching out next.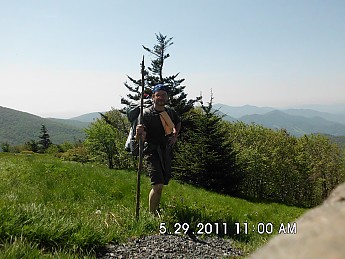 Had to unzip the convertible pants and change out the boots for trail runners while up there in Bald country; that place was getting hot!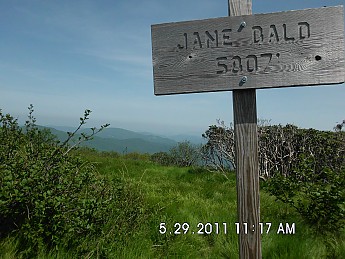 Hello Jane!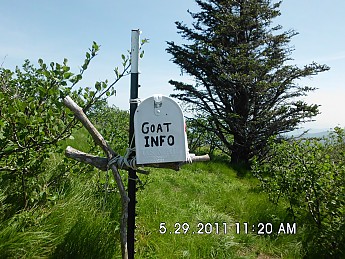 Well, I wasn't in search of it so I didn't take a packet.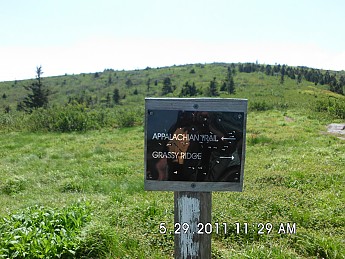 Here was where I left the AT again for another one mile side trip; this one was to Grassy Ridge. This trip was made better by a recommendation from a fellow I passed on the way up. He said that when the trail appears to end at a clearing you can crawl through some rhododendron to get to some great overlooks.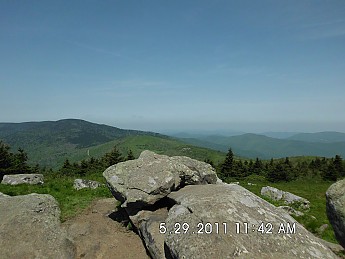 After hiking across a big grassy field, the trail led to these rocks and a plaque telling that this was Cornelious Rex Peake.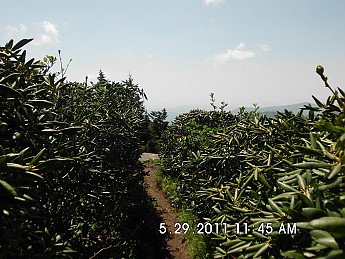 As promised, the trail started narrowing.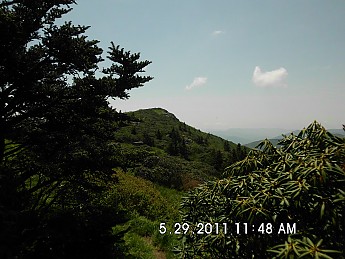 Up ahead looked like another peak….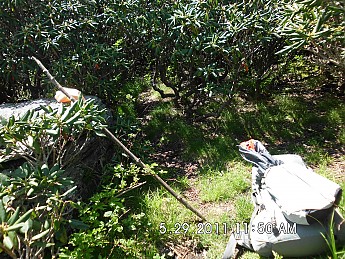 And sure enough, this was too tight to get my pack through.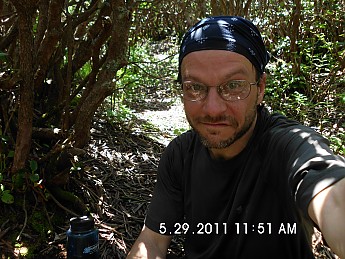 Time to crawl!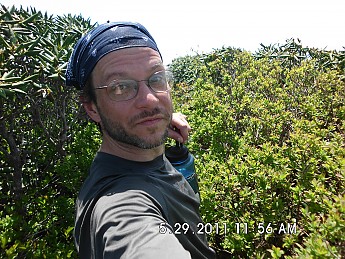 I'm holding my water bottle high in this less-than manly fashion because the rhodo, heath and bush was chest high; not much of a trail but perseverance usually pays off right?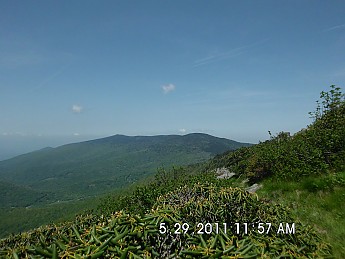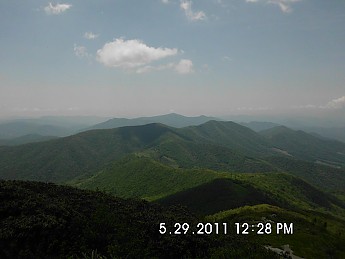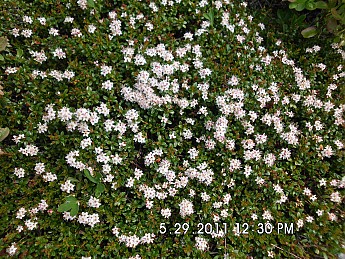 And pay off it did! This place is awesome. These views are almost too much.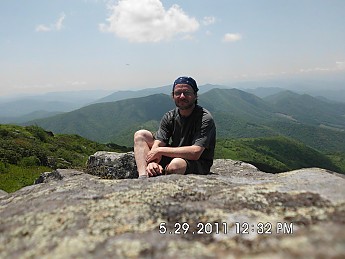 I was wilting a bit in the sunshine. I'm used to hiking under canopy; the direct sun can really zap your energy.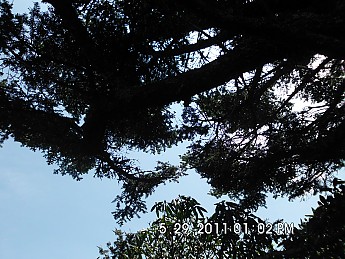 I found some shade to lounge under for a few minutes before heading back down to the AT.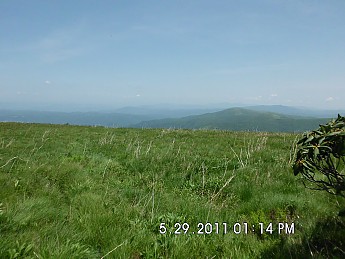 This is heading back down Grassy Ridge.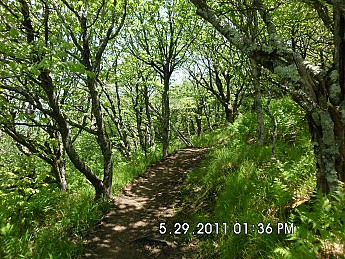 Glad to see some canopy tunnel at this moment. Why oh why didn't I bring sunscreen?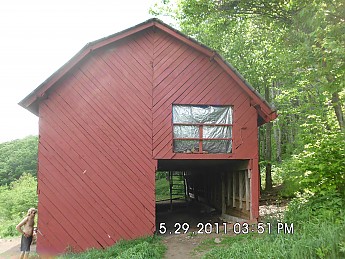 Next stop was Overmountain shelter. I love that name, it sounds Tolkien-ish to me. This was on old barn converted to a hiker shelter. It's quite fitting to be here on Memorial Day Weekend since the Overmountain men marched through here on the way to the Battle Of Kings Mountain in 1780 to defeat the British Loyalists.
That fellow in the lower left is Birch. He was one of the thru- hikers I was talking to when we got caught in the storm atop Mt Sequoya in the Smokies a few weeks ago. It's a small trail after all.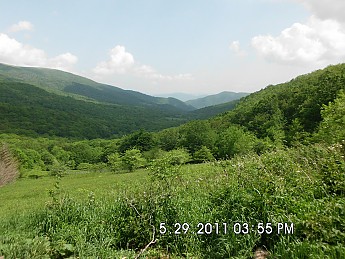 Here is the view from the Overmounatin shelter. I've only seen a dozen of them but I would guess this is one of the best shelter views on all of the AT.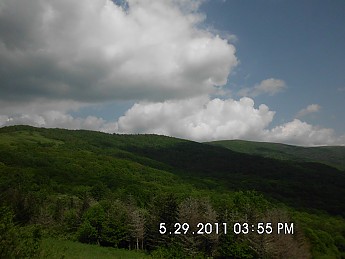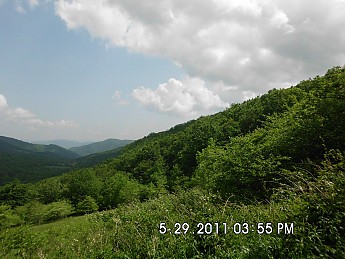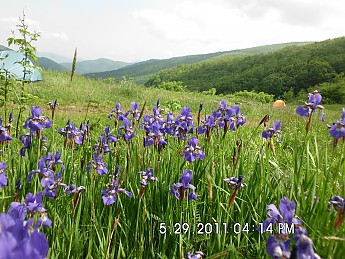 This is a really nice shelter area. But apparently everyone else thinks so too (Oh yeah it was a holiday weekend). The place started filling up. The shelter filled up quickly and a group with several young teenage boys arrived rather loudly. I was gearing up to move on to a more private spot to camp when I ran into Jerome and company whom I knew were up here somewhere but I wasn't sure which day we would cross paths.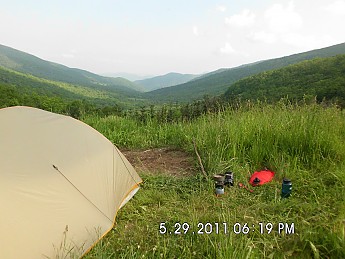 So I pitched my tent and decided to stay to visit with Jerome and Bob. I met those guys on my last hike and really enjoyed their company.  Pretty nice view from my perimeter tent spot.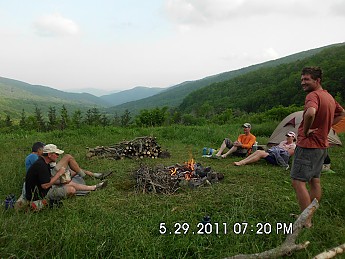 J & B were here with a group of seven and this group liked a big fire so they worked diligently to haul up dead wood from the surrounding forest and cut it up with a hand saw. I hung out with them for the rest of the evening and played guitar for a little while. After the sun went down, the condensation started so heavily that I was slinging water from the soundboard as I played so I had to put it away.  The big fire attracted a bunch of thru-hikers and those conversations are always fun although it wound up being a rather large group around the fire ring. I'm not overly social in big groups so I hung out next to Bob and had side conversations for the most part. I was glad I stayed put.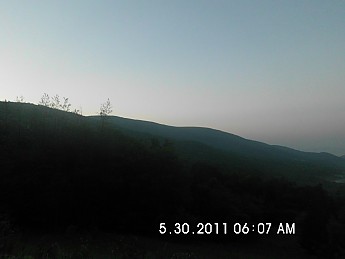 No sunrise from this valley on Day3 and my tent fly was soaked from all the condensation but that's part of the experience.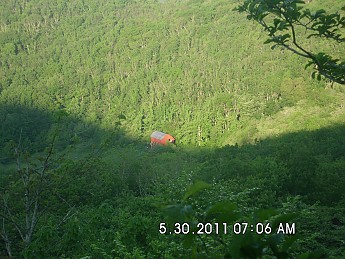 As I hiked up and out I turned around to snap this pic of the area I just left. See the red barn in the middle of the photo?
Jerome had recommended a side trip to go see Yellow Mountain via an unmarked trail. So my task was to find the unmarked trail.
I saw one trial that seemed to fit the bill; it was overgrown and rough. I went about 10 minutes down his trail but it lost over a hundred feet of elevation and seemed to only lead down to the valley. Had to be the wrong trail..oh well this mistake cost me an extra mile and a little day light.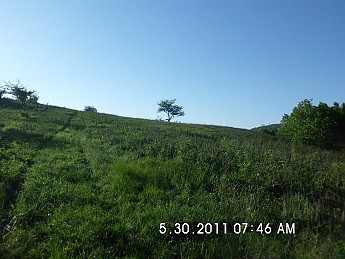 I then found another trail that seemed likely and took it up to a bald.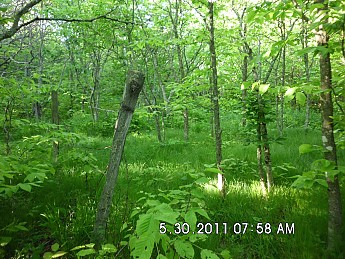 I followed wrong trail # 2 into some woods and went about 10 minutes until the trail petered out here. Hah, this is getting funny.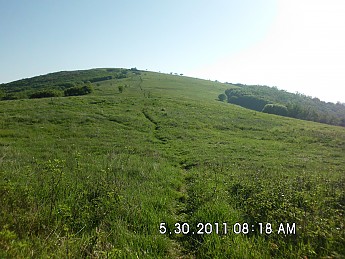 Well, I figured this must be Little Hump and I remembered that Jerome said if I missed to turn around from Little Hump a look for a trail that leads towards the Yellow Mountain spur. So I climbed Little Hump for the first time that day for reconnaissance.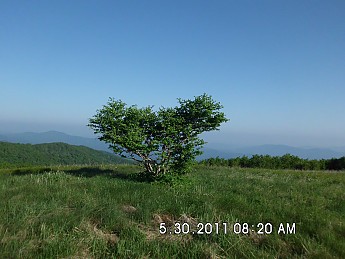 Nice tree on the way up the Lil' hump.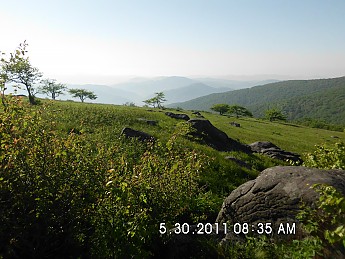 A view from the hump top. And sure enough I saw what had to be the Yellow Mountain trail! (not pictured here). So I descended Little Hump and tried again.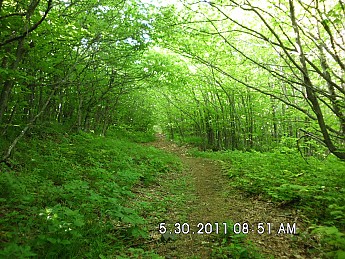 Eureka! This had to be the Yellow Mountain trail. And it was….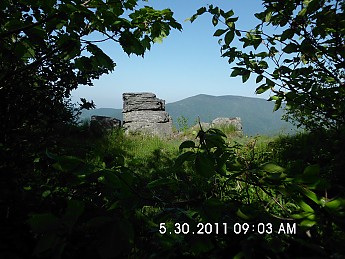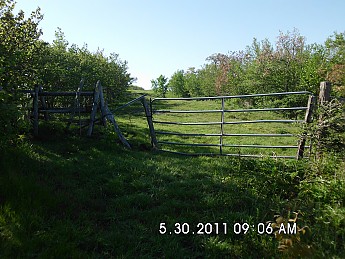 The passage to the Yellow Mountain overlook.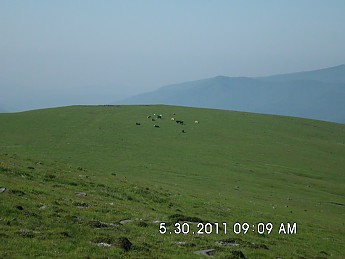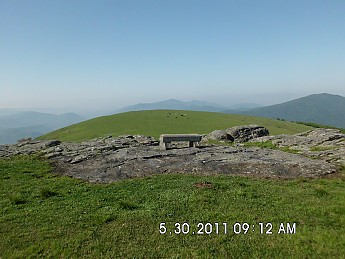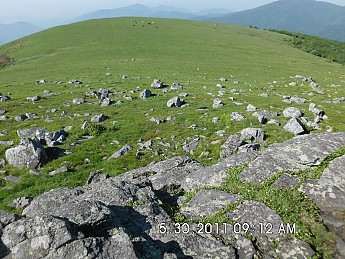 This place conjured images of Ireland…..just beautiful.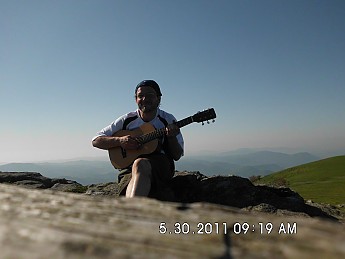 And a nice time to pick a lilting tune or two…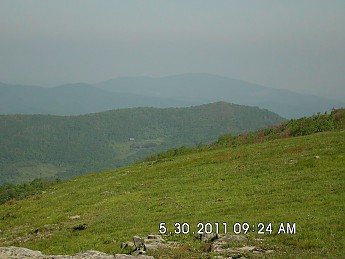 If you look at this pic closely you can see that Overmountain shelter again in the distance. It's a wee spot from here.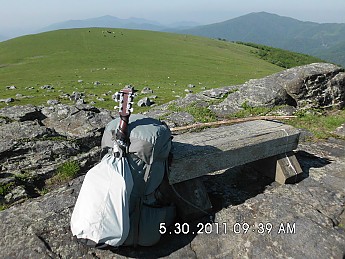 YellowMountainwas worth every miss-step and wet bush push-through.  These highlands are stunning. The pictures just can't capture the 360 view from here.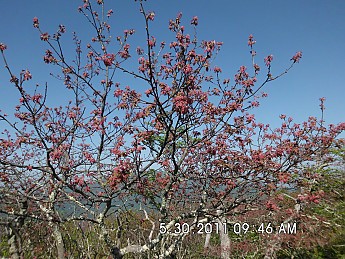 Natural Beauty abounds here….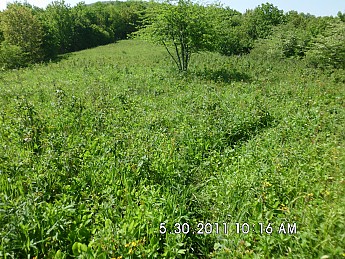 Hey Jerome, here is where I messed up the second time. The trail actually goes to the right but I originally followed it straight ahead (to the left of the tree) because I was focused on the woods in the distance. In this pic its clearly more worn to the right. Gotta pay more attention.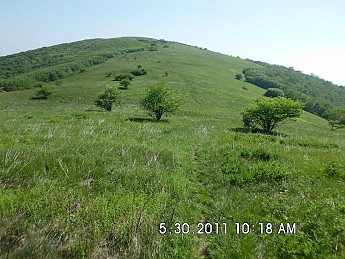 Time to climb the Little Hump… again. You can't really tell how far that is, but it took some grunting to get to the top of it.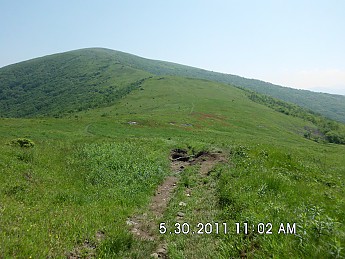 Next up is the big Hump! If you look very closely at this picture you can see a group of hikers at the dip on the trail. This distance is vast; I found it quite deceiving to be able to see this far.
Doin' the hump.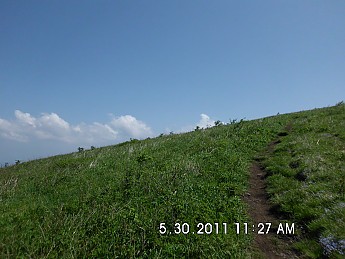 Uh…still doin' the hump but with admittedly less enthusiasm now…J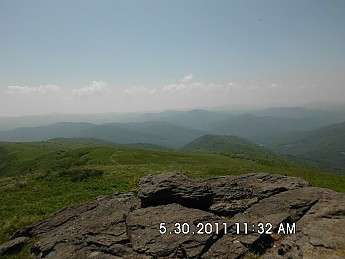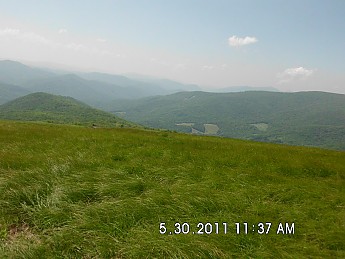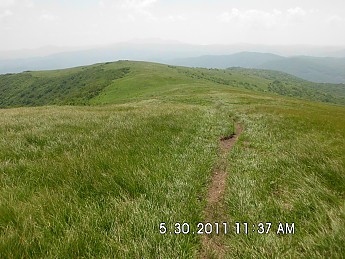 This is just unreal. I knew there were many balds up here, but I wasn't quite prepared for seven miles of balds! Worth every sunburn though.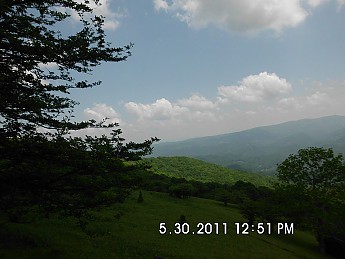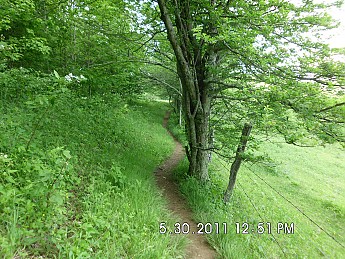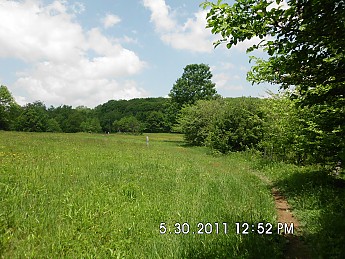 Coming down from hump land…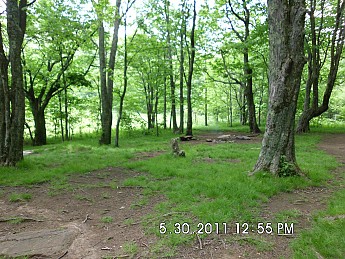 Next landmark: Doll Flats camp site. There was a nice strong spring here, down a blue blazed trail.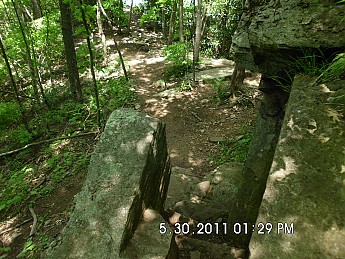 This terrain is starting to look more familiar to me.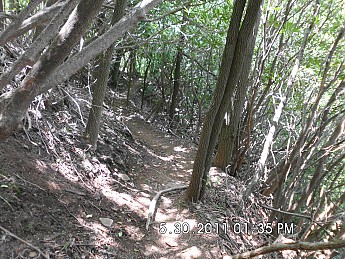 It's neat that the scene went from this one moment…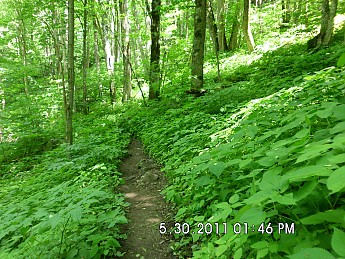 To this the next.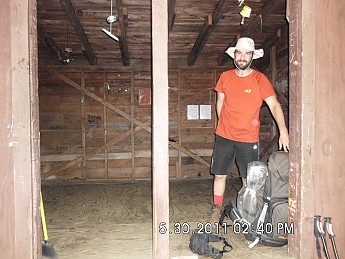 Hey I caught up to Crazyman today. He has a Jack Wolfskin pack. I had never heard of that brand but it's apparently very popular in Germany. I rested with him for awhile and hauled his pack- trash out with me; I was close to the road here and he was attempting a personal record mileage day (18).
I came out to Hwy 19E and road hiked back to my car about .5 miles away.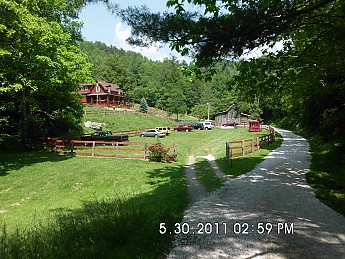 Here is the Harbor Mountain B&B and the "hiker car corral"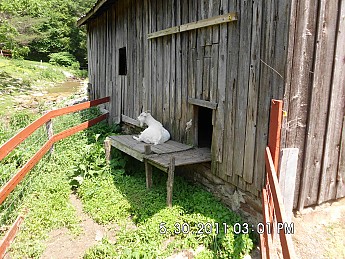 Hey the back of the hiker cabin is also a goat house. Those critters must be popular up here. J
I must admit that this section was tougher than it looked on paper. The climb up from Iron Mountain across Hughes Gap and on up to the Roan High Knob was serious business. I gladly tip my metaphorical hat to the Roan Highlands! This was an awesome hike, nearly scenic overload, and one the best three day trips I could recommend.
It was nice to bring the little guitar, but I need to find a better way to secure it. This was also a good lesson on being prepared for the elements. Sunscreen and a big hat will be finding their way into my kit very soon.