1:17 a.m. on June 14, 2011 (EDT)
Patman

2,155 reviewer rep
2,119 forum posts
Smokies: Anthony Creek to Gregory Bald
The weekend of this excursion included Sunday obligations; I only had from Friday night until Saturday late afternoon to work in as much mountain hiking as was within the limits of fun. My excursions are often a combination of "getting away" from the normal day-to-day environment (aka Mental Health), athletic endeavors, and pure joy at being surrounded by nature.
I've never mentioned this on these forums but I was raised by a mother who grew-up near these mountains, moved away for most of her life, and always spoke longingly of retuning to them. Unfortunately she never got to really do that before she passed, but I've always thought of the Smoky Mountains in bold mental italics and through the filter of her fondness. OK….enough personal reflection…
I "comped-off" work at 3PM from my job in Knoxville and navigated my Japanese conveyance with all speed to the Cades Cove loop entrance to immobilize said conveyance and depart on a much more natural mode of travel.
My plan was to hike up Anthony Creek to Russell Field trail, then South on the AT to stay at Mollies Ridge Shelter for the night. (This would be about 8 miles and probably a bit of night hiking with such a late start). Day 2 would follow the AT south to Gregory Ridge trail and explore a heretofore unseen connector to the Gregory Bald trail (this was actually the old AT route according to the trail history). I left myself the option of going to see the Bald (although the wife and I are planning to go up there the following weekend so I can't show her this repot until after that).  The hike would end by backtracking down Gregory Bald trail to Gregory Ridge trail and hiking out Forge Creek road to the cades cove loop. I then planned on thumbing a ride around the loop (if possible) back to the car. Day 2 would be about 14 miles if got a ride, 20 if not.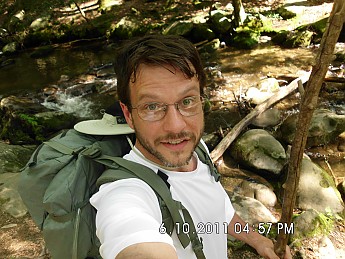 Obligatory self-pic with awkward facial expression. Despite my best efforts, I still didn't get started until 4:57PM.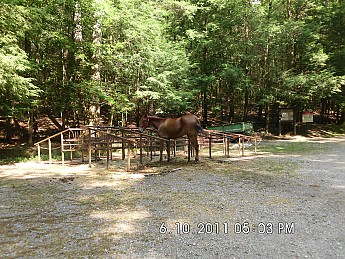 Passed a horse camp on the way up Anthony Creek. Pretty but smelly beasts.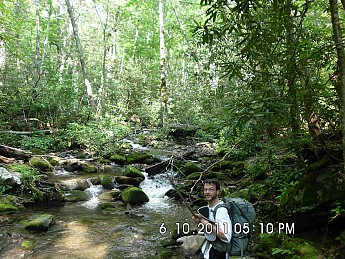 Another awkward self-pic near Anthony Creek.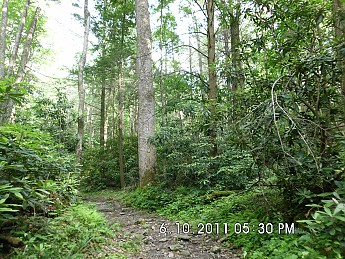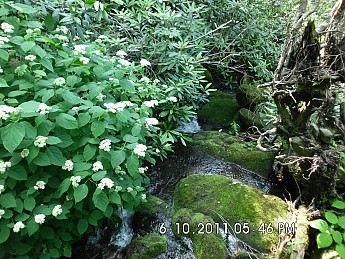 The trail is quite fine through here…..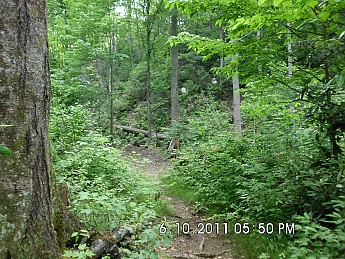 Peeked in at campsite 10 on Russell Field trail…hmm, nobody was there on prime weekend evening.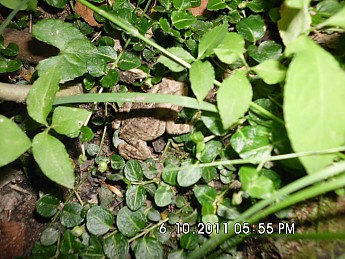 These little hoppers were pretty active that evening.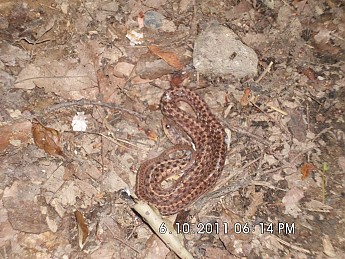 I think this is a corn-snake….can any of you fellow southern folks back me up on that?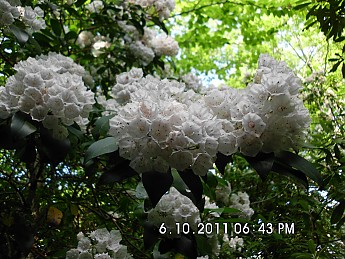 Stopped to take a quick gander at Russell Field and was distracted by this Mountain Laurel blooming so nicely.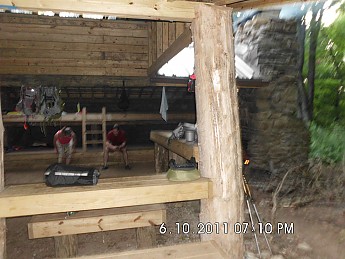 This is a poor pic of Russell Field shelter. I was trying to beat the sunset and so wasn't as friendly with these folks as I would normally have been. They were so tired I don't think they cared….lol, I see that a lot around here.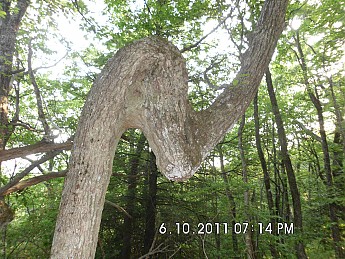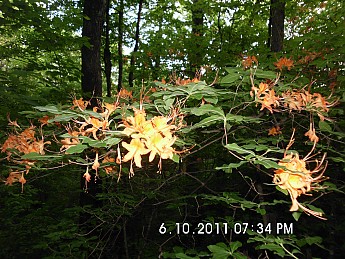 "Things I liked" while moving South on the AT past Russell Field.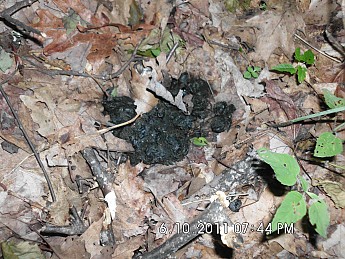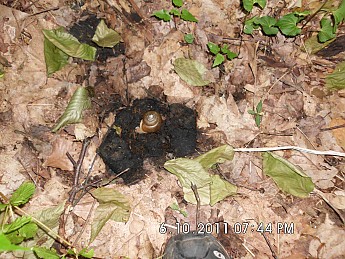 So this is interesting: I was getting tired myself and was exploring potential new places to camp for the night (although I had a reservation for Mollies, I assumed it would be crowded). I took an unmarked spur trail about a half mile off the AT. It looked promising until I saw these large piles of bear-scat. I then heard something large tromping around the hilltop. I got the hint and retreated back to the AT. Well, the tromping followed me and about the time I started to turn to my right to look and see just how inquisitive that bear was, something started hissing at me from the left side. I turned and there was some kind of chicken sized bird (a grouse maybe?) getting all puffed up and hissing loudly at me. I then turned back to the right as a large black bear popped up about fifty feet away in the bush to get a look at me. I tried to get a picture of both things but was too "distressed" to get either one (the efforts don't show anything). I probably shouldn't even mention it without having the pictures but it was pretty funny in retrospect. I've had dozens and dozens of bear encounters before but never one with a "grouse-alarm" sounding simultaneously.
I hiked another while (wanted to get some distance between me and that strange scene), and finally found a previously used camp site by continuous off-trail exploring. When camping in an undesignated spot in the park it's very important to me to truly "leave no trace" but I wanted a fire for comfort tonight so I kept searching for a premade ring.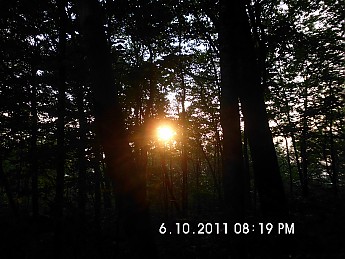 Sunset from the off-trail campsite.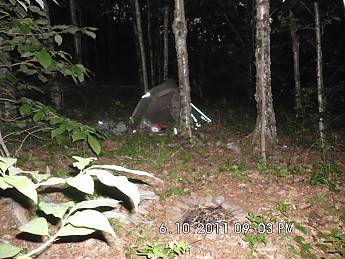 Not a great campsite as such things go (and dry), but I had plenty of water and met my criteria for the night. Notice the Big-Agnes-Super-Duper-light-weight but very delicate tent.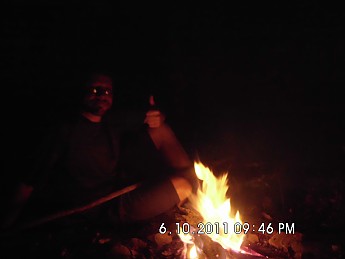 Yeah, a little fire is good for the head when camping alone way off-trail where no one can hear the grouse scream (or was it me?).
That night was also interesting in that I had apparently pitched my tent over a nest of beetles (geez do beetles nest?). It took forever to figure out where that strange scratching noise was coming from until I realized it was underneath me. They eventually worked themselves out from under me. Oh well, so much for "leave no trace". I guess I wrecked a beetle habitat.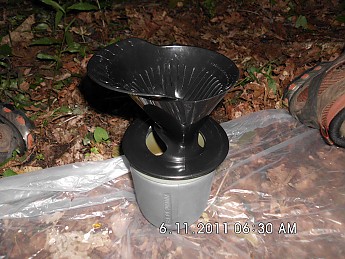 Morning of day two and I tried a new piece of camp gear: a pour-over coffee maker. It was only 2.99 in the coffee aisle at the grocery store and I think it works better than anything else I've tried at any price. I really like the easy clean-up; just toss the grounds and filter into your trash bag, quick rinse and that's it.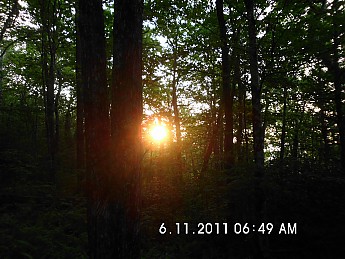 Hey, the sun had finally bested the tree-line for me that morning.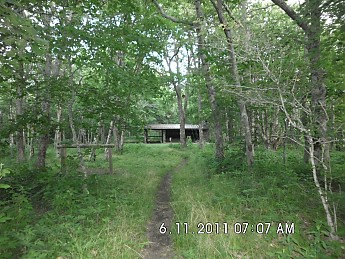 Approach view to Mollies Ridge. Well, wouldn't you know it? I don't think anyone stayed here last night at all unless they were early rising Southbounders and didn't make a fire.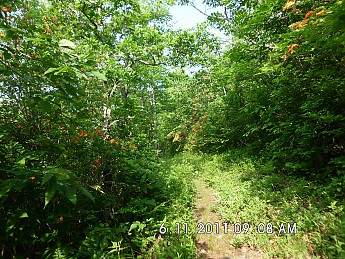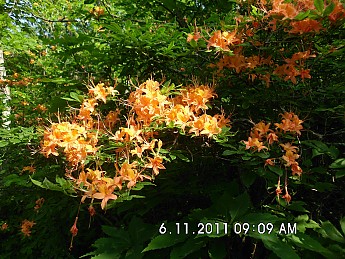 These were taken on the way across Gregory Ridge Trail. I had actually been seeing these flame azaleas for quite a while but they were indeed increasing in frequency as I neared the bald.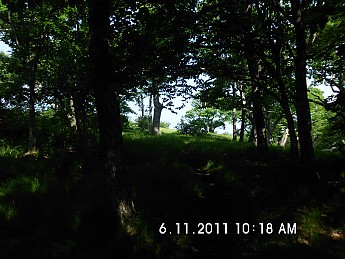 The eastern approach to Gregory Bald.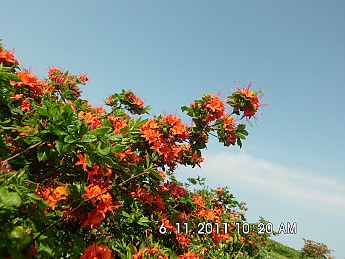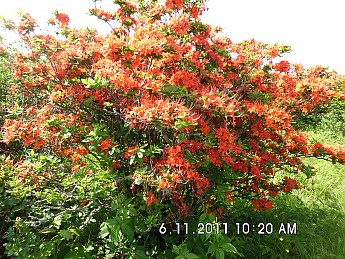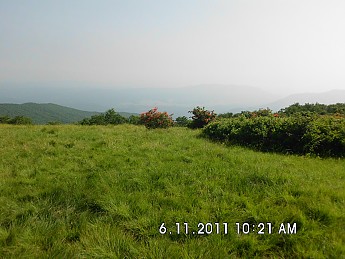 This place is truly beautiful. It was too hazy to see very far that day and I was a little early for full bloom but it's still something to see. Even with nothing in bloom at all, this place has always had a special energy about it (at the risk of sounding mystical-hokey).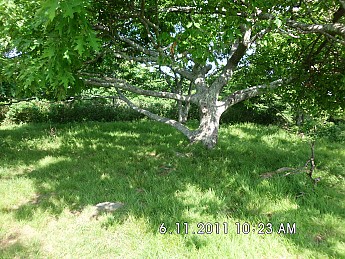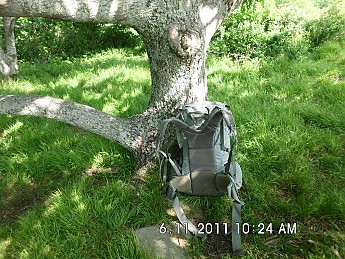 I rested for a while under one my favorite shady spots.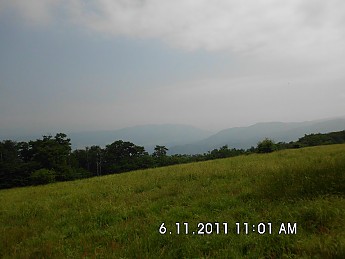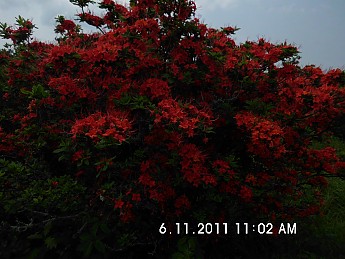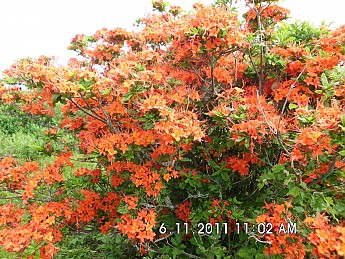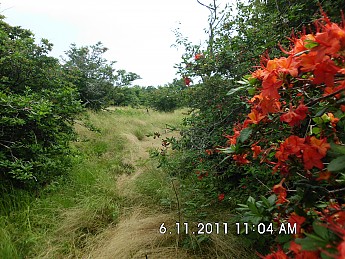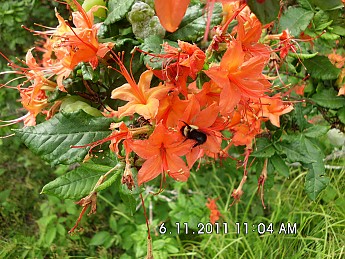 Pinks and oranges and reds ..these flame azaleas are just awesome.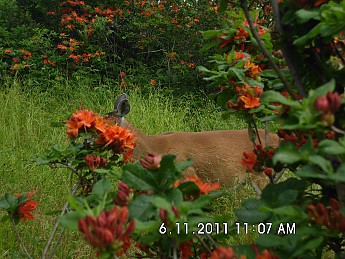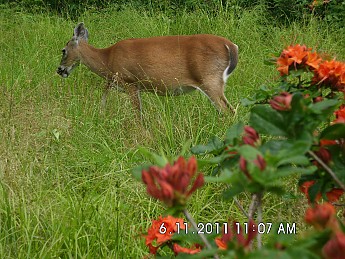 I couldn't believe that I had that place all to myself. But then I had thought I heard someone walking towards me and was about to say hello….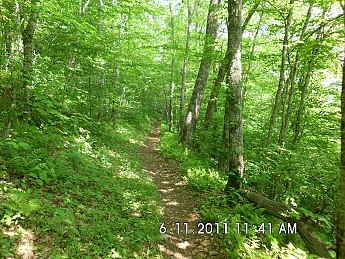 As much as I hated to leave, I had a potentially long hike ahead of me to get back to the car and had to start moving.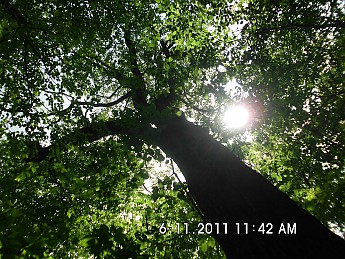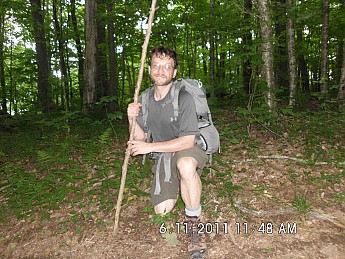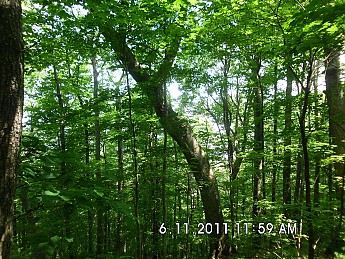 The Gregory Ridge trail going down to Forge Creek Road is worthy of a visit by itself IMO.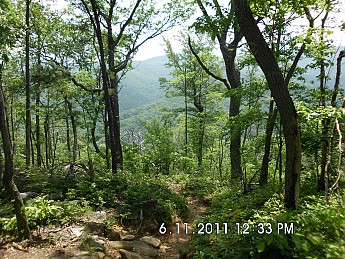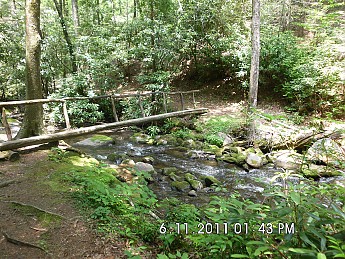 Descending….
I reached the gravelForge Creek Roadand began the trudge out to the Cades Cove loop paved road. I was not looking forward to hiking the paved road six miles back to my car. (The distance wasn't daunting but the heavy car traffic was.) Luckily I was picked up right away by some kind souls visiting the park fromGeorgiaand they let me hop in the back of their truck.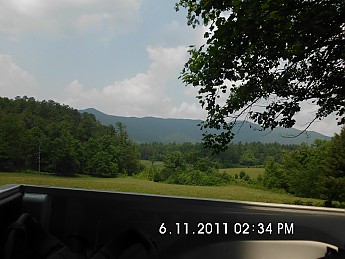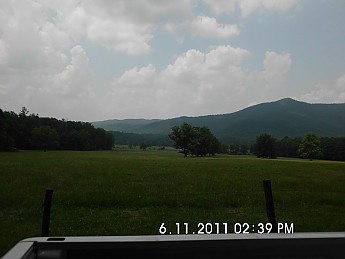 "Back of the truck" photos on the way out.
This hike was just good all over. I'm looking forward to returning to the bald with my wife next weekend!