7:34 p.m. on July 11, 2011 (EDT)
Patman

2,170 reviewer rep
2,136 forum posts
Yep, yet another quick hitting snippet hike; these are my specialty. I'm admittedly jealous of those long backcountry trips that some folks get to take. However, there are certainly advantages to shorter jaunts. The short trips typically require somewhat less overall planning and loop routes lend themselves to simpler execution. This time (as with many others), the decision to go was made prior to deciding on an exact location. Big South Fork was calling but it was still a little too warm for plateau country. So it was off to the GSMNP yet again. Too bad I can't get frequent-hiker-miles (nope, that doesn't make any sense at all but I refuse to retract it….)
I drove to the end of the Tremont road and started up the Middle Prong trail, the evening's destination being campsite 28 (Marks Cove) on the Lynn Camp Prong trail. This would be about 5.6 miles and roughly1600 feet of elevation gain; so it was a relatively easy Friday night access-hike to start the weekend.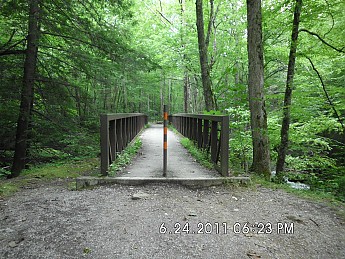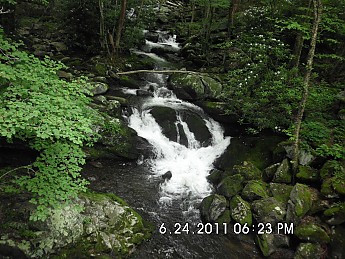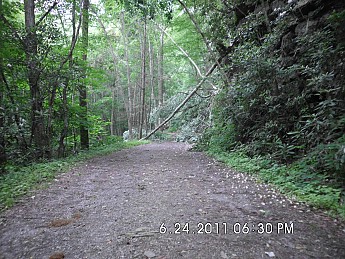 The first several miles of Middle Prong trail is actually a wide and graded old railroad bed that runs beside the river. The sound of the rushing water was with me all the way up.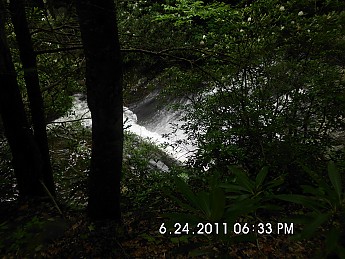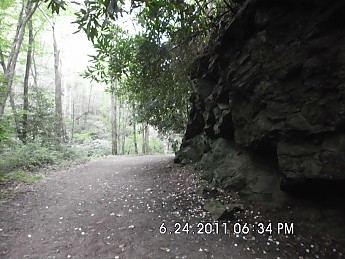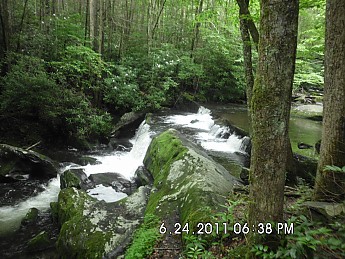 There are many beautiful cascades and waterfalls along this route, the pictures I've chosen to post are a very small sampling. (My attempts to capture the best water features didn't turn out well with the "point and shoot" method).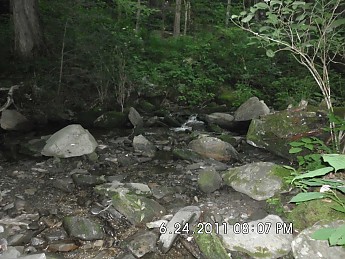 I made it to Marks Cove by 8:00 and being just beyond Summer Solstice meant I had plenty of light left in the day. This is the fine stream that runs through the middle of the campsite (kind of a natural divider of tenting areas, really).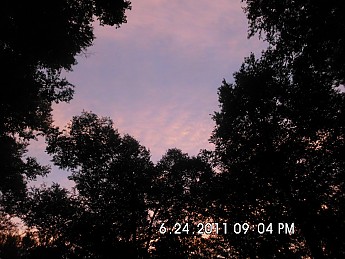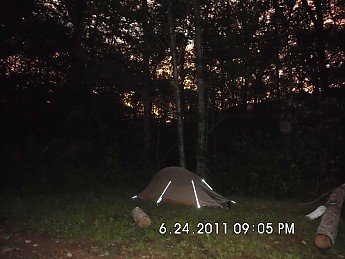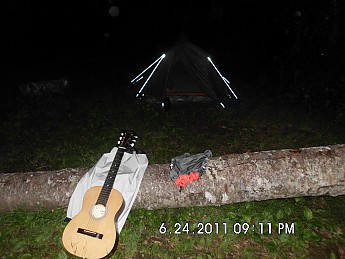 I opted to pitch my tent at the first and largest site in the cove; though perhaps not the most attractive of the available sites, it has a nice large opening for star gazing and the most level spot to sleep on.
After gathering a bit of firewood, I soaked up the beautiful sunset and temperate evening.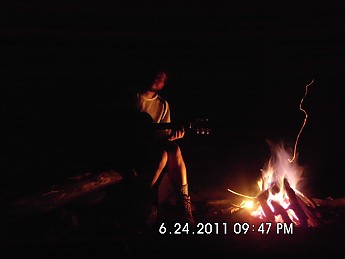 I enjoyed a late evening fire that night; it was a one-effort fire where I built it up one time and just let it burn down the rest of the night.  I watched the hiker TV until it was only embers and I began nodding off (somehow slipping into sleep even while lying against a log). Simple pleasures are often the best: it was so peaceful sleeping nestled up in the mountains with only wind and wood sounds around. To me that feeling is only rivaled by waking up in the same.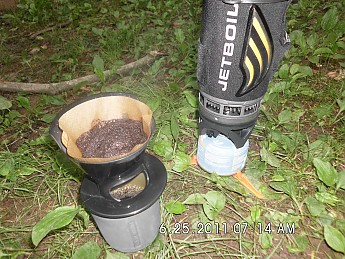 Speaking of the next morning (day 2), I was still really enjoying the quality of brew produced with the stupid-simple pour over coffee maker. I should have bought one of these a long time ago (I'm shaking my head at the memory of all that cruddy instant coffee I've had over the years).
After a slow camp morning, I continued journeying up the rest of the Lynn Camp Prong to turn up Miry Ridge and eventually North on the AT for a ways. One of the few high elevation spots I hadn't yet seen was Siler's bald, so the day's intention was to explore that area and perhaps stay at Siler's shelter for the evening. When I called for a shelter reservation the day before, the park employee told me that the spring on Siler's was dry so I loaded up to full capacity (7 liters) before heading up the mountain; the extra weight made for nice exercise in the morning.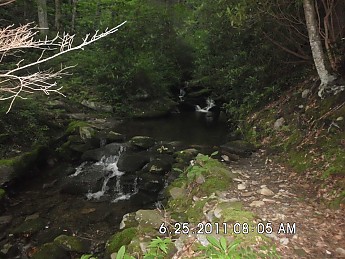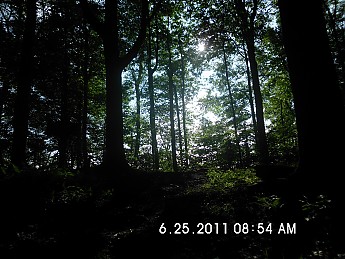 Lynn Camp Prong is mostly a horse trail and those aren't very hiker friendly but are often necessary to use when loop hiking here. The trail climbed through a splendidly scenic wooded valley crossing many streams as the elevation rose.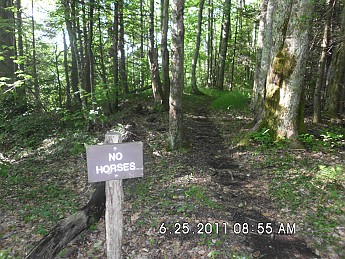 I remember thinking "ahhh" when I came to this section of the Miry Ridge trail that is closed to horses. It's a high elevation ridge top trail: I picked it up at about 4500 feet and followed it 2.5 miles up to the AT near 5000 feet. It was truly a beautiful walk on a pleasant morning.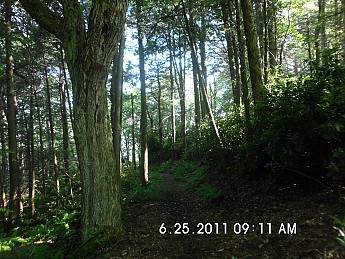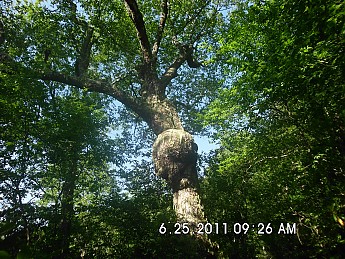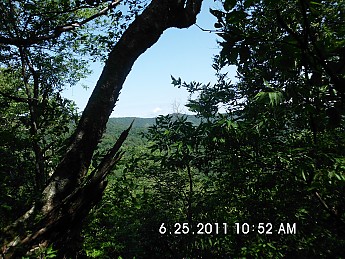 A few example shots of that section; some of the ridge top trails have a "comfortableness" about them that is hard to describe, but makes them fun places to be.
After picking up the AT and going north for 3.3 miles I arrived at the Siler's Bald shelter.  I was a little surprised to see a couple of through hikers still milling about a shelter at this advanced hour (11:00AM). They were rather quirky, not even remotely athletic, and very nice folks. They were a husband and wife hiking tandem who were slowly hiking the AT. I followed the man down to the spring; I had asked about the water here and he felt compelled to show me as well as tell me. As it turned out, I could have skipped the extra water hauling, the spring was running well.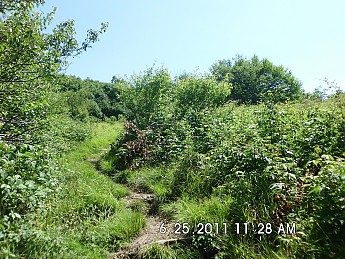 Approaching the peak at Silers.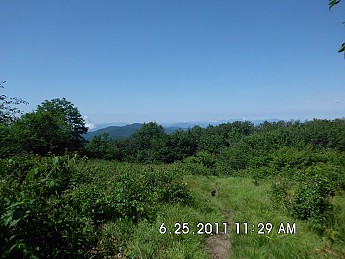 The South view towards NC from Silers.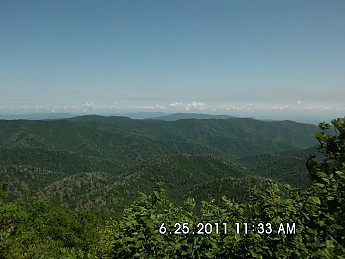 This is a North facing view from the end of a spur trail at the peak. I think those are the Sugarland Mountains but I'm not sure.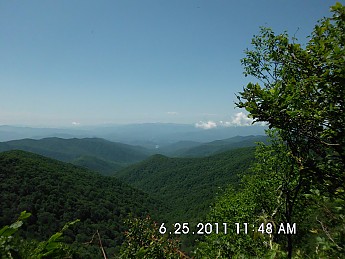 This the South facing view from the peak of Silers Bald. Having not been to that place before I wasn't sure what the boundaries of the Bald were so I continued to hike North on the AT until reaching a spot I knew I had been before which took me halfway to Double Spring Gap. I stopped for lunch off trail and decided to return to explore Silers.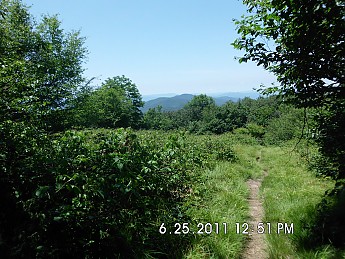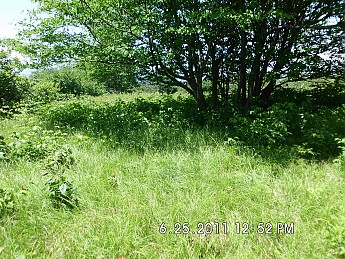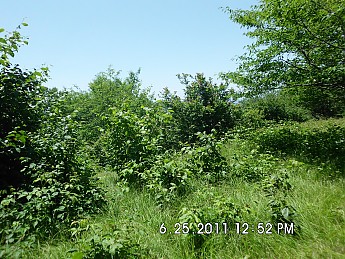 Well, I explored the area as well as I could (without a machete). I do believe the time has come to stop referring to this area as a bald. It's pretty well overtaken now.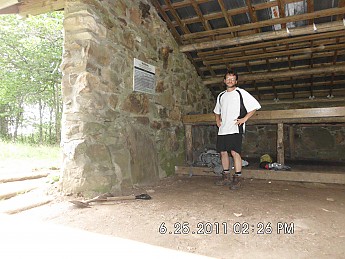 I had planned to spend much more time checking out Silers (I guess I had thought it was the kind of place to hang out relax for the afternoon but it really wasn't.), so I wound up trekking back down to the shelter much earlier than planned.
I was vacillating between heading back to get closer to the car and staying at the shelter for the night. If I went down to campsite 26 it would make day 2 about 15.5 miles and the day 3 hike out about 7.5. If I stayed the night where I was it would make day 3 hike out about 13 miles. I heard from a passing hiker that the next day was sure rain and then a large group showed up at the shelter which finally swayed me; I packed up and headed out.
As I headed back down Miry Ridge from the AT, I was quite tempted to stay at this cushy grassy spot on the ridge top instead of the established campsite further down. But I was convicted by the thought that I've really got to stop my "undesignated camping" and play by the rules, so I kept going after a short break. That really was a sweet camping spot though…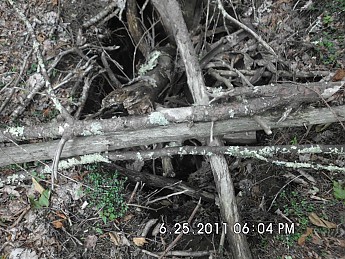 While scrounging for firewood near campsite 26 on Miry Ridge, I found several of these holes that had been covered. If anyone knows what these are I would like to be informed. My area trail/history book has no mention of them.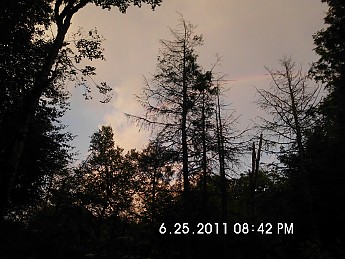 While hanging out at the campsite I snapped this pic of a cool rainbow after it had rained lightly for about 30 minutes. It doesn't show up great in this picture.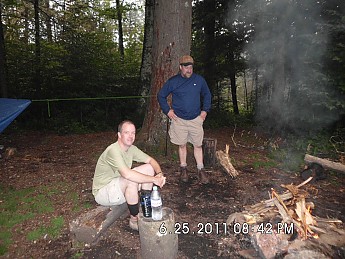 I shared site 26 with Stephen and Tyler. The mnemonic for remembering their names was pretty easy: just think of Aerosmith.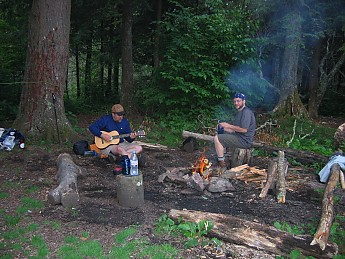 As it turned out,Tyler played guitar also and treated us to some solid blues playing on my mini-me guitar. Folks always look so surprised when I pull out the little mini-me in the backcountry.. Stephen e-mailed me this pic for my collection.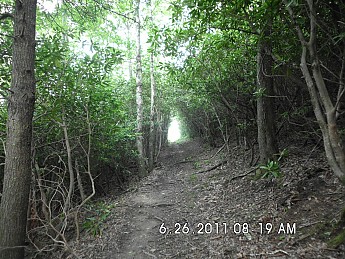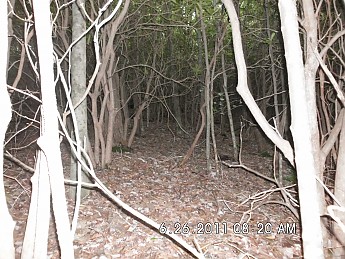 I love rhodo tunnels. These are on Miry Ridge as I headed out on day 3.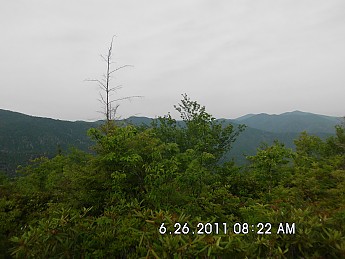 A spur trail led to a viewing spot further down the ridge on day 3.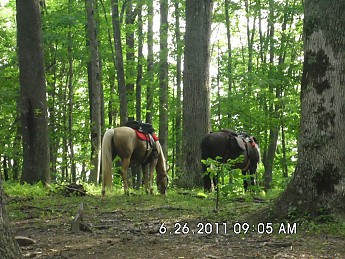 When I arrived at the junction of Miry and Panther Creek trails I was greeted by a couple of riders. Hey Tipi, I totally get the whole "saddle potato" thing.
Panther Creek was a rough but beautiful trail (mostly used for travel by horse). I stopped for first lunch at the junction of Panther Creek and Middle Prong. I had taken my shoes off to soak in the water while I ate (and had to anyway to ford the creek here) and all of a sudden it became black as night. I hurriedly crossed the creek just had time to get my rain jacket on when it started coming down in buckets. I elected to not put on the rain pants and that turned out to be a huge mistake for the well being of my boots.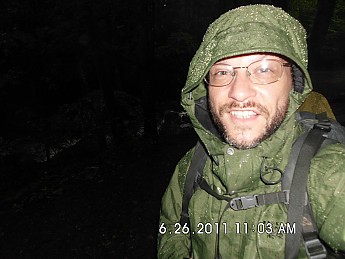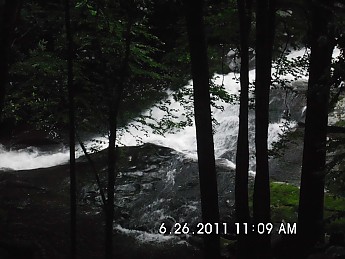 It was raining too hard to get any good pictures during the last three miles of Middle Prong. All in all this was a great snippet hike and a fine way to spend a weekend.
My only regret is not putting on the rain pants; my boots wound up filling up with water via wicking from my exposed wool socks. I didn't anticipate how much water would wick down in to the goretex boots; they were squishing loudly with every step by the time I got out. It took over a day of a fan blowing in them to get them dry after "toweling them out" as well as possible.
PS Perhaps this question belongs on a different forum but if anyone has advice for getting a moldy smell out of a pair of goretex boots please share. Seriously...