1:27 p.m. on July 12, 2011 (EDT)
Capow21

109 reviewer rep
66 forum posts
My boyfriend and I left the beach June 30 for our scouting trip in Wyoming. The first day we drove seven hours to Farewell Bend State Park in Huntington, Oregon. 
It was a nice campground, right on the Snake River. We really enjoyed the park, except for the 40+mph winds that lasted all through the night. We were awake more than we were asleep. I thought for sure we were going to have lift-off in our tent more than a time or two. The old Coleman tent held up well though.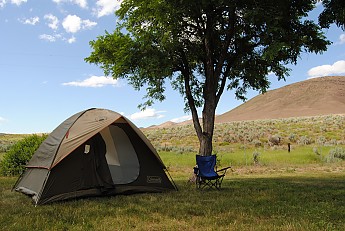 (Our campsite)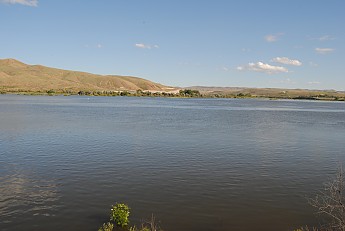 (The Snake River)
Day two we packed up early and continued on to Alpine, Wyoming. We set up camp in a big meadow under some trees.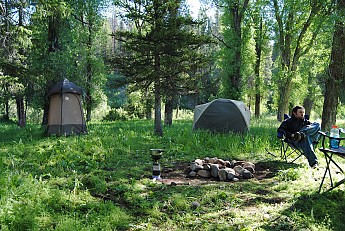 (I later set up my hammock too.)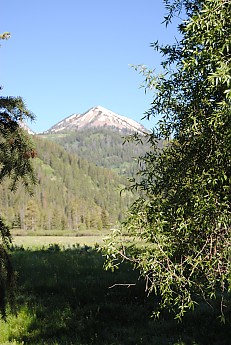 (View from camp. On day three we decide to head up that mountain.)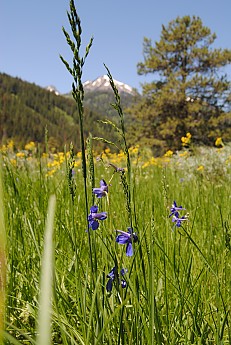 (Another pic from camp)
Day three we take off for the top that mountain. There was only a horse trail for about half of the way, then we had to make our own. I didn't take any pictures until about half way up. It was mostly a narrow horse trail through some big pine trees, no views. Swarmed with mosquitoes. 



(Stopped for a little break about half way up, which was only about .75 miles)
It was about 80 degrees. STEEP (not as steep as our second climb later on). Here, we have gained almost 1,000 feet in elevation thus far.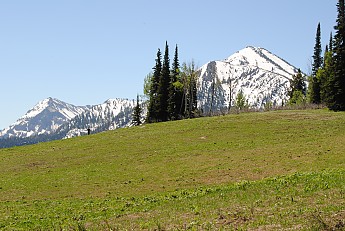 (View to our left from half way. You can see my boyfriend to the left there. He looks like a baby tree.)
We then continued on up about another .75 miles and made it to the base of the mountain. We ended up only climbing about a quarter of the actual mountain, because there was snow and we didn't have a need to go to the top other than to say "we made it." The main purpose of the trip was scouting for his deer hunt and there weren't any that high, yet. Plus he won't actually be hunting this ridge, we just wanted to see what was up here.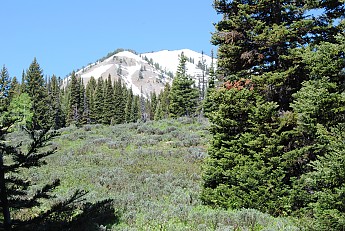 (Here we are almost to the base and decide to head right to check out what's around the corner.)
My boyfriend new there was a lake "a few ridges over this way," so we went looking for it.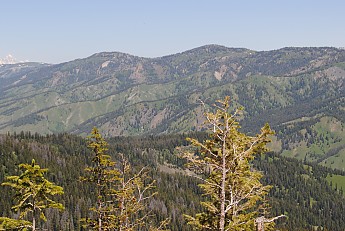 (This is looking back across from the mountain we're on)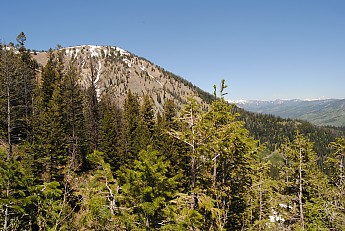 (Made it around the right side. The lake ended up being on top of a ridge behind that one. We didn't go that way though.) 

My pack needed a rest. It's a TNF Terra 45. Very comfortable, love it! LOVE my sleeping bag as well. I got rid of my old heavy bag and picked up a women's REI Shasta 15 that had only been used twice for $35.00.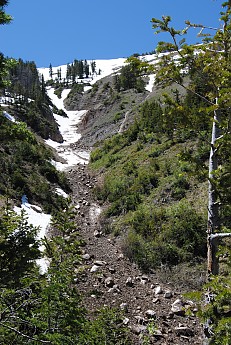 (There's the top of the mountain. But, we decided to head back down a bit and check out what's on the left side of the mountain.)
I wasn't as impressed with side of the mountain. There was a neat little waterfall you could see with binoculars, though. Very steep. I had to brace myself while sitting so I wouldn't slide back down to the bottom. Here we are at about 8,200 feet. We gained about 2,000 feet in 1.8 miles from where we started and walked about 3.5-4 miles before setting up camp. After checking everything out we decided to set up camp in an open area down below us. It was too steep and rocky up above.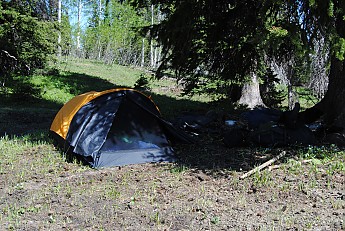 We set up camp under a nice tree in a big meadow. There was a nice stream to get water from and a neat view of the mountain. We crammed ourselves in a Eureka Solitaire with a broken pole. I sold my old two-man backpacking tent and bought a Sierra Designs Gamma 2 from a lady in Colorado, but it has been lost in the USPS system for over a month, so we had to use this one. It's not a bad tent. Only weighs two and a half pounds. It sweats a lot though and the poles were garbage. After one use one snapped in half from the pressure and just about every other one is bent. It's almost like they made the poles an inch too long and there's just way too much pressure on them.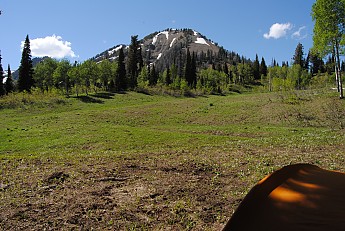 (View from the tent)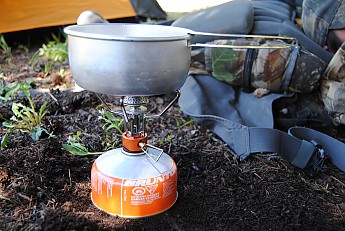 (Lasagna for dinner. If you're in the market for a stove, the Brunton Talon stove is awesome for the price. Boils 2 cups of water in 3-4 minutes. It's kind of loud, sounds like a jet is taking off, but it doesn't bother me. Folds up small and only weighs 3.5 ounces. You should be able to find one for $30.00)
Later that night we walked about a half mile from camp through some more meadow type areas to look for animals. We watched a young cow elk splash and play in a wallow and saw a few other elk. We also saw a fox run through the meadow. 
In the morning we packed everything up and headed back down. It only took us 45 minutes to get down. We ended up seeing 9 deer on this trek.
The next two days we relaxed around camp and did a few short hikes in the evening, we also went back into Alpine to get ice and did some site seeing around town. Then, on day six we decided to head for the big mountain. The one referred to in this is thread: http://www.trailspace.com/forums/backcountry/topics/90350.html
We ended up not storing water after all,  because we found a lake near the ridge we'll be coming back to in September. This hike was steep. In the previous forum above, I thought it was going to be a 4-5 mile hike, but to where we made it was under 2 miles and we had an elevation gain of 3,000 feet. We walked another half mile or so when it leveled out and we still didn't make it to the top. Overall, in September, I think the hike will be about 2.75 and we'll gain over 3,500 feet. The snow was just too deep this time around. The very top is .43 miles from where we stopped and where we will camp in September.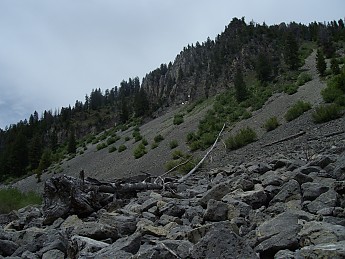 (Starting up the mountain. We walked across an avalanche slide of boulders for quite a ways. We jumped three bucks that ran up that little ridge.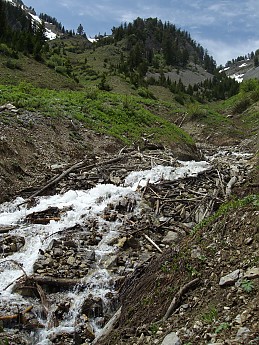 (The shallowest and narrowest of creeks we cross.)
None of the creeks will be here in September. Haven't been in past years anyway, but they did have record snowfall here this year.

(Here we are about a quarter of the way up. We came across these three little waterfalls.)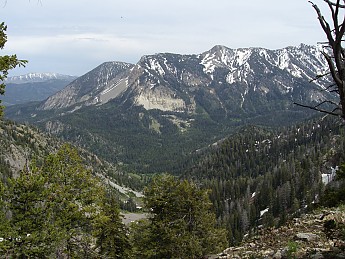 (Looking back behind us.)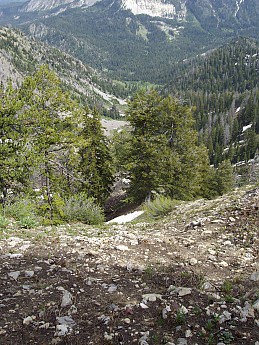 (Starting to get a little steep)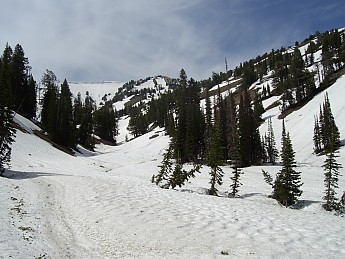 (Once we broke over the ridge with the waterfalls we started getting into the snow. I forgot my sunglasses.)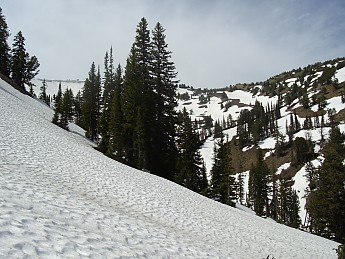 (In the very back between the trees to the left you can see a ridge completely covered in snow. That was our goal.)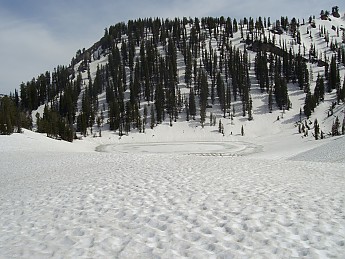 (We made it to the lake. I hope it stays frozen for a while longer so it's cold when we get back in September.)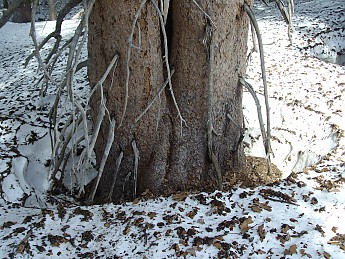 (There was about three feet of snow at this point. This is at 9,000 ft)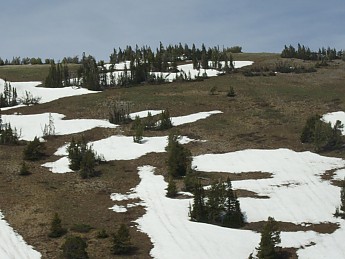 (Across the canyon from where we were)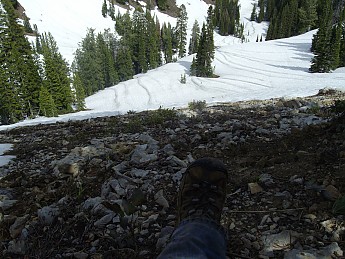 Admiring the steepness while eating my lunch. To get down I built up speed and went down the snow as if I were skiing. It was a blast. Great pair of boots right there. Women's Keen Targhee II. Feel broke in right out of the box. Amazingly light and comfortable. Walked through numerous freezing creeks and didn't get a drop of water inside. Stayed warm and dry through snow. Held up fairly well to the jagged, rocky country. There's some wear on the rubber, but I think they should hold up pretty well.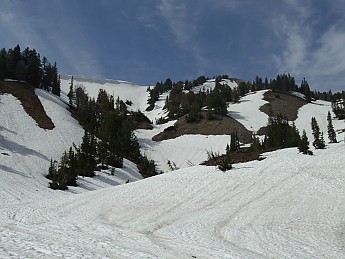 (There's the ridge in the back. We ended up not making it due to snow. The lake is to the left on fop of that shorter ridge. We are now heading back down. The trip up took 2 hours and the trip down took 1 hour.) 
Below are just a random assortment of pics throughout the trip.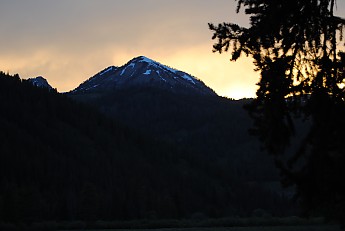 (Just before the sun disappeared)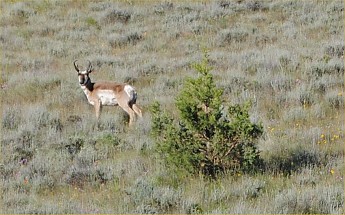 (An antelope on our way back to Oregon)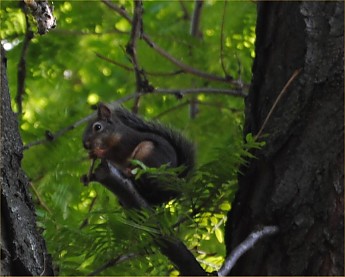 (Chipmunk playing the flute. He was in one of our campgrounds on the way home.)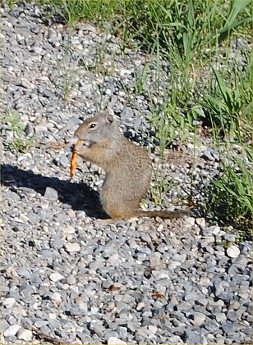 (A prairie dog enjoyed a sweet potato chip.)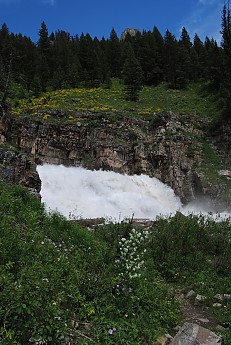 (Stayed a night at Granite Hot Springs. These were the falls.)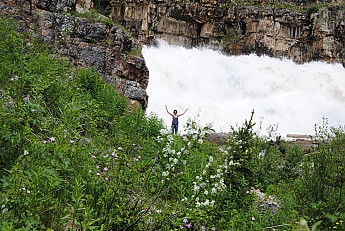 (But, that pic above made them look like a giant rapid, so I crossed a few FREEZING springs and went and stood right infront of them.)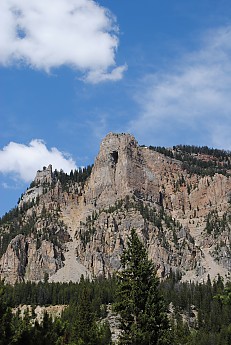 (View from our Granite Hot Springs camp site)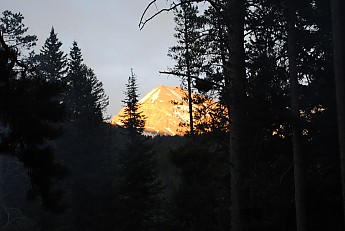 (Another view from the campsite as the sun was going down)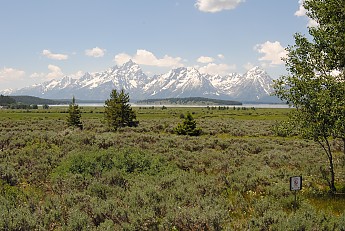 Swung by the Tetons. That was interesting stop. We went to the Indian Arts Museum and had a car two parking spaces down from us basically blow up. The windows exploded from something that got hot inside (It was 86+) and then this rancid smell started spreading and everyone was choking and coughing. Just one whiff of it burned your throat. There were some state cops there that told everyone to get back and when they got about 10 feet from the car their eyes got big and they grabbed there mouths and yelled "everybody run," so we got the heck out of there. I wonder what it was and what ended up happening. I had never smelt anything like that before and hope I never do again.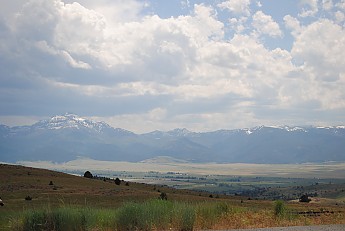 (Coming down into John Day, OR)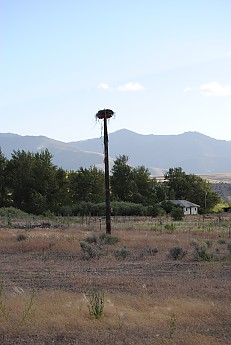 (Osprey nest at Clyde Holliday State Park)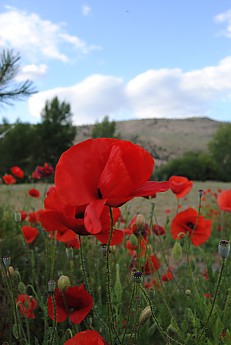 (They had beautiful flowers everywhere at Clyde Holliday)
(Stopped by the Painted Hills about 45 miles east of Prineville, OR)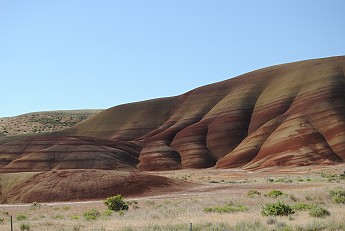 (They're even more gorgeous in person)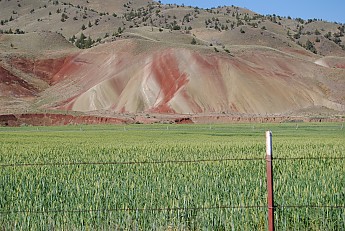 Well, that's about it. We had a great time. Saw some beautiful country. Can't wait to go back in September.