4:01 p.m. on July 17, 2011 (EDT)
Bill S

4,419 reviewer rep
6,010 forum posts
We are now about 3 weeks into the CBEE 2011 (and running short of funds, thanks to a couple grants not coming through and a lack of individual donations --- A grateful thanks to the couple of donations from Trailspace members).
We had to do a refocussing of the science and choice of valleys and peaks, due to the funding shortfall. But we have gotten some good science done and have raised awareness among Peruvian scientists and governmental officials. We presented some preliminary results at the university here in Huaraz, with a crowd of over a hundred interestid students.
My team ascended Vallanaraju in the first full climbing week, as shown in this photo -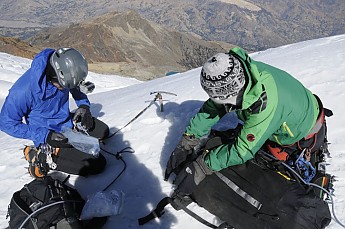 In the photo below , the upper part of the route is along the right skyline of the higher, left peak. This is the view from Huaraz.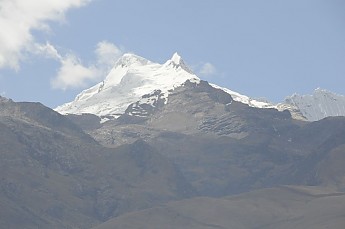 On the way from the trailhead to base camp (about 700 m climb), we marked reference points and noted the type of vegetation and ground cover at 100 m (vertical) intervals. On the glacier, we gathered snow samples at several elevations. Half the samples are frozen and will returned to the US for analysis of the particulate particles, and half were melted and run through filters for a related analysis (it was quite amazing how much dark material there was in the apparently pure white snow!). We also ran a small meteorologic station over a 24-hour period at base camp to help determine the wind flow patterns and daily temperature, humidity, etc fluctuations. Similar sampling is taking place on other mountains along with gathering of soil and plant samples. One surprise at many of the sites so far is tha amount of droppings of domestic animals (the hills are used extensively for grazing onto astonishingly steep and high altitude slopes.
As I write this, other teams are on other mountains or retrieving Dirt Deposition Plates that our team and others placed to gather  fallout from the sky, with hope of determining the sources of black carbon and metals deposition on the glaciers (the winds shift seasonally, so there is deposition from both easterly and westerly flow).
The CBEE still needs funding for followup analysis of the samples. Please look at the American Alpine Club website (www.americanalpineclub.org) and click on the Cordillera Blanca link at the bottom of the home page. The effects of global climate change are very obvious here with recession of the glaciers that supply water for both agriculture and people's drinking water, along with this "dry season" having a lot of stormy weather (two of our teams summited in complete whiteouts, and most teams have had at least a bit of snowfall at the high camps).