9:56 p.m. on September 2, 2011 (EDT)
Patman

2,170 reviewer rep
2,136 forum posts
Over a year ago my friend Robert revealed his desire to backpack the Grand Canyon rim to rim. He's not a backpacker but has done some day hiking. He had been fishing for someone with a bit more experience to accompany him. I took the bait. :)
We tried to go last spring but were rejected for permits four or five times (we can't go hang out hoping for a fill-in spot when traveling that far). After securing permits for late August we decided to go for it despite the heat.
In months previous I had outfitted R with my spare gear, coached a bit on exercise, and took him on a test hike in the Smokies as preparation.
The plan summary: R and family would pick me up at the Flagstaff airport (they were driving from Knoxville,TN-1800 miles –ouch) and drive to the North Rim. They would stay at the North Rim Lodge (dropping me at the North Rim Camp Ground (car/RV type place) to tent camp for the night. R would shuttle from the lodge and I would hike to the North Kaibab trailhead the next morning. His wife (very gracious woman) would drive around to the South Rim to pick us up after hiking the corridor trails for three days and nights. I would spend one night on the South Rim before flying back.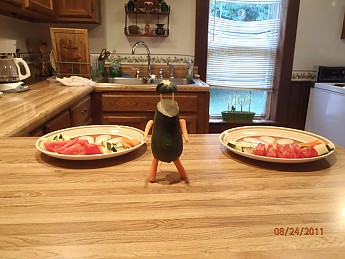 The trip actually started the night before my flight when I (badly) crafted a zucchini man to amuse my wife as to soften the five day abandonment….lol, hmm... Maybe bad-crafts are endearing like an ugly dog?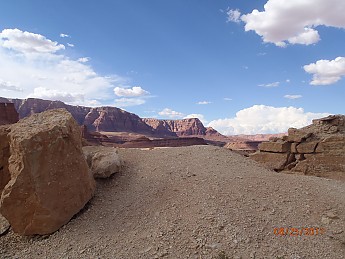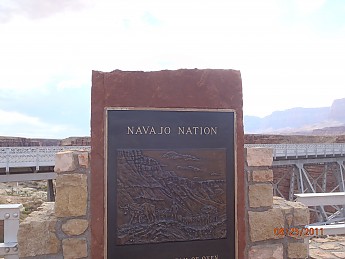 It was a successful airport rendezvous. As we drove by the Painted Desert I was amazed at the vivid beauty of this place. Even viewed through the mini-van window it was stunning to behold. We stopped near Lee's Ferry on the way to let their kids unwind for a few minutes.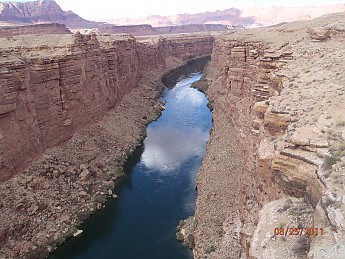 This is somewhere near the "humble" beginnings of the GC I'm told. The Colorado is green here.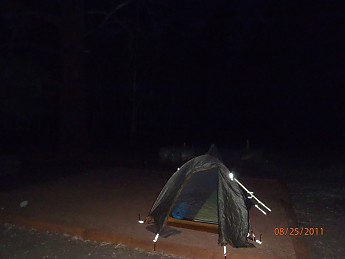 It was nearly dark by the time they dropped me at the campground; I hurriedly pitched my tent on the red sand tent pad and hustled over to the rim for a little canyon gazing before the light failed.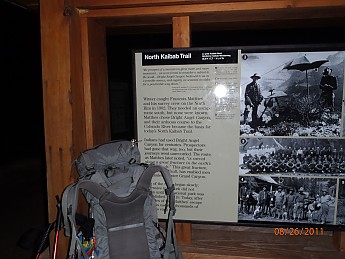 I didn't sleep much for various reasons (mostly excitement) and got up on Eastern Time in the dark and started the one mile hike to the trail head. Unbelievably it was quite cold when I stopped moving and I had to wrap up in my tech blanket to try and stay warm. That didn't work so I took a short side hike up the Ken Patrick trail by headlamp.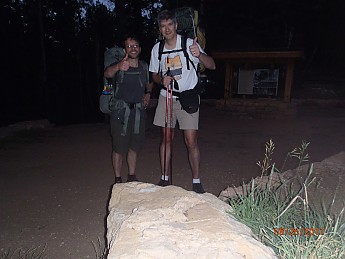 Robert arrived and we were ready to begin. I'm 5'7 and he's 6'7 (yeah yeah, I know we look like Mutt and Jeff with backpacks). Unbelievable that my old Kelty Trekker fits him huh?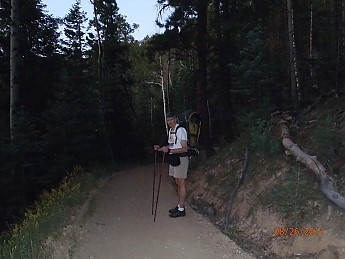 The hike begins about 8200 feet in conifer forest.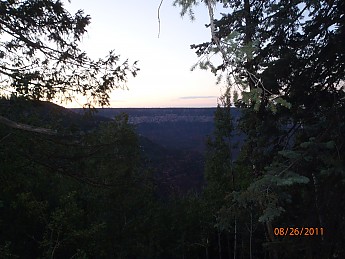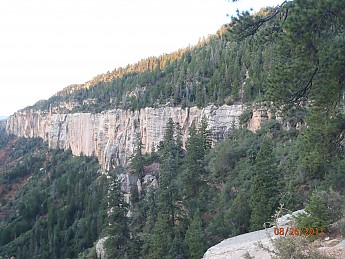 Spectacular views are around every switchback!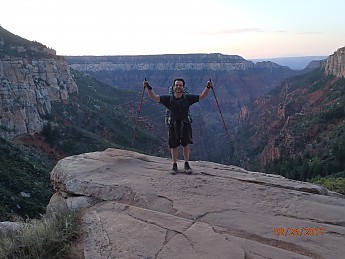 Here I was at the Coconino overlook.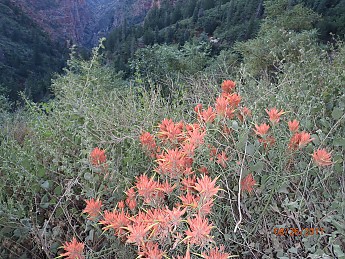 "New to me" flora abounded.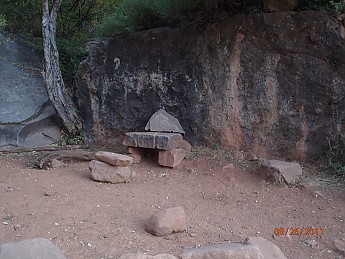 A neat rock throne near the first water source just north of the Supai tunnel.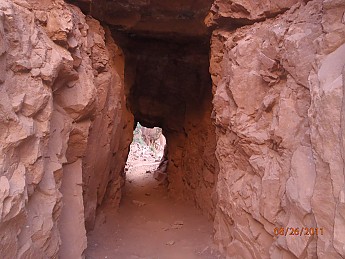 And this is the Supai tunnel.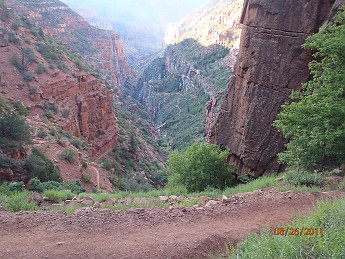 Wow...the trail ahead is serious! Notice it winding down the canyon?
Soon after this was the first sign of trouble. My friend began slowing down and started saying "hang on, hold up" even though we were already going slowly. Soon he was stopping every 20 yards to gather himself and I started mentally calculating our chances of making Cottonwood campground in a reasonable timeframe. The Park Service recommends not hiking between the hours of 10AM and 4PM this time of year but our pace made that unavoidable. When we did finally get spotlighted by the sun, oh my Lord! I pulled out the umbrella to shade myself and it helped a great deal (I was unable to obtain the GoLite model Ed (whomeworry) suggested in time so I used a regular one). The constant stopping created a sizzling situation for us both.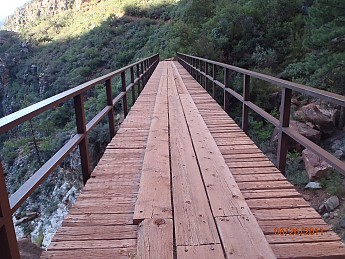 We eventually reached this bridge a ways down the route.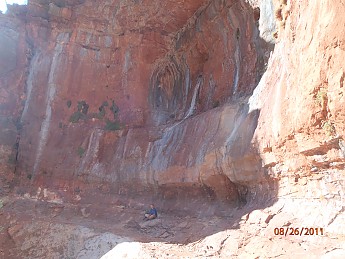 Here is a North bound hiker about to lose his shady spot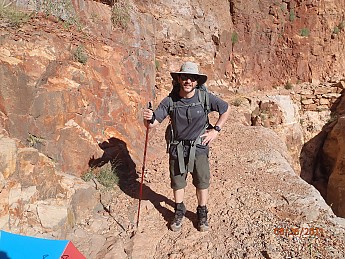 R still had his wits about him enough to take this pic of me, but that would soon change. We had slowed down to the point where I had to ask the dreaded question: "dude, can you continue?" Even though I backpack a lot and have some experience, I'm not a first responder or have any medical training at all. We were both thinking "what did I get myself into?" but for different reasons. I began running scenarios in my mind...should we go forward hoping he recovers, turn back now before losing anymore elevation, or maybe find a spot for an emergency camp (the latter not likely on these cliff-sides trails). He carefully considered and thought he could push on so I agreed but with much internal doubt. Ah, when to question a friend if not now? Men don't want to give up generally and are willing to let each other make bad choices with twisted pride sometimes.(live and learn I guess….)
We made it as far as the junction with Roaring Springs spur trail (having gone about 4.6 miles and lost several thousand feet in elevation), when we stopped for a pivotal rest. I don't remember what I asked him but I received an unintelligible response and became immediately alarmed. I made him take his sun glasses off and saw that his eyes were dilated and very glassy. He kept lurching over and putting his head in hands. I've read a bit about hyponatremia but the symptoms are so vague for all such things and really what do I know? I was pretty freaked out needless to say. Realizing he was not able to make the decision, I decided getting him out of the canyon the quickest way possible would be the safest thing to do; even though retracing our route meant climbing back up that steep trail, it was only 4.6 miles back and going forward meant 20+ more miles and dealing with the real heat of the inner canyon. So we rested for an hour at that spot before going on.
We wanted to get word out to R's wife to not leave the North Rim if we could. Eventually a super kind hearted hiker passed by on his way out and agreed to try and find R's wife at the lodge and tell her not to leave. None of us had brought a pen or pencil so I scratched her cell phone number into a business card with my pocket knife. Well, the pack weight was killing R so I went ahead and took it from him (he was so wobbly I was afraid he would fall off the trail). My pack was about 40lbs and his was around 30, so like Tipi Walter I started humping nearly half my body weight up the cliff. I had tried strapping his pack to the back of mine but it made me too off balance. So I wound up carrying it in front of me vertically cradled (man the biceps were burning). After a couple of miles some more kind hikers saw the situation and volunteered to help carry some of his stuff out for me and I gratefully accepted. I prayed silently the whole way "please don't let him stoke-out on me, Lord". I guess I could have done something different but I made the best decision I could at the time and we slowly went back up the canyon. At every stop I made him drink some electrolyte water mix and eat salty trail-mix (to the point he almost vomited but I didn't know what else to do) It took some 8 hours to get back to the trail head at which point we still needed a ride to the lodge. Having no cell signal there I left R with the packs, grabbed a bottle of water, the map, and a headlamp and took off towards the lodge on the Bridle trail. When I got signal his wife never answered so when I got to the Park road I successfully thumbed a ride and we eventually got him and the gear back to the lodge and his family.
He thankfully had regained his lucidity after a couple hours of rest and after some thoughtful consideration, in the most tactful way, I asked them if they minded if I went back and finished the hike. R was so grateful I think he would have agreed to any proposal at that point. But his family was there on vacation and as long as he recovered, they planned to stay at the South Rim in a lodge anyway. So after a few hours sleep, I started the whole thing over solo. (After all I was there, my gear was there and the canyon was there, permits were in hand etc…)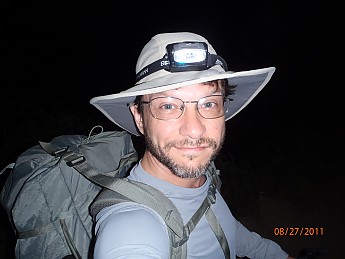 So in the wee hours of hiking day 2, I'm off down the North Kaibabtrail (again) by headlamp. Hey I get the special of privilege of hiking up both rims in the same trip!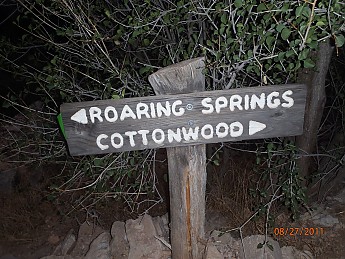 This sign was a far as we made it on the trail the day before.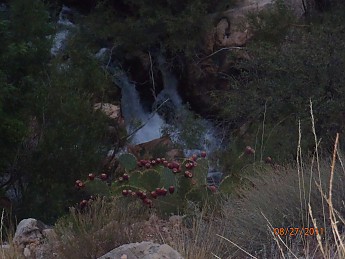 Still a little dark, but here is some prickly pear in front of a fall from Bright Angel creek.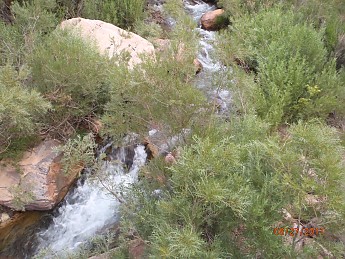 Another fall just north of the Ranger residence on N Kaibab.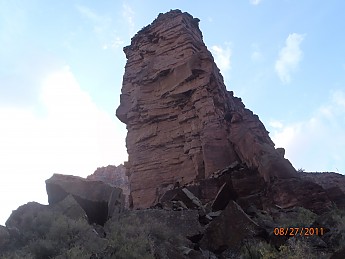 A monolith…this place is far too grand for my little point and shoot camera but I tried..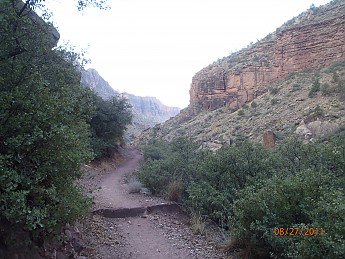 I had finally reached the more level trail.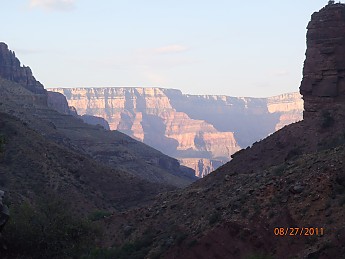 I was still in shade but the sun was coming.
A lovely spot at Cottonwood Camp. Too bad I needed to bypass, Cottonwood was very nice.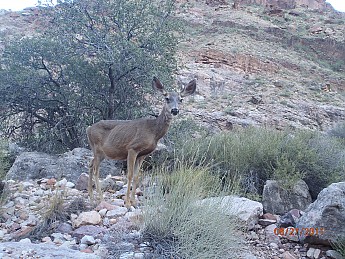 This was a skinny mule deer. I hope he wasn't starving because he ate a plastic bag; I heard that happens a lot around here. I was delighted to see the way those things bounce! They go almost straight up in the air!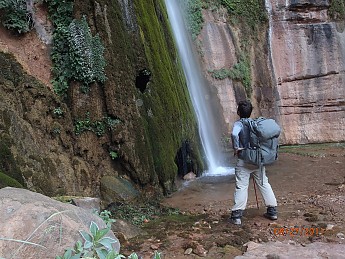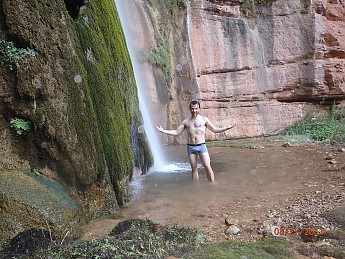 Thanks for tip on Ribbon falls, Gary Palmer. It was awesome and refreshing!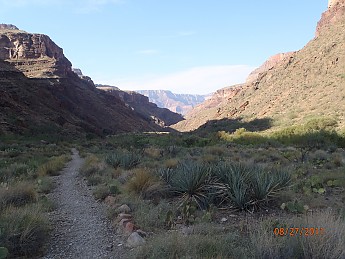 A beautiful trail gently curved out before me.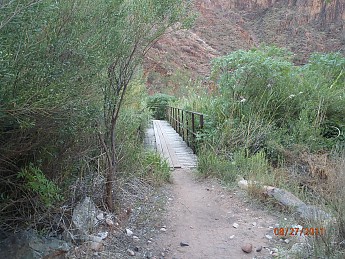 I was surprised by all these reedy areas.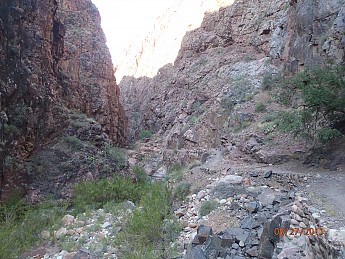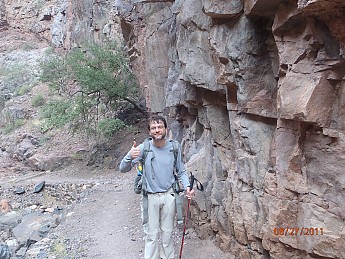 I was about to enter the "box". This was the section that gave me the greatest anxiety; I had been told to not traverse it in direct sun if possible because the Vishnu Schist caused it to get so hot and there usually little breeze to help. I luckily hit early enough to avoid any problems but the air was indeed noticeably stagnant through there.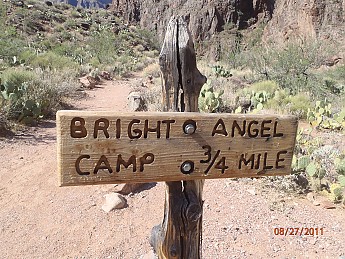 Reaching this junction so early, I decided to go up Clear Creek a ways. I soon turned back however as I found myself in direct sun and wanted no part of that down here.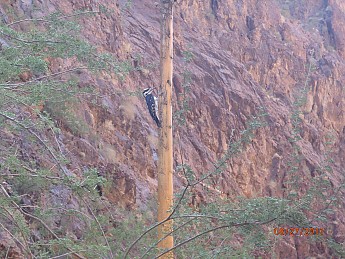 Approaching Phantom Ranch I saw this huge woodpecker. Be afraid woody.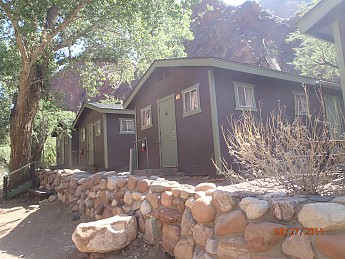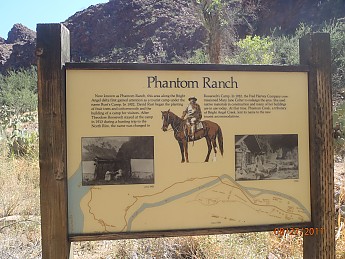 This was some of the primitive cabins at Phantom Ranch. We were unable to get reservations for these; I was heading to Bright Angel Campground just beyond.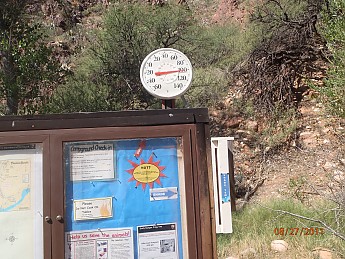 I arrived at the camp about 10:00 AM local time and it was already over 100 degrees. It got much hotter as the afternoon wore on.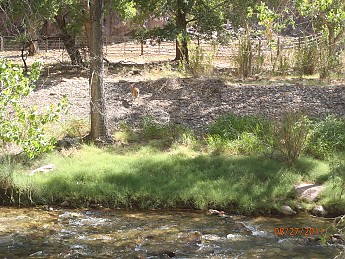 This was my view of Bright Angel creek from my campsite. This creek was the only relief from the debilitating heat.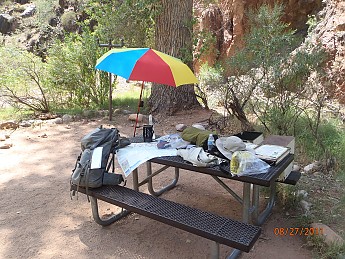 Here was my chosen camp site including a picnic table and ammo cans for food storage. I'm not use to such luxury…lol.
It was so crazy hot that I joined the other few campers in hanging out in the creek. Folks had made little circles of rock kind of forming primitive Jacuzzis in the creek and we all sat around in the water until we were shriveled up prunes, but who cares when it's 108 degrees (the shade high I was told by a ranger)? After that , I decided to explore despite the heat (I can only sit around so long)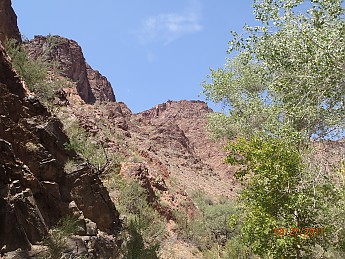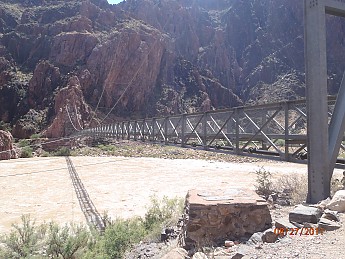 Area views, the last being the Silver Bridge across the Colorado River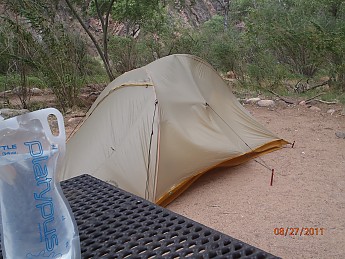 Late afternoon brought monsoon winds and some unexpected happenings. Pictured is my Big Agnes tent slightly deformed from strong winds. At first I was excited to see some cloud cover. I assumed it would block the sun thereby making things cooler. I was wrong. A ranger explained that the cloud cover effectively trapped the hot air in the inner canyon and the winds blew it back on us. It was like getting blown on by a hair dryer when you were already hot. How freaky that the wind made it hotter! The other thing that happened was that the silt from the ground was blown right through the inner mesh of my tent body and the interior was left covered in about a millimeter of fine silt. What a mess.
I attended a Ranger program on condors and scorpions after which was a scorpion hunt. Apparently everyone but me knew that scorpions shone like a 70ies poster in black light. Pretty cool stuff. I was too beat to stay up and drink beer with everyone else so I sacked out, maintaining my Eastern Time Zone ways. It was a little hard to sleep in 90 degree heat but I do have some experience with that back east. Oh yeah, I was visited by a "ringtail" and it was strange creature indeed, looked like part cat part raccoon!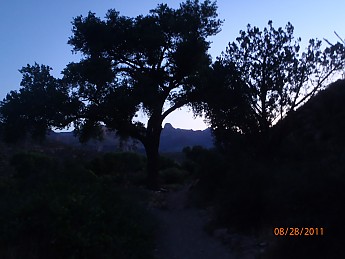 The next morning I got up very early and hiked up to Indian Gardens(mostly by headlamp). Those cliff side trails (especially the Devils Corkscrew) were so cool!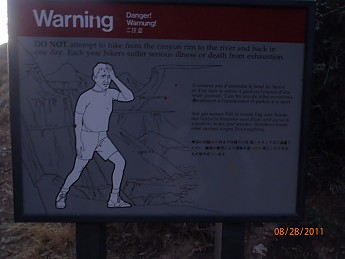 Hey this looks like my friend! Just kiddin' man; I can joke about it now that I know he's ok.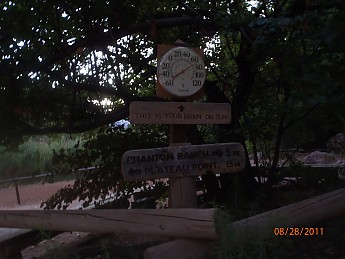 Early morning and it was only 70 degrees up there at 3700 feet. Nice.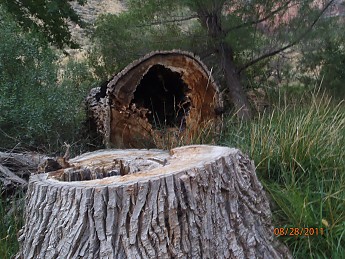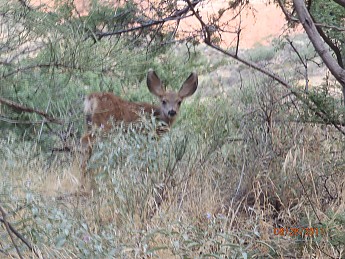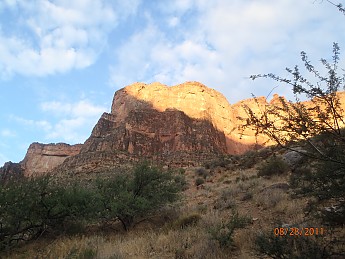 Indian Gardens was beautiful and I made it a lazy day there. The campsites not only had picnic tables, ammo cans, and water, but they also had little shelter roofs! In fact I decided to forego the tent altogether and put my therm-a-rest on the table top to sleep.
The down side to Indian Gardens was the extreme squirrel population. Those little disease carrying rodents became so annoying and aggressive that I was shooing them away after a little while. They would jump in your lap if you let them.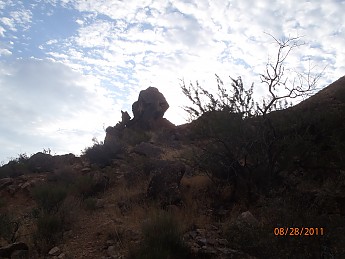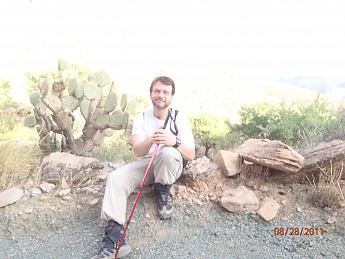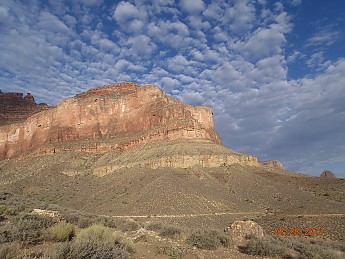 I was still shaded pretty well so I decided to explore and hiked out the Tonto trail east for a while. (bottom looking back across to Tonto west trail)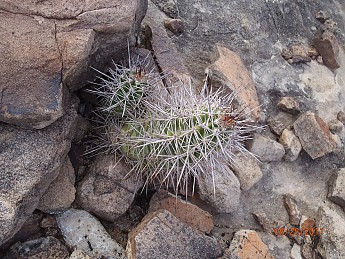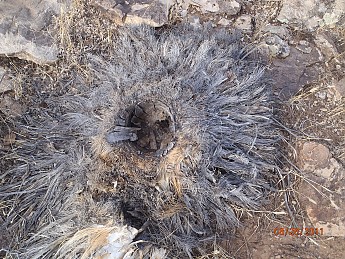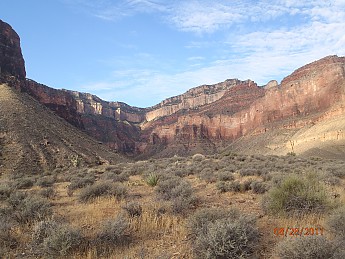 I went off trail about .75 miles to explore some neat looking rock areas, (these pics on the way)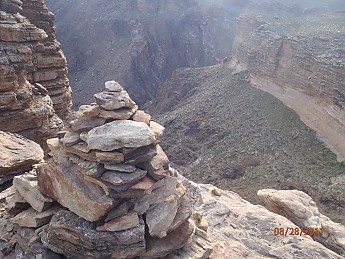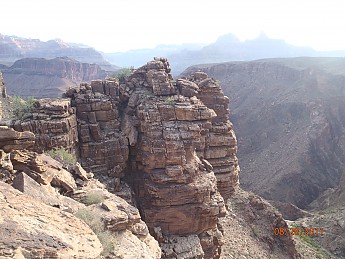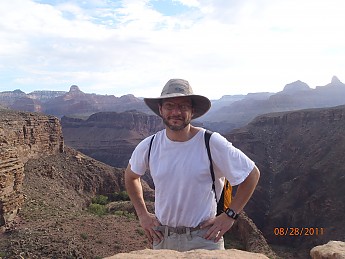 The middle picture is a rock stack I climbed. The bottom is me on top of the stack.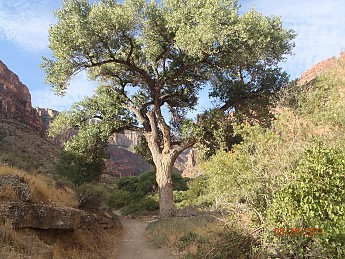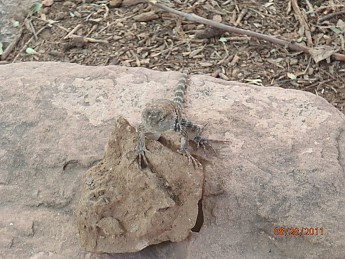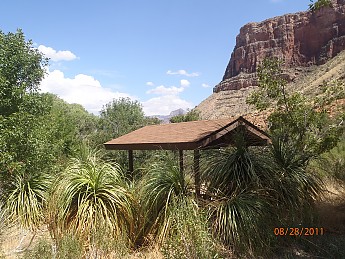 On the way (up Bright Angel from Tonto east) back to camp.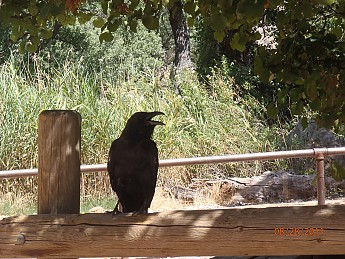 Ravens were thick here…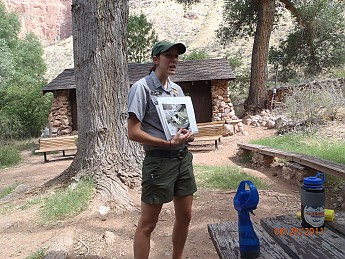 Not a flattering pic of Ranger Emily (sorry Emily) but she gave an outstanding presentation on rattlesnakes to the few campers (only six total for the night).
After the presentation I was pretty pumped to see one of those pink snakes so a few of us campers decided to head out to Plateau Point (the route to which is known for rattlesnakes per Ranger Emily) when it got a little cooler.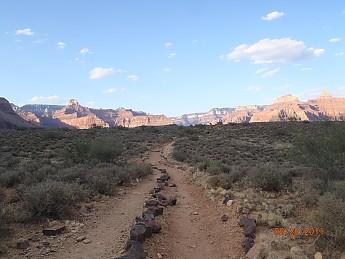 Hiking out to Plateau Point.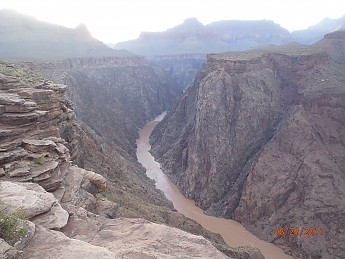 Looking down at the Colorado from the point.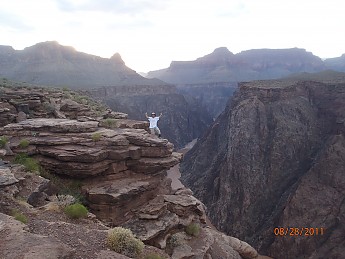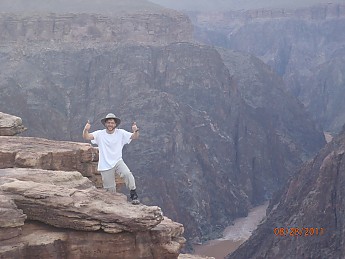 I horrified some of the other campers by clambering out on those rocks but one was still kind enough to snap a few pics for me.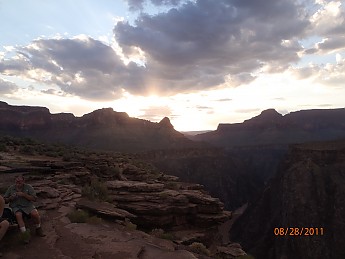 Sun setting from the point; we all peeled off eventually and headed back to camp after a relaxing evening on the point. Good times had by all...
The next morning I got up early again or my climb up the Bright Angel trail to the South Rim.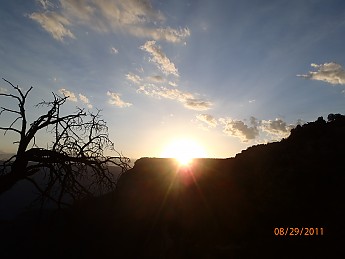 Sunrise from the Bright Angel trail a mile below the South Rim trail and my last decent picture while hiking.
I hooked up with my friends and spent the day touring the area (after showering in their hotel room, ,whew) by car. What an awesome place! We had a great dinner at the Arizona Room, walked the South Rim "boardwalk" until dark and my friend was still a little puny but doing much better by then.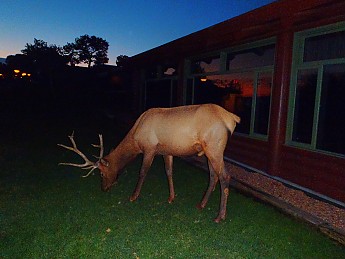 I'm a glutton so I decided to do some running along the rim the next morning (after sharing my friends' hotel room) before heading to the Airport, and along my route I passed this Elk munching on the grass. What a beast!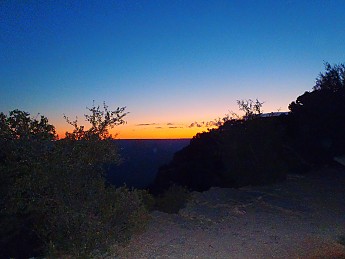 Sunrise somewhere on the South Rim.
The variation of this landscape was just incredible. My puny camera doesn't begin to do it justice. Pictures just seem such a futile attempt at capturing the true Grandness of that land. To really "get" this you just have to go hike it and smell it and feel it for yourself!
What an amazing place and what a trip!