Atsko
Sport-Wash
Reviews
I've put Atsko Sport Wash through the paces for the…
Rating:


Source: bought it new
Price Paid: $7.99 for 18oz at local outdoor outfitter.

Summary
I've put Atsko Sport Wash through the paces for the past week on a variety of items. Each time, I was pleasantly surprised at how well it cleaned. At this point, I recommend it to wash everything and I mean everything.
Pros
It works!
Comes in small amounts - 3oz up to a 2 quart currently
Atsko will send you a 1oz/1 load sample to try it out for the asking.
No static cling
Removed lingering smells from clothes
No smell period once washed - just clean!
Cut ground in dirt better than leading stain and spot remover
Cons
A little pricy
Doesn't come in gallon size
I emailed Atsko for a sample which they happily were going to send me. But not knowing how long I was going to be in the area, I found a local outfitter that carried it and picked up the 18oz size.
Admittedly, I was extremely skeptical when I first went to use Atsko Sport Wash on my Catoma EBNS and TNF Blue Kazoo since it's of a watery consistency. So I did the guy thing. If one oz is good, two is better right!?
Using the cap for measuring I added two cap fulls to the front loader commercial washing machine. Then sat there watching it.
Once it started to foam up, I knew I didn't need to use two cap fulls as I had done. Further thinking, great, I did the typical guy thing, I screwed up. But then came the rinse cycle. It was literally the clearest, most bubble free rinse water I've ever witnessed using a front loader. And I'm no green horn to front loader washing machines.
To my relief I also read you can use up to four times the amount and it will still rinse residue free.
Satisfied with what I saw happening in the front loader rinse cycle, I decided to wash everything I had with me on this trip in it. Which included my windbreaker, hiking shorts, shirts, Under Armour shirts and typical laundry. 
Once dried in the dryer, the results pot a smile on my face.
Static Cling - Didn't exist.
Lingering sweat smell on Athletic clothes - Gone!
Slight mildew smell on tent - Gone!
Restaurant smell on windbreaker - Gone!
And... The weight of my windbreaker was noticeably lighter.
Okay, Atsko Sport Wash, you've got my attention. Let's see how it does on other things.
With my MacGyver hat on, I thought to myself, "If it doesn't leave residue and cuts soap residue left by other detergents then let's see how it does on bathroom tile and tubs."
So I mixed up a half ounce and half gallon of water and went to town on the hotel shower and tub area which was pretty soap scumed up.
Now I've used practically every bathroom cleaner made that claims to remove soap scum off tile and tubs. Sorry Wash cut it faster, I mean I was done in five minutes. And it rinsed clean. No soap scum, the tub and tile was nice and shiny.
Okay Atsko Sport Wash, what about ground in dirt or leather?
So I washed my leather boots mixing up another half gallon batch. Leather came out as well as could be expected. And so I finished them off after drying with Obenauf's.
But what about really ground in dirt? My walking sneakers! The perfect test.
A little history in my Nike Lunaglide 4's first.
They're light grey in color, or were; they turned black from wearing them to work at a restaurant I was employed at and trekking 4-8 miles a day. They had grease and food, flour, batter, and everything else spilled on them. They were nasty!
Three weeks ago, I tried to wash them, I went out and bought and used an entire jug of brand name stain and spot remover on them as well as laundry detergent. I soaked them, and scrubbed them. The end result was that they came out slightly cleaner.
Fast forward to yesterday, they had turned blacker than they were prior to washing them and were starting to smell bad.
Okay Sport Wash, let's see what you can do.
I mixed up two half gallon batches using a half ounce of Sport Wash each. One for each. And used a soft bristle brush as I had done previously three weeks prior.
Now keep in mind, these Nike's were BLACK when I started. Here's the result: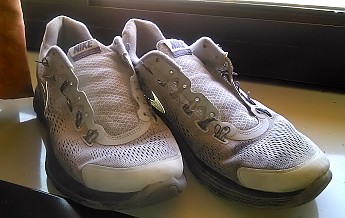 They aren't perfect, but the result is a hundred fold better than when I used all the other detergents and stain removers. And the smell?... Well they smell like.. nothing. Just clean!
And it's because of the result on my Nikes that I finally chose to write this review. 
For me personally, I'm going to use Atsko Sport Wash on pretty much everything from here on out.
Happy trails,
- chase -
Washing tip from Atsko:
In corresponding with Atsko prior to purchasing, they recommended washing heavy items and towels twice to loosen past detergent reside before adding them to your normal load.
After using my tent and storing my tent in my bag…
Rating:


Source: bought it new
Price Paid: 13 bucks

Summary
After using my tent and storing my tent in my bag and forgetting all about it—leaving it in my Forerunner for a week, while it was still wet—when I pulled it it out and saw how wet it still was, I could smell the mold.

So I hand washed it with vinegar, which worked well and then I found some Sport Wash at the local True Value. After a good hand wash and some rinse, hanged it to dry on the clothesline. It came out just like new!

Now I just did my 80 liter pack and it came out really well too. I'm going to treat them both with some for Nikwax tent and gear Solarproof as soon as I find some. iI will give a review on that too when I can.
Cons
None that I can see so far
The wash worked just fine. At first i was trying to find come Nikwax Tech Wash, but of course the store I went to didn't have any.
Looks like you get enough for your 13 bucks to do a number of loads. I used one cap full for the tent and 2 for the bigger pack in my tub. Rinsed clean and then hanged on the clothesline.
Atsko Sport-Wash
currently retails for:
$19.95