Backpacker's Pantry
Spicy Thai Peanut Sauce with Rice and Vegetables
1

review

5-star:

1

4-star:

0

3-star:

0

2-star:

0

1-star:

0
Specs
Dry Weight
8.1 oz / 230 g

Serving Size
Two 11 oz Servings

Reviews
OMG. So I assume that most of you have tried quite…
Rating:


Source: bought it new
Price Paid: $12

Summary
OMG.
Pros
Justin's Nut Butter
Spicy
Quick
Cons
longer cook time
bag rice
So I assume that most of you have tried quite a few Backpackers Pantry meals — this one is the bomb. 
I would eat this even if I'm not backpacking; that's how good it is. Of course, with a backpacking meal it's going to have a high sodium content. This probably has the lowest sodium content I found, at only 9% sodium (230mgs per half the bag). So perhaps this is an entree to eat on an easier day where you don't need to replenish those salts direly — So for someone who has hiked a short day, or the supper before a hike the next day. 
This dish is a two-person entree, and since it is a rice dish I found it quite filling at 500 calories. 
My favorite part of this dish is the flavor. I'm a peanut butter obsessive freak and will not go camping without peanut butter. So the fact that BPP went for the good stuff (which is usually unavailable in Canada) makes the dish that much better. 
I usually always cook my BPP meals in a pot, because I don't find that you get the right texture when cooking rice if you just pour boiling water into the bag. But if you're cool with having dense rice, then that's fine. It does take a bit longer than some other meals to cook at about 16 mins.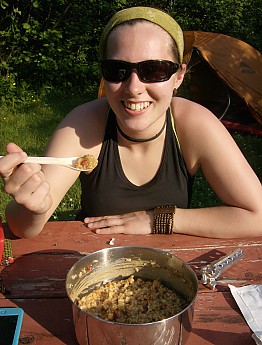 This dish is VEGAN so there is no whey, casine, or dairy.My partner is allergic to milk protein so this is a meal we pack frequently. Although this is a bit pricier than some of the other entrees, it is SO delicious and is fulfills otherwise finicky dietary requirements. 
Packing these are great because you can actually prepare the meal in its own sealable bag, but after cooking it is also great because it is a sealable bag, which I will usually then use for a toilet paper bag after rinsing. Because it is dehydrated food, it is fairly light and quite a small load to bear because it is tasty. 
I work in an adventure outfitting shop and I've separated the foods by proteins and even if someone is looking through the chicken and beef entrees, I suggest this dish because it is so good. Even for non-vegetarians. 
Where to Buy
sponsored links
Help support Trailspace by making your next purchase through one of the links above.
Manufacturer's Description
Visit Backpacker's Pantry's Spicy Thai Peanut Sauce with Rice and Vegetables page.
Retailers' Descriptions
Here's what other sites are saying:
On Sale. Backpackers Pantry Vegetarian Thai Spicy Peanut Sauce The Spicy Thai Peanut Sauce by Backpacker's Pantry. A delicious peanut sauce over brown rice and vegetables. SPECIFICATIONS of the Spicy Thai Peanut Sauce by Backpacker's Pantry Makes Two 11oz servings Vegetarian High in Protein Just Add Water to enjoy! The shelf life of Backpackers Pantry food varies from 1 1/2 to 3 years, depending on the product. Moosejaw CANNOT accept returns on camp food products. Sorry about it. This product can only be shipped within the United States. Please don't hate us.
- Moosejaw
Spicy but not too hot, Backpacker's Pantry Thai Spicy Peanut Sauce is spread over hearty rice and vegetables. Quick and easy to prepare with just a few cups of boiling water, this vitamin-and-mineral enhanced meal keeps you going on the trail. Larger serving sizes and a backcountry-friendly design mean you can bring satisfying, nutritious meals with you wherever you go.
- Mountain Gear
Description of Backpackers Pantry Thai Spicy Peanut SauceA delicious peanut sauce over rice and vegetables. FeaturesVegetarianAll natural SpicyFortified with vitamins and minerals Serves Two.Serving Size 11 oz. Dry Weight 8.12 oz. Ingredients Brown rice precooked long grain brown rice, peanut butter roasted peanuts, sugar, hydrogenated vegetable oil rapseed, cottonseed andor soybean oil, salt, vitamin C, vitamin A, vitamin B6, vitamin B1, soy sauce powder soy sauce whey, soy beans, salt, maltodextrin and salt, potatoes, onion, broccoli, super sweet corn, garlic, fructose from corn, carrots dehydrated, bell pepper, tomato, celery, peas, cabbage dehydrated, vitamins ascorbic acid, vitamin E, niacinamide, zinc oxide, electrlytic iron, dicalcium pantothenate, pyridoxine HCL, riboflavin, thiamin mononitrate, vitamin A, folic acid, D-biotin, potassium oidide, vitamin D3, vitamin D12 and spicesAllergens may contain traces of tree nuts
- US Outdoor Store
Backpacker's Pantry Spicy Thai Peanut Sauce is a delicious peanut sauce over rice and vegetables.
- CampSaver.com
Backpacker's Pantry Spicy Thai Peanut Sauce with Rice and Vegetables
currently retails for:
$6.00 - $7.90
MSRP: $6.90

where to buy: