Beal
Joker 9.1 mm
1

review

5-star:

0

4-star:

1

3-star:

0

2-star:

0

1-star:

0
Reviews
Light is right. A very versatile rope. Recently I…
Rating:


Source: bought it new
Price Paid: $169

Summary
Light is right. A very versatile rope.
Pros
Certified as single, double or twin
Thin
Light
Dry treated sheath
Cons
Core not dry treated
Lots of stretch
Might not work in some devices
Recently I lost 30 or so pounds, so you may ask, "Why do you care what your rope weighs? Now you can carry more stuff easier."
The answer is, "Because I can." Would Mallory have worn hobnailed boots and wool if he had been able to wear fleece and nylon? Of course not, light is right.
My main workhorse climbing rope is a 10.2mm monster that is fantastic till I need to carry it. I saw that Beal was making a thin rope that works in single, half or twin configurations and is only 9.1 mm and happened to be on sale so what is a man to do?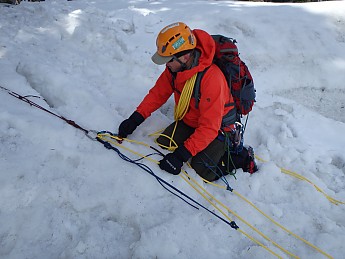 Can you locate the middle mark? 
9.1 is pretty thin and I was worried that it may not work in my belay device, but no worries, I use an ATC (I have all three styles) so I am good down to 8.0mm or so.  In guide mode the ATC Guide still locks up tight. I am told that some devices may not be compatible with this thinner rope.  Caveat emptor!
The Joker is smooth and has the right amount of flex for me and slides like a greased eel through gear while I am climbing, making things feel even lighter than they are. The bright color shows up well on the snow and the middle mark is visible from a mile away. Of course it shows dirt faster but this is mainly, for me, an alpine rope and I am not working projects with it in the dirt.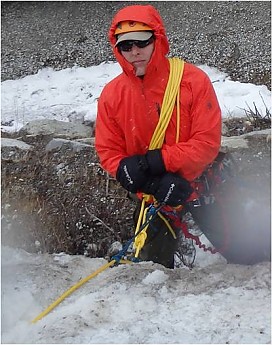 After this day the rope was dry by the time I got home from laying out in the back seat of my car. The guide I was with was eying it with envy and said it had a good "hand."
The rope as a lot of elongation compared to the 10.2 I usually climb on so care must be taken (the leader must not fall?) when climbing near the deck. Like I said, I am using this rope mainly for the mountains rather than the local sport crag. 
I had to go to thinner cordage to get a prussic to grab well so the smooth sheath must be considered and a Bachman knot is out of the question so it does have its issues but I understand and manage them. 
I hear that older Beal ropes are kink and knot monsters capable of creating a perfect Turk's Head while hanging in a stiff breeze, but I see no such vices in the Joker.   
A good rope for those who:
Want one rope to serve all three configurations (single, double, twin). One rope to rule them all!
Like yellow.
Want a lighter rope so they can carry more food (or booze, let's be honest).
Can't afford a $250 rope.
Climb mountains but have a double dry rope for extended wet trips.
Need all the help they can get to reach that next climbing grade.
Where to Buy
sponsored links
Help support Trailspace by making your next purchase through one of the links above.
Retailers' Descriptions
Here's what other sites are saying:
The BEAL Joker 9.1mm UNICORE is the ultimate climbing rope! Conforming to all three dynamic rope standards (single, half, and twin), the Joker will be loved by extreme climbers seeking light and easy-running lines and avid traditional climbers who need a multipurpose rope for ridge and face routes, as well as mixed ice and snow. This product will be shipped directly from Beal and will leave their warehouse in 2-3 business days. Eligible for UPS ground shipping only.
- EMS
Thanks to its skinny 9. 1 diameter, low weight, and advanced dry treatments, the Beal Joker Unicore Dry Cover Climbing Rope is as equally suited to difficult sport routes as it is to soaking-wet alpine excursions. The Unicore construction eliminates sheath slippage, and the Dry Cover sheath treatment guarantees a high level of water and humidity resistance.
- Backcountry.com
Here is the ultimate rope, the latest creation of the Beal lab born with the help of the Beal team climbers. It's the only rope in the world which conforms to all 3 dynamic rope norms. The Joker is in effect at the same time a single rope, a half rope and a twin rope. This rope will be loved by the most extreme climbers, seeking lightness and easy running, as much as by more traditional climbers seeking a multi-purpose rope for ridge routes or classic face routes, mixed ice and snow, or snow alone.
- CampSaver.com
Here is the ultimate rope the latest creation of the BEAL LAB born with the help of the BEAL Team climbers Its the only rope in the world which conforms to all 3 dynamic rope norms The JOKER is in effect at the same time a single rope a half rope and a twin rope This rope will be loved by the most extreme climbers seeking lightness and easy running as much as by more traditional climbers seeking a multipurpose rope for ridge routes or classic face routes mixed ice and snow or snow alone Note that this item of climbing safety equipment is nonreturnable Please call us toll free at 8772368428 or email bentgatebentgatecom with any questions
- Bentgate.com
On Sale. Free Shipping. Beal Joker 9.1 DryCover Rope DECENT FEATURES of the Beal Joker 9.1 DryCover Rope Diameter: 9.1 Type: SINGLE Weight: 53g/m Static Elongation: 8% Dynamic Elongation: 37% Impact Force: 7.9kN UIAA Falls: 7 Multi use, ultra light, ultra smooth
- Moosejaw
Beal Joker 9.1 mm
currently retails for:
$219.95 - $279.95

where to buy: