Big Agnes
Copper Spur UL4
2

reviews

5-star:

2

4-star:

0

3-star:

0

2-star:

0

1-star:

0
Reviews
This lightweight four-person, three-season tent is…
Rating:


Source: bought it new
Price Paid: $479.89

Summary
This lightweight four-person, three-season tent is great for all campers, from families to backpackers. With a durable design, spacious interior and plenty of mesh for ventilation and stargazing, this tent is a solid choice.
Pros
Lightweight
Two entrances
Sturdy
Spacious vestibules
Lots of interior storage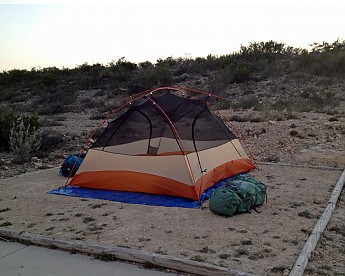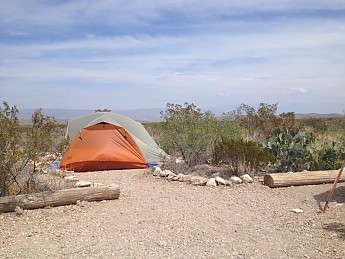 I bought this tent in November, 2012, hoping it would be my dream tent—and it has not disappointed. The Big Agnes Copper Spur UL4 is a lightweight, three-season, four-person tent that is built to last.
SETUP

The Copper Spur sets up quickly, if you know what you're doing. The majority of the tent is held up by a spidery all-in-one double-hub pole system that can get a little confusing. Several times I have assembled it 90 degrees off. Once you've practiced, though, putting it together is a cinch.
There are two awkward parts of the design: the contortion required to affix the velcro straps on the bottom of the rain fly to the poles, and the short cross pole on top of the tent. This pole sticks out above the door to create a spacious vestibule, but if you're not using the rain fly, it's really easy to stand up and hit your head on the end of this pole. I'm not a tall person, and I've done it several times.
STABILITY AND WEATHER RESISTANCE
This tent has withstood serious wind and a raging thunderstorm with no problem—even without the guy lines staked down. When taut and all flaps are closed, this thing is as tight as a ship. I have never camped with it in the snow, but it has never let me down.
VENTILATION
Probably because of all the mesh, I've never had any trouble with condensation. If it were to become an issue, the tent has two doors, creating a nice cross-breeze. The mesh and double door setup is the main reason I bought the tent; I live in Texas, so I needed a shelter that would keep me cool in the hot months. It has done just that, while also keeping me warm in the winter.
ROOM AND STORAGE
This tent can sleep four adults relatively comfortably at 96 by 86 inches. The vestibules outside each of the doors total 27 square feet and offer ample space for packs and supplies, and the height of the tent, at 50 inches, provides ample headroom. There are enough interior pockets for all four campers to have two each.
PACKABILITY
When your camping trip is over and it's time to put away the Copper Spur, you'll find that it packs down to the size you'd expect for a lightweight tent — 6.5 x 21.5 inches. It goes easily back into the stuff sack, and the packaged weight is up to 5 lbs 12 oz with a minimum trail weight of 5 lbs 5 oz.
For me, where this tent really shines is in clear weather. The all-mesh ceiling makes for amazing stargazing from the comfort of your sleep sack, and the breeze is able to penetrate enough to keep the air from feeling stale.
If you're looking for a great, durable, spacious four-person tent that is adjustable to many camping needs, I highly recommend the Big Agnes Copper Spur UL4.
I have a Copper Spur UL3 and now a UL4. I thought…
Rating:


Price Paid: $599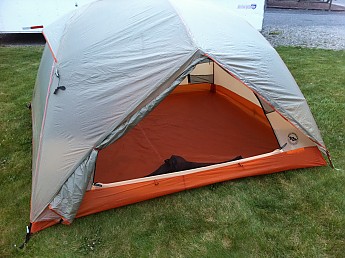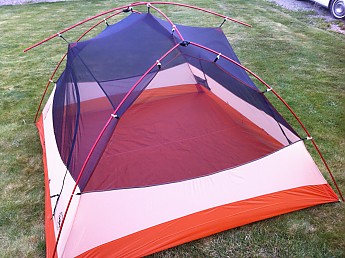 I have a Copper Spur UL3 and now a UL4. I thought the 4 would be a wider 3. It has some differences.
There are a couple of differences. The vestibules there are two and they are big. The vestibules have three positions and two stake out points. Closed is position one. You can roll it back to position two one third open. Last you can open it up all the way.
Most tent doors have a zip along the bottom and then one that goes up and around. This tent has just the up and around and it goes all the way around. You can roll the door up ant the bottom and secure it. Four mesh pockets are at the corners and there are four triangle shaped pockets in the celling.
The vents are the same as the UL3. Two vents that are held open by a rigid piece held in place by Velcro.  Ventilation should be great lots of mesh. The floor is thin. I could see the grass below the tent in great detail (Purchase the footprint).
There are two poles. The big pole is a standard H pole red with a different hub than I have seen on a Big Agnes. The poles are red I like a high visibility color so you are less likely to walk away and leave it The other pole is a cross pole that holds up the vestibule it snaps into the H pole in a channel at the center of the H. Clips are the same as the UL3. The best I have seen on any tent so far.
Interior room is big big big. I am 6'1 and if you were much taller you would need to sleep length wise and that would change the capacity to a 3 man. I used my UL3 for a two man. The UL4 will be two adults and two children.
The only complaint I have with the tent is you can't zip the tent doors all the way to ground level. It leaves a lip of about three inches you have to step over to get in or out. If you stepped on that lip in the corner there may be a problem. It is reinforced at that junction.
I love my Copper Spur UL3 and the four looks like more of the same. That is why they call it the mother of comfort.
Where to Buy
sponsored links
Help support Trailspace by making your next purchase through one of the links above.
Manufacturer's Description
Visit Big Agnes's Copper Spur UL4 page.
Retailers' Descriptions
Here's what other sites are saying:
Backpacker Magazine 2011 Editor's Choice Award winner. The Big Agnes Copper Spur UL 4 Tent has been updated and is lighter than ever. Vertical walls allow for ample movement inside the tent, while the 2 doors allows easy access inside and out. Stash your gear in one of 2 vestibules. If your looking for a large tent that is light enough to throw in your pack then the Copper Spur UL 4 may be the perfect tent for you. You won't find a 4 person tent with this much room at under 6 lbs!
- CampSaver.com
With a trail weight of 5 lbs. 15 oz., the updated Big Agnes Copper Spur UL 4 tent lets you and 3 friends enjoy a light load and plenty of living space on your 3-season backpacking adventures.
- REI
Popular, well-maintained campsites just don't scratch your itch for wilderness, so you pack up the four-person, three-season Big Agnes Copper Spur UL4 Tent (UL stands for ultralight), and set up camp well away from any roads, bathrooms, or RVs. Although it can't compete with a lighter-than-air one-person tent in the weight department, it weighs barely twice as much as the one-person Copper Spur, and sleeps four without any problem, making it an ideal choice for group or family backpacking trips where weight is still important. The Spur was designed with steep walls and a horizontal crosspiece for extra living space, and a Featherlite DAC hub-style pole system for easy assembly. It also has plenty of creature comforts (for a tent, anyway) like eight mesh pockets, individual media pockets with cord ports, and two large vestibules that comfortably hold packs, boots, and smelly gear, so your happy tent doesn't deteriorate into a pile of stink. The Spur also has mesh walls designed to circulate air and let you sleep under the stars when the weather's good, and a ripstop nylon fly with zipper-covering storm flaps and taped seams, ensuring that no water ends up dripping onto your face or soaking your bag. Two doors eliminate the need to stomp over your tent partners' gear and faces, and reflective guylines and webbing take some of the fear out of walking around the campsite in the dark. You can even pitch the Spur using just the poles, fly, and footprint (sold separately) if you're looking for an even lighter setup.
- Backcountry.com
Free Shipping. Big Agnes Copper Spur UL 4 Person Tent FEATURES of the Big Agnes Copper Spur UL 4 Person Tent Fabrics and mesh used on the inner tents are made from breathable lightweight nylon or polyester Mesh body designs offer excellent ventilation Oversized stake out loops Free standing structures reduce the number of stakes Interior mesh pockets for organizing gear Gear loft loops included Footprints extend the life of your tent floor and can be used in the fast fly setup option on some models Footprints and gear lofts sold separately Storm flap on vestibule zippers prevents drips Fabrics used on our tents include silicone treated nylon rip-stop and polyester depending on the model Cordurar fabrics used in our Mountaineering line Waterproof polyurethane coating on all fly and floor fabrics Reflective guyline and reflective webbing on tent corners for nighttime visibility All seams taped with waterproof, solvent free polyurethane tape (no PVC or VOC) Fly vents improve ventilation to reduce condensation UL1 features single door and vestibule UL2, UL3, UL4 feature double doors and vestibules Storm flaps on vestibule zipper Reflective guyline and webbing on tent corners Fly and floor are silicone treated nylon rip-stop Fly and floor have 1200mm waterproof polyurethane coating Tent body is nylon and polyester mesh All seams taped with waterproof, solvent-free polyurethane tape (No PVC or VOC's) DAC Featherlite NSL pole system with press fit connectors and lightweight hubs DAC H Clip attaches tent body to cross pole DAC Twist Clips attach tent body to the pole frame Hub pole design 8 (UL1, UL2 and UL3), 10 (UL4) Superlight aluminum J stakes One (UL1), two (UL2 and UL3), eight (UL4) interior mesh pockets Gear Loft loops included Footprint sold separately Fast Fly setup available Fits Wall gear loft sold separately SPECIFICATIONS of the Big Agnes Copper Spur UL 4 Person Tent Capacity: 4 Person Trail Weight: 5 lbs 5 oz / 2.41 g Packed Weight: 5 lbs 14 oz / 2.66 kg Fast Fly Weight: 4 lbs 2 oz / 1.87 kg Packed Size: 8in. x 22in. / 20 x 56 cm Floor Size: 57 Square feet / 5.3 Square meter Floor Length: 86in. / 218 cm Floor Width: 96in. / 244 cm Head Height: 50in. / 127 cm Vestibule Area: 13.5 / 13.5 Square feet / 1.3 / 1.3 Square meter Footprint Weight: 9 oz / 225 g
- Moosejaw
Big Agnes Copper Spur UL4
currently retails for:
$472.46 - $629.95
MSRP: $599.95

where to buy: