Black Diamond
Convert Ski
1

review

5-star:

1

4-star:

0

3-star:

0

2-star:

0

1-star:

0
Reviews
Go anywhere, do anything ski comfortable in the backcountry…
Rating:


Source: bought via a "pro deal"
Price Paid: $350

Summary
Go anywhere, do anything ski comfortable in the backcountry as well as on the groomers. A one quiver ski that is capable of taking you anywhere within your ability level.
Pros
Lightweight
Great floatation
Moderate width comfortable in powder and on ice
Cons
Chatter during high speed turns on hard surfaces
The Black Diamond Convert skis are the Jeep of touring skis. They are comfortable anywhere in any conditions. I have ridden them on fresh powder, breakable crust, icy New England resort trails, and freshly groomed corduroy runs and enjoyed every turn.
Front Country
Their performance in the front country, on groomed resort trails, is adequate but you need to be a confident skier to feel comfortable taking these down steep high speed runs. The rocker tip and tail, which are helpful in the powder, cause the ski to chatter on hard packed snow and decrease turning and stopping abilities. If you are not paying attention to the turn it can be very easy to have the ski get away from you and cause a fall. There is minimal curve to the ski but even so they are responsive and snap easily between turns.
Backcountry
While this ski can handle resort skiing, it really comes to life in the backcountry. The 172 cm length skis are 105 mm underfoot and weigh only 7 pounds a pair. This weight and width combination makes climbing less of a chore because the width provides the ability to have a wider skin allowing for better grip while the weight does not pull you back down the hill with each step. I have comfortably broken trail in fresh powder as well as followed skin tracks at angles over 30 degrees, a task which was much harder on an older, thinner, pair of skis.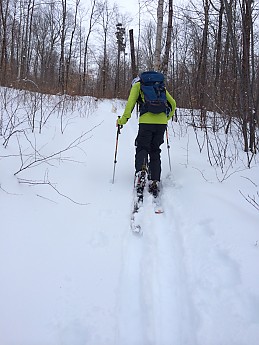 Their width also makes breaking trail much easier because I am not sinking deep into the snow with each step.
As an added bonus Black Diamond has included a stainless steel skin tab on the back tip of each ski which prevents damage to the top sheet of the ski. This is a nice added feature if you are one who puts on and takes off skins frequently during a trip.
They are a dream on the downhill in fresh powder. The rocker keeps the tips floating on the powder which makes for effortless skiing and increases the enjoyment factor ten-fold.
While powder turns are the pinnacle of enjoyment while skiing, those of us in New England rarely see those conditions. This is one of the reasons I am so impressed by the Convert. No ski can make breakable crust any fun but the design of the Convert helps keep the skis on top of crust long enough to enable the skier to turn. Also, the edges bite into ice preventing uncontrolled slides.
Technical Specifications
The Convert's I ski are 172 cm in length and weigh 7 pounds (3.1 kg). This is on the shorter side for my height and ability but I prefer a shorter ski because the backcountry of New England tends to be tight, narrow glades and slides.
The 172 cm ski the tip-waist-tail dimensions are 132-105-116 (all in mm). This provides for an advertised 22m turning radius which I would say is fairly accurate.
They have a full rocker design which means the ski begins to rise almost a foot from the front tip. This is what provides the float on powder but also can be one of the causes of the chatter on hard packed snow.
Their hybrid design combines the rocker tip and tail with a moderate amount of camber which aids in gripping the mountain during downhill runs.
Summary
As an advanced Northeast skier with over 25 years of experience, I have fallen pretty hard for these skis. In my opinion they are a one quiver ski that is capable of taking you anywhere within your ability level. I would highly recommend them for anyone interested in alpine touring.
Where to Buy
sponsored links
Help support Trailspace by making your next purchase through one of the links above.
Retailers' Descriptions
Here's what other sites are saying:
Maybe it's called the Black Diamond Convert Ski because once you get on dawn patrol and experience the silence and untracked snow you never want to go back to the hustle and sloppy seconds in-resort. Or maybe it's called the Convert because once you ski this rockered mid-fatty you'll never set eyes on another ski for as long as you live. Whatever the reason, this versatile backcountry ski has it all: pow-friendly waist, rockered tip and tail, traditional camber underfoot, and sandwich/sidewall construction. It has pre-preg fiberglass weaved laminate for stability and torsional stiffness edge-to-edge. It even has a stainless steel SkinLock clip to keep you skinned and speedy on the hike. The Formula One 3D Light construction sheds weight compared to the big-mountain line, which helps with the ascent but also when your feet leave the snow off a backcountry kicker. All the cool kids are doing it. The Convert sits in the middle of the Freetour Series from Black Diamond, just about as pleasing as it gets.
- Backcountry.com
Free Shipping. Black Diamond Convert Skis FEATURES of the Black Diamond Convert Skis Versatile 105 mm waist with Rocker tip and tail More touring efficiency than the Carbon Megawatt with better soft snow performance than the Revert Formula One 3D Light Sandwich with pre-preg composite construction and paulownia wood core 5 mm beveled ABS sidewall with Power Edges SkinLock tail tabs Optimal use: 80% soft snow / 20% hard snow Stainless Steel SkinLock Clip SPECIFICATIONS of the Black Diamond Convert Skis SPECIFICATIONS for 164 cm Length: 164 cm Dimension: 131 x 105 x 116 Weight: per pair: 6 lbs 6 oz / 2.9 kg Turn Radius: 21 m Tip Style: 337 mm Rocker Tail Style: 255 mm Rocker SPECIFICATIONS for 172 cm Length: 172 cm Dimension: 132 x 105 x 116 Weight: per pair: 7 lbs / 3.1 kg Turn Radius: 22 m Tip Style: 354 mm Rocker Tail Style: 268 mm Rocker SPECIFICATIONS for 180 cm Length: 180 cm Dimension: 133 x 105 x 117 Weight: per pair: 7 lbs 4 oz / 3.3 kg Turn Radius: 23 m Tip Style: 370 mm Rocker Tail Style: 280 mm Rocker SPECIFICATIONS for 188 cm Length: 188 cm Dimension: 134 x 105 x 117 Weight: per pair: 7 lbs 11 oz / 3.5 kg Turn Radius: 24 m Tip Style: 386 mm Rocker Tail Style: 292 mm Rocker This product can only be shipped within the United States. Please don't hate us.
- Moosejaw
The Black Diamond Convert Ski hits the sweet spot of being light enough to dominate the skin track, but girthy and rockered enough to have ridiculous amounts of fun on the way down. A light, semi-fat, rockered powder ski engineered with touring efficiency in mind, the Black Diamond Convert is solid and surfy in deep snow, while its 105 mm waist lends confidence when conditions turn variable. Whether its a quick hit out the resorts backcountry gates or an objective hours from the trailhead, the Convert will get you there with minimal uphill effort.
- CampSaver.com
It's not that hard to be seduced by Black Diamond Convert skis. The Convert does everything, on or off piste, pretty darn well. Traditional side-cut and camber, under foot, but moderate rocker at the tip and tail join in a congregation of harmonic skiing bliss. The Convert was a staff favorite, at demos, last spring. Can we get an Amen! Versatile 105 mm waist with Rocker tip and tail The company says - more touring efficiency than the Carbon Megawatt with better soft snow performance than the Revert Formula One 3D Light Sandwich with pre-preg composite construction and paulownia wood core 5 mm beveled ABS sidewall with Power Edges SkinLock tail tabs,/li> Optimal use: 80% soft snow / 20% hard snow
- OMCgear
Black Diamond s solution to the problem of the perfect one ski quiver. The Convert Ski is light enough to be quick in the skin track yet still wide and rockered enough to have a ton of fun on the way down. If you re looking for one ski for all of your backcountry adventures, the Convert is the answer. Specs: Dimentions 164cm: Tip-131, Waist-105, Tail-116. Radius: 21mDimentions 172cm: Tip-132, Waist-105, Tail-116. Radius: 22mDimentions 180cm: Tip-134, Waist-105, Tail-117. Raidus: 23mMeasured Weights: 164cm - 7lbs (3.18kg), 172cm - 7lbs 6oz, 180cm - 7lbs 13oz (3.54kg)Features: Versatile 105mm mid-fat waist with Rocker tip and tailFormula One 3D Light Sandwich with pre-peg composite construction and paulowina wood core. 5mm beveled ABS sidewalls with Power EdgesSkinLock tail tabs
- Second Ascent
Black Diamond Convert Ski
currently retails for:
$699.95 - $799.95

where to buy: